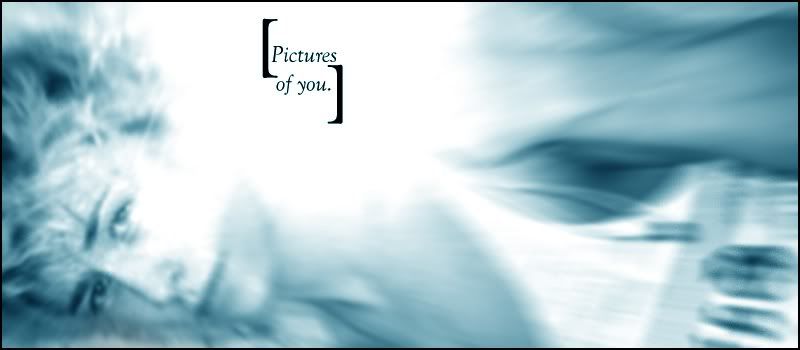 Spring Semester 2010:

* Teaching: Fundamentals of Microbiology - MW 12:00-2:40p
Medical Microbiology - TR 2:00-3:15p
Colloquium in Cell and Molecular Biology - R 3:30-4:30p
Thesis Research - Identification of T Cell Subsets and Immune Response in Colon Cancer Using Immunofluorescence - FOREVER AND EVER

Or rather, entries from the old journal, as it were...

-

An open letter to the College.

(August 27, 2006)

-

Untitled.

(July 16, 2006)

-

Haunted (Part One)

(May 29, 2006)

-

Are we growing up, or just going down?

(May 3, 2006)

-

I had a dream...

(March 19, 2006)

-

...

(March 14, 2006)

-

Enjoy it while it lasts.

(September 12, 2005)

-

Scene: 3:27 AM.

(September 3, 2005)

-

Untitled.

(July 26, 2005)

Psst... if you're looking for the academic writings I used to have here, head to my Reading Room.

Since June 2006...

- A Heartbreaking Work of Staggering Genius by Dave Eggers
- High Fidelity by Nick Hornby
- Travesties by Tom Stoppard
- The Way of the Shaman by Michael Harner
- The Tao of Pooh by Benjamin Hoff
- Nervous Conditions by Tsitsi Dangarembga
- The History Boys by Alan Bennett
- The Dark Child by Camara Laye
- Movie-Made America by Robert Sklar
- Diary by Chuck Palahniuk
- Rant: An Oral Biography of Buster Casey by Chuck Palahniuk
- Galapagos by Kurt Vonnegut
- The Dead Emcee Scrolls by Saul Williams [61.3%]
- Atonement by Ian McEwan
- Junk Science: An Overdue Indictment of Government, Industry, and Faith Groups that Twist Science for Their Own Gain by Dan Agin, Ph.D. [64.4%]
- So Yesterday by Scott Westerfield
- Lucky Wander Boy by D.B. Weiss
- The Things They Carried by Tim O'Brien
- Doctor Who: The Key to Time: A Year-by-Year Record by Peter Haining
- Why Buffy Matters: The Art of Buffy the Vampire Slayer by Rhonda Wilcox
- When You Are Engulfed in Flames by David Sedaris
- The Road by Cormac McCarthy
- 1984 by George Orwell [18.8%]
- Nick and Norah's Infinite Playlist by Rachel Cohn and David Levithan
- Intuition by Allegra Goodman
- V for Vendetta by Alan Moore and David Lloyd (Yes, I realize it's a graphic novel but it still fucking counts!)

UNGGGGGH! (That's the sound of a tennis player hitting the ball.)

Monday, January 22, 2007 @ 1:04 pm

So the Australian Open is going on and I loves me some tennis. I can't play for shit, but I like watching it on TV. I also love listening to the players scream like they're trying to shoot something out of their orifices with incredible force every time they hit the ball.

In all of my tennis experience (which is to say, all of my third-hand tennis experience from watching it on the telly), I have noticed that the best players move the ball around like it's nobody's business. You don't want to become uber-predictable and hit the ball at the same place all the time, right? Well, if living were tennis, the best player would be Life Itself, because when it hits those tennis balls at you, you never know where they're going to go. Another big part of tennis, then, is trying to anticipate where your opponent is going to hit the ball. When playing against Life, it can be a bit disorienting trying to pre-empt it, but as you get older and more experienced, you get better at that (or at least try your hardest to do so).

Sometimes it feels like a losing situation and after two and a half hours of play, you might not feel like even playing anymore and just want to give up. You're worn down and can barely lift the damn racquet and have no desire whatsoever to run back and forth, much less to hit the damn ball, and you can think of nothing but just retiring the match. And some people might just do that, saying that it's better to admit when you're defeated and just walk away to play another day. But I'd much rather keep going at it, even if I know I'm going to lose, because playing the game gives you experience, gives you practice, and even when you know you'll lose, the upshot is that you will learn something from the experience. (Hopefully.) Besides, along the way, you might score a point or two against Life, which never feels bad and just feeds the fire inside.

And no matter how good Life is, it's still not as difficult to play against as a wall. Just ask Mitch Hedberg: "The depressing thing about tennis is that no matter how much you play, you'll never be as good as a wall. I played a wall once; it's fucking relentless." So whenever you get beat down by Life on the courts, just keep telling yourself that it can eventually be beaten if you just keep at it. This is not the case playing against a fucking wall.

Comment! (4) | Recommend!

Lowering the volume on the television.

Saturday, January 20, 2007 @ 11:38 am

So it looks like for the next few months I won't be able to spend nearly as much time on this thing as I have in the last few weeks. Hopefully I'll be able to keep up with what you guys write in your blogs, but as for now (at least up until mid-April), I will be keeping a lower profile to make sure I continue to be academically successful and that I kick ass on my biochem/molecular and cell bio GRE.

So I'll be around less frequently, and for less time, but that doesn't mean we won't cross paths. See you around!

Comment! (7) | Recommend!

Friday, January 19, 2007 @ 7:03 am

I woke up very anxious for something that is 3 months away.

I am finding that I doubt myself more and more each day.

(I didn't intend for that to rhyme.)

It's a slippery slope and I just need to find a good hand-hold and I know I'll be fine. Because if I don't, it's down into the abyss.

Comment! (4) | Recommend!

Wednesday, January 17, 2007 @ 10:46 pm

When you delete something on your computer, traces of it remain--digital fingerprints or electronic blood-spatter, which when found can be a powerful tool in determining what was there in the first place. Sometimes, your brain works the same way. When things are no longer used with frequency, we have a tendency to file them in remote parts of our brain where, over time, they are apt to degradation. Eventually, we just forget the skill set attached to that file, which is finally deleted for all intents and purposes to make room for newer, more current, more useful applications. However, if we painstakingly comb the recesses of our brains, we can find those traces left behind, and use the information from those to help us reconstruct what once was lost a lot more quickly than having to start over from scratch.

Undoubtedly, this ability of ours comes in quite handy when we hear the familiar opening bass line of an ex-pop song which had long since faded into the annals of obscurity. It allows us to remember the words we had once commited to memory which now escape us unless we hear the song playing on the radio in the car. And most of the time, we use our miraculous skills to these ends--the more mundane, the more--dare we call them--useless applications that really get us nowhere in life, save a little trip down bad-hair-and-what-was-I-thinking?-those-pants-were-ridiculous memory lane.

But every once in a while, we accomplish something truly amazing with our mad

CSI: the Brain

skills. Today, for example, I relearned u substitution in calculus. (Definitely more useful than rapping "O.P.P." by Naughty by Nature in your car during rush hour.) It definitely took a while before I was able to reconstruct from the traces of u-subbing in my brain how to actually do it, but it definitely would have taken a lot longer if I were learning it for the first time. It also makes me feel a whole lot more confident that maybe I won't fail this class after all. I just have to search through the leftovers of what I once was able to do and reconstruct the data.

Maybe along the way, I can lightheartedly sing a little bit, too.

Comment! (4) | Recommend!

Tuesday, January 16, 2007 @ 10:42 pm

Nothing says lovin' like a pop quiz in calculus class. Fortunately, I take solace in others' pain, so when I saw how incredibly screwed some of the other kids were in comparison to me, I smiled. Unfortunately, I then promptly proceeded to struggle with the quiz. Which made me sad again. Don't you just love it when things go full circle?

I don't like that feeling when I'm in class and then some sort of surging tsunami of biological urgency sweeps over me, in the process derailing trains of thought and washing away any inklings of interest (feigned or genuine) and transient moments of actual honest-to-God concentration, leaving nothing behind but the need to eat, drink, urinate, sneeze, or fuck.

We have to fulfill these and other needs daily, but culture dictates when it is appropriate or acceptable to do so. We're taught that eating too little or too much is bad for your health. We're taught that it is acceptable to drink water any time of the day, but that alcohol should be reserved for the latter part of the day, and that it should only be consumed by certain individuals within the society. Sniffling and coughing are annoyances, and scratching the itch on your back is fine, but scratching the one near your genitals is outrageous. You unknowingly obey unspoken rules regarding proxemics--how close is too close and how far is too far--for different types of social interactions. You are only allowed to get your freak on in certain places without being viewed as sexually deviant.

Man, now I forgot where I was going with this because I went off in search of food.

FUCK, it never ends.

EDIT:

I remember now. So these urges. Outside the boundaries of culture, we are at their beck and call. Their voices are the ones we hear and heed and act upon accordingly. But whenever we're around a group of people, we hear the voices of the ghosts of disapproval, ever haunting us, waiting in anticipation for us to let a fart out in the middle of class. We heed the advice of those who came before us, who took to heart the advice of their own progenitors--a chain of enculturation linking back to the origins of culture itself. So on a daily basis, we're torn in two directions: to obey the call of the wild or to submit to the will of our culture. Sometimes, the decision is easy, for the potential for being labeled an outcast is a pretty strong motivator to suppress your urges in favor of taking the civilized approach. But sometimes, in times of stress or boredom or frustration, you just want to drop your pants and get down and dirty with the hottest guy in the room.

Even if he happens to be your anthro professor.

EDIT #2:

A complete aside: you cannot hope to argue by logic when the person you argue with has weak logic at best. In that capacity, they will always win.

Always.

Comment! (6) | Recommend!

Tuesday, January 15, 2007 @ 10:26 pm

...you just say "fuck it" and head to bed.

Is this the definition of failure? Or is it the definition of bliss?

Comment! (6) | Recommend!

Monday, January 15, 2007 @ 7:15 pm

It does NOT say "YOU + ME = US."

It says: "I will cactusfuck you and you will cry and bleeeeeeeeeeeeeeeeeeeed."

(Attempting to do homework. And failing.)

Comment! (4) | Recommend!

Monday, January 15, 2007 @ 9:30 am

Sometimes, I fantasize about maiming people so bad that their lives are ruined forever. I never act on those fantasies, but I always let out my anger on an inanimate object nearby. I have caused property damage before, and it isn't pretty. Sometimes I'm afraid I'll accidentally hurt someone I care about, even if they are the people that piss me off in the first place. Sometimes, I wish someone would tell me what's wrong with me.

It goes like this: I am fairly tolerant until a certain point when I just snap. Then I start shaking, my fist starts clenching, I begin to breathe heavily, and I get tunnel vision. Then I regain some sort of control over myself and punch a wall or kick a chair or throw objects at a wall. Then I storm off, lock myself in my room, and sleep or otherwise vegetate until I calm down.

I've tried counting to 10 before doing anything and that doesn't work because it ends up just being a sort of countdown. And I've tried keeping it in, but I feel... not physically ill afterwards, but I feel abuzz with anger and I can't concentrate on anything afterwards anyway. And I would go to the garage and hit the punching bag a few times, but I've knocked that thing off the ceiling before, which is a bad thing if the family's Volvo is parked not more than a foot and a half away.

I want to get help, but I don't have insurance of my own, and I have a feeling my mother doesn't want me getting any pharmacological help bceause she wants to maintain this image of perfect me for the family. But maybe that demand to put on airs is part of the problem.

I don't know.

Well, maybe writing will help. I do feel a bit calmer now. I might be ready to open the door.

Comment! (7) | Recommend!