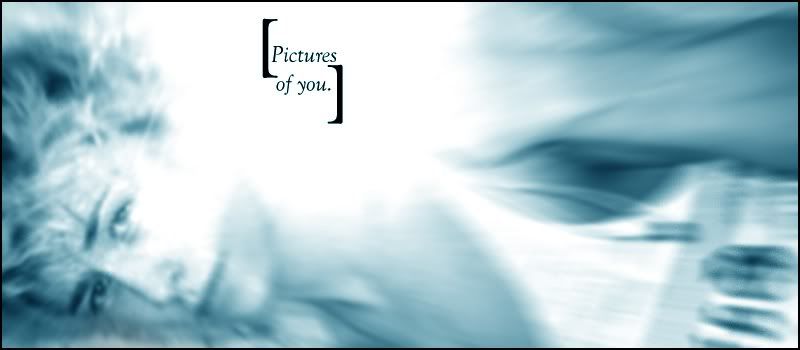 Spring Semester 2010:

* Teaching: Fundamentals of Microbiology - MW 12:00-2:40p
Medical Microbiology - TR 2:00-3:15p
Colloquium in Cell and Molecular Biology - R 3:30-4:30p
Thesis Research - Identification of T Cell Subsets and Immune Response in Colon Cancer Using Immunofluorescence - FOREVER AND EVER

Or rather, entries from the old journal, as it were...

-

An open letter to the College.

(August 27, 2006)

-

Untitled.

(July 16, 2006)

-

Haunted (Part One)

(May 29, 2006)

-

Are we growing up, or just going down?

(May 3, 2006)

-

I had a dream...

(March 19, 2006)

-

...

(March 14, 2006)

-

Enjoy it while it lasts.

(September 12, 2005)

-

Scene: 3:27 AM.

(September 3, 2005)

-

Untitled.

(July 26, 2005)

Psst... if you're looking for the academic writings I used to have here, head to my Reading Room.

Since June 2006...

- A Heartbreaking Work of Staggering Genius by Dave Eggers
- High Fidelity by Nick Hornby
- Travesties by Tom Stoppard
- The Way of the Shaman by Michael Harner
- The Tao of Pooh by Benjamin Hoff
- Nervous Conditions by Tsitsi Dangarembga
- The History Boys by Alan Bennett
- The Dark Child by Camara Laye
- Movie-Made America by Robert Sklar
- Diary by Chuck Palahniuk
- Rant: An Oral Biography of Buster Casey by Chuck Palahniuk
- Galapagos by Kurt Vonnegut
- The Dead Emcee Scrolls by Saul Williams [61.3%]
- Atonement by Ian McEwan
- Junk Science: An Overdue Indictment of Government, Industry, and Faith Groups that Twist Science for Their Own Gain by Dan Agin, Ph.D. [64.4%]
- So Yesterday by Scott Westerfield
- Lucky Wander Boy by D.B. Weiss
- The Things They Carried by Tim O'Brien
- Doctor Who: The Key to Time: A Year-by-Year Record by Peter Haining
- Why Buffy Matters: The Art of Buffy the Vampire Slayer by Rhonda Wilcox
- When You Are Engulfed in Flames by David Sedaris
- The Road by Cormac McCarthy
- 1984 by George Orwell [18.8%]
- Nick and Norah's Infinite Playlist by Rachel Cohn and David Levithan
- Intuition by Allegra Goodman
- V for Vendetta by Alan Moore and David Lloyd (Yes, I realize it's a graphic novel but it still fucking counts!)

Without a doubt, doubtful.

Tuesday, January 30, 2007 @ 9:59pm

So last Monday in my cell activation seminar was the first time I seriously doubted my ability to engage in graduate studies. It was the way everyone was able to readily answer questions about things I hadn't even considered while reading the papers for class. For the entire hour, I stared intently at my notes and the articles so that if the professor called on me, I could pretend I wasn't aware what was going on. If I said I hadn't been paying close attention to where we were, it seemed preferable to saying I didn't know what the hell anyone was talking about.

I don't know the demographics of the class, but it seems likely that the bulk of my classmates are either 2nd or 4th semester M.S. students (the latter signifying that they are about to graduate). If this is the case, does that mean that I shouldn't feel so bad if I feel like an idiot because these people have been doing this longer? And if this is true, will the professor hold me to the same standards as these people? And if he does, and I don't deliver the goods, would that reflect badly on me when I do apply to grad school and have something less than a "B" for that class? Does this mean I have to learn hard and fast? I don't even know if I can do that. I can try my hardest but if my hardest isn't good enough, where does that leave me? Does that mean giving up on achieving the goals I set for myself since I was a kid?

How does one even go about forming a new dream and going after it after your first attempts at doing so fail?

Or at that point, will I have to resign to "settling"? I don't want to settle for something less. I want to soar.

Comment! (9) | Recommend!

Monday, January 29, 2007 @ 12:15 pm

I need to file to drop a class (Women's Studies) because I don't have time to write the paper that's due this Wednesday, and I don't think I'll have time to give that class the attention it deserves and needs over the next few months. (Okay, honestly, I should have been more on the ball with that paper--doing research and whatnot--but other things got in the way. And I'm not talking about TV for once.) I'll be getting a 25% refund on the course (better than nothing), which I can use to pay for my seminar class at SJSU.

Speaking of which--we had our first

real

class today and it was fucking TERRIFYING. The professor is one of those people who calls on people all throughout class, and being a class of about 12 people, that means that dodging the bullet will be nearly impossible. I guess that means that

really

have to read in-depth on these articles we discuss every week, because if he asks something that I don't know, I will positively die of embarrassment and be laughed out of the room. Maybe not, but being the class fuckup is no fun. Especially when freakin' Ricardo (total Spanish hottie) is both the HGIR and pretty much the golden boy of the class. Don't want to be the retard there.

So, I need to drop the course, request a refund, and start devoting my life to these articles... sound like fun? Oh, yes.

Oh, I guess this also means I won't be getting my A.A. in Anthropology this quarter. Oh well, I will just have to take Women's Studies next quarter and I'll be done before summer.

Comment! (3) | Recommend!

Sunday, January 28, 2007 @ 8:42 pm

I just wasted an hour looking through the historical photo archive at the Honnold-Mudd Library. I would waste more time trying to dig up interesting images of the past of familiar places, but Carpenter

et al.

, 1975 is calling. Nothing like a bit of light reading on the purification and characterization of epidermal growth factor to calm your mind and get you ready for sleep.

(Sopping wet sarcasm is not easily conveyed on the internet.)

Comment! (1) | Recommend!

Semi-obligatory teenage "I have feelings and this proves it" lyrical post.

Sunday, January 28, 2007 @ 8:00

La verdad es que también
lloro una vez al mes
sobre todo cuando hay frío

Conmigo nada es fácil
ya debes saber
me conoces bien
(y sin ti todo es tan aburrido)

El cielo está cansado ya de ver la lluvia caer
y cada día que pasa es uno más parecido a ayer
no encuentro forma alguna de olvidarte porque
seguir amándote es inevitable

Siempre supe que es mejor
cuando hay que hablar de dos
empezar por uno mismo

Ya sabrás la situación
aquí todo esta peor
pero al menos aún respiro

No tienes que decirlo
no vas a volver
te conozco bien
(ya buscaré que hacer conmigo)

El cielo está cansado ya de ver la lluvia caer
y cada día que pasa es uno más parecido a ayer
no encuentro forma alguna de olvidarte porque
seguir amándote es inevitable

--Shakira, "Inevitable"--

Comment! (2) | Recommend!

I had one true love in my life.

Friday, January 26, 2007 @ 7:23 pm

He just happened to be straight.

I miss him, though. In his capacity as my bestieforeverie more than in his (non-)capacity as my (never-will-be) lover. I want to talk to him. It makes me sad thinking that the last time we talked (and I use that term loosely, since the last time we actually communicated was via AIM) was nearly four years ago, his last semester of high school, my second of college. He was still unsure why everybody thought he was gay, and he was still unclear on why I ever liked him in the first place. He couldn't believe it.

I could.

I wish he could see that. That he's some sort of special.

And maybe he does now. But I have no way of knowing.

Where are you, kiddo?

Comment! (6) | Recommend!

Thursday, January 25, 2007 @ 9:29 am

It seems to be that the blogosphere is the perfect place for flawed arguments to flourish and eventually be asserted as fact.

I love it and I hate it. On the one hand, I can say whatever the fuck I want and if people call me out on it, then what the fuck do I care? On the other hand, if someone is being completely logically flawed (it happens to all of us, since the last I checked, none of us are Vulcans), you can argue back and forth all you want but it just comes down to not wanting to deal with it any longer. And that's where a dangerously uncontested flawed argument can bloom into a "fact" if enough people agree with the sentiment (sans the logic).

Proof by assertion: that's why the blogosphere is such an effective rumor mill. That's how false information is disseminated so rapidly on the internet. If you repeat it enough, it must be true, right?

Wrong. Argumentum ad nauseam should make us nauseated, but we're so used to looking at information without a critical eye. Fuck, I'm tired of it. I'm tired of seeing people like my sister believing everything she reads online or hears from her friends. We're all such lazy sacks of shit, so used to being served with terabytes of information on a digital silver platter that we forget how to hunt for our own truths and facts. Well fuck that shit.

Here's your bow and arrow: go fucking hunt!

Comment! (4) | Recommend!

Wednesday, January 24, 2007 @ 12:37 pm

Not about anyone, really. Well, maybe about myself. More like, I sometimes have conflicted feelings about attending Pomona for undergrad. Sometimes I wonder if I had chosen an easier school with a "bigger name" (i.e. Berkeley, UCLA, or arguably Stanford, or something along those lines), if I would have had a higher GPA and a better chance of getting into graduate school right off the bat. Forget the fact that grade inflation is such an issue, and that the o-chem tests we've seen from those schools are all a joke compared to our own, but would I have been happier about myself and the direction I would be heading?

Then I remind myself that I am (arguably) better prepared for graduate school, even if my GPA is fucked beyond all belief and I will have to work harder to attain my goals. Also, I wouldn't have met all the wonderful lovely people that I had, and I probably wouldn't have had such an awesome social experience (although that part may have had something to do with my academic troubles... but I don't regret it) if I had gone elsewhere.

And then I waffle for a while about whether or not it was a good choice to go to Pomona over someplace else.

And then a day comes along like today. Today, I started my first graduate-level class at San Jose State, and I realized that although all these people in the class with me are all graduate students (well, except two other Open University people), the concept of a seminar-style class where you read primary literature and dissect it for yourself is something not emphasized in their undergraduate experiences because of the size of their schools. When the professor started the class, it felt like a huge deja vu, since my undergraduate experience was fraught with such classes, conducted in a manner such as that in grad school.

So now I feel good about where I have been and where I am going. I have the utmost confidence that my time at Pomona will serve me well in the future, no matter where it takes me, even if it seems like I'm going nowhere for a while. Throw in the fact that I met a bunch of people who really do feel like family after four years, and I'm feeling fucking ecstatic. I'll be Someone (with a capital S) in my own time. For now, I'm content to be where I am, and I'm eager to move on to What's Next.

Bring it on, bitches! Bring it the fuck on!

Comment! (2) | Recommend!

Monday, January 22, 2007 @ 8:08 pm

I love it when boys cry. Well, I love it when anybody shows any sort of emotion (there's no such thing as a sense-crime yet, is there?), but I particularly love when boys cry because it shows that we're human and sometimes the masculinist macho bullshit expectations that our society has of us can be shoved aside for a shining, beautiful moment when we don't exist as men, but as human beings--as emotionally naked as we were physically naked the day we were born.

I was watching the Andy Murray vs. Rafael Nadal match on ESPN2 today and Murray looked like he was so upset and disappointed in himself, in his performance, that he was crying. I don't know if he actually was or not, but it was a nice moment because the kid's such a firecracker on the court but it looked like for just a split second he put down his tough-guy persona (derived from the Latin for "mask") and let his true face show. Because in the end, no matter who you are, you're human, under the costumes and the layers of make-up.

Let it show every once in a while. Even if that means that you have to cry.

Comment! (4) | Recommend!