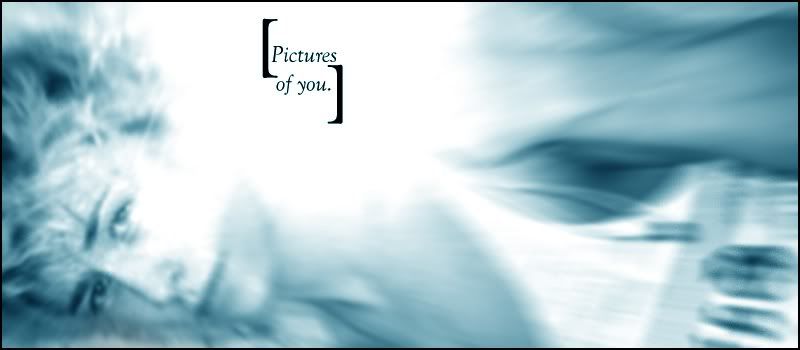 Spring Semester 2010:

* Teaching: Fundamentals of Microbiology - MW 12:00-2:40p
Medical Microbiology - TR 2:00-3:15p
Colloquium in Cell and Molecular Biology - R 3:30-4:30p
Thesis Research - Identification of T Cell Subsets and Immune Response in Colon Cancer Using Immunofluorescence - FOREVER AND EVER

Or rather, entries from the old journal, as it were...

-

An open letter to the College.

(August 27, 2006)

-

Untitled.

(July 16, 2006)

-

Haunted (Part One)

(May 29, 2006)

-

Are we growing up, or just going down?

(May 3, 2006)

-

I had a dream...

(March 19, 2006)

-

...

(March 14, 2006)

-

Enjoy it while it lasts.

(September 12, 2005)

-

Scene: 3:27 AM.

(September 3, 2005)

-

Untitled.

(July 26, 2005)

Psst... if you're looking for the academic writings I used to have here, head to my Reading Room.

Since June 2006...

- A Heartbreaking Work of Staggering Genius by Dave Eggers
- High Fidelity by Nick Hornby
- Travesties by Tom Stoppard
- The Way of the Shaman by Michael Harner
- The Tao of Pooh by Benjamin Hoff
- Nervous Conditions by Tsitsi Dangarembga
- The History Boys by Alan Bennett
- The Dark Child by Camara Laye
- Movie-Made America by Robert Sklar
- Diary by Chuck Palahniuk
- Rant: An Oral Biography of Buster Casey by Chuck Palahniuk
- Galapagos by Kurt Vonnegut
- The Dead Emcee Scrolls by Saul Williams [61.3%]
- Atonement by Ian McEwan
- Junk Science: An Overdue Indictment of Government, Industry, and Faith Groups that Twist Science for Their Own Gain by Dan Agin, Ph.D. [64.4%]
- So Yesterday by Scott Westerfield
- Lucky Wander Boy by D.B. Weiss
- The Things They Carried by Tim O'Brien
- Doctor Who: The Key to Time: A Year-by-Year Record by Peter Haining
- Why Buffy Matters: The Art of Buffy the Vampire Slayer by Rhonda Wilcox
- When You Are Engulfed in Flames by David Sedaris
- The Road by Cormac McCarthy
- 1984 by George Orwell [18.8%]
- Nick and Norah's Infinite Playlist by Rachel Cohn and David Levithan
- Intuition by Allegra Goodman
- V for Vendetta by Alan Moore and David Lloyd (Yes, I realize it's a graphic novel but it still fucking counts!)

The Motivation Proclamation of February 23, 2007.

Friday, February 23, 2007 @ 10:45 am

I hereby proclaim this weekend "Catch-up Weekend," during which I will catch up on calculus and anthropology assignments, read an ethnography, write a paper and prepare a short presentation on said ethnography, study for my calculus midterm, read and annotate 6 signal transduction papers for my seminar, and send off my tax return (yay refund!).

Of course, all of this is complicated by the fact that my cousin's fiance from the Philippines is coming to live with us starting today, and that my friend from Alaska (whom we've aptly named "Alaska") is going to be down here this weekend, and I would very much like to see her on Saturday in San Francisco for at least a short while.

Am I missing anything? Hm. If I am, I'm sure I'll just fall down and die. So if I never post again, you'll know what happened...

Comment! (0) | Recommend!

Wednesday, February 21, 2007 @ 6:05 pm

So skipping class to catch up on work doesn't seem to be the brightest solution, but it's the only one I can think of that doesn't involve me sleeping for 3 hours a night.

Generally, it wasn't an issue before. (There were many instances where I cited the fact that I needed to catch up as an excuse for cutting class, but generally, I did so because I was exhausted.) Living at a residential college where all I had to do was wake up and walk to class in my pajamas didn't exactly require much sleep. Hell, I wouldn't care that much if I was responsible for my own safety while driving from place to place on a little bit of sleep. What the fuck do I care about the nameless, faceless masses that join me on the highway every day? I'd feel bad if I got into an accident, but the thought wouldn't deter me from getting on the road. What does keep me off the road in that instance is the safety of my sister, who means more to me than pretty much anything else in the world. She's the reason I can't sleep for an hour and a half, jump in the car, and take her to school.

So I skipped my class last night and my class this morning. Boo fucking hoo. Guess that means I'll just have to work a bit harder for the next week or so.

Nothing I can't handle.

Comment! (2) | Recommend!

Sunday, February 18, 2007 @ 9:01 pm

After biking several miles today, I didn't feel a "runner's high" that is supposed to follow strenuous activity. Instead, I just felt incredibly pissed off. I wanted to kick someone in the face if it were physically possible but at that point I couldn't do much in the way of leg movement. What I wouldn't have given for a fucking cigarette at that very moment.

Fast forward a few hours later and I'm about ready to pass out. Got work to do, but my eyes hurt and again I want to maul something. Happy fucking President's Day. (What the fuck kind of fake-ass holiday is that, anyway?) Enjoy your day off if you have one.

Comment! (3) | Recommend!

You're goddamn right, it's a beautiful day.

Saturday, February 17, 2007 @ 4:12 pm

Obligatory GRE freak-out post.

Friday, February 16, 2007 @ 10:57 am

AHHHHHHHHHHHHHHHHHHHHHHHfuckityfuckingAHHHHHHHHHHHH!

That is all.

Comment! (6) | Recommend!

A MAJOR HOLIDAY IS FAST APPROACHING!

Tuesday, February 13, 2007 @ 4:31 pm

I am of course referring to February 15th:

International "That's What She Said" Day

.

On this most wonderful of days, you are encouraged to slip in a "That's what she said" into every context possible. Of course,

every

day is "That's What She Said" Day for some people (self included), but this is a chance to get normal people in on the action. ("That's what she said.")

I invite all of you to join in the festivities of International "That's What She Said" Day. I know it's hard ("That's what she said."), but I think if you try hard enough, you can go all day long ("That's what she said."). Just keep pushing ("That's what she said.") and do your best to make this year's International "That's What She Said" Day the best International "That's What She Said" Day in history. Now, if you'll excuse me, I've got to go find something to munch on.

("That's what she said.")

(Um. Because she's a lesbian.)

Comment! (5) | Recommend!

Sunday, February 11, 2007

It was his birthday yesterday, so I wrote a message on his facebook wall today. (I may have been the

only

person who remembered because there were no posts there, and he doesn't keep his birthday on the page so facebook wouldn't remind anyone who may have forgotten.)

A few hours ago, his wall vanished.

I wish he would just tell me outright that we weren't friends anymore instead of leaving me here trying to decypher his cryptic possibly passive-aggressive (if indeed this was his say of saying "No, we're not") bullshit. He has always been hard to read, and while I have studied the language and translated many works into plain English, it's still a dead tongue whose original metaphorical meanings have since been lost.

So where the fuck do we stand, Matthew?

I would really like to know.

Comment! (3) | Recommend!

So pull me under your weather patterns...

Sunday, February 11, 2007 @ 6:29 pm

The nice thing about living on the planet Earth instead of on some other planet--besides the obvious presence of a biosphere--is that the weather patterns are constantly changing in most of the places of the world generally considered the most livable. If you had a house right underneath the Great Red Spot on Jupiter, I doubt that you'd be a very happy, assuming the structural integrity of your house could withstand the winds long enough for you to form an opinion.

No matter how rough the storm is, it passes. Last night, I slept with my window open and heard--over the constant sounds of the highway--the pitter-patter of falling raindrops and the rumbling of thunder. A few moments ago, I pulled back the curtains in my room and bore witness to the most intense sunshine I've seen in days. Back on Jupiter, my counterpart is ripped to shreds by the anti-cyclonic storm winds.

Over the course of my absence from NuTang:

1) The moon's soft beams of calm light traveled through the clear midnight skies to the chaos of the city streets below, where a few of my closest friends and I wandered from bar to bar in search of a glimpse into the past and a chance to ruminate on the future;

2) The cumulus clouds gathered overhead and blocked out the sun and the wind began to pick up as the number of students in my grad seminar precipitously dropped over the weekend from 14 to a mere (and completely non-anonymous)

FOUR

;

and 3) The rain poured down as I was handed my calculus midterm back. How fucking appropriate.

But now things are starting to clear up and just in time: gotta mentally prepare for the general GRE this weekend. Last time, I scored anomalously low on my verbal section (I usually get a full 150-200 points higher on the practice tests for the verbal), although I was pleasantly surprised with the quantitative section. My scores were in the 85th percentile, so why strive for higher? I've already mentioned the first reasons why I want to take it over again (verbal score), but also, I need as high a score as possible to help prove I'm not a complete fucktard, which possibly may be the impression I send out with my transcripts. Whoops.

That having been said, I doubt my next update will come before next weekend, so I hope all of you are doing well and I'll try to pop in every once in a while to read the latest entries.

Bis sp├Ąter!

P.S. Anyone taken the GRE lately? Last time I took it was 14 months ago so I don't remember if they send you an admission ticket or not. (I know they do for the subject test, but I'm not sure about the general test.) If it's required, then I need to call ETS posthaste because they charged me for the exam, but I never received anything from them regarding it.

Comment! (3) | Recommend!