R.KELLY'S WIFE ANDREA KELLLY SPEAKS WITH ESSENCE MAGAZINE
Saturday. 5.5.07 9:44 am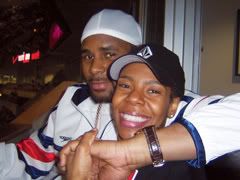 Everybody has heard about the charges R.Kelly face with the alleged sex tape with a 14 Yo girl, but no one really knew that he had a wife right. Well, Now we know he definitely has a wife, which by his music and actions I can't really tell. R.Kelly's wife name is Andrea Lee Kelly,and she speaks with Essence Magazine about life as the wife of R.Kelly.
Read part of the story here at Essence.com
I find it quite to stupid of her to not be curious about if that's really him on that tape, now majority of the sisters out here know that if that was their man, they would be looking for the tape because I know I would.
Sohh Ya Heard----->check out sohh.com
Comment! (4) | Recommend! | Categories: R.Kelly [t], Andrea Lee Kelly [t]
WHAT IS SAGE?...LOL YOU TELL ME
Friday. 5.4.07 5:45 pm
Well, My grandma changed my internet thinking she was going to get a cheap thrill, with the same quality we had before. She signed up with some company by the name of Sage. I tried to tell her Sage who is that, they don't have High Speed Internet. But you know how older folks are they just gotta be right, but they don't know jack about technology. So, she changed my internet to some slow ass Sage, which they claim is High Speed Dial Up, now you know that's a lie. I'm just waiting for my AT&T the real High Speed Internet to come back on.
Comment! (0) | Recommend!
LUOL DENG:A MAN FROM SUDAN-VIDEO CLIP
Tuesday. 5.1.07 3:43 pm
I just love me some Luol Deng.
Comment! (3) | Recommend! (1)
ANOTHER NEW VIDEO:FANTASIA-WHEN I SEE YOU
Thursday. 4.26.07 5:16 pm
I love this song,and her whole album.
GHETTOFABU
Comment! (0) | Recommend!
MYA FT. LIL WAYNE:LOCK U DOWN-THE VIDEO
Thursday. 4.26.07 4:49 pm
RIHANNA FT JAY Z:UMBRELLA THE VIDEO
Thursday. 4.26.07 1:21 pm