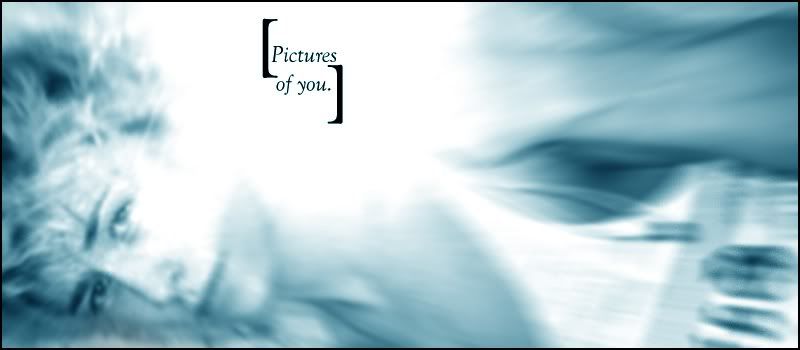 Spring Semester 2010:

* Teaching: Fundamentals of Microbiology - MW 12:00-2:40p
Medical Microbiology - TR 2:00-3:15p
Colloquium in Cell and Molecular Biology - R 3:30-4:30p
Thesis Research - Identification of T Cell Subsets and Immune Response in Colon Cancer Using Immunofluorescence - FOREVER AND EVER

Or rather, entries from the old journal, as it were...

-

An open letter to the College.

(August 27, 2006)

-

Untitled.

(July 16, 2006)

-

Haunted (Part One)

(May 29, 2006)

-

Are we growing up, or just going down?

(May 3, 2006)

-

I had a dream...

(March 19, 2006)

-

...

(March 14, 2006)

-

Enjoy it while it lasts.

(September 12, 2005)

-

Scene: 3:27 AM.

(September 3, 2005)

-

Untitled.

(July 26, 2005)

Psst... if you're looking for the academic writings I used to have here, head to my Reading Room.

Since June 2006...

- A Heartbreaking Work of Staggering Genius by Dave Eggers
- High Fidelity by Nick Hornby
- Travesties by Tom Stoppard
- The Way of the Shaman by Michael Harner
- The Tao of Pooh by Benjamin Hoff
- Nervous Conditions by Tsitsi Dangarembga
- The History Boys by Alan Bennett
- The Dark Child by Camara Laye
- Movie-Made America by Robert Sklar
- Diary by Chuck Palahniuk
- Rant: An Oral Biography of Buster Casey by Chuck Palahniuk
- Galapagos by Kurt Vonnegut
- The Dead Emcee Scrolls by Saul Williams [61.3%]
- Atonement by Ian McEwan
- Junk Science: An Overdue Indictment of Government, Industry, and Faith Groups that Twist Science for Their Own Gain by Dan Agin, Ph.D. [64.4%]
- So Yesterday by Scott Westerfield
- Lucky Wander Boy by D.B. Weiss
- The Things They Carried by Tim O'Brien
- Doctor Who: The Key to Time: A Year-by-Year Record by Peter Haining
- Why Buffy Matters: The Art of Buffy the Vampire Slayer by Rhonda Wilcox
- When You Are Engulfed in Flames by David Sedaris
- The Road by Cormac McCarthy
- 1984 by George Orwell [18.8%]
- Nick and Norah's Infinite Playlist by Rachel Cohn and David Levithan
- Intuition by Allegra Goodman
- V for Vendetta by Alan Moore and David Lloyd (Yes, I realize it's a graphic novel but it still fucking counts!)

I am a smart, interesting, awesome person.

Monday, March 12, 2007 @ 12:28 pm

That's my new mantra. I know what you're thinking--it must not be true because only LOSERS have mantras, especially ones like "I am a smart, interesting, awesome person." But guess what? I don't care. Because I am a winner. I am a smart, interesting, awesome person, who has the ability to win at Life--not just the Milton Bradley boardgame, but also the cosmic boardgame we play every day. Yup. I can do it. I seriously can.

($5 paid over the next 10 years says that this swell of optimism will level out within the next 24 hours.)

Comment! (5) | Recommend!

Sunday, March 11, 2007 @ 2:23 pm

The bad kind of surprise.

Wednesday, March 7, 2007 @ 10:49 am

So I thought I was all caught up with work and I went about mentally preparing for a little celebration in the form of a much-deserved nap. Unfortunately, I neglected to remember that I have a social psych midterm tomorrow and guess who hasn't studied yet?

The story of my fucking life.

*grumble* At least calc is out of the way...

Comment! (2) | Recommend!

Manic. (Password Protected)

Tuesday, March 6, 2007 @ 8:01 pm

Copulating deaf couple unaware of own volume

Tuesday, March 6, 2007 @ 3:44 pm

From: 4hearingloss.com December 09, 2005 Copulating deaf couple unaware of own volume

Monday night, a record number of noise complaints were received by Residential Security Officers in Roger Revelle College. Officers responding to the calls found the sexual activity of a deaf couple to be the source of the noises, which were described as "cacophonous" by witnesses.

The first officer on the scene, Frank Zipelli, reported, "I could hear those two all the way from the parking lot." According to Zipelli, "It sounded as if they were bludgeoning a cow. There would be a low moan, like a 'moo,' and then a 'bang' and a higher-pitched 'moo.' It was like 'MOO…BANG…MOOO!'"

Upon further investigation, officers on the scene were able to locate the disturbance in the bedroom of Revelle sophomore Katherine Chavez. "All her suite-mates were awake," said Zipelli. "They all were crowded around her door, afraid to go in."

Jamie Valencia was one of those at the scene. "We banged on the door for 15 minutes straight!" said Valencia. "The sounds wouldn't stop—they kept getting louder until the floor was shaking. I had a midterm in the morning and needed to sleep, so I called the police."

"We thought she had broken a leg or something," added Julie Klein. "The moans and thumping sounded like she kept hitting the wall, but her boyfriend was there too. I thought he might be beating her, but I was afraid to intervene."

Upon entering the room, the officials found John Miller and girlfriend Katherine Chavez, transfer students from the Sacramento Academy for the Deaf, interlocked in a "deafening tangle of sheets and frantically signing hands." After yelling a short while, RSO's had to physically stop the couple from their activity.

Miller and Chavez transferred to UCSD in the fall in order to "more fully experience college life together," signed Miller. "The apartments seemed like the perfect environment to adjust to life with others."

What Miller and Chavez had not accounted for when moving to public school was their sound level when having intercourse. "We had attended an institute for the deaf," signed Chavez. "We didn't have any idea that we were louder than anyone else. I just get so excited sometimes."

"This can't go on every night," Zipelli told the couple. "I like eavesdropping on hot loud sex as much as any other RSO, but if these noise complaints keep coming in, I'm going to have to cite you."

Miller and Chavez were reportedly "deeply apologetic" about the incident. Miller offered, "I guess we could close the window next time."

Comment! (10) | Recommend! (16)

Tuesday, March 6, 2007 @ 12:06 pm

So I got sick over the weekend, but thankfully not before I had a chance to go to the biggest party of the year over at my alma mater: Smiley 80s. I've always been a bit of an 80s purist, and though the 80s were pretty tacky, I never understood why everybody hyperbolized the tackiness when choosing their outfits. Despite the slight offense I take every time I see someone trying to be 80s-like and horribly failing, the party is just so fan-freaking-tastic (and I am usually so incredibly drunk) that I forgive them and thoroughly enjoy the 80s cover band 80z Enough.

It was nice being in Claremont again, and on such a beautiful weekend, too. Contrary to the usual, although the sun was shining, the air was clear. The weather was comfortably toasty (though not overly so at a perfect 75 degrees) and for the moments when the sun felt like it was boiling my skin from the inside out (which happens quite often; I hate the feeling of being in the sun although I am not opposed to it being sunny), there was a nice breeze going. And the breeze was cow-dung free, as I was afraid it might be, because some days the wind drifts over from Chino and it smells like the Central fucking Valley.

Driving is deceptively tiring. Who knew that alternately pressing the gas and brake pedals at lopsided intervals could drain you of so much energy. When I got back, I wanted nothing more than to sleep and dream of the next time I'll return. Instead, I half-heartedly (and half-brainedly) read for my seminar class which I thought I had on Monday. (Turns out I was wrong, and that it was just a waste of my precious bedtime.)

I guess it's back to the grind. (And that was not a reference to a 90s-era MTV exercise program starring

Real World

first season alumnus and has-been heartthrob Eric Nies. Had it been, I would be donning spandex right now, which is the thought I leave you with. Try not to vomit on your keyboard and have a nice day.)

Comment! (1) | Recommend!

Wednesday, February 28, 2007 @ 11:33 am

They say that if you're in a bit of quicksand, the more you struggle, the more you'll sink. If you just relax yourself, the laws of physics will save you: your body is less dense than the water-saturated quicksand, so as long as you don't thrash around wildly, you should be able to float in it. If you find yourself in quicksand, lie back and spread out your body to increase the surface area quite like when you do it in a swimming pool. Then you can paddle to safety.

But sometimes in the heat of the moment, you can lose your cool. Despite knowing better, you begin to panic and flail around quickly. You begin your descent into the slurry of doom.

It feels like that, a lot of the time, when I get in trouble. I always tell myself that next time I'll be prepared and I'll do it better and I'll learn from my mistakes and to some extent I do. But in a crisis situation, I completely and utterly fail. I get pulled under and all I have to show for my efforts is a respiratory tract (and a pair of boxer shorts) full of sand.

What a downer entry. I guess on the good news-front: I got a phonecall today for a possible interview for an astrobiology internship at NASA Ames Research Center. I won't be doing molecular biology stuff really, but it will be related more to organic and biochemistry, which are good things to know anyway. Especially since pragmatically speaking, chemistry/biochemistry jobs are becoming easier to come by in the biotech industry, and if I ever decide to take a job with a biotech firm, it will definitely be a plus. Also, an addition perk: if I get this internship, I get bragging rights for working at NASA on an astrobiology-related project. How cool does that sound?

</good mood>

Back to work...

Comment! (11) | Recommend! (2)

Monday, February 26, 2007 @ 8:20 pm

So the short of it is: my grandmother has cancer, and I feel like I'm being censored in my own fucking house.

Elaboration:

A few weeks ago, it was discovered that my grandmother had a mass on her liver. The biopsy confirmed that it was not native hepatic tissue; it metastasized from somewhere else. I want to go to her appointment since I'm practically the only one in my family who fluently speaks biomedical science, but I might have to miss it because of my grad seminar. I could miss it, but that would mean being absent from class twice in a row, which is a pretty big deal if the class meets only once a week. Hopefully my dad and my aunts and uncles will be able to understand everything at the appointment, and if anyone has any questions, they can come to me.

Another stressor: my cousin's fiance is here. He seems like a nice guy and I don't want to sound like he's not welcome here, because he is. But I hate having to tiptoe around every single negative emotion, to stifle every expression of dissent because my mom wants to create an air of... fucked if I know what. If he's going to be part of the household for an extended period of time, he'll eventually come to know that not everything is fucking sunshine and fucking flowers.

So now I'm walking around the house holding my tongue and it's stewing inside of me. And I feel a little bad because I'm so preoccupied with NOT seeming angry that I probably appear indifferent or even hostile to his presence. I'm fucking tired of feeling like I can't be myself in my own fucking home when that's the one place in the world where you're supposed to feel like you can say or do anything regardless of whether you do that in any other social situation. I'm supposed to be free to express myself here. What the fuck?

So yeah. Got work to do and all of this to contend with and so generally I'm not a happy camper. Plus, it's raining and everyone on the roads is fucking retarded when it rains. Makes pretty much everything THAT much worse.

GODFUCKINGDAAAAAAAAAAAAAAAAMMIT!

Comment! (5) | Recommend!