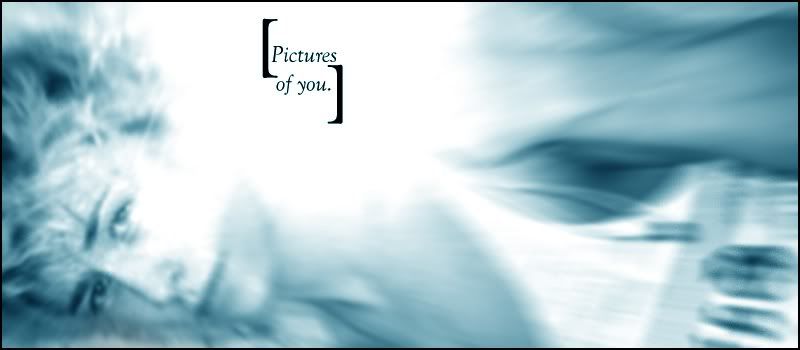 Spring Semester 2010:

* Teaching: Fundamentals of Microbiology - MW 12:00-2:40p
Medical Microbiology - TR 2:00-3:15p
Colloquium in Cell and Molecular Biology - R 3:30-4:30p
Thesis Research - Identification of T Cell Subsets and Immune Response in Colon Cancer Using Immunofluorescence - FOREVER AND EVER

Or rather, entries from the old journal, as it were...

-

An open letter to the College.

(August 27, 2006)

-

Untitled.

(July 16, 2006)

-

Haunted (Part One)

(May 29, 2006)

-

Are we growing up, or just going down?

(May 3, 2006)

-

I had a dream...

(March 19, 2006)

-

...

(March 14, 2006)

-

Enjoy it while it lasts.

(September 12, 2005)

-

Scene: 3:27 AM.

(September 3, 2005)

-

Untitled.

(July 26, 2005)

Psst... if you're looking for the academic writings I used to have here, head to my Reading Room.

Since June 2006...

- A Heartbreaking Work of Staggering Genius by Dave Eggers
- High Fidelity by Nick Hornby
- Travesties by Tom Stoppard
- The Way of the Shaman by Michael Harner
- The Tao of Pooh by Benjamin Hoff
- Nervous Conditions by Tsitsi Dangarembga
- The History Boys by Alan Bennett
- The Dark Child by Camara Laye
- Movie-Made America by Robert Sklar
- Diary by Chuck Palahniuk
- Rant: An Oral Biography of Buster Casey by Chuck Palahniuk
- Galapagos by Kurt Vonnegut
- The Dead Emcee Scrolls by Saul Williams [61.3%]
- Atonement by Ian McEwan
- Junk Science: An Overdue Indictment of Government, Industry, and Faith Groups that Twist Science for Their Own Gain by Dan Agin, Ph.D. [64.4%]
- So Yesterday by Scott Westerfield
- Lucky Wander Boy by D.B. Weiss
- The Things They Carried by Tim O'Brien
- Doctor Who: The Key to Time: A Year-by-Year Record by Peter Haining
- Why Buffy Matters: The Art of Buffy the Vampire Slayer by Rhonda Wilcox
- When You Are Engulfed in Flames by David Sedaris
- The Road by Cormac McCarthy
- 1984 by George Orwell [18.8%]
- Nick and Norah's Infinite Playlist by Rachel Cohn and David Levithan
- Intuition by Allegra Goodman
- V for Vendetta by Alan Moore and David Lloyd (Yes, I realize it's a graphic novel but it still fucking counts!)

How incredibly craptastic...

Tuesday, March 20, 2007 @ 6:40 pm

A class I registered for (which I had to jump through bureaucratic hoops to sign up for in the first place) just got cancelled. Well, FUCK. Now I need to sign up for an alternative, which means yet more hoops to jump through. I am SO bloody excited. Fucking, NOT.

P.S. Help me out with my anthro project? Click here for details. Thanks!

P.P.S. To those who have already responded... First of all, THANK YOU SO MUCH! Second, just a heads-up: in the next few days I will contact you about follow up questions. Lastly, THANKS AGAIN! :)

Comment! (7) | Recommend!

FRET not, for I know more than it seems.

Monday, March 19, 2007 @ 3:48 pm

Of course, the title of this entry would probably be more witty (or nerdy, in a very molecular biological way) if you knew that FRET stands for

f

luorescence

r

esonance

e

nergy

t

ransfer, which is a way to use fluorophore tags on proteins to check for physical (or at least very close [<5 nm]) associations between two proteins of interest. Apparently, I was the only person to know what FRET was in my seminar today, which made me feel very proud since I often feel like the dumbass in that class compared to all the other people who are already in graduate school. So yay me!

Other than that, I got over a minor freakout session I've been having about getting all my work done in a timely manner, thanks in large part to those who have participated in my little survey thing three entries below

(if you have the time/ability to do so, please send me a note with the answer to the questions listed there because it would really help me out!)

. There hasn't been an

overwhelming

response, but it is, um, whelming-enough that I am not thoroughly screwed, so yay for that. I've got finals next week and so a lot needs to get done before then so I can actually, you know, pass my classes. Hopefully with good grades. I also need to psych myself up mentally for my interview at NASA Ames Research Center on Wednesday for an internship in the astrobiology program over there. So yeah, lots to do but it feels manageable. At least right now it does.

Oh, except for the whole book-buying thing for classes next quarter. Why the hell are books so expensive? $150 for a book I'll only be using for 12 weeks? Seems hardly worth it. It better be a DAMN good book (one that I can keep referring to in the future)...

Eep. I'm tired. Perhaps it is time for a nap, no?

Comment! (5) | Recommend!

Sunday, March 18, 2007 @ 11:01 pm

I am so tired but I must press on. I gave instructions to my father to

please

put the espresso I was making with the stovetop macchineta into the freezer so that when I woke up from my nap (i.e.

NOW

) it would be nice and cold and therefore ready to be sweetened, iced, and quaffed vigorously, which of course did not happen. Now I wait in agony while trying to read these papers which are much too dense for my dull edge of a mind to slice through unaided chemically by the Wonderdrink. Curses.

Comment! (1) | Recommend!

Sunday, March 18, 2007 @ 11:34 am

We're having a party today for my cousin's wedding and it's supposed to start at 12:00 but there are some guests here already. I don't care who the fuck you think you are, but that is fucking RUDE. I'm already quite pissy because I need to get some work done while at the same time not being a complete recluse because I have to be "a good host." With guests that rudely come early, I feel that's going to be hard.

Comment! (5) | Recommend!

PLEASE READ IF YOU WOULD LIKE SOME KARMA POINTS...

Saturday, March 17, 2007 @ 11:50 pm

Alright, kids, here's the deal: I've got an anthro project due by next Tuesday and I

FINALLY

settled on the topic (though I cannot divulge that information to you directly, at least until the project is turned in). I am WAY behind and I would like a good grade on this project so my professor won't hate me. Plus, I'm asking him for a recommendation for graduate school so I'm hoping to make a good final impression.

Anyway, here's where you come in: I need informants to help me with my project. My project centers around net culture (I can tell you that much without having to kill you, though from the questions you may deduce what I am trying to get at here) and I would be VERY appreciative if you could find some time to be my informant. Just answer the questions below and send them off to me in the form of a

message

NOTE (that's what it's called, haha). Or you could comment, if you don't mind having everyone see your responses. That's fine, too. You don't even have to answer in complete sentences or with correct capitalization/spelling/grammar--I really couldn't care less! So please, please, PLEASE help me out. If not then... well, then I'd be quite fucked.

Onto the questions!

- Tell me some basic information about yourself: your age, your gender, and physical geographical location (LOL, "a/s/l?"), your ethnic or cultural background?

- How long have you been a member of this community?

- Tell me something about this community--what you like or dislike about it, what kinds of people you think are here. How is it similar or different to other online communities?

- Are you concerned about any controversial issues or debates that have directly affected this community recently?

- Are you a regular participant on the shoutbox or forums? Do you regularly leave comments on blog entries? Do you consider yourself an active member of this community?

- Do you consider anybody else in this community your friend? Do you know any of those people you just mentioned in real life? (You do not have to reveal the identity of this person/these people if you do not wish to do so.)

- Do you consider anybody here your enemy? Or, do you find anybody in the community as particularly on the receiving end of your spite? (Again, you do not have to reveal the identity of this person/these people.)

- How do you feel about newbies?

- If a newbie were to do something to get on your nerves, how would you react?

- If someone you know to have been a member of this community for quite a while were to do something to irk you, how would you react?

- Would you be willing to answer any follow-up questions I may have later on during the week? (Leave your e-mail or AIM s/n.)

- Is there another name you'd like for me to refer to you as in my paper? Would you prefer to remain anonymous? (By default, I will use your NuTang username.)

Questions last updated: 3/17/2007 @ 11:50 pm Thank you in advance for all of your help!

Comment! (2) | Recommend! (2)

Before you even begin to think about pinching me...

Saturday, March 17, 2007 @ 3:23 pm

...please consider the fact that I have green boxers on.

On second thought, belay that order. That's a mental image no one should have stuck in their heads.

Comment! (6) | Recommend!

Friday, March 16, 2007 @ 6:56 pm

Because I'm taking classes at two different colleges right now, I am on both the quarter and the semester systems. It's almost time for the quarter classes to end, so it's getting to be those two weeks where EVERYTHING is due, which is really throwing me off in terms of how to deal with the work from the other college.

I was never very gifted at juggling.

I thought I'd have more to say but I don't. Perhaps something will come to me later. As for now--time to watch

Jeopardy!

Comment! (2) | Recommend!

Block those leukotrienes!

Wednesday, March 14, 2007 @ 1:36 pm

I am enjoying the recent streak of warm weather, but I bet I would enjoy it even more if I didn't have allergies. It's probably why Spring is my least favorite season EVER in the history of seasons (which admittedly isn't saying much since there aren't many options)!

Days like these it's hard to know what to do. Do I:

1) ...leave the window closed and bake to death in my sauna-like room which was blessed (cursed?) with south-facing windows?

2) ...open my window and feel the cool pollen-laden breeze and have a sneeze-fest for the following several hours?

3) ...say "fuck this shit," take a hit to the wallet, and buy some damn Claritin (or other loratadine-containing pharmaceutical product) and wait for it to slowly take effect and bring calm back to my soul (and my overactive mucus membranes)?

Well, I've got no cash right now, but I suppose I

could

beg for some money so that I can enjoy this wonderful day even more.

Oh, crap, I got spatters of mucus on my fucking keyboard...

Comment! (4) | Recommend!