Saturday. 7.28.07 3:04 pm
Super GARENTULA entry coming up
start time now: 11.30 pm
first off, must mention that my v sweet bf stayed overnight at my place on fri so that he could send me off. tho we had a tiff in the morning. hahaha..
we would be taking jetstar singapore to bangkok on sat afternoon, abt 3. supposed to meet at 1.30 at Termnal 2. I wasn't late, much to the amusement of the girls, lol. I called them the moment i reached the airport, with prob abt 10 mins to spare. jaye started laughing hysterically when she got my call. turns out she was lunching with someone else.
met up with lindy and bf. ate popeye's fried chicken at T2 ... not nice. anyway went to shop at the DFS, we decided not to buy stuff till we got back, so that we won't have to lug things with us all over Thailand. which wasnt a good descison.
at popeye's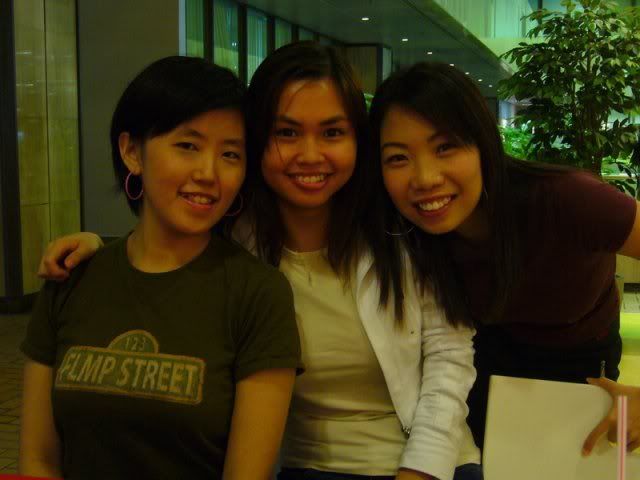 waiting for our flight to take off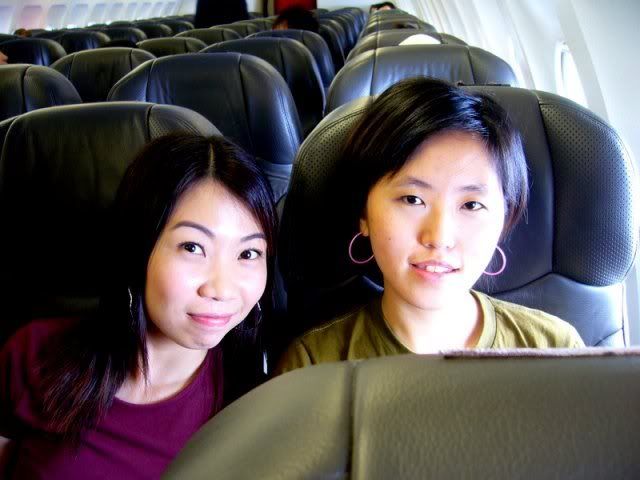 but i went and bot a camera on impulse. damn dumb of me. haiz. it spent the first day charging in the hotel, so there's no pictures from me on the first day.
Anyways, first stop: Bangkok!
we will only be there for the night and the next morning, since we will be taking tha afternoon flight o Krabi the next day.
Touched down in the evening at 5 going 6, good thing it was a Saturday and there is no rush hour jams whatsoever. My first sight of a country that is not within driving distance. pathetic i know. hhahah...
one thing abt Thailand, their cabs are dirt cheap and clean and much bigger den singapore cabs. altus? atlus? dunno lah... i dun rem le. whahhaa... the cabbies are generally polite and nice but non english speaking i suppose. they are dead quiet. keke
the airport is really modern and spacious and there's just so much glass~! u can see everything from everywhere!
at the airport u go to this counter where u tell the lady where wanna go and they will tell the cabbie for u in thai, and send u off. and interestingly, this practice is prevalent in all major shopping places. there's like taxi guards at the taxi queues everywhere.
so, when we reached our destination, an apartment styled hotel, located in Petchburi, next to pantip plaza aka simlim mall aka computer city, we were told there's no room for us!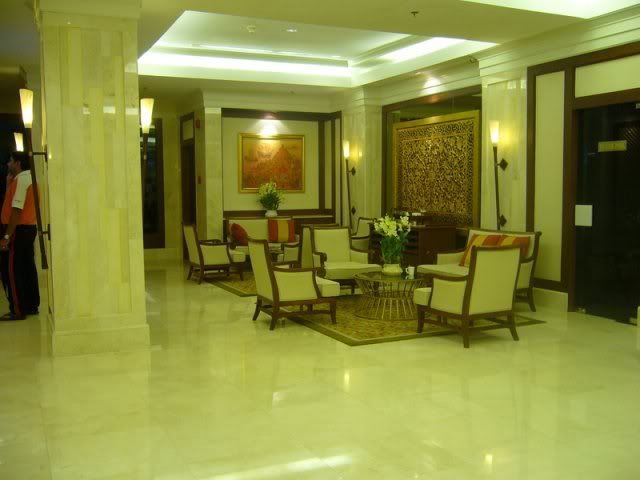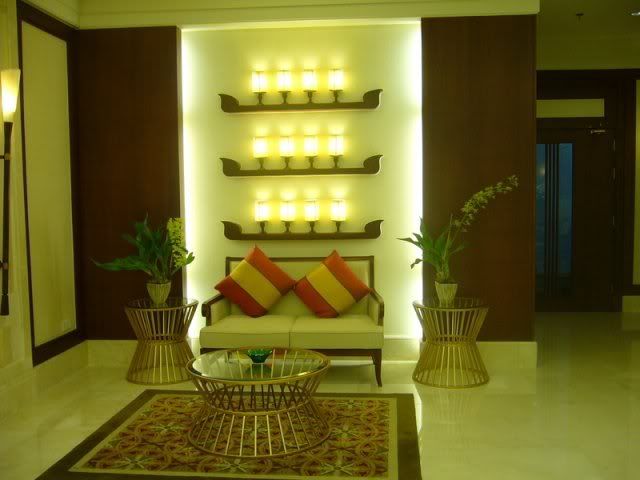 But they immediately clarified that they will be providing us with 500 baht for us to take a cab to their sister upscale hotel, just a bit further away. there's nothig else we can do but to take up their offer. *shrugs*
so we went.
when we arrived, we were checked into a small one person room. its impossible to squeeze all 4 of us in it. we booked a suite styled room at the original hotel with the intenton for the 4 of us to squeeze. and now its come to this. they must have converted the price of a suite in the budget hotel to a single room in an upscale one lah. freak.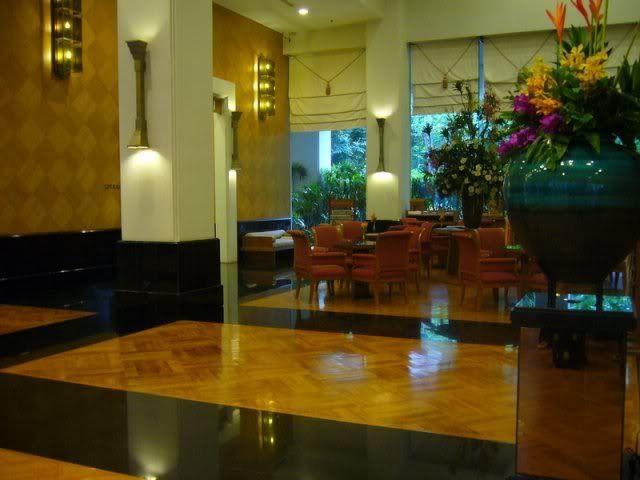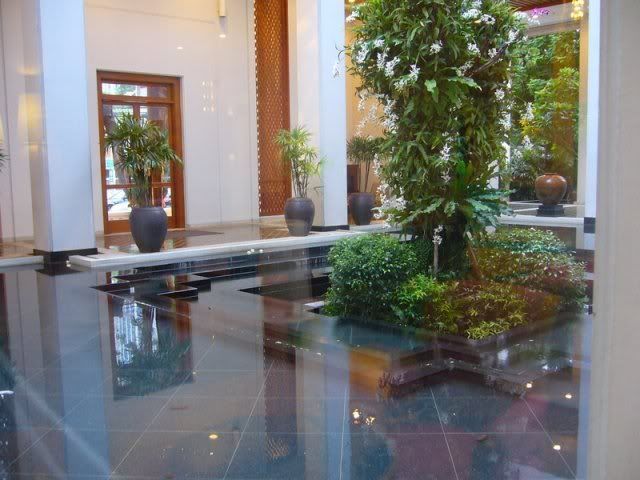 lindy's bf spent an hour plus trying to conince the reception desk that we are entitled to a suite styled apartment. gotta hand it to the guy. he actually managed to get us the room, but on the condition tha the extra 2 of us had to pay for 2 extra beds but with no costs with regards to the change of rooms.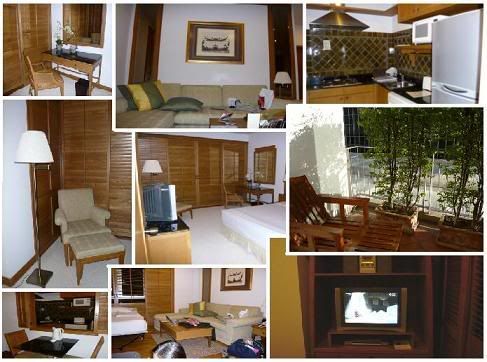 so we ended up with a comfy room, with a huge bedroom, a small kitchen, a living room and a balcony. too bad we are on the 5 floor, so there isn't much of a view.
went to the night market. which compared to chatchak and pratunam, i would say the night market absolutely tops! its like a hotbed for the local young artists and clothes designers display their wares and ply their trade. i would so love to have spent more time there, too bad we got there quite late, so the shops started closing after a while.
merchandise ranges from touristy stuff, to trinkets, to clothes, to accessories, to wood cravings,to light decoartions, and i even saw huge wooden bathing tubs aka from those HK period drama or japanese spas. too bad i dun have photos from there. the feeling of life there is pretty hard to describe.
shops close, we got tired.
went back.
sleep.
woke up.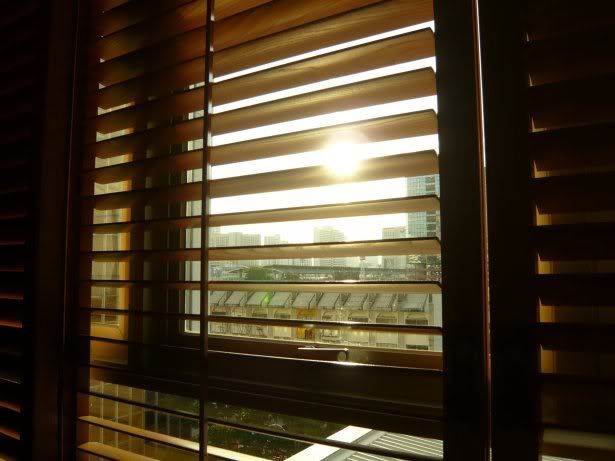 (its 1.34am, now. i'm getting tired)
the fabled Chatuchak!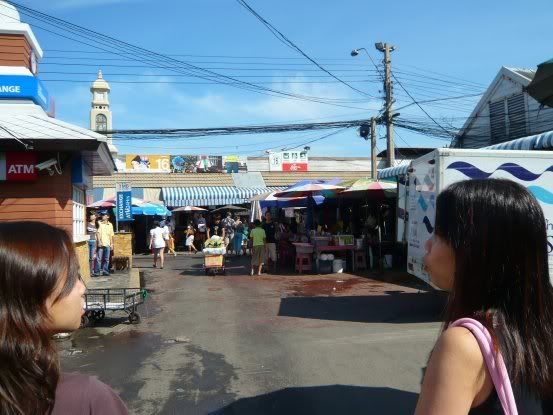 we went there like freaking 10+ in the morning. woke up at 7, wash up, had breakfast at 8+ took cab at 9+ all in order to squeeze in time for a couple more places to go.
ITS HOT!!
but pretty empty. most of the stalls are not open yet. and nt crowded at all. contrary to what i've been warned by so many pple.
see my fan is feeling the heat to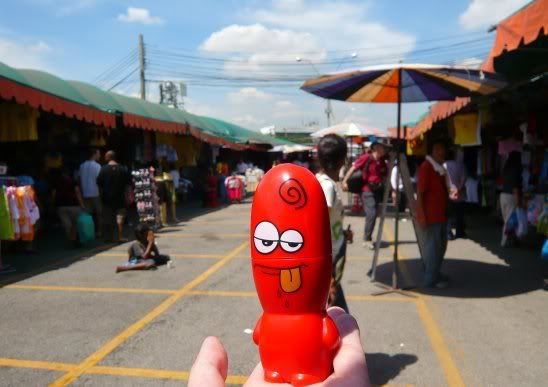 bot a couple of shirts and a sunglass and thats abt it. not much to buy.
was tempted to buy some sleeping gowns and o-so-cute towels but i can't bear the thot of carrying them. Heavy!
went pratunam next, we got so lost and was trapped in the granny section for so long! rows and rows of granny blouses freaked me out!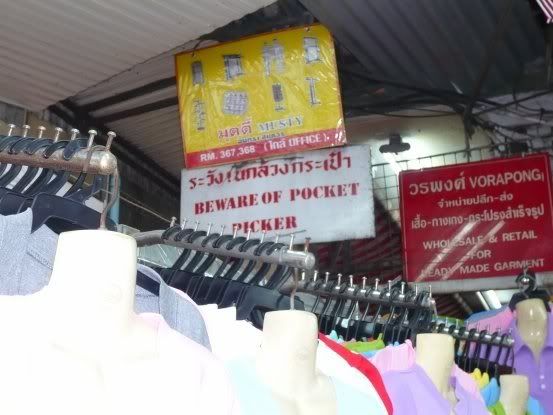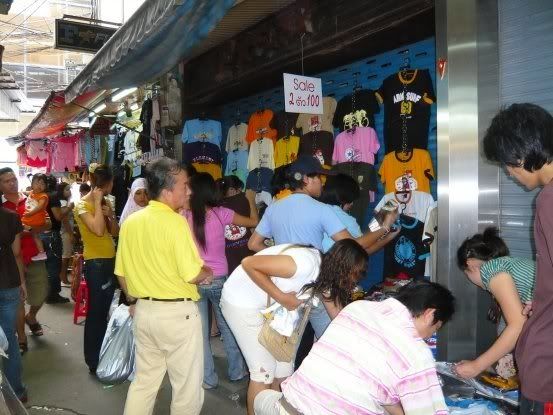 the crowd started to build. and i couldn't enjoy the shopping. furthermore we were hard pressed for time.
went mbk next. went staight for the bra section, for some reason unknownest to me, singaporeans always go to MBK for their lingerie needs. wwhahahah. we only had an hour there before we have to pick up our bags in the hotel and head for the airport.
rush rush. rush everywhere.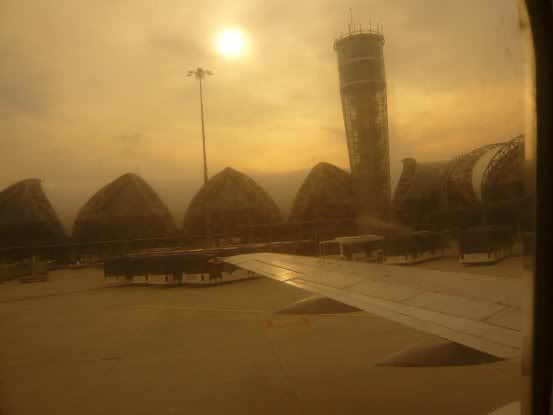 off to Krabi!!
it was raining miserablely when we got to Krabi. Moreover, i was wearing contacts on the plane, coz i forgot to take them off. (its lke my 2nd time on a plane lah, how would i remember??) When the plane landed the pressure in the plane was so huge, my right eyeball seem to have squelched and compressed itself, making me grab my eye in pain, as if it was gonna burst. its not the kind of pain one would forget. the pain immediately subsided when i took out my lenses. crap.
was half blind when we landed. it was pouring in sheets of grey. and the chauffer was no where in sight.
stupid me did not realise that there is a time lag between thailand and singapore. so therefore i gave the wrong time to the online agency whu was suppose to help us book the stuff in krabi.
took a minivan to the hotel. strange, but the taxis there do not seat more than 3 persons.
its was raining and raining and raining with no end in sight. ordered room service. it WAS cheap. lol.
had a good soak in the tub and went to sleep. gotta wake up early the next morning for the tour the hotel reccomanded.
and woke up to a BEAUTIFUL morning. with GLORIOUS SUNSHINE and breeze. breakfasted in the hotel and waited at the lobby.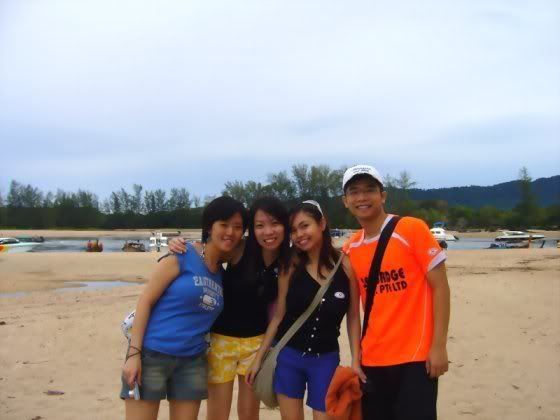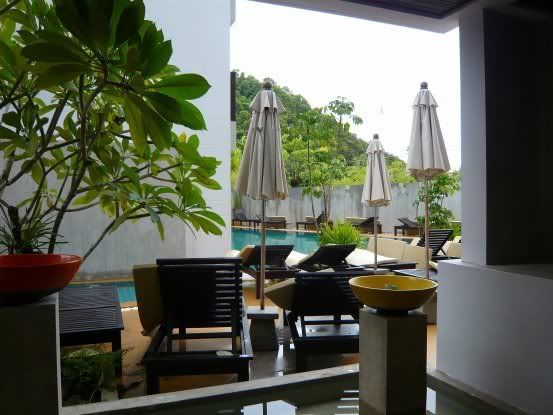 was fetched to a beach where all the express boats and longtail boats are docked.
and edward aka lindy's bf made a new found friend. a kooku dude whu took a 20 hour bus ride from Singapore to Krabi. SIAO~!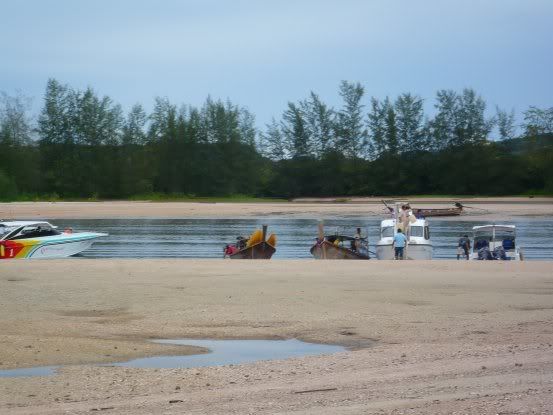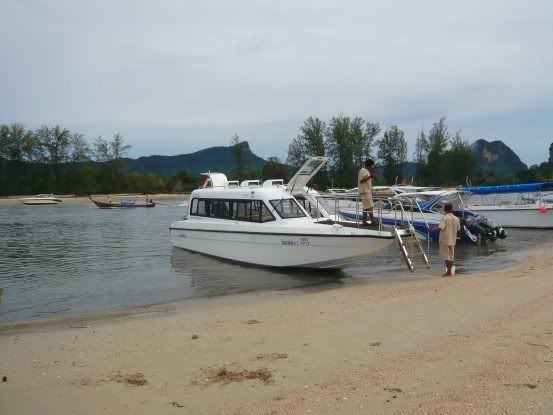 Krabi is absolutely beautiful!!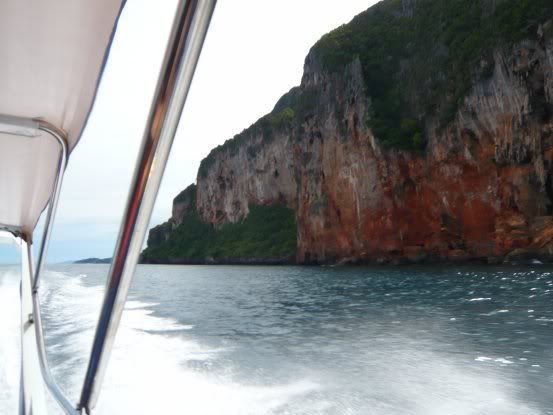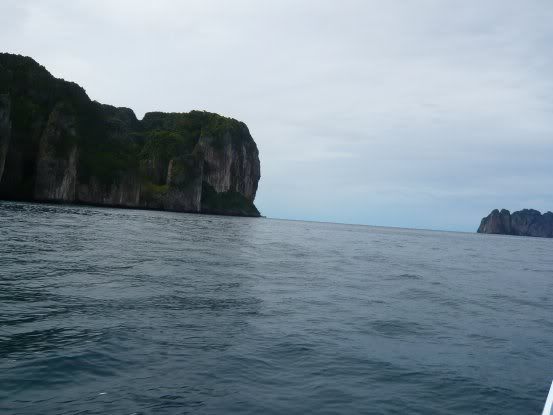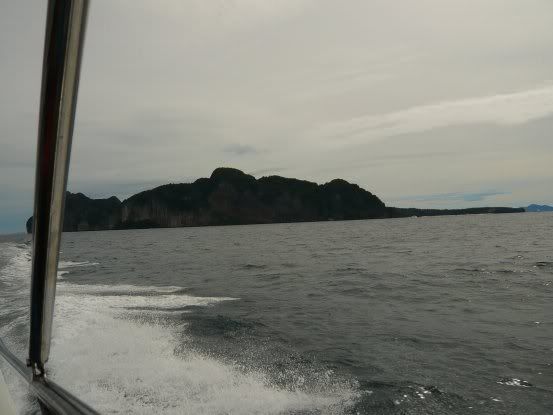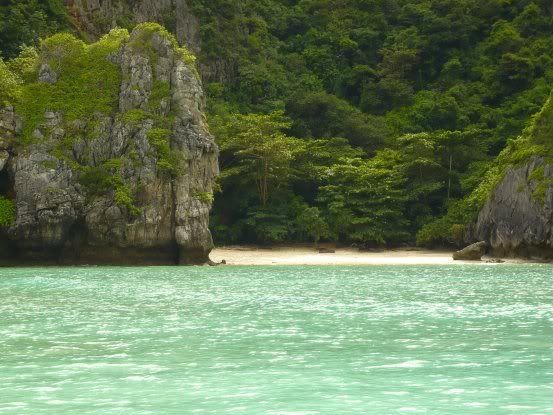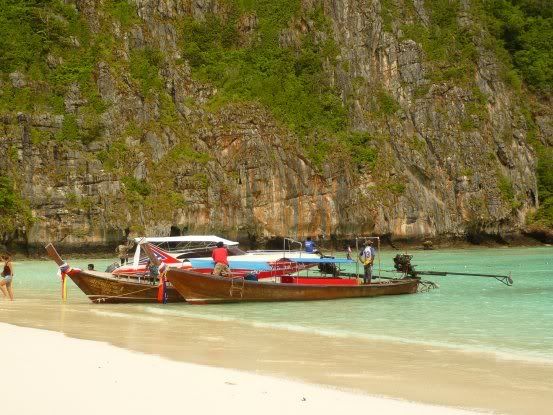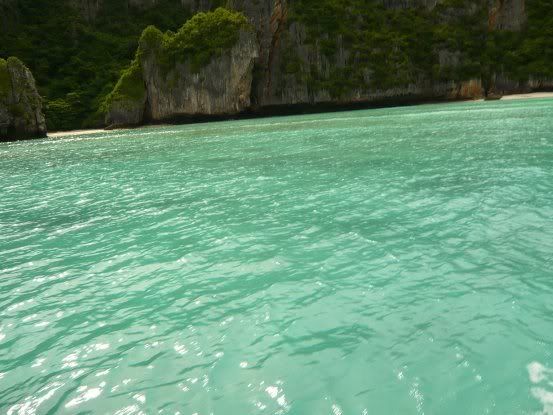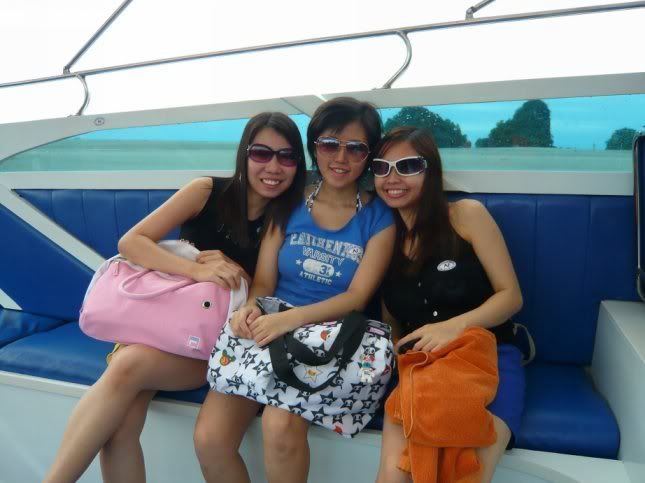 I have never seen waters so blue and so clear~! its amazing! and everyone was so responsible for the trash. our guide literally picked up every little scrap of plastic he saw that some of us dropped unknowingly.
Our first stop was THE beach where Mr Leo did his film, The Beach.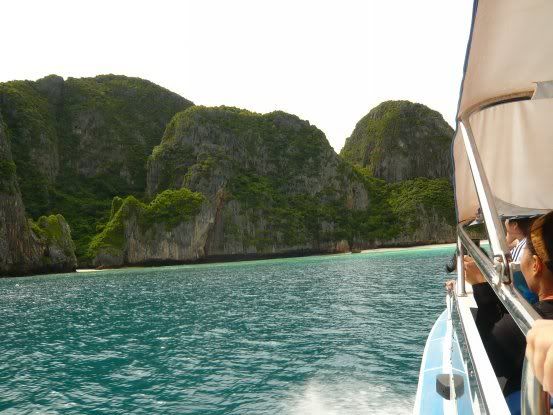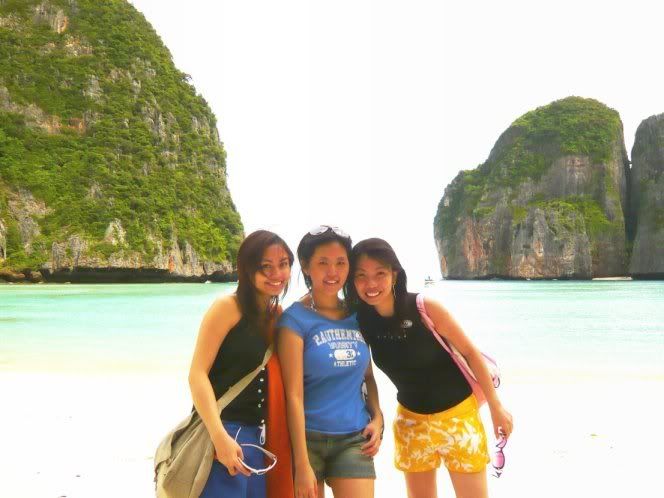 next we went snorkelling!!
jaye was screaming haplessly, coz she doesn't swim, so she's scared stiff. which is like DUH. u sign up for a snorkelling thing and u scream for a good 15 min does not make sense. lol.
anyways, eventually she graduated with flying colours from the Academy of Snorkelling taught by yours truely. lol. I've never snorkelled before, but its kid's play for anyone whu knows how to swim.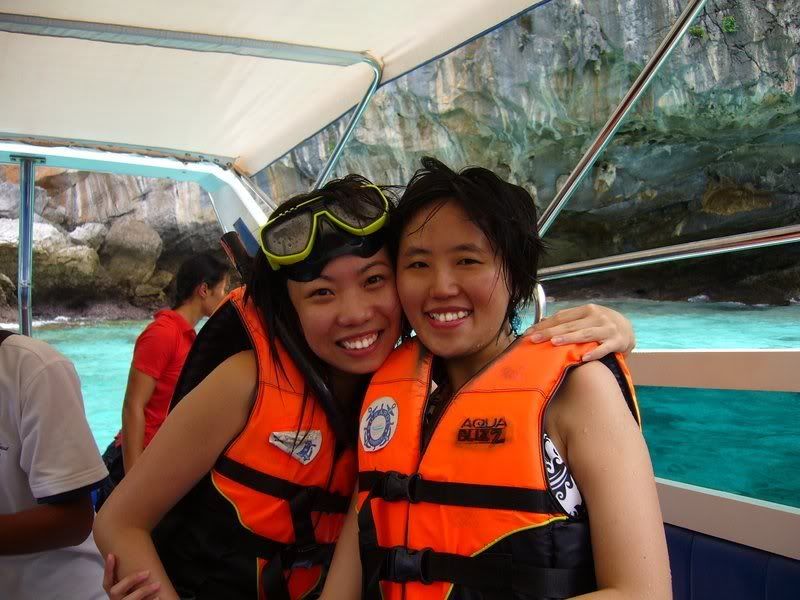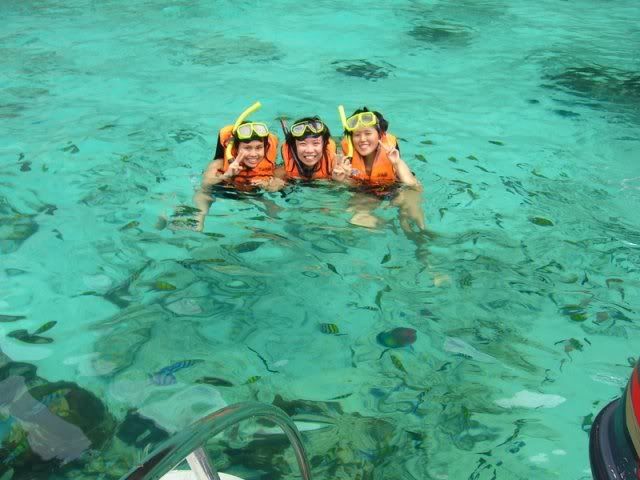 all of us plus new found friend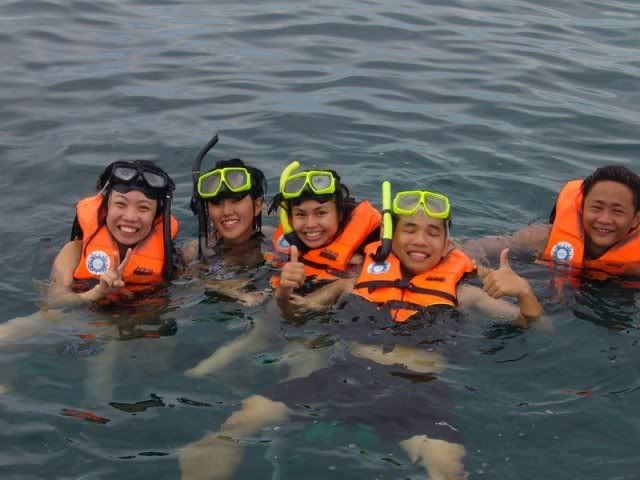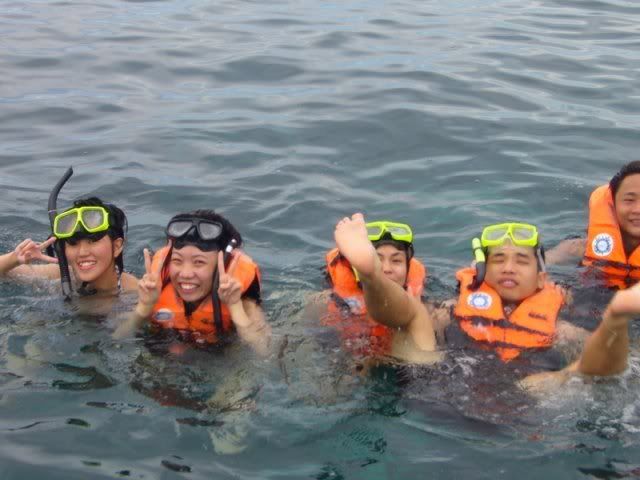 happy us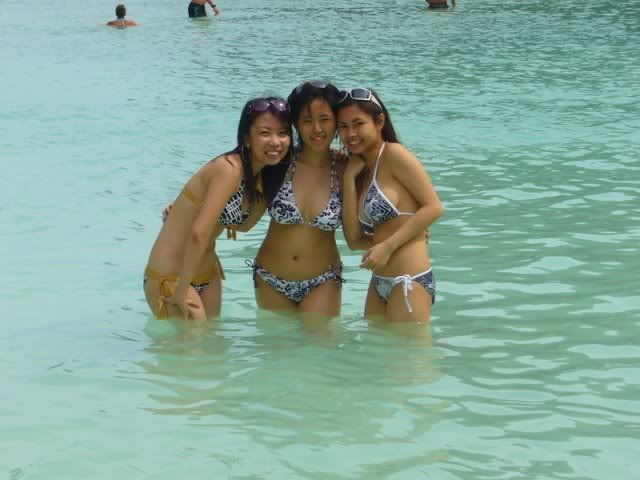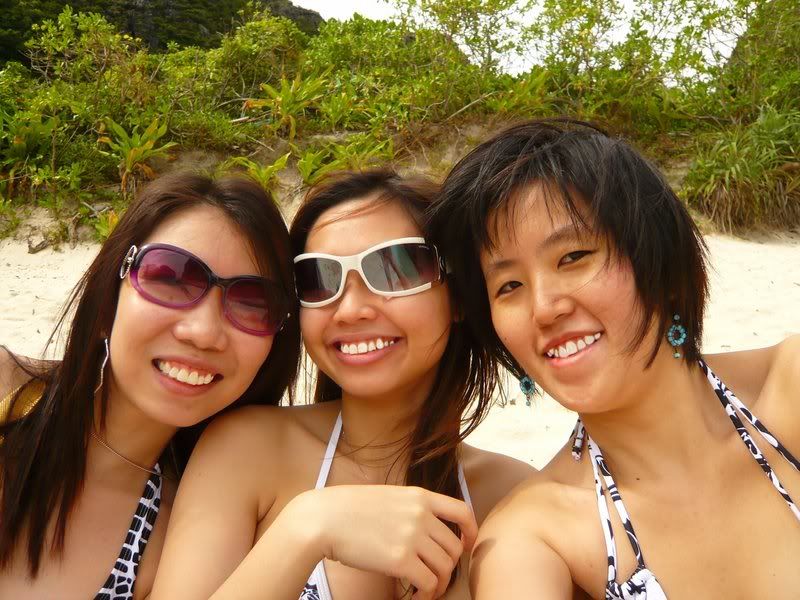 even happier us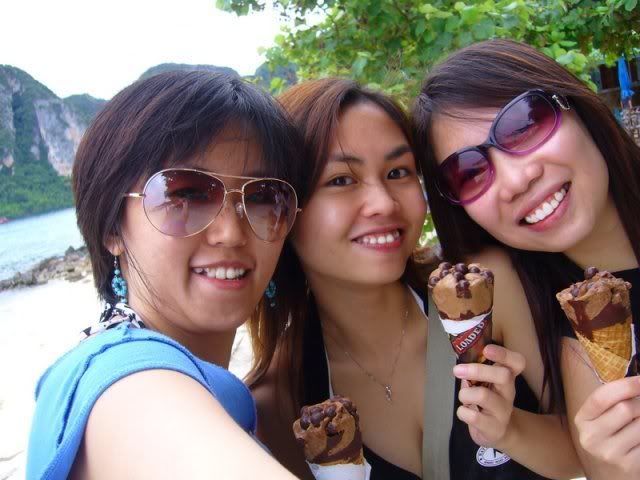 ME~!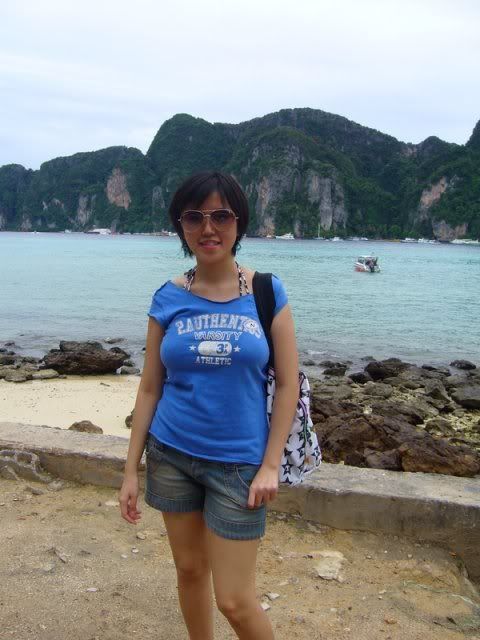 Ok.. its 3 am now, i wanna sleep, i've been blogging so long, i'm getting a crick in my neck.
nights all
will blog abt my hotel (see what 40 bucks a night get you) and the last day tml.
Comment! (5) | Recommend!
Thursday. 7.26.07 2:08 am