20 EFFIN BUCKSSSSS!!!!!!!
Tuesday. 9.18.07 9:26 pm
I'VE REACHED 20 EFFIN BUCKSSSSSSSSSSSSSSSSSSSSSSSSSSSSSSSSSS!!!!!
PARTAYYYYYYYYYYYY!!!!!!!!!!!











p.s. so what do i do now? lol!
Comment! (9) | Recommend! (1) | Categories: 20 [t]
Back in 2 Billion Seconds
Sunday. 9.16.07 7:01 pm
OMG.
i Can't believe i did it again.
Un-updating my nutang. =(
Especially now that i'm about to reach $20!!! :OOO
Anyweiz!=D Let's see -- i've half-given up on my attempts to make my own div layout. lol since with school now, it's so time-consuming. =) So i just went to
BLOGSKINS
.
And used other ppl's premade layouts which are btw, waaaaay cuter than my desperate 1st-time. =)~
W/c means, yes, i'm guilty of puttin more time on my blogger account *covers herself before nutangers start stoning her* than my b.Loved nutang.
Forgive me, but i find it waaay easier to tweak my blogger than my Nutang. That's why my Nutang is its same old crappy self >=( *kicks same old Nutang layout*
ahem ahem i Do hope someone out there would make a make-your-own-nutang tutorial for us really-lazy-and-slow-brained noobs
[nutang noob, me? ha!]
Schoolwise, all's been good. =)~
Scared of goin to University, but who isn't? =)
Love..........
JOHN FRUSCIANTE IS STILL DA SHYTT! LOL ;)
No, really, i have a new crush in school lol =D But it's all just something to pass the time on. Lmfao.
Ytd, we watched Superbad! Lol && daymmm it's superbad XD Love the dick drawings lol! Speaking of dix, i was downloading something today, && u know how some sites require you to put in a code or something? Well, guess what i got! =D And i swear, i didn't edit it! [Well, except those 2 blue lines i covered the url with] LMFAO!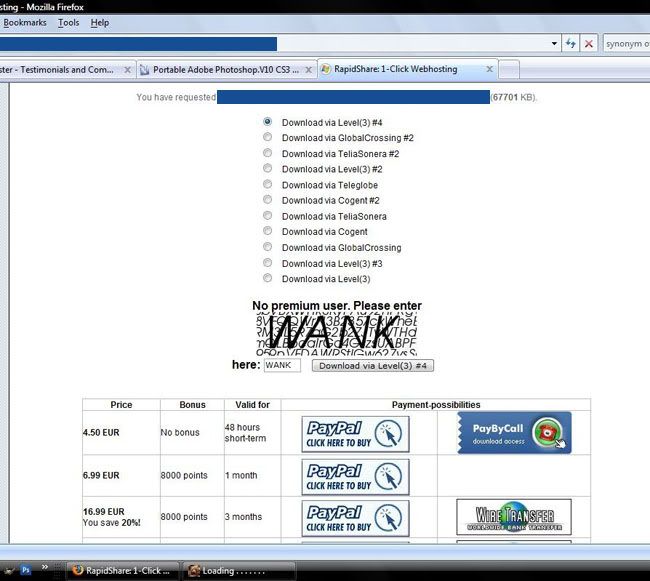 This is just some sick smiley, being such a pig! XD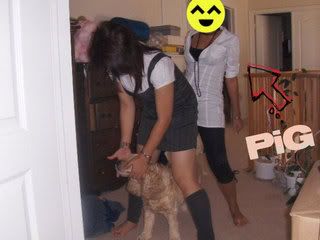 Off to Nutang surfing!!! =D~
Comment! (1) | Recommend! | Categories: blogskins [t], nutang [t], superbad [t], wank [t]
Tuesday. 9.4.07 6:40 pm
Long time no update [as usual].
Today was first day of school! :D
Better than i Expected! :) i Had friends in all my classes :D & not just my "circle" :D
1ST SEM:
Bio12
Adv Functions12
Religion12
Lunch
SPARE(!) --> prolly gonna change to Physics11. PROLLY.
2ND SEM:
Stage Design
Eng12 (yax)
Chem12
Calculus & Vectors (allegedly superhard course)
So yeah there. :)
Oh also i got my laptop today. Coz i didn't have it for the long weekend. [One of the reasons why i didn't go online...]
My friend's birfdaii last Friday && Filipino Day @ Wonderland last Saturday = FUN FUN FUN Weekend! :D
Disturbing moment last Sunday ==> abt remember the SUPER OLD Spanish ubercrush CARLOS?
Yeah. Well, his friend called me from his car one ordinary day. Then, i saw HIM at the backseat. Then, i had that weird feeling of ---oldmemorieschurninginmystomachlikebutterflies---
...
...
...
He was supposed to be dead!!! He was not supposed to remember my name!!! He was not supposed to tell his friends (i have no fuckin idea what) about me!!! He was not supposed to let his friend shout my name in public like some freaking freak show!!!
...
...
...
The weird thing is...i Kinda
l i k e
knowing that he still remembers me, moreso my name, even if we weren't "officially" introduced. Kinda gives me that feeling of pink butterflies & cotton candy girly feeling in my ♥...
WAIT! Before you snicker & say "Knew she couldn't forget that easily", i Just wanna clear up --
i don't like him anymore.
But i do admit I'm scared it might come back. =S
John Frusciante is sooooo hot!


Comment! (1) | Recommend! | Categories: 1st day [t], aquinas [t]
Wish # 2543: i Wish i Was a Guy
Monday. 8.27.07 7:01 pm
I WISH I WAS A GUY.
As in, manly man, with all the attachments and everything.
You know that fooking feeling when you're just sick and tired of people thinking you're weak and can't look out for yourselves?
That you have to say the what, when, where, why, how's of everything you do?
What, do i Look like i'm fooking 5?!
i Am seriously jealous of my guy friends. Why does it seem like parents don't mind what happens to their sons...but raise up hell when their daughters so much as smile at a (hot male) stranger or arrive home at 11 pm
DRIVEN BY THEIR FRIENDS' PARENTS?
If i were a guy, they wouldn't have cared.
BECAUSE I'M A GUY
AND NO ONE WOULD RAPE ME, UNLESS SOME FAG DECIDES TO RANDOMLY BUTTFOOK ME (Pity).
And yes, this coming from someone who called herself a feminist 1&1/2 years ago.
mood: def pissed off
9:08 pm EDIT

i Hope Kanye wins the KanyeWest vs. 50Cent thing coz i wanna see 50 go down!
&& coz i love Stronger lol
***Daft Punk!***
Comment! (2) | Recommend! | Categories: wish [t], guy [t]