Tuesday. 6.12.07 10:01 am
There are things about the road and driving that are just so annoying. You know what I am talking about.. people that drive slow, people that signal but never turn, those that rush past you only to meet you at the red light. Annoying right?
Well the one thing that I find to be the MOST annoying is window sticker on the back of peoples car that tell you how many people are in their family. You mostly see them on the back of family vans that say, Mom, Dad, Judy, Jake, Janice and then the dogs name or the cat. ANNOYING!!! Who the frack cares?? Arent they the least bit concerned that maybe someone will go to the school and say, "hey judy, I am a friend of your mom and she told me to pick you up today?" Hello??
Anyhow, I found the solution to all this annoyance!! A picture speaks a thousand words!!!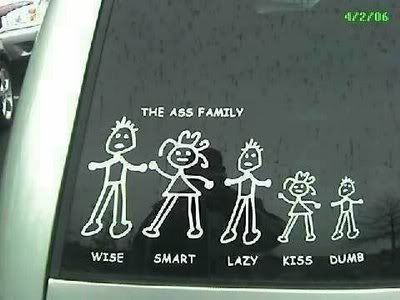 Comment! (9) | Recommend! (1) | Categories: lostsoul13 [t], invisible [t], silverdot [t], changbang [t], ikimashookie [t], elessar [t], dilated [t], ranor [t]
Summer is around the corner
Monday. 6.11.07 4:09 pm
Every summer I have to try and think of things or activities for my kids to do. At least this year my oldest is going to 19 so he is on his own. Still living with me and free loading but on his own for the summer.
Some ideas I have come up with are..
1. Catching up on anime series (bleach, Naruto Shippuuden,Nana and anything new)
2. Go to Hawaii for 7 days in July. (Whoo hoo)
3. Exercise at 24hr Fitness gyms
4. Summer movies on Fridays
5. Local trip... Las Vegas, San Diego or Orange County Parks
On a sad note... I dropped my daughters beautiful camera that I bought her for her b-day and the lens is now messed up. I feel so bad... she is so upset about it. I told her that I would buy her a new one but she said she would rather I fix the computer first.
Comment! (5) | Recommend!
Sunday. 6.10.07 11:20 pm
Well, today was the sign up day and I was there all prepared. For the first hour nobody came. Then after an hour and 10 minutes, my friend came to sign up. Yup! That is correct! I got ONE sign up today. I did not make my 10 but I am not going to give up.
Comment! (7) | Recommend!
Friday. 6.8.07 11:52 am
I finally did it! I made my website and I am going to begin teaching!! Whoo hoo! I am hoping this will go well but I need to ask a favor of anyone that reads my blog.
Can you help me get my website off the ground by leaving a comment on my websites
guestbook
? Something positive would be nice.
My web address is: http://www.freewebs.com/kkama67
THANK YOU EVERYONE FOR YOUR SUPPORT!!!
Comment! (6) | Recommend! | Categories: hula [t], hawaii [t], dance [t], kkama67 [t], changbang [t]
Wednesday. 6.6.07 11:26 am
We went to this really nice japanese restaurant last night for my daughters birthday. It is called Shinsengumi. They yell and scream when you walk in and when you order your food. It is just a fun, loud, social enviroment. There is a lot of beer drinking going on there too. Mostly controlled... it is not like an Irish pub. ha ha.
It is a yakitori place where they have food on sticks. The tables are small so we had to squeeze in. It made things a little more cozy. :) I sat next to my son that likes to hog up the whole table. Our server was really nice and a co-worker to one of my karate buddies. When it came time for dessert they turned off all the lights in the restaurant and only the outside street lights lit the front of the restaurant... then they sang happy birthday to my daughter. It was so nice because even people that didnt know her were singing from their tables... drunk asses. LOL!
It was so much fun!! I really enjoyed myself.
Comment! (4) | Recommend!
Sunday. 6.3.07 8:45 pm
I thought this was so cute. I wanted it on my blog
Comment! (13) | Recommend!
Sunday. 6.3.07 12:12 pm
My vacation to Hawaii is now in jeopardy. I was on disability for a long time after my back surgery that I do not have enough vacation days to take my trip. My mom really wants me to go. In fact she is urging me even though I told her I could not go. She is even willing to purchase my ticket for the weekend only. That is CRAZY..
I don't know WHAT to do.
Comment! (9) | Recommend!
Friday. 6.1.07 8:01 pm
I have been a member of
PPP
for only two weeks and I just totally LOVE it. I found out about it from
Kirei
on Nutang. I saw the potential to make a little extra income so I definitely wanted in!
My daughter is turning 17 on Tuesday and I was in need of some extra cash. I really wanted to make her birthday special so my bf and I bought her a brand new 7.2MP Panasonic Luminix camera with a 1GB SD memory card. That money I already had but I need money for the movies or something a little extra.
Since I joined
PPP
I have made a total of $28.00. That is perfect! That is exactly what I needed to add a little more fun to her special day! Thank you
PayPerPost
!!!
blog reviews
Comment! (8) | Recommend! | Categories: payperpost [t], panasonic [t], luminix [t], 1GB [t], birthday [t], changbang [t]