Saturday. 8.11.07 11:20 am
has happened.. and i haven't been blogging abt them due to reasons along the lines of ....LAZY~
i've been trying to do a photobucket slide show, but i'll come to that eventually.
so what else is new?
I've finished Harry Potter, thanks to Fad whu lent me the book.. sometimes i think Fad is heaven sent .. lol! It was a saturday afternoon, and i was late. maged fad, but she din reply. "thats weird"... fad usually will reply me. msged her some more, and called her with no response when i reached Orchard. was utterly baffled. we were supposed to meet at shaw. so i just walked into Isetan. and fad came running up to me and grabbed me even before i realised whats happening. I din even see her when i heard my name, and got grabbed. LOL. turns out fad forgot her phone, but by some quirk of fate, we actually ran into each other the moment i stepped thru the doors to the mall! the weirdest thing is that we've actually agreed to meet at the mrt station before hand, and i was desperately calling fad to tell her to meet me at shaw instead. Its FATE~!
accidentally tore a page of the harry potter book as i was reading it. all because of the post-it i used as book mark. arrrggghhh~ but fad was like the sweetest girl ecver, her first hp book, and i was only the 3rd person reading it, after her and her sis. I'm sooooo sorry abt it. i offered to buy her a new one, seeing that its HHP, not any other book. but Fad was really nice abt it and told me not to bother.
my mum got on my case recently abt the new commerative brunei and singapore 20 dollar bills. I din wanna go queue, coz i m=imagined the long queue to snake all the way to the door. i'v eforgotten whu mentioned it, but Fad got them for me! on the every first monday after i told her i would like to have a couple on sat.
Such is the niceness of my best friend! utter angel!
Comment! (0) | Recommend!
Monday. 7.30.07 6:12 am
After much deliberation, we decided in the Buri Tara hotel in Krabi. Which supposedly looked near to the beach and seems pretty decent. Plus its only been open for 6 months, so furnishings would be new and nice.
the hotel was like really DEEP into Krabi, plus, it was raining like its gonna flood, with vegetation all round, on narrow streets, and it was dark coz the sun already set.the journey there was really sinister and kinda suspense scary. you know, the kind where pple go on holiday to find themselves lost and trapped in weird eerie motel they unwittingly stumbled on.... only they find themselves to be playthings for the rich and twisted... and they are forced to kill each other or imaginative torture will befall upon them........ well you get the idea....
me checking in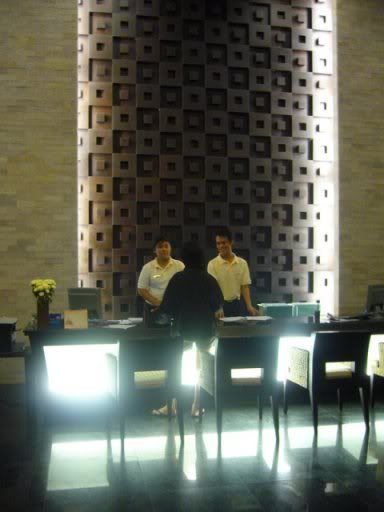 SO!
we arrived there safe and in 1 piece, and coz of the rain, we ordered room service.
pineapple rice, tomyam goong, green curry chicken, spring rolls, garlic bread, mixed grill (w weird mushroom sauce) and fries, and thats all, unless i missed anything.
was soaking in the tub, so by the time i came out, the gueina pigs have tried all the food and told me which are the nice ones.. lol there's a strange taste to the food, which i suspect was some sort of spice or flavouring kept in the freezer with, and therefore comtaminating the a major portion of the food w a yucky taste. eeh
but lindy's bf aka edward, couldn't taste any anything funny. Guys~!
my bed, the pillow had stars and moons on it~ Cute~!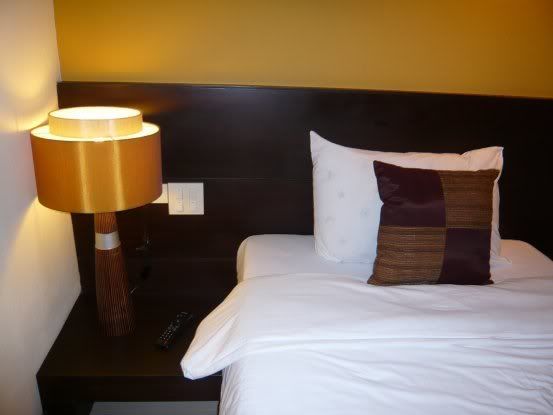 just this pretty set of pictures on the top of my bed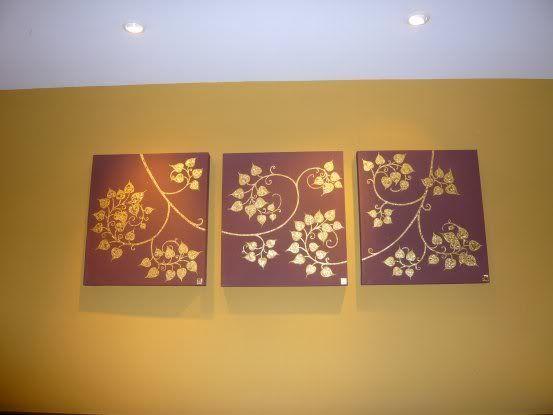 woke up at 7 to a beautiful morning.
view from the street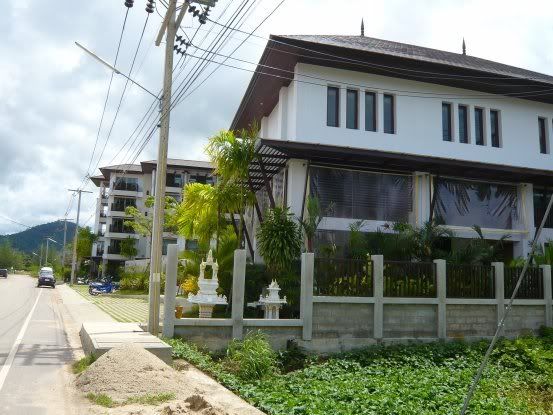 Doesn't look so scary anymore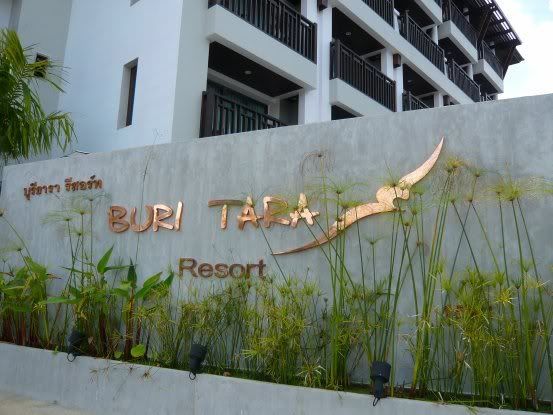 lobby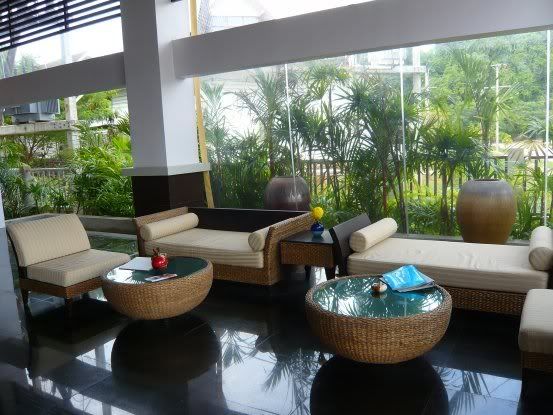 We took a pair of connecting deluxe room, with sea view.
in the evening, kinda had to twist our heads to see that view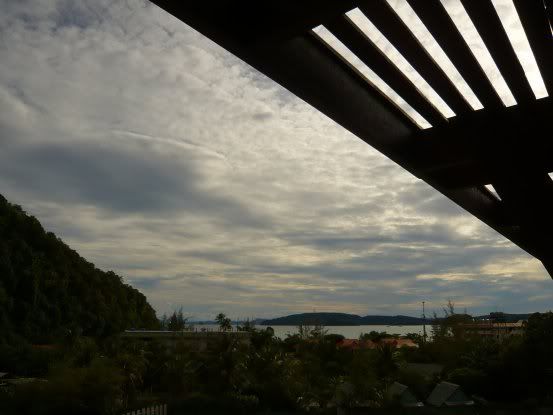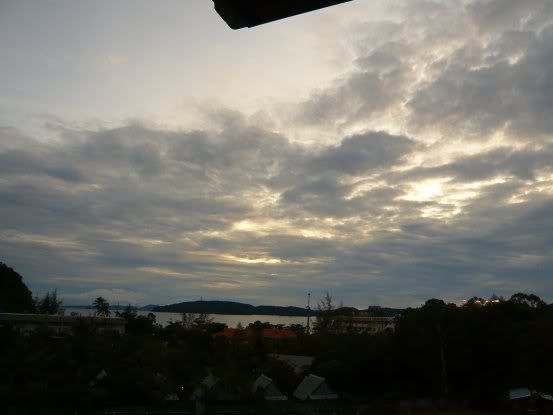 my balcony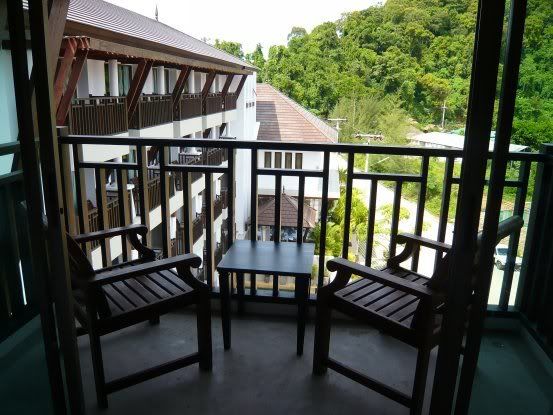 view from the balcony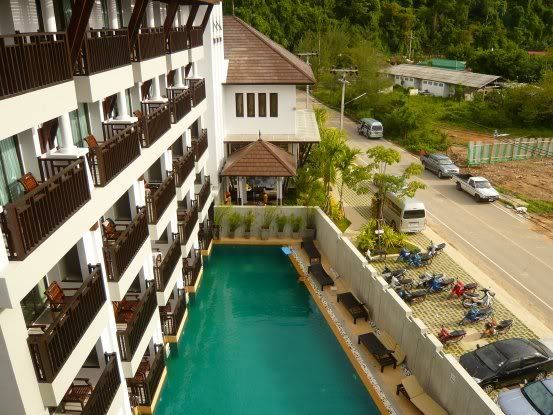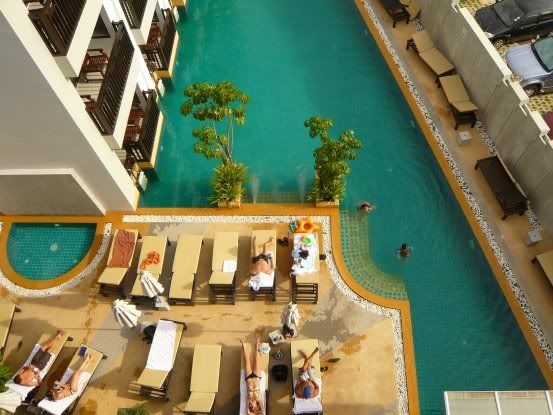 checking out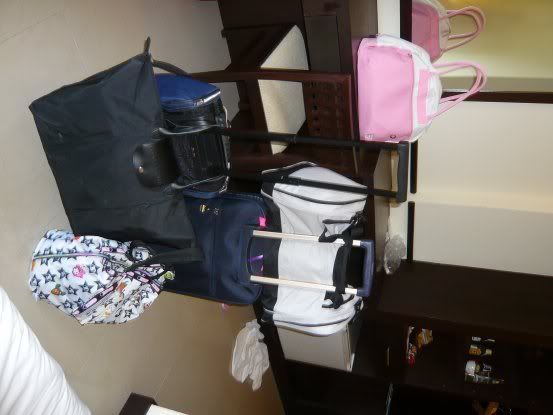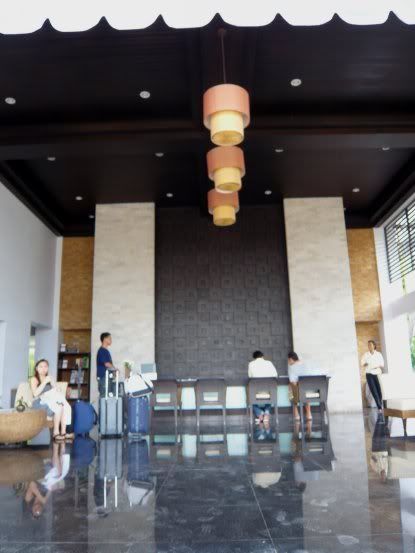 all that for abt 40 sing bucks a night.
staff was helpful but a tad slow, but i suppose its a cultural thing.
anyone whu wanna stay there, let me know, i got vouchers. lol
am gonna be late for my dinner date w prima and co~ will continue on Krabi Town next time!
Comment! (1) | Recommend!