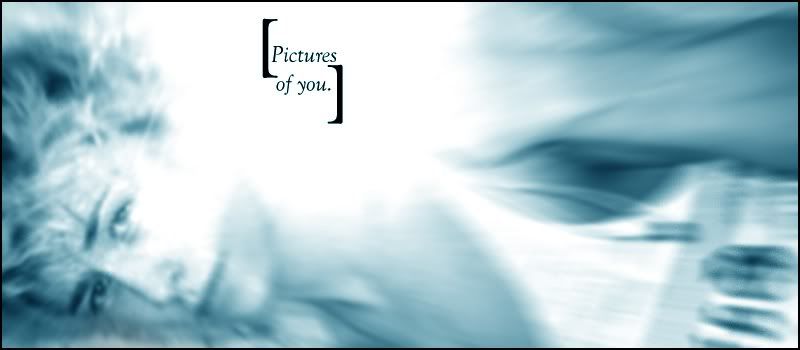 Spring Semester 2010:

* Teaching: Fundamentals of Microbiology - MW 12:00-2:40p
Medical Microbiology - TR 2:00-3:15p
Colloquium in Cell and Molecular Biology - R 3:30-4:30p
Thesis Research - Identification of T Cell Subsets and Immune Response in Colon Cancer Using Immunofluorescence - FOREVER AND EVER

Or rather, entries from the old journal, as it were...

-

An open letter to the College.

(August 27, 2006)

-

Untitled.

(July 16, 2006)

-

Haunted (Part One)

(May 29, 2006)

-

Are we growing up, or just going down?

(May 3, 2006)

-

I had a dream...

(March 19, 2006)

-

...

(March 14, 2006)

-

Enjoy it while it lasts.

(September 12, 2005)

-

Scene: 3:27 AM.

(September 3, 2005)

-

Untitled.

(July 26, 2005)

Psst... if you're looking for the academic writings I used to have here, head to my Reading Room.

Since June 2006...

- A Heartbreaking Work of Staggering Genius by Dave Eggers
- High Fidelity by Nick Hornby
- Travesties by Tom Stoppard
- The Way of the Shaman by Michael Harner
- The Tao of Pooh by Benjamin Hoff
- Nervous Conditions by Tsitsi Dangarembga
- The History Boys by Alan Bennett
- The Dark Child by Camara Laye
- Movie-Made America by Robert Sklar
- Diary by Chuck Palahniuk
- Rant: An Oral Biography of Buster Casey by Chuck Palahniuk
- Galapagos by Kurt Vonnegut
- The Dead Emcee Scrolls by Saul Williams [61.3%]
- Atonement by Ian McEwan
- Junk Science: An Overdue Indictment of Government, Industry, and Faith Groups that Twist Science for Their Own Gain by Dan Agin, Ph.D. [64.4%]
- So Yesterday by Scott Westerfield
- Lucky Wander Boy by D.B. Weiss
- The Things They Carried by Tim O'Brien
- Doctor Who: The Key to Time: A Year-by-Year Record by Peter Haining
- Why Buffy Matters: The Art of Buffy the Vampire Slayer by Rhonda Wilcox
- When You Are Engulfed in Flames by David Sedaris
- The Road by Cormac McCarthy
- 1984 by George Orwell [18.8%]
- Nick and Norah's Infinite Playlist by Rachel Cohn and David Levithan
- Intuition by Allegra Goodman
- V for Vendetta by Alan Moore and David Lloyd (Yes, I realize it's a graphic novel but it still fucking counts!)

I wish my room were bigger...

Wednesday, April 4, 2007 @ 6:14 pm

...so I'd have more space for bookshelves. Finding books in this place is a fucking adventure--the climbing, the crouching, the checking around the corner and SURPRISE: there's a hairy beast with a tail like a thin, flexible, flesh-colored carrot with the odd hair sticking out like small roots here and there. It's a journey, a quest, a treasure-hunt--things buried, covered in dust and little commas of mouse shit, webs slung between the cover and the wall: an arachnid's lean-to. A quick wipe with a paper towel and Lysol and it's all better. Turn the pages and read the magic words that cast spells of teleportation, of illusion, of summoning. You are the sorcerer now and soon the room fades away and the cramped space doesn't matter because you know infinity, and it exists in the space between your ears.

Comment! (4) | Recommend!

Don't come too close / You don't wanna see my ghost

Wednesday, April 4, 2007 @ 2:27 pm

For all the hard work I've been putting in lately to make up for all the stupid decisions I made during my stint at Pomona, I don't feel quite as alive as I did back then. If experiencing life is what makes us human, what keeps us alive, then I probably am dead at the core, because I rarely go out anymore. All my social interaction is mediated through the internet... you know, when it actually occurs. Everyone I know is off doing real things in the real world and I feel like I'm still here in the playground, playing all by myself in the sandbox, still trying to build my castle like everyone else has.

I don't believe in Catholic mythology, but I suppose where I'm at is something akin to Purgatory. After all of those transgressions I had committed in the past, there had to be someplace to go to attempt to set myself right--what better place than here, and what better time than now?

In the last six or so months, I have plenty to be thankful for and proud about--things that represent steps in the right direction:

- I recently learned I've been placed on the Dean's List for the second time in as many quarters since I returned to college.

- I feel I am at the very least moderately successful (read: actually competent) in the graduate seminar I am taking at SJSU.

- I rocked the general GRE, whose scores will be valid for five years (YESSSS, no retaking required for that long)!

- I landed the internship in the Astrobiology Program at NASA Ames Research Center.

- My GPA is finally at a level at which I feel can be competitive for entry into graduate school, and I have one more year of schooling to try and improve on that even further.

- My work ethic has rebounded to a level that I haven't experienced since sophomore year... of HIGH SCHOOL. (I got pre-senioritis starting junior year and my grades had been slipping since.)

- I proved to myself that I can survive a calculus class despite a four-year gap between the last time I took any sort of math class and that calculus class.

So for the next six months, I want to see more of the same in myself. I had enough fun in college to last me for at the very least the next year, so I'll deal with my self-imposed penance like a champion. And I guess I forgot to mention the thing that I was most proud of:

I have faith in myself again.

I seemed to have lost that feeling about halfway through my first semester at college and it followed me around for the longest time. Well, no more.

Here's to the future, and to holding onto dreams!

Comment! (3) | Recommend!

Tuesday, April 3, 2007 @ 6:02 pm

Don't get me wrong: I LOVE Filipino food. What kind of Filipino would I be if I didn't? It's just that... well... since my cousin's fiance (husband now, actually) came, we've been eating a lot more Filipino food. And quite frankly, I'm sick of it.

I know it must be hard for him to come over here from the Philippines, but eating the same type of food over and over again is tiresome and insults the culinary diversity that exists in this country. Plus, my family tends to eat a lot more when it comes to Filipino food.

My mom's been complaining that she's been gaining weight. Well, fucking, DUH. It's all the damn Filipino food. It's good, but it is NOT the healthiest food out there--unless I am entirely wrong and frying, adding MSG, and/or cooking with inordinate amounts of oil is healthy for you. Right. That's what I thought. Plus, we eat it with a LOT of rice. A whole fucking lot. We add one person to the household and for some reason we ended up doubling our rice consumption. What. The. Fuck.

I liked it better when we ate lots of different crap. Without the buttloads of rice. It was nice, having different types of food all the time. I think I will begin to insist on that from here on out. Fuck it, tomorrow, I'm cooking lamb. And we are having it with pasta and salad. End of story. If I see one more soggy fish cooked in an oily sauce this week topped on a bed of rice, I will positively fucking DIE.

Comment! (6) | Recommend!

I don't feel like writing.

Tuesday, April 3, 2007 @ 8:07 am

Instead, you all get a link to a video from

the Lonely Island

! Lucky you!

Click here to view it. (mp4 format. Last few seconds definitely NSFW... or for people sensitive to softcore porn. But up until then it's fine. Just cut off when the "documentary" ends.)

Comment! (2) | Recommend!

Tuesday, April 3, 2007 @ 12:36 am

Facebook murdered my fake account--the profile for Molecular Biology. People with a certain scientific bent sought out Molecular Biology's friendship and it linked them together, but this is no more. The account has been disabled and Molecular Biology as a friendly, online identity has ceased to exist.

What lesson have I learned from this? Well, I've learned that it's okay to be "Al Cohol" or "Mari Juana" or an obviously-fake celebrity or a fictional character on Facebook, but God forbid someone create a fake account to link people who appreciate science together... no. That crosses the line. I hear your proclamation loud and clear: science has no place in college; science cannot be your friend, because science consumes and destroys friendships--it does not create them. Science is unimportant. It pales in significance to drug usage and celebrities and entertainment--the same fucking drivel that we hear on "the news" day in and day out. Because it's soooooo much more important to know that fucking Angelina Jolie has decided to adopt some starving orphan kid from Bumfuck, Asia, or that Anna Nicole fucking Smith died of drug overdose (the woman can't even catch a break after she's dead, geez)...

Facebook, give me a fucking break. If you're going to go ahead and cancel accounts like Molecular Biology, I encourage you to be consistent and kill all the other idiotic fake accounts, especially the five billion Michael Scotts that ALL are on the Scranton, PA network. You know that shit's not right. In the mean time, I'll broadcast your anti-scientific sentiments loud and clear. Or I would, if I thought more people would give a crap. Unfortunately, this is America, where scientific literacy is NOT a major concern in the modern educational system, so what the fuck will they care?

Remember, kids: fame > knowledge and entertainment > information. Always.

Comment! (1) | Recommend! (1)

No dumping--flows to Stream of Consciousness.

Monday, April 2, 2007 @ 5:25 pm

Don't we all wish everything were so straightforward and uncomplicated and only had meaning on the basest of levels, because then we could comprehend everything just by looking at it, and things could be done with the flick of a wrist, like magic. Oh, if things were that simple.

In that world, I'd have been done yesterday. I'd have been out of the tunnel, into the light, and onto other things. My life would be a plethora of prepositional phrases other than "at the computer" and "in my room." But alas, no. Not yet.

Ah, well. At least two good things happened to me today. First, my credit line got increased to $10,811. When I will ever spend $10,811 is beyond me, but it's nice to know its there in case of emergency. Like, I don't know, if my life depended on me getting a first class flight across the ocean and staying in a five-star hotel for about a night or so. Shrug. Second, I took my sister out after she got out of school to get the gelato I never got to have this weekend. Mmm, pumpkin and creme brulee gelato. So good. Might almost make up for the fact that I still have work to finish up. Maybe.

Comment! (1) | Recommend!

We all know the reason I'm writing in here.

Monday, April 2, 2007 @ 9:54 am

It's an alternative to actually doing work. I should be annotating Wong et al. 2002's work on the attenuation of EGFR ubiquitylation by Sprouty2 (barf), but no, I'd rather be doing this, which is to say, nothing at all.

The nature of procrastination is an odd thing. There are times when becomes clear to us that we are engaging in a self-destructive habit, and we even become so keen that we can identify those things that make it easier to put off our obligations just for a

little

bit longer (which invariably turns into a lot bit longer), but we don't stop. Like now, for example: I have admitted to myself that there is work to be done, and I am fully cognizant that typing these words is NOT helping me achieve those ends, and yet I can't stop. I'm a man possessed! A man obsessed? Yes, perhaps that's the right term for it. It is an obsession.

An obsession that consumes our souls and hijacks our brains and send out electrical impulses throughout our system of nerves--action potentials firing and travelling down the lengths of our myelin-sheathed neurons--causing the fingers to fly over the keyboard, darting down suddenly like birds of prey and being on target--letters transmitted to the computer screen like rabbits and mice taken back to the nest at light speed. There they are--all the little rodent carcasses, lined up in a row!

The carnage! The bloody carnage! The flesh rended from the bone and the sound of tissue sliding down a throat. A chick chirping, chirping, chirping, waiting for its share. Mama feeds it, while her other chick, malnourished, stands off to the side, trying to make itself heard but failing, baby fat vanished, muscle mass diminishing, strength nearly gone.

No, baby, I will not let you die! Open up your mouth and receive your nourishment! I'm coming, my little one, don't despair! I'll bring you what you need!

Breaking free of the obsession, and moving on with real work. Time to disconnect. See you tonight, but not sooner. This is a pledge I make to you and to myself. Fare thee well.

Comment! (2) | Recommend!

Monday, you can fall apart...

Monday, April 2, 2007 @ 8:05 am

And so far it has. Pretty amazing feat, considering it's only eight hours through.

Oh well, when life hands you lemons...

Comment! (1) | Recommend!