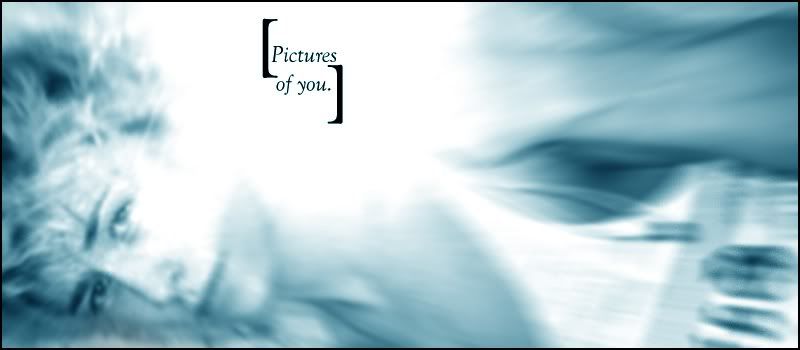 Spring Semester 2010:

* Teaching: Fundamentals of Microbiology - MW 12:00-2:40p
Medical Microbiology - TR 2:00-3:15p
Colloquium in Cell and Molecular Biology - R 3:30-4:30p
Thesis Research - Identification of T Cell Subsets and Immune Response in Colon Cancer Using Immunofluorescence - FOREVER AND EVER

Or rather, entries from the old journal, as it were...

-

An open letter to the College.

(August 27, 2006)

-

Untitled.

(July 16, 2006)

-

Haunted (Part One)

(May 29, 2006)

-

Are we growing up, or just going down?

(May 3, 2006)

-

I had a dream...

(March 19, 2006)

-

...

(March 14, 2006)

-

Enjoy it while it lasts.

(September 12, 2005)

-

Scene: 3:27 AM.

(September 3, 2005)

-

Untitled.

(July 26, 2005)

Psst... if you're looking for the academic writings I used to have here, head to my Reading Room.

Since June 2006...

- A Heartbreaking Work of Staggering Genius by Dave Eggers
- High Fidelity by Nick Hornby
- Travesties by Tom Stoppard
- The Way of the Shaman by Michael Harner
- The Tao of Pooh by Benjamin Hoff
- Nervous Conditions by Tsitsi Dangarembga
- The History Boys by Alan Bennett
- The Dark Child by Camara Laye
- Movie-Made America by Robert Sklar
- Diary by Chuck Palahniuk
- Rant: An Oral Biography of Buster Casey by Chuck Palahniuk
- Galapagos by Kurt Vonnegut
- The Dead Emcee Scrolls by Saul Williams [61.3%]
- Atonement by Ian McEwan
- Junk Science: An Overdue Indictment of Government, Industry, and Faith Groups that Twist Science for Their Own Gain by Dan Agin, Ph.D. [64.4%]
- So Yesterday by Scott Westerfield
- Lucky Wander Boy by D.B. Weiss
- The Things They Carried by Tim O'Brien
- Doctor Who: The Key to Time: A Year-by-Year Record by Peter Haining
- Why Buffy Matters: The Art of Buffy the Vampire Slayer by Rhonda Wilcox
- When You Are Engulfed in Flames by David Sedaris
- The Road by Cormac McCarthy
- 1984 by George Orwell [18.8%]
- Nick and Norah's Infinite Playlist by Rachel Cohn and David Levithan
- Intuition by Allegra Goodman
- V for Vendetta by Alan Moore and David Lloyd (Yes, I realize it's a graphic novel but it still fucking counts!)

"Stranger still to be alive at all..."

Sunday, April 8, 2007 @ 10:40 pm

A girl with whom I went to both high school and college found this poem randomly at poetry.com, where it won one of the top prizes. It made me smile inside because the description and the emotions it evokes are spot on.

A beautiful place is the little town of Claremont.

The quiet streets are lined by ancient trees.

Down the long avenues of old houses,

pepper trees, sycamores, cedars, oaks and elms,

eucalyptus, palms and jacarandas

translate sunlight into restful shadows.

Flowers are everywhere, and citrus trees.

Lemons and oranges ornament the gardens.

Students walk by, with their books, to the colleges.

Townspeople walk together to the village.

From parks and schoolyards, children's voices call.

Sunday mornings, churches ring their bells.

On a clear day, you can see the mountains,

where children play, in winter, in the snow,

and long trails lead to streams and waterfalls.

Deer and mountain lions roam the mountains.

Rattlesnakes doze for hours in the sun.

Some days the ponds are visited by bears

who stumble home with their bellies full of trout.

Unable to sleep, I leave my house tonight

and sit at the wooden table under the trees.

Now the winds and birds have settled; the night is still.

The owl in the cedar tree begins to bell.

Rose and jasmine burn their sticks of incense.

Moonlight falls on Claremont through the clouds.

I remember Po Chui's poem about the cranes.

In the early dusk, down an alley of green moss,
the garden-boy is leading the cranes home.

How strange and powerful, the love of home.

Stranger still to be alive at all,

to be anywhere, in all its endless detail,

and the millions of tiny locks that will be broken

before you can be released from where you are

to return again to the place,

so many years ago, you started from,

the nothing that is everywhere but here.

Michael Creagan

Comment! (0) | Recommend!

Sunday, April 8, 2007 @ 10:16 pm

I can't allow for this to become the mode. Otherwise the next three months will be pure, unadulterated HELL.

I estimate that within the next few hours, I will be making some espresso. But as for now...

j'ai faim.

P.S. I find it odd to describe something extremely negative as "pure" or "unadulterated." I know that it semantically works, but it still bugs me.

Comment! (2) | Recommend!

To grandmother's house we go...

Sunday, April 8, 2007 @ 4:44 pm

...with a laptop and a binder full of exciting articles on signal transduction.

Yippee.

I feel a little bad for bringing my work with me when I should be spending quality time with the family, but if I don't finish the work, it will spell disaster come tomorrow morning.

I actually don't feel much like going anymore... I mean, I

want

to, but I'm getting that special feeling where I am completely drained of energy and I feel like either fainting or vomiting. Maybe both. I might be coming down with something for the first time in a good while, which is pretty crappy. I guess it's nice not being in a dorm-like situation anymore where disease is completely fucking endemic to the environment and you can't escape it when a bug surfaces, especially when you're defenses are worn down by being tired and stressed out.

That realization offers me surprisingly little relief.

Oh well.

Off I go...

Comment! (3) | Recommend!

Sunday, April 8, 2007 @ 10:09 am

At least to all those who celebrate it. Otherwise: Happy Sunday, April the 8th!

I'm not a religious person, yet my family wants me to come to church with them. Ordinarily, I would not oblige, but since it is Easter after all, and I do want to spend time with my family, today, I am considering going. However, I have a lot of work to do, and spending a few hours elsewhere isn't going to help that get done.

After church, I think we're going to visit my grandmother who has cancer at their house in Sunnyvale. I definitely want to be there for that--work be damned--but I'm trying to see if I can just meet them there whenever mass gets out. I have not even broached the subject, however. I think they're assuming I'm going to church with them, which is always a dangerous thing to do. I can see my mother's disappointment in my head right now if I were to say that I was going to stay at home to do some work.

I have to do it quickly. The time to go is fast approaching...

EDIT (11:40 am):

I am alone at home doing some work, waiting for my parents to call me about visiting my grandparents' house.

In unrelated news, I am tracking down a Wii and I may have found two places in the area that have them in stock. Hopefully, they aren't fucking me with me, which is entirely possible, since they are

GameStops...

Comment! (4) | Recommend!

It seems to me we're on all fours, crawling on our knees.

Friday, April 6, 2007 @ 8:46 am

After having time to cool down, I have decided to password protect the previous entry (just contact me if you want the password). Thanks to everyone who replied back--it was nice to know that other people sympathize/empathize (not that I was naively expecting my case to be singular and unique, but you never know who's going to reach out).

kKAma67

: I never thought of it that way before, and doing so forces me to admit that there might be truth to that. Even so, I guess we all seek validation for our efforts from people who are important to us--our parents, caretakers, siblings, best friends, lovers, etc.--so if I could just hear it from them, that's all I would need. It's like we're all still little children waiting for someone to look our way and positively reinforce our efforts to stop crawling and start walking on our own.

Again, thanks

thaitanic

,

LostSoul13

, and

renaye

.

Comment! (3) | Recommend!

Friday, April 6, 2007 @ 9:05 am

Thursday, April 5, 2007 @ 4:20 pm

Now is as good a time as any to get a start on everything I have to do this weekend. It's the perfect time actually: I just got home from the movies with my sister and everyone is going out to a party except for me because any situation where I am placed in a room with lots of children who get excited over cake and game tokens is indubitably a bad one. Without anyone to bother me, the work should go by quickly. That's the plan, at least.

My schedule is complicated by an unexpected obligation that just cropped up yesterday. The PI of my lab at NASA has enrolled me in a three hour lab safety course. Please. Like I don't know lab safety. All of my previous jobs have been in the damn lab. The last time I

didn't

work in a lab was when I was working as an office assistant/film archivist... in 2003. What is there to learn? Don't drink chemicals, label all your shit, wear gloves, a lab coat, condoms when you're fucking--and you'll live. Hooray, life!

I wish there were some sort of certification of lab safety--a worldwide standard that assures that you have a documented minimal level of safety competence that you can add onto if you're working with things which require special attention, like dangerous microbes or radioactive material or human bodily fluids. Just so I wouldn't have to go through the same basic training every time I take a job at a new institution. Don't use the centrifuge if it isn't balanced, don't sniff fumes without wafting, don't burn yourself on an open flame. Got it.

Three hours. Three hours I could be using to get acquainted with the PI's projects. In addition to springing the lab safety training on me all last minute-like, he sent me a 35 page manuscript and a 30 page proposal to read. "Take a look at them and see what you can make of them." Well, Dr. Summers, they appear to be thick. Yes, very thick. And also full of references to techniques I am only obliquely aware of. Oh, and this one over here--this is a graph that plots UV absorbance vs. wavenumbers... is that GC/MS? Now, I remember reading about that in o-chem... let me get my notes....

*chokes*

Comment! (3) | Recommend!

Thursday, April 5, 2007 @ 9:26 am

So today is my 11-year-old sister's last day before Easter break, and she's getting out of class at 12:30. I've decided to spend an afternoon with her at the movies because we haven't done something like that in a while. Now that I will have money coming my way (eventually), I don't feel so bad about blowing about $40 on an afternoon of fun.

She's such a funny kid; her sense of humor is definitely much more

advanced

adult than most of her peers. She "gets" more jokes than the average 5th grader and can actually comprehend pop culture references in humorous situations on TV and in the movies (thanks largely in part to my influence). Also, did I mention she can do the Natalie Portman rap from SNL? Oh yes. She can.

She told me she wanted to watch

Blades of Glory

so we're going to do that. She wants a pretzel and milk duds for the movie, so I will get her that. Afterwards, she wants ice cream, and since there's a Ben & Jerry's so conveniently nearby the movie theater, that's where we're going. Just her and me.

She's growing tall. I don't think I'm comfortable with that, because pretty soon she'll overtake me. Little sister.

BABY

sister. It's such a weird thing seeing someone grow up.

Comment! (2) | Recommend!