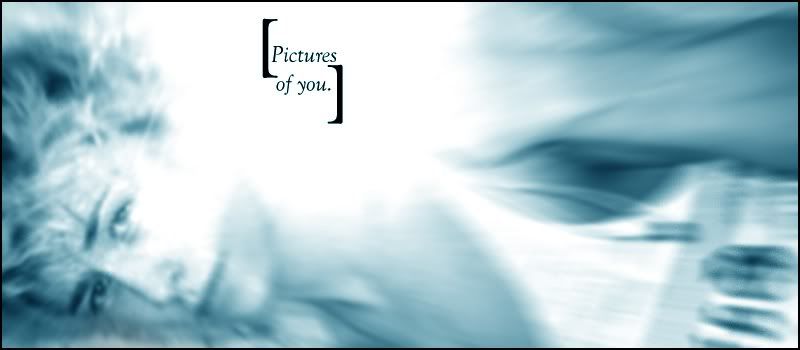 Spring Semester 2010:

* Teaching: Fundamentals of Microbiology - MW 12:00-2:40p
Medical Microbiology - TR 2:00-3:15p
Colloquium in Cell and Molecular Biology - R 3:30-4:30p
Thesis Research - Identification of T Cell Subsets and Immune Response in Colon Cancer Using Immunofluorescence - FOREVER AND EVER

Or rather, entries from the old journal, as it were...

-

An open letter to the College.

(August 27, 2006)

-

Untitled.

(July 16, 2006)

-

Haunted (Part One)

(May 29, 2006)

-

Are we growing up, or just going down?

(May 3, 2006)

-

I had a dream...

(March 19, 2006)

-

...

(March 14, 2006)

-

Enjoy it while it lasts.

(September 12, 2005)

-

Scene: 3:27 AM.

(September 3, 2005)

-

Untitled.

(July 26, 2005)

Psst... if you're looking for the academic writings I used to have here, head to my Reading Room.

Since June 2006...

- A Heartbreaking Work of Staggering Genius by Dave Eggers
- High Fidelity by Nick Hornby
- Travesties by Tom Stoppard
- The Way of the Shaman by Michael Harner
- The Tao of Pooh by Benjamin Hoff
- Nervous Conditions by Tsitsi Dangarembga
- The History Boys by Alan Bennett
- The Dark Child by Camara Laye
- Movie-Made America by Robert Sklar
- Diary by Chuck Palahniuk
- Rant: An Oral Biography of Buster Casey by Chuck Palahniuk
- Galapagos by Kurt Vonnegut
- The Dead Emcee Scrolls by Saul Williams [61.3%]
- Atonement by Ian McEwan
- Junk Science: An Overdue Indictment of Government, Industry, and Faith Groups that Twist Science for Their Own Gain by Dan Agin, Ph.D. [64.4%]
- So Yesterday by Scott Westerfield
- Lucky Wander Boy by D.B. Weiss
- The Things They Carried by Tim O'Brien
- Doctor Who: The Key to Time: A Year-by-Year Record by Peter Haining
- Why Buffy Matters: The Art of Buffy the Vampire Slayer by Rhonda Wilcox
- When You Are Engulfed in Flames by David Sedaris
- The Road by Cormac McCarthy
- 1984 by George Orwell [18.8%]
- Nick and Norah's Infinite Playlist by Rachel Cohn and David Levithan
- Intuition by Allegra Goodman
- V for Vendetta by Alan Moore and David Lloyd (Yes, I realize it's a graphic novel but it still fucking counts!)

No one told me there would be perks.

Monday, April 23, 2007 @ 11:51 am

Being a recent graduate in the biomedical sciences, I felt impotent for a while after graduation because I had lost my institutional affiliation with Pomona College/Honnold Mudd Library of the Claremont Colleges and could therefore no longer access many articles through

PubMed

. Since I did not go straight to graduate school and I did not get a job right away, I could not replace my affiliation in order to access these scientific articles, which sucked because I was/am taking classes that are made much easier by having 24/7 access to the articles in the database.

Today, during the cell activation seminar, we discussed our final presentations--due in less than a month--regarding a major cell signaling pathway of our choice. Immediately after class let out, it donned on me that I was going to have to go to Stanford to track these articles down in hard copy and photocopy them all because of my lack of institutional affiliation. I freaked out for a little while and tried to think of ways to circumvent this--begging friends with the ability to get me articles to retrieve them electronically and send me the pdf files, asking the professor to do it for me, forking out the big bucks for temporary access to a journal or journal article--needless to say, none of those options look appealing. In a last ditch effort, I decided to connect to the Pomona VPN, half hoping they don't shut down access for alumni, so that I could have an IP address that could tell the journals I was accessing articles through Honnold Mudd Library, and could thus retrieve articles for free.

Well, what do you know--it worked. I can connect through the VPN and get all the articles I want without having to give up cash or my dignity to do so. Of course, this means that there is no reason why I can't do a good job on that presentation...which puts a little more pressure on me. Oh, well. I'm happy I can download copious amounts of scientific papers for free once more.

Comment! (5) | Recommend!

Monday, April 23, 2007 @ 11:27 m

I have made the conscious choice to NOT attend lecture this evening. Oooh, bad Ranor. Very, very bad.

Well, fuck it. I read the book. I know what the chapter says. I don't need to show up for that. I'll just ask Maria (my lab partner who's like 40 but she's totally awesome) for notes tomorrow in lab to see what I should emphasize in studying for the exam next week. As for now, I will be doing all the things I was too distracted to do over the weekend, and hopefully get ahead with work because I want to party guilt-free come Friday/Saturday. (Can you say "

WASTED

?")

Man, I'm hungry. Tracking down food around here's like that part towards the end of

The Lion King

where the Pride Lands are all dry and desolate because Scar and his hyena cronies have eaten all the food and shit. I just want a tasty morsel to give me energy to carry on. Is that so much to ask for?

Apparently so.

Comment! (0) | Recommend!

Sunday, April 22, 2007 @ 7:11 pm

I have tons of homework to do today and that knot around my shoulderblade is not helping. Also, the fact that I spent a good part of yesterday morning and this morning trying to track down a Wii did wonders on the not-doing-work front. (I didn't end up getting one, so my family just said "Fuck it--order it online." And even though it's a full $100 more to get it online than in person, we decided it was better to just fork it over than spent the next few weeks tracking it down and waking up early just to be disappointed again.)

Thankfully, during tomorrow's grad seminar we won't be discussing any papers, but rather talking about final presentations, the final exam, and other class business. While I dread the prospect of making a presentation (not so much actually presenting than doing all the research and putting it together) and the fact that we have our final coming up in...what--three weeks?--I am grateful that I have a whole extra week to read the papers. Especially considering that this weekend was not really all that relaxing and heading back to the lab on Tuesday will be hell because we have to play catch-up experiment-wise.

On the plus side, my PI told me that, while it is a policy that interns cannot work in the lab alone, since I

do

have a bachelor's degree, he's working on getting that waived. I think he has high expectations for me because of the glowing recommendation my thesis advisor gave him, which is fine but I don't want to let him down by fucking up on account of me being tired and therefore careless.

I'd better get back to work. On a to-do list that I made myself with 20 items on it, guess how many are done.

Yes, that's right.

One.

At least not everything on that list is due tomorrow. A tiny consolation, but I'll take what I'm given and run with it.

I leave you with a clip from

Maury

. It will either cheer you up or absolutely depress you, depending on what kind of person you are. Personally, I laughed my ass off. But then again, I'm an asshole.

Comment! (0) | Recommend!

The Day Nothing Went Right.

Thursday, April 19, 2007 @ 11:15 pm

Got to work 15 minutes late but no one cared because I was the first one there. Finished rotovaping R-7-11-06 (which means nothing to you) but at least it got done. About time. I wasn't aware it would take that long to draw off water from a solution containing ammonia and iron sulfide and nitrates and other crazy shit. From there, my co-worker and I were set to distill the reaction and continue with the damn project but we didn't have any liquid nitrogen to condense the vapor back into a liquid. Went around the entire building (walked around through all 5 floors--basement included--no joke) looking for liquid nitrogen but no luck. Oh, and then we got stuck in a freight elevator and had to call out for help. That was fun. Well, at least I know that I can open the doors manually, but it was still a mildly harrowing experience. So since we couldn't proceed with distillation, we were going to set up another nitrate reaction, but unfortunately we ran out of reagents. Oh-ho-ho. Research: you slay me.

Tomorrow, I'm heading in at 8:30 for four full hours of safety training. Oh, joy. The liquid nitrogen and the reagents for the reaction won't be in until next week, so we'll see how I can kill time for the three hours between 1:00 and 4:00 when I actually have to work.

So tired.

Can't even say I'm looking forward to the weekend. More work awaits. Next week though--through all the school and the work, I'll be looking forward to a very special visitor's arrival. I guess that will keep me going for a while.

Comment! (3) | Recommend!

Saturday, April 14, 2007 @ 5:36 pm

In light of all the responsibility I have decided to take on, my postings will be a whole lot less frequent. I spent the bulk of my day today in the library and I believe that set the tone for the next three months. If I'm not in class, I'll be working in lab, and if I'm not in lab, I'll be studying somewhere.

I'm so excited, I'm so excited, I'm so... SCARED! (A la Jessie Spano pre-caffeine pill freak-out.)

Comment! (3) | Recommend!

Thursday, April 12, 2007 @ 8:49 pm

But I am mad as hell at Comcast. I haven't had access for the last few days, so someone came out yesterday, poked around for an hour, and managed to diagnose the problem (faulty modem) but not before destroying our cable TV access for about 6 hours in the process. (As in, it took 6 hours for the damn thing to work again.) What's more, they only got the new modem today because apparently, "no one" had it on them in the area. Bullshit. You're just lazy.

Now I have access but my router needs to be reconfigured because... I don't even fucking know. So there's exactly one computer in this house that has internet access (this one, obviously) which will piss me off to no end when my family will ask me to check their fucking e-mails over and over again.

Combined with the troubles I've been having accessing online safety training classes at work, I have a giant headache and a huge desire to kill the next person who talks loudly in my vicinity.

Plus, I'm hungry. That makes me

deadly.

"Friendly" word of advice: stay the fuck out of my way until this passes. (It's a good thing none of you are actually in the position to physically be in my way.)

Comment! (5) | Recommend!

I don't even know what it's called.

Monday, April 9, 2007 @ 12:39 pm

What is the proper term for a midday meal that will serve as breakfast, lunch, and in all likelihood dinner?

Bruninner? Dunchfast? Lunkfinner? Brinnch?

Well, whatever the hell it is, bring it on! I am SO HUNGRY. I am also very sleepy, but right now, food > sleep. For serious.

Comment! (9) | Recommend!

Monday, April 9, 2007 @ 5:52 am

Grumble.

Grumblegrumblegrumble.

Grumble?

Grumblegrumblegrumgrumgrumble.

GRUMBLE!

Grumble.

Grumble...

Sigh.

Grumble.

Comment! (5) | Recommend!