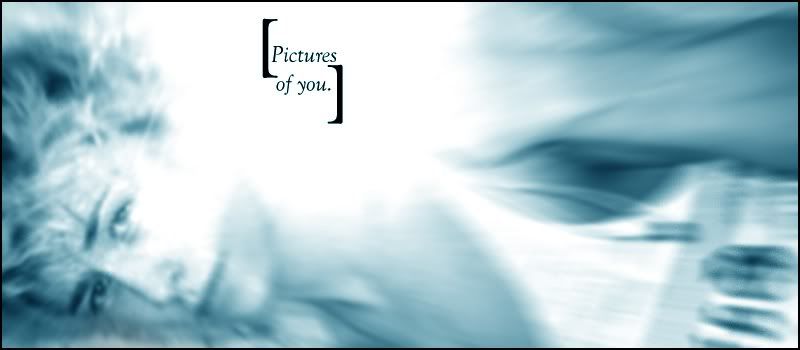 Spring Semester 2010:

* Teaching: Fundamentals of Microbiology - MW 12:00-2:40p
Medical Microbiology - TR 2:00-3:15p
Colloquium in Cell and Molecular Biology - R 3:30-4:30p
Thesis Research - Identification of T Cell Subsets and Immune Response in Colon Cancer Using Immunofluorescence - FOREVER AND EVER

Or rather, entries from the old journal, as it were...

-

An open letter to the College.

(August 27, 2006)

-

Untitled.

(July 16, 2006)

-

Haunted (Part One)

(May 29, 2006)

-

Are we growing up, or just going down?

(May 3, 2006)

-

I had a dream...

(March 19, 2006)

-

...

(March 14, 2006)

-

Enjoy it while it lasts.

(September 12, 2005)

-

Scene: 3:27 AM.

(September 3, 2005)

-

Untitled.

(July 26, 2005)

Psst... if you're looking for the academic writings I used to have here, head to my Reading Room.

Since June 2006...

- A Heartbreaking Work of Staggering Genius by Dave Eggers
- High Fidelity by Nick Hornby
- Travesties by Tom Stoppard
- The Way of the Shaman by Michael Harner
- The Tao of Pooh by Benjamin Hoff
- Nervous Conditions by Tsitsi Dangarembga
- The History Boys by Alan Bennett
- The Dark Child by Camara Laye
- Movie-Made America by Robert Sklar
- Diary by Chuck Palahniuk
- Rant: An Oral Biography of Buster Casey by Chuck Palahniuk
- Galapagos by Kurt Vonnegut
- The Dead Emcee Scrolls by Saul Williams [61.3%]
- Atonement by Ian McEwan
- Junk Science: An Overdue Indictment of Government, Industry, and Faith Groups that Twist Science for Their Own Gain by Dan Agin, Ph.D. [64.4%]
- So Yesterday by Scott Westerfield
- Lucky Wander Boy by D.B. Weiss
- The Things They Carried by Tim O'Brien
- Doctor Who: The Key to Time: A Year-by-Year Record by Peter Haining
- Why Buffy Matters: The Art of Buffy the Vampire Slayer by Rhonda Wilcox
- When You Are Engulfed in Flames by David Sedaris
- The Road by Cormac McCarthy
- 1984 by George Orwell [18.8%]
- Nick and Norah's Infinite Playlist by Rachel Cohn and David Levithan
- Intuition by Allegra Goodman
- V for Vendetta by Alan Moore and David Lloyd (Yes, I realize it's a graphic novel but it still fucking counts!)

Monday, May 7, 2007 @ 8:37 pm

I'm finally getting health insurance again and the first thing I'm going to do is order the physician to perform one of those allergy skin tests on my back and force him to give me the strongest allergy meds out there.

I'm sick and fucking tired of this crap, and it only gets worse as you grow older.

Comment! (4) | Recommend! (1)

Monday, May 7, 2007 @ 11:29 pm

The meteorologist just said that it will be a "gorgeous day" tomorrow.

I will kill you, woman. You obviously don't suffer from chronic rhinitis.

They really should give a pollen forecast as well. It's not always convenient for everyone to check weather.com or something to get a decent weather forecast. I wonder if she might have changed her assessment of the weather tomorrow if she knew that the pollen count is "high" or "very high" for three of the four types of pollen included on the count.

Yeah. Fuckin' gorgeous.

It really makes me

not

want to go to class tomorrow, but I figure I should; if I do go to class, however, I need to get my ass in gear and read these articles.

They would have been read already if I didn't feel like my brain was leaking out my nose.

I guess that means that--as usual--there is a long night ahead, and--as usual--I want to die.

BOOOOOOOOOOOOOO! LAME!

Comment! (6) | Recommend! (2)

Sunday, May 6, 2007 @ 5:47 pm

...fucking, NOT.

Hot and breezy and dry does not a beautiful day make.

Especially when all the trees and plants around you are trying to have sex.

News flash: my nose is not a fucking receptacle for your crazy plant spooge.

Comment! (4) | Recommend!

Friday, May 4, 2007

This weekend, I

will

make time to research the LIF signaling system, lest I die a painful death when my seminar class' final presentation time comes around.

In other news, this weekend, I

won't

make time to research the LIF signaling system because everything else in the world is due

first

.

I pose a conundrum to you, a riddle if you will...

Comment! (3) | Recommend!

Thursday, May 3, 2007 @ 11:13 pm

I booked my flight to San Diego for the end of June/beginning of July. Going to see one of my high school friends and catch the Honda Civic Tour with Fall Out Boy while there. Since I am thinking of getting my M.S. at SDSU, I will take the opportunity to scope out the bar scene as well, as I am quite sure that I will be spending time in bars trying to decompress from the stresses of a thesis-track master's degree.

I love Southwest Airlines because I was able to get a round trip for cheap. Well, the flight down to San Diego wasn't as cheap as I thought it should be, but the $49 flight back was well worth it. I was looking for tickets to the East Coast and found that I could fly into Providence (hint hint) for $109 each way if I booked early enough. Whether or not I'd actually have the funds to do that remains to be seen, but I'm keeping it in mind.

All this talk about travel is making my mind wander off to far away places. I need to keep it here, at least for the next hour or so, so I can finish up some work. Let me tell you--taking a full load of classes and working part time in the lab is quite tiring. Especially since lab work requires actual thinking. Sometimes I wish I had a mind-numbing job where I could just shut off my brain, but I'm glad I have such an intellectually-stimulating internship because, otherwise, I'd be bored. And tired is definitely better than bored.

Well, most of the time, I guess.

Alright, kids. Back to work!

P.S. Suck it, Dallas!

Comment! (20) | Recommend!

Wednesday, May 2, 2007 @ 7:51 pm

Not so bad.

Well, definitely not as bad as everyone made it out to be when we were discussing it after we took it.

Suck it up, pussies. This is the fucking BIG LEAGUES.

Okay, maybe not. But quit your damn whining.

Comment! (3) | Recommend! (1)

Sunday, April 29, 2007 @ 5:27 pm

I don't know how it got to be 5:30 already. I'd better get cracking on work, but I really don't want to. It's been one of those weekends (same as the last) and I just want to sleep but I can't. I'm going to cut class tomorrow and just make up lots of time for work at the library downtown because that's the only one that has decent hours. Not like I need to go microbio class anyway. As long as I show up to the exam on Wednesday, everything's gonna be fine.

Comment! (4) | Recommend! (1)

Fake tales of San Francisco.

Saturday, April 28, 2007 @ 10:35 am

Or, maybe not-so-fake.

On Thursday, I got out of work and made a quick trip home to do some "just in case" packing--an extra shirt, extra underwear, extra socks, toothbrush, etc.--just in case I ended up being far too inebriated to make the 45 mile trip back home. After that was done, I had to go to microbiology lab to do some Gram staining. In all honesty, I was only physically present there; my thoughts had started on their own journey to San Francisco. The body had to soon follow in pursuit.

Lab got out at about 7:20, so I made it to the city at 8:30. I picked Linh up from the Civic Center BART station and we made our way to the Marina for dinner. We met up with Rory and Kristi and Michael (who stopped by on his way from Seattle to SoCal) and went to dinner at an Italian restaurant. That's when and where the drinking started.

After dinner, we went back to Kristi's apartment. On the walk over, there was talk of going out--I knew then that the night would be a shitshow for sure, and I was glad I brought my "just in case" stuff because the next day, I'd have to be at work and wouldn't have time to go home. We left Kristi back at her place (but not before indulging in some J├Ąger) to study for her o-chem midterm (boo o-chem!).

We jumped in a cab and made our way to the first of four stops in North Beach. At Vesuvio, we finished off two pitchers of beer. Had a pint a piece at the San Francisco Brewing Company. Various drinks at Mojito and O'Reilly's. There were copious amounts of consumption and conversation, introspection and laughter. I enjoyed talking about anything at all for hours on end. Too bad last call was at 2:00 because I feel we could have carried on forever.

We parted ways soon afterwards. Linh and I took a cab back to Kristi's. Linh didn't look that drunk, but when we got out of the cab, she fell on her ass. Then she threw up at the door and at various times throughout the night. I was up until 4:30 tending to that while Kristi studied for o-chem. I hope we didn't cause

too

much trouble.

I woke up at 8:30 and got ready to take Linh back to the BART station and go to work. Linh said that she had to give a presentation that day and she hadn't prepared because of what we did last night. Ooops. Plus, she had to carry her vomity clothes on the train with her. I can't imagine what that might be like. She had it worse than I did, I guess, even if I did have to handle dangerous chemicals and extremely breakable glass containers all day long. At least I didn't break anything or explode something or otherwise cause damage to property or people.

Last night, I passed out on the floor of the family room in front of the television. I woke up again at about 3 in the morning to go to my bed. Regrettable mistake: the floor was so much more comfortable (i.e. cooler) than my room was. Damn electronic equipment, dispersing heat. Doesn't help that my room has southern exposure during the day. I think today, I'll be turning on the AC. Yes. Definitely.

Comment! (1) | Recommend!