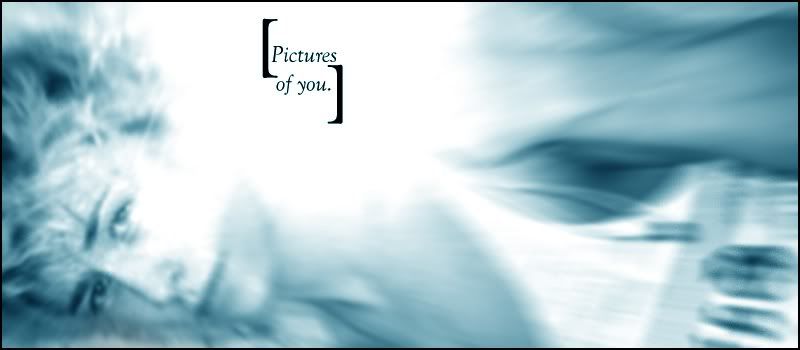 Spring Semester 2010:

* Teaching: Fundamentals of Microbiology - MW 12:00-2:40p
Medical Microbiology - TR 2:00-3:15p
Colloquium in Cell and Molecular Biology - R 3:30-4:30p
Thesis Research - Identification of T Cell Subsets and Immune Response in Colon Cancer Using Immunofluorescence - FOREVER AND EVER

Or rather, entries from the old journal, as it were...

-

An open letter to the College.

(August 27, 2006)

-

Untitled.

(July 16, 2006)

-

Haunted (Part One)

(May 29, 2006)

-

Are we growing up, or just going down?

(May 3, 2006)

-

I had a dream...

(March 19, 2006)

-

...

(March 14, 2006)

-

Enjoy it while it lasts.

(September 12, 2005)

-

Scene: 3:27 AM.

(September 3, 2005)

-

Untitled.

(July 26, 2005)

Psst... if you're looking for the academic writings I used to have here, head to my Reading Room.

Since June 2006...

- A Heartbreaking Work of Staggering Genius by Dave Eggers
- High Fidelity by Nick Hornby
- Travesties by Tom Stoppard
- The Way of the Shaman by Michael Harner
- The Tao of Pooh by Benjamin Hoff
- Nervous Conditions by Tsitsi Dangarembga
- The History Boys by Alan Bennett
- The Dark Child by Camara Laye
- Movie-Made America by Robert Sklar
- Diary by Chuck Palahniuk
- Rant: An Oral Biography of Buster Casey by Chuck Palahniuk
- Galapagos by Kurt Vonnegut
- The Dead Emcee Scrolls by Saul Williams [61.3%]
- Atonement by Ian McEwan
- Junk Science: An Overdue Indictment of Government, Industry, and Faith Groups that Twist Science for Their Own Gain by Dan Agin, Ph.D. [64.4%]
- So Yesterday by Scott Westerfield
- Lucky Wander Boy by D.B. Weiss
- The Things They Carried by Tim O'Brien
- Doctor Who: The Key to Time: A Year-by-Year Record by Peter Haining
- Why Buffy Matters: The Art of Buffy the Vampire Slayer by Rhonda Wilcox
- When You Are Engulfed in Flames by David Sedaris
- The Road by Cormac McCarthy
- 1984 by George Orwell [18.8%]
- Nick and Norah's Infinite Playlist by Rachel Cohn and David Levithan
- Intuition by Allegra Goodman
- V for Vendetta by Alan Moore and David Lloyd (Yes, I realize it's a graphic novel but it still fucking counts!)

Monday, May 28, 2007 @ 11:04 am

Nothing new to report, really. My grandmother's out of the hospital and is doing a lot better than she was last week. Seems her pain meds are keeping everything in check, but we're still unclear as to how to proceed chemo-wise, except that she can't undergo any treatment until she starts eating again. We found that if you feed her Filipino food, she'll eat it. She refused all the hospital food and everything else. Oh, well. Keep the arroz caldo coming...

School's settled down a bit: just one midterm to go (microbiology) and I'll be back on track.

And on a completely unrelated note: How excited am I that BBC America's going to be showing

Torchwood

soon? Mm, Captain Jack can torch

my

wood any time he wants. (Or something to that effect, except slightly less disturbing.)

And that about sums it up. How's everyone else doing?

Comment! (4) | Recommend!

Wednesday, May 23, 2007 @ 9:31 pm

Monday, May 21, 2007 @ 9:38 am

And not enough time.

Basically, I had a fantastic time after my presentation with friends in SF. We all got very drunk and hilarity ensued. I didn't go to bed until probably about 3:30, and I woke up about 4 hours later (not to mention the fact that when I am inebriated I can NEVER sleep straight, so I kept waking up in the middle of the night). Good deal, considering the night before I got, oh, NO SLEEP.

So the next day at breakfast, I get a call from my mom that my grandma was in the hospital. I didn't say anything to the other guys because I didn't want to be a downer, especially since we were all having the best time, but inside, I wanted to cry. Or hit something. Hard.

Eventually I made my way to the hospital, where I saw my grandmother, more frail than when I saw her last--a few days prior. She hadn't been getting out of bed, so she was malnourished and dehydrated. She had been feeling nauseous the last week and everything just snowballed from there. I couldn't look directly in her eyes because I was close to completely losing it. I knew she wouldn't be dying in that room--she just needed to regain her strength after being hungry and dehydrated--but she DOES have end-stage metastatic cancer, so I know it isn't going to be long.

That night, I visited her alone for two hours while my dad met with his siblings to discuss what may happen next. Sometimes, I feel like I'm taking on the responsibilities of a first-born grandson (even though I'm the third) because I'm the one who does all this stuff, but it's fine with me. The two older ones haven't even finished college and one has a son, so they have things that they need to attend to. I'm perfectly content in my position--it gives me a certain sway over what's being planned for my grandma.

My uncle and my grandpa relieved me of my duties. I got into the car and cried.

The following day, the doctor came in to discuss with the family what might be done. I liked her: she was personable and knowledgeable, whereas my grandma's previous doctor was an excellent diagnostician, but extremely mechanical and cold. She explained the options to us, and my grandmother--to our surprise--wanted to try out the chemo embolism, which basically means they will take a chemotherapy drug and inject it directly into the site. Of course, this would mean more tests for her--they need to reassess the cancer's growth via CT scan and see if it would be worth it. Plus, there's always the chance of complications or side-effects. She's old, so she needs all of the viable organ mass she can get. If the chemo fails, it could simply not work, or it could cause adverse reactions with the healthy cells around it. Also, the trauma of injection would be difficult for her to bear in her old age, especially if her immune system is not up to snuff with all of her worrying and her lack of nutrition...

I spent a lot of time in that hospital.

And I'm going back today.

I just had to late drop a class because I couldn't complete the midterm paper. I thought I'd have time after the SF excursion, but with the way things were going... I couldn't leave that room and worry about working on a paper. Considering the amount of sleep I'd gotten in the previous four days--about 9 hours overall--I don't think it would have been physically or mentally possible to do so, even without my grandma lying in a hospital bed preoccupying my mind. I didn't finish another midterm paper for my film studies class, but I figure that I've got 120 points I can miss out on and still get an A in that class. Right now, this means I've used up 70. I tried to do that paper last night but I was too dead. I just fell asleep instead; last night, I got more sleep than I had the previous four days combined.

I'm so tiredworriedstressed that I'm tense all over and my stomach is ablaze and my heart is in my throat.

Comment! (4) | Recommend!

Friday, May 18, 2007 @ 2:38 pm

So my presentation had 1/3 to 1/2 the number of slides as everyone else. But where they tried to cram 48 slides in 45 minutes, I managed to stretch out my 16 slides for 25.

My finest hour? Definitely not. My work was amateurish, compared to the rest of them. Then again, that's why they're in grad school, and I'm on the verge of applying. Maybe.

I've been thinking lately that as things stand right now, I'm not mentally ready for graduate school. I mean, I don't think I'm dumb or anything--that's not what I'm trying to say. What I

am

trying to say is that there are...factors...that need to be considered and resolved before I can throw myself back into hardcore science all day every day. For one, the mood swings; another: the inability to concentrate for long periods of time. I need to deal with that stuff first, because if I'm going to go to grad school, I'm going to do well in it, dammit. I won't be a slave to my neurotransmitter levels.

Does that mean I won't apply this year for school? No. I'm still applying. If I get in, though, it remains to be seen whether I accept or defer for a year to try and get shit together. If this semester taking that seminar class taught me anything, it's that I might not be able to give what I'm studying the attention it deserves.

Ah, well. Now that I'm done, I thought I'd pass out for a while before heading out the San Francisco to do a little post-presentation partying with friends, but on the drive back home (which included a stop at Starbucks to visit my favorite barista), I decided it was too beautiful a day to be sleeping it off. Wise decision? Probably not. But when was the last time I had some serious downtime while the weather was like this? I can't even remember. That's always a bad sign.

Pop a Claritin, slide open the windows, and throw open the doors. It's time for a little celebration for me, by me, alone.

Comment! (5) | Recommend!

Friday, May 18, 2007 @ 1:08 am

...before I have to leave the house and present my signaling system. I know the presentation's gonna suck compared to the others, but I don't care. At this point, I just want a presentation that's long

enough

. 30 minutes minimum... that's--what--like 30ish slides? I can do that. I think.

As long as I don't fall asleep.

There's about 6 more cups of coffee left in the pot. By the time I have to leave, my breath will be completely coffeed out. Hopefully I will have enough time to brush my teeth. If not--I'd better find some fucking gum or breath mints or something.

Why didn't I buy a pack of after-coffee mints from Tyler today at Starbucks?

Comment! (1) | Recommend!

Thursday, May 17, 2007 @ 4:43 pm

Definitely the cheesiest coffee-related pun to ever grace the "Weblog Subject" field EVER!

I'm sitting here at Starbucks, working on the presentation for tomorrow. It is slightly cold here underneath the AC vent--and that's the way I like it. I kept falling asleep at home, and the library is too quiet sometimes (when the kids aren't around), so Starbucks--perfect study environment for me: it's close to home (5 minute drive), it's cold, it has caffeine... perfect, perfect, perfect.

Oh.

Except...

There's a boy here.

A gorgeous one.

Tyler.

*melts*

Ugh, but I can't leave now. Despite his presence, I'm actually making progress. I can foresee there being a time in the near future when my mind will wander

too

far away from signal transduction (I nearly typed "signal transfuction"--it may be starting) and I will need to recover somehow. Oh, man.

Okay. FOCUS, kid. FOCUS.

Comment! (1) | Recommend!

Wednesday, May 16, 2007 @ 10:25 pm

In an effort to procrastinate just a little bit longer, I have published some old entries from another journal. You can find them at the bottom of the writings module (to the left, to the left [I hate that song]), or by clicking on "Writings" above.

Comment! (0) | Recommend!

Wednesday, May 16, 2007 @ 2:03 pm

Place is more than just a physical location--it is history, it is memory, and for those reasons, it is deceptively powerful. Physically being at a location means nothing more than standing at a series of arbitrarily-assigned spatial coordinates. Place seizes your emotions, forces you to feel things you didn't think you'd feel again. The power of Place controls you.

By chance, I came across a job listing at the Joint Science Department of the Claremont Colleges. They are looking for a research technician in molecular biology that will both carry out research and supervise undergraduates in the lab--something I thoroughly enjoyed doing last summer. Although I am very happy interning at NASA, and while I know in my heart that things won't be the same if I took up a position in Claremont for a year or two, the mere

possibility

that I

could

get that job... that almost makes me want to quit and take the chance. Because Claremont is more than just a location--it's where I grew up (from a stupid teenager into a slightly-less-stupid twenty-something). It's where I learned to be an adult. It's where I made friends with some of the most intelligent, quirky, and most importantly HOTTTTTT (personality-wise, though for more than a few of those people, physically as well) human beings in the entire fucking world. How could I

NOT

want to go back to that place?

But I know it's all memory's fault; it's all history's fault. And if I were to go back there--to live in the city of trees and Ph.D.'s, to walk the streets of the Village, to eat almond drops at Some Crust and drink hefeweizen at Hero's--it would be at the very least a

little

saddening. The memories would remain, but the experience would undoubtedly pale in comparison, and I'd be like a strung-out drug addict chasing the high but never attaining it. The chemistry just wouldn't work anymore.

Comment! (5) | Recommend!