RIHANNA & SEAN KINGSTON GOT ITUNES TOP 10 ON LOCK
Friday. 8.10.07 11:46 pm
1. Beautiful Girls
Sean Kingston
2. Stronger
Kanye West
3. The Way I Are
Timbaland featuring Keri Hilson & D.O.E.
4. Big Girls Don't Cry (Personal)
Fergie
5. Me Love
Sean Kingston
6. Shut Up and Drive
Rihanna
7. Sorry, Blame It On Me
Akon
8. A Bay Bay
Hurricane Chris
9. Umbrella
Rihanna featuring Jay-Z
10. Potential Breakup Song
Aly & AJ
Comment! (0) | Recommend!
JOIN OBOPAY NOW AND GET $5 DOLLARS (seriously)
Tuesday. 8.7.07 4:37 am
Send me your email address and I'll send you and invite to obopay.com so that you can get a prepaid debit card with five dollars on it.
Send now, and then you will be able to get your friends to join as well.
All you need to do is have a mobile phone number to sign up and verify your identity.
Send email addresses now if interested.
Similar to the promotion ebay ran when they first started.
Comment! (2) | Recommend!
PURCHASE YOUR OWN "BLOGS IS WATCHING" T-SHIRT, TODAY (Going Fast)
Monday. 8.6.07 6:43 pm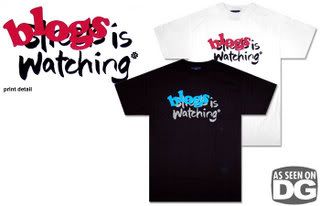 The blogs are definitely watching a lot of celebrities nowadays, so celebs watch.
Make sure you get yourself a "blogs is watching" tee today at Digital Gravel.
Purchase Here
Sohh Official
Comment! (0) | Recommend!
TIME FOR A CHANGE...YOU KNOW DON'T YOU
Monday. 8.6.07 6:23 pm
It's definitely time for a change when it comes to this blog, but the problem is I don't have a lot of time to work on it. I guess I've have to make time real soon because a change is due.
Comment! (0) | Recommend!
CHRIS BROWN & T-PAIN:KISS, KISS-NEW MUSIC
Monday. 8.6.07 6:04 pm
I just heard about this new song that features Chris Brown and T-Pain. You know its gone be hot if T-Pain on the song. right.
Well, just check out this song for yourself, and you give me your opinion of it.
Kiss, Kiss
Jennifer's Music Boutique
Comment! (1) | Recommend!
DO YOU WANT TO BE IN A COMMERCIAL WITH BEYONCE (read here)
Monday. 8.6.07 5:45 pm
Well, Beyonce is the next celebrity to be featured in a AMEX commercial,so their looking for new faces.
New Faces Casting is looking for Actors and Actresses, so find out more below:
New Faces Casting requirements
Good Luck and hopefully one of you guys will be featured in the commercial with Beyonce
Sohh soulful
Comment! (0) | Recommend!