JAGGED EDGE:PUT A LIL UMPH IT IN IT-THE VIDEO
Friday. 8.17.07 11:50 pm
I was quite disappoint to not see Ashanti in the video since she actually on the song.
I think Jagged Edge needs to go redo this video with Ashanti in this video ASAP.
Comment! (0) | Recommend!
JAGGED EDGE NEW ALBUM "BABY MAKING PROJECT" COMING SOON
Monday. 8.13.07 11:18 pm
Check out behind the scene look at the Making of Baby Making Project:
Check out these snippets from Jagged Edge's new album
The Whole Town's Laughing at me
I'll Be Damned
Way To Say I Love You
Me, That's Who
I wonder how this album going to do, but I guess people just making albums to be making albums now. Cus the last album wasn't a hit.
(sandrarose)
Comment! (0) | Recommend!
SOULJA BOY-CRANK DAT-VIDEO
Saturday. 8.11.07 3:50 pm
MEL B TRYING TO MAKE EDDIE MURPHY SPEND TIME WITH HIS CHILD(Larry King Interview)
Saturday. 8.11.07 3:25 pm
She seems kind of thirsty for a man who doesn't want her. And, I didn't know you could make a man spend time with his child. She just isn't satisfied, Eddie is paying child support. If you ask me she should be glad she getting that because I know a lot of females who ain't getting a dime from their baby daddies.
Comment! (1) | Recommend!
BOBBY VALENTION ONLINE LISTENING PARTY
Saturday. 8.11.07 1:23 am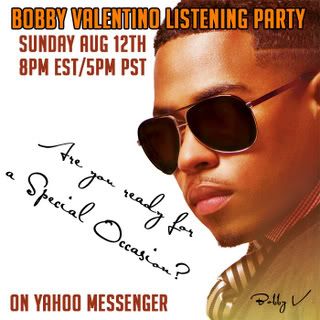 This Sunday, Whitney of BVC and Brittany from BVRF will be hosting an online listening party for Bobby Valentino Fans and Fans To Be. We will be listening to each track, getting some feedback and having some discussion about each song, and hoping those who haven't got the album will go cop it after listening. The chat will being at 8PM EST/ 5PM PST on yahoo messenger. If you would like to attend, please send your SN to
[email protected]
. Throughout the chat, we will be doing some giveaways (Signed Posters, Anonymous Tank Tops, CD's, etc)
Please repost and encourage your friends to come through and listen. Even if their not (or if your not) a Bobby Valentino Fan… You may just become one after hearing Special Occasion!
I'll definitely be joining this chat on Sunday because I love me some Bobby V, and plus I won his contest on MyYearbook.
Comment! (1) | Recommend!
PREORDER KANYE WEST'S NEW ALBUM:GRADUATION-TODAY
Saturday. 8.11.07 1:04 am