Tuesday. 2.12.08 12:07 am
I'm bored...but what's new?
I think I'm going to go to Orlando around the end of May or something. I want to go to Disneyworld and Universal Studios...since I've never been.
We'll see if it happens...
Comment! (2) | Recommend!
Sunday. 2.10.08 1:14 am
Has anyone ever heard of this project called "E Nomine?" I was listing to Pandora one day and it came on...and I really liked it...then I was listening and was just completely blown away by their other stuff...
I'll post a video here...
For all you non-german speaking people, "Mitternacht" means "MIDNIGHT." From what I understand, this guy is just in all of their music videos and he doesn't do any of the singing...is it just me or is this guy fucking HOT?! Watch the video...around this part in the video (2:19)...he looks up at the screen and you about melt!!!
WOW...I've about drooled myself to bed...lol
Just watch it...I bet you'll like it...it's sort of catchy!!
Comment! (8) | Recommend!
I will be able to see later!
Saturday. 2.9.08 10:25 am
I'm going to the eye doctor in less than 2 hours. I'm excited for the fact that I get to go to the eye doctor and will actually be able to get a prescription that doesn't make my eyes hurt...not excited that we will be paying full prices for Brian's stuff...but his glasses are older than mine, so I think it's worth it. You can't tell me that he doesn't get headaches and all that...poor thing.
My toilet got fixed the other day (HOORAY). I all I can say is...took long enough you apartment bastards! They must have knew I was talking about them because they came over fast that day. Was done before I got home...and they even fixed the other thing that pissed me off about the toilet. It wasn't mounted correctly to the floor or something and every time you used it, it felt like it was going to fall over or something. It was constantly banging against the wall and whatnot.
Anyway...enough potty talk. I'll be going to Colorado Springs later for Brian's grandma's birthday...we're not going to stay long...but look what I have to deal with coming home:
This is an actual picture of the I-25 sinkhole that we got on Thursday night (right before the evening commute practically...it was a nightmare).
Here's the most recent picture (they've been working 24/7 to fix the stupid thing:
I-25 is the major freeway that runs through the entire middle of Colorado. It is a very important thoroughfare and it really sucks that this sinkhole is blocking 3+ lanes of traffic.
According to the little description next to the last picture, "Denver Water employees work to remove a section of a 66 inch cement water main pipe Friday, Feb. 8, 2008, that broke Thursday in Denver, Colo., on Interstate 25 north of downtown. The water created a massive sinkhole and buckled a large section of the highway. Workers are making a temporary fix to the road so that traffic can use two lanes of the six lane interstate highway. "
http://www.msnbc.msn.com/id/23071128/displaymode/1176/rstry/23060085/
They're letting people use the toll lanes for free during this time because there really is no other option going northbound on I-25. It's right at 58th...I live at 128th, so I have to go past it to get home...58th is practically when you start to go north of downtown. BIG MESS I TELL YOU!!!
Anyway...that's enough for now. I think Gregory is stirring...I've got to get him fed and ready to go before me myself have to get ready to go.
Comment! (6) | Recommend!
My apartments continue to piss me off...
Thursday. 2.7.08 9:08 am
So, not yesterday...but the day before that (at 5:30pm), I contacted the apartment community to let them know that my toilet was spewing water all over the bathroom.
They told me they would mark it as an emergency....I waited....and waited...no one showed up the day I called.
I called Brian yesterday at 12pm..."Did they fix the toilet yet?" The reply was no...SO, I'm mad...I call them...they set up a maintenance ticket. They specifically ask "Is this your only toilet?" and I respond that it is my only toilet...I told them, come after 5...I'll be there...I waited...and waited...no one showed up yesterday.
So much for a fucking plumbing emergency. We jimmy rigged the toilet to work because we have no other toilet to use. As far as we know, the water is not leaking all over the bathroom the way that we have it, but who knows if there is not some other leak that we do not know about. We have renter's insurance, but I do not think that this is our fault. If major water damage happens, I will fight paying the deductable because I did notify the apartment community that our toilet was leaking and they
DID NOT
come out and fix it...as urgent as the matter was.
I am livid...I want to break my lease and move out. This is fucking ridiculous! I lived in an apartment where if they did not come out and address the maintenance requests within 24 hours, I got free rent until I did receive the maintenance that I had requested. At that apartment, I had wasps that were coming into my house from an unknown location. They had to come out more than once to remediate the problem and they came out within 24 hours EVERY TIME. The current apartments I live in now have no such policy...they piss around for hours, days, weeks...even MONTHS...before they address an issue...yet, when they want to tow your car, they'll do it in 2 minutes. I fucking hate them...
The staff is rude and inconsiderate. They are not willing to work with you...they talk down to you. They cannot relate to absolutely any of their tennants working there. They make unreasonable demands...i.e. leaving the garbage outside of your unit is unacceptable and your trash needs to be put in the trash bins located at several locations on the grounds...their one flaw with this is...the trash bins are never emptied...they are FULLY LOADED with garbage...you can't fit it in the trash bin, you're not allowed to leave it on the ground next to the trash bin...you can't leave it outside your door in the breezeway (you'll get a $50 fine...per bag that they find outside of your unit)...where do you put it? In your house?!?! The whole point of taking the trash out is to take it OUT of your house...but we'll get fined for that...
We're not allowed to park in the same parking spot for more than 3 days at a time. If we do, they'll come tow your car...they towed my car because of that (what if I come home and I park in the same spot every day...is it my fault that it is open every time I come home??)...
I wonder who I can go to other than the management company to exercise my rights as a renter in regards to my maintenance request...I am fed up and I want out...and I do not feel that I should have to pay the penalties. I've lived since August with the rude and unacceptable behavior and I WANT OUT!
Comment! (7) | Recommend!
Wednesday. 2.6.08 8:19 am
I posted before I left in the morning...and well, it went WAY slower to get to work that I had really expected. People were driving like there was about 3 feet of snow on the ground. I was 15 minutes late...jerks...oh well
In other news...my friend from Denver that I've known FOREVER (he was the cousin of my ex boyfriend back in high school...I've talked to him since I was about 14)...we're going to go and catch up. The last time I saw him was 2004 (the early parts) when I just moved out to Denver from Washington. It has been a long time and I am so glad that we got back in touch. I had the biggest crush on him back in high school, but that's another story...and I've moved on since then. Still, it's nice that he still remembers me and wants to talk after all of these years. We had some good conversations...and we played an online MUD for a couple of years (The Eternal City)...text based MUD...fun stuff...had to use your imagination. He saved me MANY times in the game. Great stufff...
BUT YEAH...
I should be on my way to work since, ya know, it's probably going to take me longer...and I really have to pee and I have to go to work to do that...fucking toilet!!!
I leave you with a picture...have fun
I wish I was like terapanda...as lazy as he is, he always gets out and does stuff (like going to the beach, rolling around and swinging)...me, lazy = do nothing...lol
Comment! (2) | Recommend!
Tuesday. 2.5.08 8:06 pm
My toilet is leaking all over the bathroom when you flush it...so I have one measly toilet...and I can't even use the damn thing!
#1....I suppose I could figure a good place to do that...possibly the shower or something...
#2...OMG...I hope that I can hold out until I'm not at home.
I fucking hate my apartments...this is an emergency and I call them...we'll see how long it takes them to come fix my toilet...bastards! It took them 3 to 4 months get me a silverware tray for my dishwasher...maybe 3 to 4 days to fix my potty...3 to 4 weeks??
WHY ME....
Other than that...my apartment is still a mess, but a much cleaner mess. I do know how to clean the kitchen unlike some other people that live here (and I'm not talking about Gregory...even though, I know he'd SOOO help me...just see below)
He already knows how to load the dishwasher.
Um...Melissa is supposed to come over and we're supposed to play games tonight. I hope she does't mind not being able to use the toilet...lol...I will make her suffer!!!!
Comment! (6) | Recommend!
Tuesday. 2.5.08 8:16 am
Let's examine the 10 day forecast (I modified it to be 7 days...pulled this off of Weather.com)...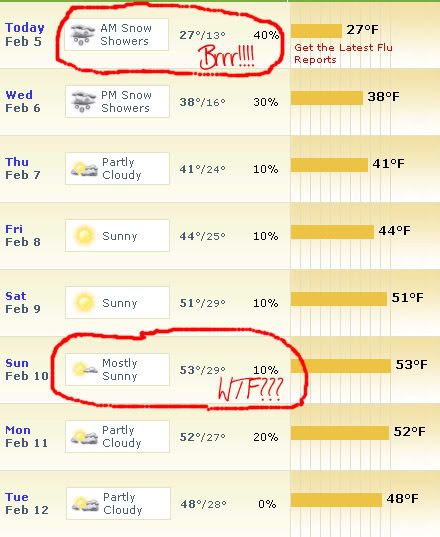 I hate put my comments on there.
Today...snow on the ground. Supposed to be snowy most of the day. Tomorrow, snow...okay, that's fine.
This Saturday and Sunday, 50 degrees! WTF?!?! I guarantee I will see people in shorts and people outside thinking we're having a heatwave...
GOTTA LOVE DENVER...
Anyways, I have to go to work now. Driving in the snow will be...eh, what can I say...not so treacherous, but bad enough. Gotta give myself a
little
extra time...hell, by the weekend...I'll be driving around with my A/C on...lol
Comment! (2) | Recommend!
It was like pulling teeth
Monday. 2.4.08 11:16 pm
to get Gregory to go to bed. Whine whine whine for the past hour...finally, I was tired of it...threw him in his bed and I went and took a shower. I'm assuming he cried for a little bit, realized that I wasn't coming...and went to sleep. I got out of the shower and there he was, sleeping.
I know it sounds mean, but it seriously is the only way he's going to learn to sleep in his crib. Sometimes being a parent means being mean...but he can't always get what he wants and he's definitely not staying up to all hours of the night because he wants to whine and complain about it. I am having NONE of that.
Anyway...work was so-so today. It always feels like I'll never get my stuff done, but I suppose that is how it goes.
Enough about work though...I'm getting my eyes checked on Saturday, and, in turn, will be getting new prescription (much needed) and new frames. Here are options that I am considering...sorry if the picture quality sucks...I saved it in very crappy picture quality:
I'm leading toward the 3rd choice down, but ya know...it always look good there but never on your face. I love the nerd glasses :) They remind me of my favorite guy in black rimmed glasses...Graham Coxon!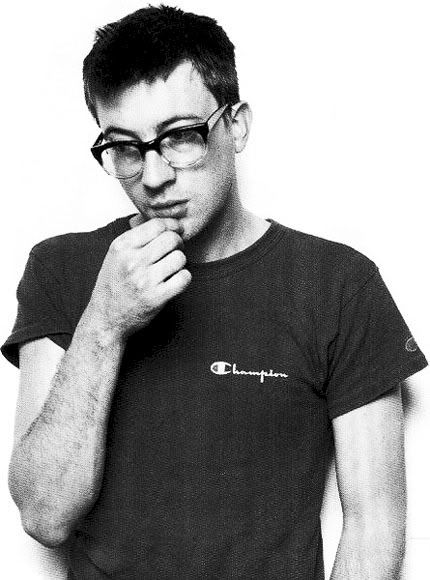 He is the guitar God (well, besides Matt Bellamy). I love Graham and his music...and his studly glasses :)
Ooooh look...I found another good one :) Look at those plastic frames :) LOVELY!!!
Okay...I'm about done for the night, I guess. Let me know which glasses you like the best.
Comment! (5) | Recommend!