Sunday. 9.24.06 9:09 pm
1. FIRST NAME? Anne
2. WERE YOU NAMED AFTER ANYONE: Yes, but it depends on who you ask. I'm going with my god mother's theory that I was named after her...even though my mom says I wasn't. What the hell does she know about it anyway??
3. WHEN DID YOU LAST CRY? Approximately two weeks ago.
4. DO YOU LIKE YOUR HANDWRITING? Yes and no. It depends on my need for legibility...like if I have to read my own writing sometimes...it becomes an issue. However, I do enjoy the look on people's faces when I sign my name. Complete and utter confusion is funny.
5. WHAT IS YOUR FAVORITE LUNCH MEAT? Bologna. Nothing says lovin' like over-processed meat...NOW WITH HORMONES!
6. KIDS? Nope. I haven't squatted out a litter, nor do I ever intend to, thereby continuing to disappoint my mother in law.
7. IF YOU WERE ANOTHER PERSON WOULD YOU BE FRIENDS WITH YOU? Hells yes. I'm awesome.
8. DO YOU HAVE A JOURNAL? Shall I list?? Okay then. There's this one.
And this one.
And this one.
And this one.
And this one
And unfortunately this one.
And I'm not sure why...but there's this one.
9. DO YOU USE SARCASM A Lot?Yeah. I do....ass.
10. DO YOU STILL HAVE YOUR TONSILS? Yeeeeeeeeeeeeah...unless you know something I don't.
11. WOULD YOU BUNGIE JUMP? Ah. That'd be a big NO, there good buddy.
12. WHAT IS YOUR FAVORITE CEREAL? That would be Rice Chex.
13. DO YOU UNTIE YOUR SHOES WHEN YOU TAKE THEM OFF? Yep.
14. WHAT IS YOUR FAVORITE ICE CREAM FLAVOR? Chocolate. That's it. Just straight chocolate. No bells and whistles. Just chocolate.
15. SHOE SIZE? 9.5
16. RED OR PINK? Red. Pink is for wussies and Barbie.
17. WHAT IS THE LEAST FAVORITE THING ABOUT YOURSELF? My freak toe.
18. WHO DO YOU MISS THE MOST? My Gramma in law. She just passed away and I miss her so much. She was a great lady.
19. DO YOU WANT EVERYONE TO SEND THIS BACK TO YOU? Yeah, if I were a complete egotistical ass. So, again, NO...and um...No...and...no, don't think so.
20. WHAT COLOR PANTS AND SHOES ARE YOU WEARING? I've freed my feet from the tyranny of shoes...and my pants are purple.
21. LAST THING YOU ATE? Rice Chex. Mmmmm...
22. WHAT ARE YOU LISTENING TO RIGHT NOW? My hubbie watching Futurama.
23. IF YOU WERE A CRAYON, WHAT COLOR WOULD YOU BE? Chartreuse.
24. FAVORITE SMELL? Vanilla.
25. WHO WAS THE LAST PERSON YOU TALKED TO ON THE PHONE? My hubbie.
26. THING YOU NOTICE ABOUT PEOPLE YOU ARE ATTRACTED TO? Their eyes. I always notice a person's eyes first.
27. DO YOU LIKE THE PERSON WHO SENT THIS TO YOU? Not so much with the sending. More with the yoinking from someone else's journal.
28. FAVORITE DRINK? Sunkist Orange Soda.
29. FAVORITE SPORT ? None...well...maybe competitive llama racing.
30. EYE COLOR? Grey blue.
31. DO YOU WEAR CONTACTS? No. I don't like the idea of touching my own eyeball.
32. FAVORITE FOOD? S'ghetti with garlic bread.
33. SCARY MOVIES OR HAPPY ENDING? Totally with the happy ending.
34. LAST MOVIE YOU WATCHED AT THE MOVIE THEATER? Snakes on a MOTHERFUCKING PLANE.
35. WHAT COLOR SHIRT ARE YOU WEARING? It's a yellow and red long sleeved baseball jersey.
36. SUMMER OR WINTER? Winter. Hate driving in the snow, but I hate the hummidity in summer worse.
37.HUGS OR KISSES? HUGGBEES!
38 FAVORITE DESSERT? Chocolate mousse. Totally.
39. WHO IS MOST LIKELY TO RESPOND? Hmmm...I don't care.
40. LEAST LIKELY TO RESPOND? Again, with the not caring.
41. WHAT BOOKS ARE YOU READING? Well, I just finished this one book called
Don of the Dead
.
42. WHAT'S ON YOUR MOUSE PAD? Hello Kitty.
43. WHAT DID YOU WATCH LAST NIGHT ON TV? There was a storm last night and the satellite went out. So I watched my DVD of Firefly.
44. FAVORITE SOUNDS? I like the sound of my own neck cracking, because it freaks people out.
45. ROLLING STONES OR BEATLES? The Stones. No question.
46. THE FURTHEST YOU'VE BEEN FROM HOME? Hawaii.
47. WHEN & WHERE WERE YOU BORN? I was born in the afternoon in Grand Rapids, MI. And if you use this info to stalk me...I'm letting you know now. I bite and am prone to bouts of pyschotic, hulklike rage. I will hurt you.
48. WHO SENT THIS TO YOU? None of your bees wax, nosey.
Comment! (2) | Recommend! | Categories: survey [t]
Sunday. 9.3.06 8:40 pm
First there was the terror that was...SUPER VOLCANO! In which scientists, the Discovery Channel and Tom Brokaw all surmise on the inevitable SUPER ERUPTION of the supposed SUPER VOLCANO hinding under the glimmeringly innocent surface of Yellowstone National Park. I've done minutes of agonizing research on this fascinating subject and found several links that support this mostly silly and rather pointless TV movie!
SUPER VOLCANOS AROUND THE WORLD!!
IT'S GONNA BLOW!! AIIIIIIIIIIE!!
The Discovery Channel's Offical SUPER VOLCANO site
So, if that wasn't enough to set your nipples on fire...look out...FOR THE FIRESTORM!!
That's right. Not to be left out of the paranoia parade, A&E has joined the fray with....
DUN
DUN
DUN!!!
FIRESTORM: LAST STAND AT YELLOWSTONE!!
This is a story in which, perhaps after the SUPER ERUPTION!!, Yellowstone National Park catches fire...or something. They can't control it. Things are on fire. There is drama. There is most likely a ruggidly handsome white guy. Probably an impossibly hot chick playing a scientist. They'll probably fall in love but because this is a TV movie there will be no icky love scenes between them, thank god. There'll be lots of hollywood made up "science" talk. And by a series of unlikely circumstances that'd never work in the real world, we'll all be saved. Thank god.
All of this to make us all paranoid about this dangerous world arounds us, so that we won't notice the real dangerous evil shit our government is doing right now.
Yeah, okay. Thanks A&E. Thanks Discovery Channel.
What both these networks fail to see is the REAL danger in Yellowstone National Park.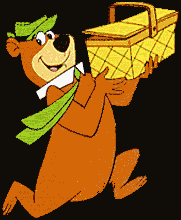 That's right. One Yogi Bear.
His rampant theft of pic-ka-nic baskets has gone on unabated for well over forty years. And I ask, when will it end? I call for the resignation of the ineffectual and impotent Ranger Smith, who has done nothing to stop this scourge.
I encourage each and everyone of you out there to write letters of protest to the park istelf.
Yellowstone National Park's official site
Something must be done. OUR VOICES MUST NOT BE SILENCED! WE MUST STOP YOGI BEAR AT ALL COSTS! NO PIC-KA-NIC BASKET LEFT BEHIND!!
Comment! (5) | Recommend! | Categories: Yellowstone National Park [t]
Wednesday. 8.30.06 8:04 pm
...If some anonymous benefactor really loves me...they'd buy me this.
I love you seventeen inch realistic Sephiroth figure with removable coat
And also give me a million dollars...tax free....And a pony.
Also, I'm considering changing my religion. No longer will I be a Daoist. I'm gonna follow the divine will of the Crisis of the Skies, Jenova. That's right...I'm gonna be a Jenova's Witness.
PRAISE HOJO!
NOTE: If you have no idea what I'm talking about, don't worry. You're not a nerd. I am...we obess about things like this. Just breath in and out slowly and it'll pass, I promise you.
Comment! (6) | Recommend!
Friday. 8.18.06 11:17 pm
Sunday. 8.13.06 9:23 pm
Friday. 8.11.06 7:32 pm