Hoorah for student loans!!
Thursday. 6.28.07 11:33 am
Hoorah for student loans! I have been wanting a new laptop. I was thinking either a DELL or an Apple. I have been thinking about this since January. So I guess 6 months is a long time for me. Ever since I got my Ipod for christmas I have been leaning more towards an Apple. So anyhow... I am going today because I got my money! Whoo hoo!
Right now, when you buy a MAC laptop, you get a FREE Nano! Whoo hoo! It cant get any better than that! I already have an IPod video so I think I will give the FREE 4GB Nano to my daughter.
Comment! (3) | Recommend! | Categories: sallie mae [t], MAC [t], ipod [t]
Visited by the angel of Faith
Wednesday. 6.27.07 2:50 am
Angel of Faith
The Angel of Faith is a very sweet Angel, she comes to us when we feel our own faith is slipping away and there is nothing or no one that can help make our circumstances any better. In fact in those moments we may actually have great faith that things can only get worse!
This Angel then comes to us, often heralded by the scent of Lilies or other sweet smelling flowers, to remind us that Faith in our lives is always active, we have just focused our faith on the belief that something wrong will occur. Instead of having Faith that things will suddenly turn out okay or even better than okay, we may be focusing our wondrous inner power and energies towards that which we assuredly do not desire! Then this Angel comes to us to say "Turn your faith back towards the light and watch as the miracles begin to flow!"
This Angel teaches us how to reconnect with the Light by reminding us that all we need do is turn our attention to it. There is nothing more we need do except to intend that we shall indeed feel the presence of Spirit and all the Angels flowing to and through us. Then if we are truly receptive to the energy we shall find that we are filled with the Light of the Universe and lifted up into a much higher vibration where gratitude, joy and peace reign supreme! It takes only a moment to reconnect with this Angel throughout the day and by doing so frequently we shall find that many of the problems and fears that we thought firmly entrenched are being dissolved by the Light and Love that this Angel has to offer.
When we are starting something new, be it a new job, moving to a new home, starting a new relationship, we can ask this Angel to bless this new beginning with the Faith that all shall indeed work in our highest interests! Or if you are feeling the need to move towards something new in your life and fear that the change shall not be positive, calling upon this Angel can give you the peace and courage to follow through. If indeed it is not for your highest good that you should embark on the new this Angel will help to point you towards a new direction that fills you with great joy and the promise of a brighter present and future.
This Angel also reminds us that when we expect something to occur, whether this expectation is positive or negative, we are also placing all of our powerful faith behind the thought that this will indeed come to pass! Expectations are simply another way of expressing where we have placed our faith. If we expect we won't get the job we are seeking for example then that energy sets up the vibration that repels the job away from us. Yet when we can turn this energy around by coming from a space that says "I have no idea how this situation can turn to my benefit yet I have faith that it shall for a higher power is working on my behalf and nothing is impossible for Spirit to achieve!" then we have tapped into the grace and power that the Universe always has available for us. All we need do is point our faith in the proper direction.
If this angel has appeared for you today she may be asking you to look at what you are placing your own faith at this time. Is your faith slanted towards the best or the worst that could happen? Are you focusing your time and attention worrying about what may happen today or taking the actions that you feel guided to take to insure that only the best will occur? Do you have faith in your own ability to create the life that you desire to be living? If not, ask this Angel to enter your life with an open heart and mind and allow her to fill you with the Faith she has in you.
What to watch for with this Angel's presence:
This Angel appears when we need to be reminded that our Faith in the good of life, no matter how small it may feel to us inside, can be easily activated when we choose to ask for it to grow. Often when we ask to be shown the power of positive faith this Angel responds in amazing ways, bringing us many people and opportunities that can create ever expanding joy and fulfilment in our lives. All we need do is ask, remind ourselves to go on asking and sending our gratitude and thanks back out into the Universe and the world.
Many have felt the touch of this Angel's hand on their shoulder when undergoing an especially difficult time in their lives. This touch led to a profound sense of peace and inner knowing that indeed everything would be alright!
You may start becoming much more aware of what you are putting your thoughts and focus on. Remember that expectations are another word for Faith so be sure that the things you are expecting are as positive as possible!
You suddenly find yourself pursuing those things that make your heart sing and feel deeply fulfilling. Even when you have no idea how you will actually manifest these things into your life, you move towards them anyway with the inner knowing that the way will be cleared and all the help you need is at hand!
Other ways to work with the energy of this Angel is to choose one thing that you would like to have more positive faith around. Then write an affirmation along the lines of the following: "I now have great faith that _____________ (Fill in the blank) is manifesting in my life today". Then watch for signs and omens that say this indeed is coming into your life. Act as though you have all the faith in the world that you can achieve any dream, overcome any hardship and indeed you shall see that faith being rewarded immeasurably!
Where to now? Why not visit Lynx, who created the text for these Angel Oracles or Search again for some more Angel Guidance.
Comment! (1) | Recommend! | Categories: faith [t], angel [t], angel oracle [t], lynx [t]
Tuesday. 6.26.07 11:08 am
I did not get the job at Cerritos College either. I sank into such a deep depression that I did not want to do anything. But like with anything....depression attracts more depression. I need to get out of this way of thinking so that I do not attract things to me that I do not want.
Back to listening to "the secret"... :)
Comment! (3) | Recommend! | Categories: the secret [t], depression [t], law of attraction [t]
borrowing bandwidth from the PENIS next door
Sunday. 6.24.07 2:42 am
My internet is out and I cant pay the bill right now. So I am borrowing bandwidth from my neighbor. I dont think he knows it because if he did, he would secure his connection. Anyhow lucky for me, he is an idiot. The guy fell down and had this cast on his leg for a long time. He walks on it with out a crutch and even tries to run on it. That is really bright.
Why do I call him a penis? No, not because he uses that head to think.... it is because his modems name is SUCKDICK. WTH...?? Who names their modem that?? My neighbor. That is who.
Comment! (10) | Recommend! | Categories: internet [t], wifi [t]
Tuesday. 6.19.07 11:30 am
I have been hooked on this HBO show called,
Rome
. I don't really care for history or politics but this show has caught my interest. Nope there are no handsome actors in it but something about it intrigues me. I just cant figure out what it is.
The
cast and crew
are a bunch of people I have never seen before. You know how HBO does that. Just like how they did with the Sopranos and Six Feet Under. Anyhow I think it is the consipiracy and wondering if all of that really did happen. They can easily convince me since I know jack crap about history. LOL!
Ah Ha!!! I've got it!!! I am taken in by all the SEX they have on that show. I mean serious nudity and SEX to the extent of soft porn. ha ha. I could not believe it! I thought OZ was bad but this show is worse. It is much more graphic!!! I mean the sex scenes are almost rated X!!! Whew! I am glad I was able to analyze THAT one!
Comment! (7) | Recommend! | Categories: hbo [t], rome [t], ceasar [t]
Monday. 6.18.07 5:56 pm
Ok, so now that I know my secret page can be anything I want I think I will make it into a links page. I have so many one way links on my page that it is getting cluttered. I need some organization!!
Hopefully with the help from invisible my page is going to look AWESOME!!!
Comment! (3) | Recommend! | Categories: invisible [t], randomjunk [t]
My Bathroom Style (jolenesiah)
Sunday. 6.17.07 2:27 pm
What Your Bathroom Habits Say About You


You are very independent and self-centered. You don't solve other people's problems - and you don't expect them to solve yours.



You spend a lot on clothes, and you tend to be a very dresser. However, it's hard for you to throw away trendy clothes when they go out of style.



You are a very outgoing person. You are true to yourself, and you never hold back.



In relationships, you are practical and realistic. You have a romantic side, but you only let it out when it's appropriate.

Comment! (4) | Recommend! | Categories: jolenesiah [t]
Wednesday. 6.13.07 10:49 pm
Well, anyone that knows me will know that I get really tired of cell phones rather quickly. It was not too long ago that I got an upgrade on my cell phone. Well I am changing again. This is the one that I am getting through the mail from ebay.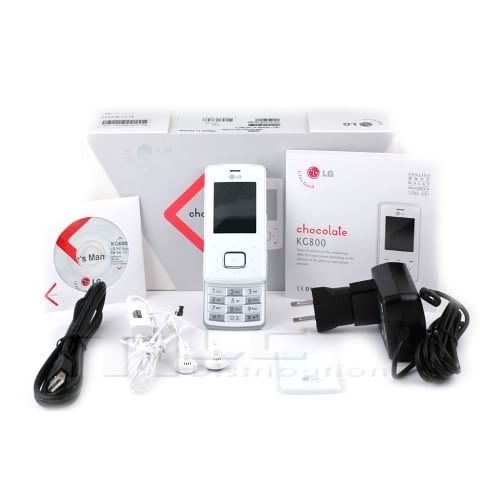 I think I only had my other phone for two months... what is WRONG with me???
Comment! (8) | Recommend! | Categories: ebay [t], LG [t], chocolate [t]