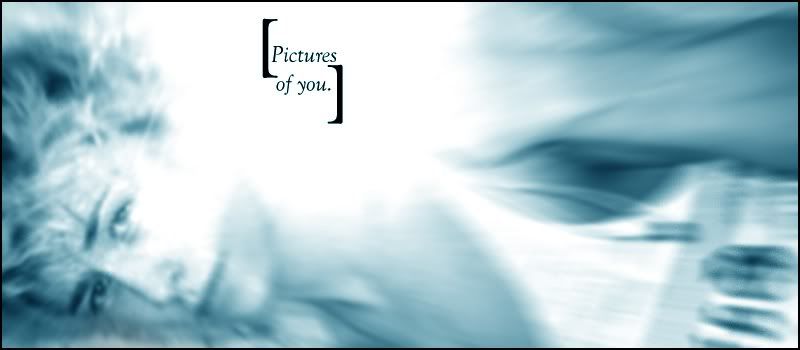 Spring Semester 2010:

* Teaching: Fundamentals of Microbiology - MW 12:00-2:40p
Medical Microbiology - TR 2:00-3:15p
Colloquium in Cell and Molecular Biology - R 3:30-4:30p
Thesis Research - Identification of T Cell Subsets and Immune Response in Colon Cancer Using Immunofluorescence - FOREVER AND EVER

Or rather, entries from the old journal, as it were...

-

An open letter to the College.

(August 27, 2006)

-

Untitled.

(July 16, 2006)

-

Haunted (Part One)

(May 29, 2006)

-

Are we growing up, or just going down?

(May 3, 2006)

-

I had a dream...

(March 19, 2006)

-

...

(March 14, 2006)

-

Enjoy it while it lasts.

(September 12, 2005)

-

Scene: 3:27 AM.

(September 3, 2005)

-

Untitled.

(July 26, 2005)

Psst... if you're looking for the academic writings I used to have here, head to my Reading Room.

Since June 2006...

- A Heartbreaking Work of Staggering Genius by Dave Eggers
- High Fidelity by Nick Hornby
- Travesties by Tom Stoppard
- The Way of the Shaman by Michael Harner
- The Tao of Pooh by Benjamin Hoff
- Nervous Conditions by Tsitsi Dangarembga
- The History Boys by Alan Bennett
- The Dark Child by Camara Laye
- Movie-Made America by Robert Sklar
- Diary by Chuck Palahniuk
- Rant: An Oral Biography of Buster Casey by Chuck Palahniuk
- Galapagos by Kurt Vonnegut
- The Dead Emcee Scrolls by Saul Williams [61.3%]
- Atonement by Ian McEwan
- Junk Science: An Overdue Indictment of Government, Industry, and Faith Groups that Twist Science for Their Own Gain by Dan Agin, Ph.D. [64.4%]
- So Yesterday by Scott Westerfield
- Lucky Wander Boy by D.B. Weiss
- The Things They Carried by Tim O'Brien
- Doctor Who: The Key to Time: A Year-by-Year Record by Peter Haining
- Why Buffy Matters: The Art of Buffy the Vampire Slayer by Rhonda Wilcox
- When You Are Engulfed in Flames by David Sedaris
- The Road by Cormac McCarthy
- 1984 by George Orwell [18.8%]
- Nick and Norah's Infinite Playlist by Rachel Cohn and David Levithan
- Intuition by Allegra Goodman
- V for Vendetta by Alan Moore and David Lloyd (Yes, I realize it's a graphic novel but it still fucking counts!)

Wednesday, June 27, 2007 @ 9:12 pm

You a fan of

PostSecret

? Me, too.

If you aren't, here's a quick and dirty introduction to the awesomeness that is

PostSecret

:

Comment! (6) | Recommend!

Tuesday, June 26, 2007 @ 5:00 pm

You know how most people take shallow breaths in day to day life? I just realized that my normal mode of breathing is diaphragmatic.

In unrelated news, I finally got my component cable for the Wii. Now I'm going to love playing it even MORE on the plasma. Woofuckinghoo!

Comment! (0) | Recommend!

Battle scars; serendipity.

Monday, June 25, 2007 @ 10:29 pm

There's this intern who works in the lab two doors down from my own who's always impeccably dressed--we're talking suits, here. I know, right? Suits... in a lab?! The kid's crazy. And one of these days, he's going to walk out of there, whining about how his Sunday best was ruined by that little accident with the hydrochloric acid, believe you me. But I suppose that's what he deserves being the pretentious fuck who wears a suit to lab.

Every once in a while, I notice little splotches on my shirts or pants that definitely weren't there in the morning when I put those clothes on. The dyes in the fabric act as pH indicators--to a trained scientist: an early warning alarm system that tells you to change clothing before whatever changed the color comes into contact with your skin; to virtually everyone else: an annoyance, a source of anger.

Today, I almost lost my cool when I discovered little pink blotches all over one side of my very blue shirt. I cursed myself for letting it happen again, for being so stupid for wearing a new t-shirt into lab, for not wearing my lab coat when I should have been. But as I walked to the bathroom, I thought to myself--these are my battle scars. My lessons to learn from. My constant reminders that I have to be more careful, that I have to think things through.

After walking around for an entire day with pink spots all over my shirt (one of which was pretty much on top of my right nipple), I decided, on a whim, to see what would happen if I wet the spots with water. To my surprise, the dye's original color returned. Serendipity strikes at the most surprising times.

Sometimes, things just get screwed up. Other times, problems unscrew themselves. There isn't much to do about it, but I guess we should take things in stride. One crisis at a time.

But for fuck's sake, don't invite disaster by wearing a suit to lab. EVER.

Comment! (2) | Recommend!

Monday, June 25, 2007 @ 6:41 am

The sun is shining, the birds are chirping--it's looking to be a beeeeeautiful d--

Fuck this shit,I'm heading back to sleep. *coma*

Comment! (3) | Recommend!

Sunday, June 24, 2007 @ 9:47 pm

I'm considering opening AIM for the first time in... I don't know--it feels like forever. Not that the last time I opened AIM I actually talked to anyone. Did I? I don't think so. It seems I'm not up to talking all that much these days.

It's been weeks since I last answered my cell phone when I saw it was someone other than my family calling. I haven't been out with friends since... I don't even want to think about it, lest I freak myself out. I used to be so social, so eager to go out on Thursday-Friday-Saturday... hell, even Sunday if the conditions were right. Not anymore.

Could it be the complete lack of money? The expense of gas? The busy combined class-and-work schedule? The desire to not be a class "F" Fuck-Up with a capital "F-U"? The fatigue that I'm sure is not entirely physical in nature?

It's a rut. Another rut. Big effing surprise there. God, I'm starting to bore myself.

</downer_entry>

Side note: Oh my freaking god, this idiot just spelled it

je ne c'est quoi

instead of

je ne sais quoi

in an online discussion post for my film studies class. If you can't do the French, please, just leave it alone!

Comment! (3) | Recommend!

Sunday, June 24, 2007 @ 12:24 pm

I've always been minimalist when it comes to layouts for blogs or webpages. I embrace a sort of text-rules-all philosophy with regards to making layouts. Not that I wouldn't want a nice header graphic on my blog eventually... it's just that it takes too much work for a perfectionist like me. Something to do during the weekends this summer, I guess?

Anyway, I went to the mall last week and completely splurged on this polo from the Lacoste store. That's what inspired me to change the layout. A bit simple, I know, but definitely more interesting than the previous one. Enjoy. (It's likely the last cosmetic update for a

very

long while...)

Comment! (3) | Recommend!

Saturday, June 23, 2007 @ 2:35 pm

I don't fucking understand how it takes me a year to build up enough self-esteem to actually believe that I can achieve my dreams of eventually becoming a Ph.D. and it takes her five fucking minutes to break me down.

Fuck grad school. I guess I'm supposed to give up the dream, become a stupid fucking nurse like everyone else and do a job I won't enjoy for the rest of my life just so I can make money.

Why do I hate rich people sometimes? Because they don't have to worry about the reality of making things happen. They can dip into their bank accounts and *poof* there it is. Well, I'm fucking sorry, mom, that we aren't rich and that we can't afford it and so I don't even know why I should even be entertaining this ridiculous notion that I'm going to be something bigger and better than anything this family has ever seen. Fine, if you want me to work, then I'll work. But when I turn 30 and still haven't made enough money to pay my way past the loans and through school and I find myself too burned out to even consider pursuing my now dried-up and broken dream, I'll blame you. Yeah, you. You stupid, fucking, shortsighted, moronic cow. I hate you. Just die already so I can have your fucking insurance money and dance over your grave.

EDIT:

Okay, I didn't mean that last part. I'm just so fucking hurt right now by her (il)logic that I say things I don't truly wish to happen. If she did die, I would be torn apart. Really.

And I understand where she's coming from. She has to be fiscally responsible for this family. But where my goals are concerned, I might get a little illogical as well. Sue me for wanting something more.

Comment! (0) | Recommend!

Saturday, June 23, 2007 @ 1:16 am

So for my film studies class you only need 200 points to get an "A." Right now, I've got 170. There are two 10-point assignments and a 10-point quiz due on Sunday, as well as the 50-point final. The instructor has never given me less than 10 points for an assignment. Given this history, do I go ahead and turn in the two assignments and ace the quiz (which I always do--yay open-book!) and hope that the assignments are full-credit-worthy, or do I write the final paper "just in case"?

I'm feeling conflicted. I'm fairly confident that I'll get the 30 points I need, and I really don't want the added stress of contending with that paper in addition to studying for microbiology, but that leaves absolutely no room for error. Should I effectively take out insurance on my grade by writing the paper?

Alright. I don't

really

need to study (all that much, anyway) for my microbiology final. I only need a "D" on it to get a solid "A" in the class. So the argument that I should study for that instead of writing the paper is a little tenuous. Hmm...

I really don't know. I don't want to screw up and get a "B" in this class, but then again, I also don't want to waste my time doing the paper if completely unnecessary. Too bad I won't know what I got on the assignments until

after

the paper is due. Man, I wish I weren't on the cusp right now. It would be so easy if I were already past 200 points, but when my grandmother went to the hospital, I blew off some work so I could spend my time over there. I guess I don't exactly regret that, but still...

Screw it. I'm going to mull over this more tomorrow. As for now, there are other things to do to distract me. Like data analysis for work, or completing my tutor application form, or sleep. Yeah, sleep. That sounds nice.

Hasta ma├▒ana.

Comment! (3) | Recommend!