Saturday. 9.13.08 1:12 pm
All thanks to benny, i woke up real early this morning.
I've been planning to shop at Golden mile since last week
i wanna check whether there's flure's album
and also,
the thais hanged out at Golden mile, i'm curious how they spent
their weekend there, since there's pretty much nothing.
On my way, i snapped this.. really cool.

Anyway, it took me a hours to actually reached golden mile
I went sight seeing on my way there with pam.
I went to the church, although i'm not christian.
Then i proceed to arab street?
Not very sure of it, i never notice which route of taking.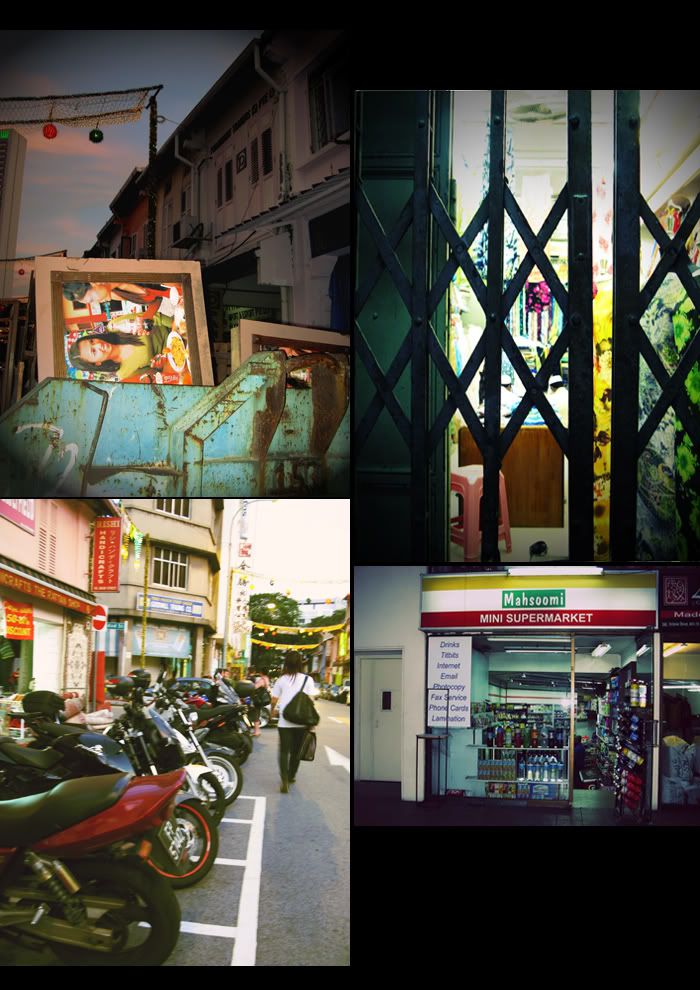 Then we saw this really cool antique shop.
Not suppose to take any pictures, but before he told me
that, i've already snapped a couple of it. Too badd.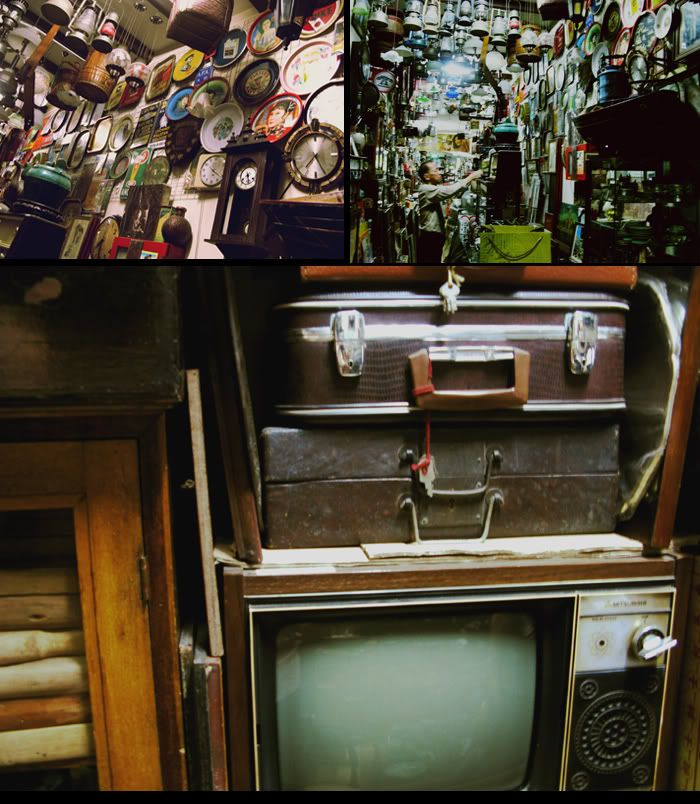 Dinner at Golden Mile.
Longing to have thai food and finally. Its luxury.
Anyway pictures are taken by pam, i suck in pictures of food.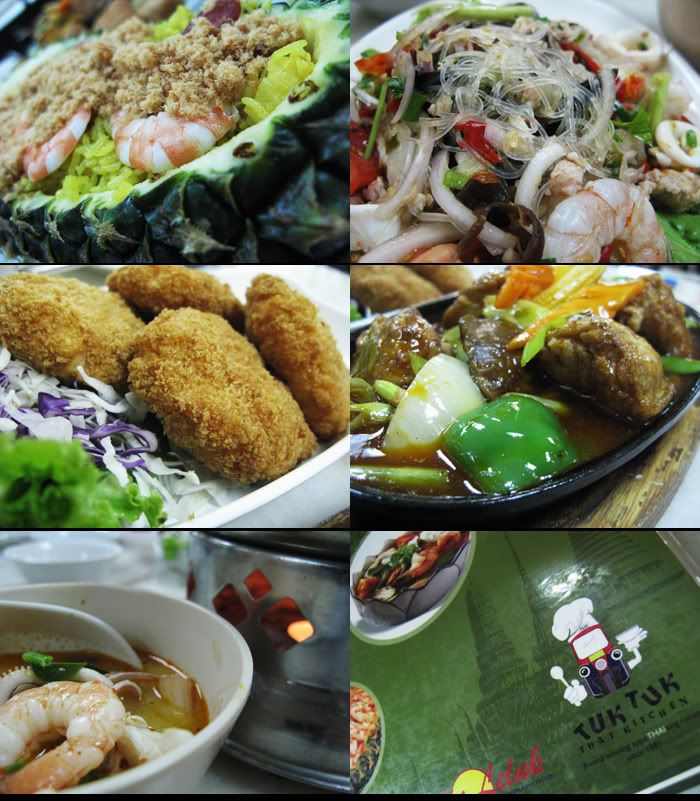 56 dollar bill. Worthed.
Thai supermarket, don't waste your precious time
buying thai souvenirs for friends when you're travelling thailand.
Shopped there, everything settled. Anyway i didn't managed to find
Flure album, because they are indie in thai. lol
The thais love hanging out at Golden Mile because there's
thai disco, and free entrance. lol plus thai girls.
Something to share, this is the 2nd time i do this to kenneth.
Every each time, i pranked him i felt really great it seems like
i've accomplished something big, 100% satisfaction.
Comment! (3) | Recommend!
Friday. 9.12.08 8:40 am
i want to watch city of god tonight
Highly recommended by howie and pam.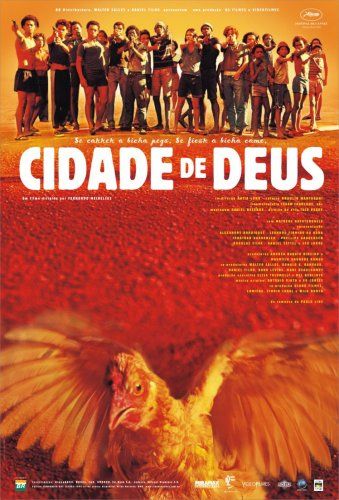 I want to watch A Clockwork Orange.
2008 AFI's 10 Top 10
#4
Sci-Fi film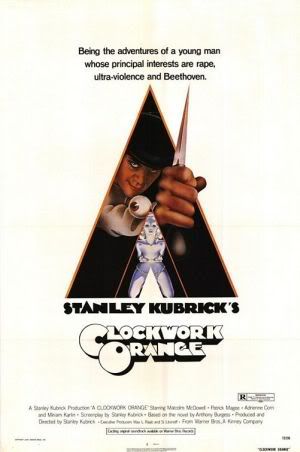 Being the adventures of the young man
whose principal interest are rape, ultra-violence and Beethoven
That is hardcore. lol
Hey, its saturday.
too lazy to make a new post, contiunation of yesterday's entry.
This song made my dayy.
LOLA STARS AND THE STRIPES - THE STILL
bye, i'm going thai.
Comment! (0) | Recommend!
Wednesday. 9.10.08 5:15 am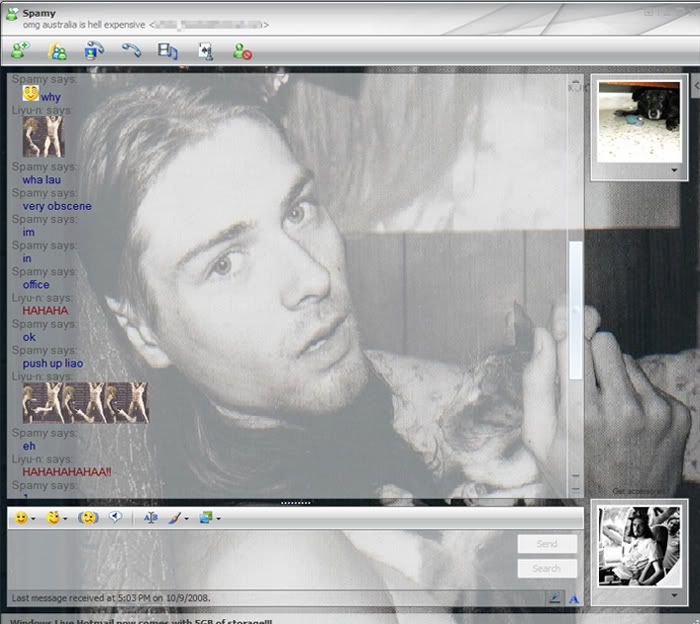 I'm screwed like that guy.
To pam, me without camera = worthless. lol
I love
FLURE
*twirl with grace, accompanied by butterflies and milo
Greatest satisfaction of this week.
*double twirl with birds.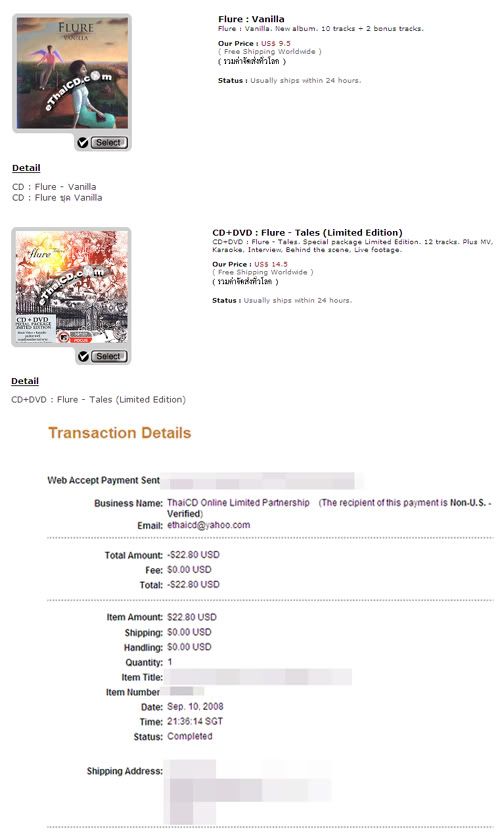 *puke.
i spent 150 dollars online this month.
THAT MAKES ME A HAPPY FAT GEEK. \m/
Comment! (3) | Recommend!
Tuesday. 9.9.08 7:55 am
I woke up this morning at 6am, and went to school for my
prelims papers, not knowing that my prelim paper starts at 2pm
until a friend of mine, which was in school taking the morning paper
asked me why the hell i'm i doing in school, that strikes me.
call me whatever you want.
I rule
followed by a z
.
Comment! (0) | Recommend!
Monday. 9.8.08 7:25 am
Don't be surprise if u hear thai music blasting out from your speakers,
because its from my playlist.
Flure
, a rockband from thailand, i swear they
are the thai version of L'Arc en Ciel. Their songs are so L'Arc en Ciel, and so
good. I'm currently playing my imeem playlist constantly
the purpose of me updating songs on my playlist is actually for my convenience.
I hate playing songs from windows player, so i'm sorry for causing any disturbance
if you're listening to some chinese love ballads, sorry kenneth.
The feeling of discovering a great band is awesomeness.
The feeling of searching for their songs online like mad cow suck big time. I can
Either purchase it online with US10.9 dollars, or beg for kind souls.
like what i'm abt to do in 0.5 secs time.
So if u happens to listen to flure,
which is impossible
please send me their songs. I think i will purchase it.
Try listening, * 2 thumbs up
The guitar and the drums, darnnnn. god, good.
Comment! (2) | Recommend!