Tuesday, February 7, 2012
Love is something humans often starved for despite being intangible and elusive. I have a friend who once shared that she will not give up in love regardless how many times she has failed. I think many of my friends have fell in and out of love an average of 7 times in their life until they finally found their current partner.
I don't understand why love is such a complex topic not mentioning infectious and contagious. I don't understand why there are times people have to intrude a relationship.
Recently my mum told me of a true life account of a colleague whose husband was snatched away via black magic. I ponder how could any one sought such methods in the name of love. Won't it be happier if the couple is loving each other willingly?
Sometimes it doesn't even need whatsoever magic to keep you falling for a person. You may have a list of characteristics the guy/girl needs to fulfil, but somehow you just change your mind when you met someone. And without any magic that person is nailed into your mind, which somewhat distract you from performing your daily activities. But the question here is ... is this what you called love? Or just a crush?
I have yet to ask my friend if she loves her husband now. Well, she arranged her own marriage to a guy she would never even consider of becoming friends. Why did she do it? She and her now husband did it in the name of personal development. I remember me and my friends just went gag. What a goal in life. I'm not sure if I can even do that. It's pretty funny talking to them when the husband is often blur while she has a sharp mind. I remember the first time I saw the husband in the car ... I thought what a cute couple!
What is love? How do you know you are loving that person? You know love can't make you full, but it can make you sleepless. Oh yea, it can make us thinner too.
If you look at marketing perspective, everyone is selling himself or herself as the perfect life partner. In short, we are all like products except this world is now populated with too many brands aka choices. But somehow it's kinda easy to weed out the brands that you don't want. Some brands will display some inappropriate or some characteristics that irk you, so you delete them from your list. Not that hard to downsize your list right?
Many friends of mine often wonder why I don't have a partner. Yes. Partner: a polite word for boyfriend/girlfriend. It's used to not distinguish the sexuality of one's partner. I thought it's such a neat word. I cannot imagine asking my homo friends which one of you is the guy/girl. I think I asked once jokingly, and my reply was a dagger stare from my friend and a cheeky grin from the partner.
OK. Let's resume with our market talk.
In the market, products are labelled with prices. The lower you go the more people will buy. Correct? The higher the price is the better quality is. Correct? That is what we assume la.
And yes I'm using market terms as allegory to describe the love players market here. I know some people get partner very easily. I also know my friends and even family members often ponder why my sister and I are partner-less. Friends commented that I sell myself too expensive. Their advise is reduce the price so I can be transacted. Right. They didn't tell me what kind of partner I will get should I lower down my price.
That is where my fear is found. My friends often advise me to reduce the price but they never even bother to ask why. Is the price that important? Just wondering which is more important between price and happiness. Do you think I should just simply get a boyfriend because by market terms, I'm reaching expiry date soon? I won't compromise on happiness. If I'm just too expensive, then just move on darling!
Sometimes I don't understand why people have to be judgemental when comes to a person's relationship. It's seriously none of their and even my business. Is it so hard to bless one's relationship? Well, even a villain can love a person. So why do some people have to butt in? Why can't they have faith in that person's relationship? Why didn't they realise no one wanted an unhappy ending in their relationship? So instead of judging why not assist the couples in creating more loving memories? It's ok if the relationship didn't turn out well, but in the least they learn right? So why do pre-curse their relationship?!
I also don't understand why some people would want to play with people's emotions. I'm not sure if my friends have been hurt recently or rather people say 'trap' when they have been posting some messages on facebook that goes like this:
After you said all those cute things, you just walk away as though nothing happen.
I think using emotions to hurt a person is more painful than dying in war.
My point here is ... err ... I don't remember my whole objective of writing this except love is so troublesome. But that doesn't mean I don't believe in happy ending in my own life. I actually have so many things related to this topic to get off of my chest, but sigh ... maybe next time.
For now, I just want happiness and joy for my friends.
Comment! (0) | Recommend!
Tuesday, February 7, 2012
On 18 November 2011 ...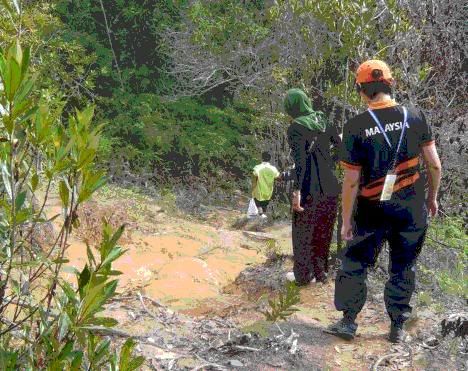 My host father didn't join me and my buddy for hiking due to his knees condition. So we joined another host family who was hosting my SG- and DG-mate.
It's been a long time I have not hiked. I was pretty worried if I no longer had the stamina to climb. The climbs were not arduous although there were a lot of pockets of big holes due to landslide.
On the peak, I realised Brunei is still a huge green area since as far as my eye can see the area is covered in green. Later I was told that around 20% of land has only been developed.
I love the view and the fresh air. I ponder when is the next time I can inhale such clean air ...
Tidbits
: I learned a lesson to always bring extra sportswear to homestay. I'm glad this lesson served me well.
Comment! (0) | Recommend!
Tuesday, February 7, 2012
On 17 November 2011...
I was exhausted. My host took me and my buddy to dinner after visiting
Pantai Kenangan
. But I was glad to be able to meet up with PYs during the dinner ceremony hosted by a fellow host family. The venue was a fantastic place for it was akin to a mini palace.
The only thing occupied my mind after dinner is sleeping. So I quickly showered and dressed in my pyjama. My host mum left a hairdryer for me on the coffee table in our room. Since the hairdryer is two-pin type, I inserted the 3-pin connector I found in the room. I was relieved. I'm now a few heartbeats away from sleeping.
So I turned on the hairdryer and POP.
The whole house went BLACK. And yet I was still continuing blowing my hair until my host dad came by. I could hear my host mum mumbling something in the living room because she was watching tv!
I felt like Mr Bean in his Christmas episode where he unplugged the shopping mall's main lighting just to test his Christmas tree lights.
Spinoff
: Host dad fixed the problem in a few seconds. I was later given a pen to plug in the hairdryer, because the connector is broken. I apologised profusely for the blackout. Host dad's eldest grandchild came and checked on me, and we ended up laughing.
What I didn't realise was my buddy was in the shower during the blackout!!! My bad!
I guess klutziness is my signature in leaving memories of myself in other people.
Comment! (0) | Recommend!
Sunday, February 5, 2012
On 28 November 2011...
It surely feels good to be back in Kuala Lumpur. I was surely happy to be in Putrajaya, maybe because my good friend lives there. I wanted to ring him up and say "I'm back!" but poor me I won't be able to meet up him ... so I just enjoy the Putrajaya view with my contingent members.
After my institutional visit in the Lim Kok Wing University in the afternoon, the PYs were transported to Putrajaya for our next itinerary, which is dinner and cultural performance. Before that, we will be interacting with the local Malaysian youths.
Oh well, here's a video of our interaction. A video says a thousand words.
I was in the video too.
Spinoff
: Sorry, what were we supposed to do again? I think I prefer to work on my relationship with violin, fife, recorder, flute, horn, pennywhistle, three-note flute, nose flute and the rainmaker (especially the rainmaker so we can return to cabin to sleep!)
Comment! (0) | Recommend!
Sunday, February 5, 2012
You know I had a very interesting life experience on the 3rd February. Thanks V for adding another feather to my cap.
We had a charity date. In the afternoon we planned to donate provisions to an orphanage I have been working with for the past 3 years. V used a GPS to the location, and it showed us to an alternative route to the one I'm used to. It happened that the GPS showed us the back route to the orphanage.
Ok. Fine. At the orphanage, the main person-in-charge cannot recognise me at all. I was very offended. How can you not recognise me?! For I'm the most important person in my program! Ugh ... renaye .. you are just too full of yourself ... Anyways, we gave the items away ... and we were glad the centre needed children books.
Our next stop after the orphanage is the soup kitchen in the next door area. So V and I used back the road where we came from. And then to our horror, the road is one-way-street! But it was too late to reverse since there were cars behind us! So ... V .. turned right ... heads on with cars!!! I was closing eyes with my palms and praying O.M.G. V was cool as a cucumber ... and nonchalantly she turned into a building and reversed out. And tada ... we were on the same direction as other cars.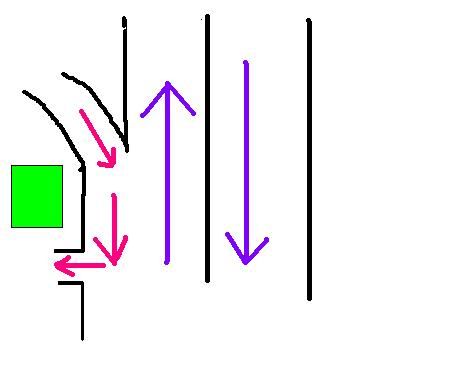 Our car is the pink one. I have always seen cars going on the opposite direction in my housing area, and I often wonder how they ended up like that. Thanks V. I finally knew how they ended up like that. Mystery solved. HAHAHA.
P.S.: Well ... I should not be such a scaredy cat since I have experienced such thing in Vietnam during my homestay. I guess ... it's just weird to experience it in my own country.
Comment! (0) | Recommend!
Saturday, February 4, 2012
A friend shared with me a quote:
Say what you want to say when you have the feeling and the chance. My greatest regrets are the things I did not do, the opportunities missed and the things unsaid
- Jim Keller -
Comment! (0) | Recommend!