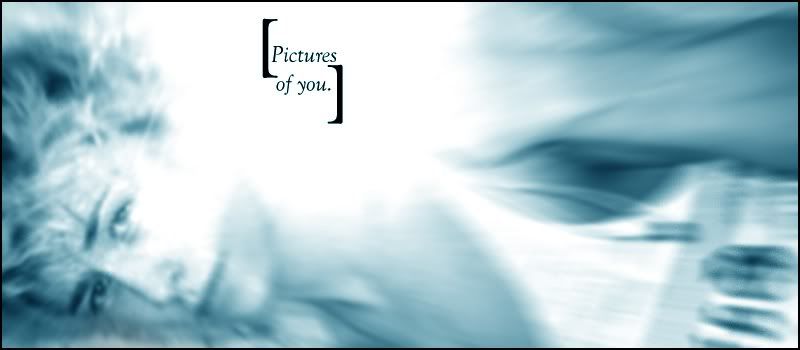 Spring Semester 2010:

* Teaching: Fundamentals of Microbiology - MW 12:00-2:40p
Medical Microbiology - TR 2:00-3:15p
Colloquium in Cell and Molecular Biology - R 3:30-4:30p
Thesis Research - Identification of T Cell Subsets and Immune Response in Colon Cancer Using Immunofluorescence - FOREVER AND EVER

Or rather, entries from the old journal, as it were...

-

An open letter to the College.

(August 27, 2006)

-

Untitled.

(July 16, 2006)

-

Haunted (Part One)

(May 29, 2006)

-

Are we growing up, or just going down?

(May 3, 2006)

-

I had a dream...

(March 19, 2006)

-

...

(March 14, 2006)

-

Enjoy it while it lasts.

(September 12, 2005)

-

Scene: 3:27 AM.

(September 3, 2005)

-

Untitled.

(July 26, 2005)

Psst... if you're looking for the academic writings I used to have here, head to my Reading Room.

Since June 2006...

- A Heartbreaking Work of Staggering Genius by Dave Eggers
- High Fidelity by Nick Hornby
- Travesties by Tom Stoppard
- The Way of the Shaman by Michael Harner
- The Tao of Pooh by Benjamin Hoff
- Nervous Conditions by Tsitsi Dangarembga
- The History Boys by Alan Bennett
- The Dark Child by Camara Laye
- Movie-Made America by Robert Sklar
- Diary by Chuck Palahniuk
- Rant: An Oral Biography of Buster Casey by Chuck Palahniuk
- Galapagos by Kurt Vonnegut
- The Dead Emcee Scrolls by Saul Williams [61.3%]
- Atonement by Ian McEwan
- Junk Science: An Overdue Indictment of Government, Industry, and Faith Groups that Twist Science for Their Own Gain by Dan Agin, Ph.D. [64.4%]
- So Yesterday by Scott Westerfield
- Lucky Wander Boy by D.B. Weiss
- The Things They Carried by Tim O'Brien
- Doctor Who: The Key to Time: A Year-by-Year Record by Peter Haining
- Why Buffy Matters: The Art of Buffy the Vampire Slayer by Rhonda Wilcox
- When You Are Engulfed in Flames by David Sedaris
- The Road by Cormac McCarthy
- 1984 by George Orwell [18.8%]
- Nick and Norah's Infinite Playlist by Rachel Cohn and David Levithan
- Intuition by Allegra Goodman
- V for Vendetta by Alan Moore and David Lloyd (Yes, I realize it's a graphic novel but it still fucking counts!)

Sunday, July 1, 2007 @ 1:33 am

The one downside to living in this town? I have to find a new hairstyle that doesn't get fucking raped by the humidity. Also, that hairstyle cannot be "shaved." That simply will not do.

Comment! (0) | Recommend!

Sunday, July 1, 2007 @ 12:59 am

So my second day here in this beautiful subtropical city has been no less than awesome, as per usual. I had some brunch with both old and new friends at

Hash House a Go Go

, which serves ginormously large portions, so the leftovers managed to feed me for the rest of the day. After brunch, we came home and I consumed more alcohol while watching

SuperCroc

, which is an enormously bad movie--a real B (C?) movie gem. SO bad.

After the movie, I told my friend that I wanted to visit SDSU, so we did. I actually loved the campus--the best of all the CSUs in my opinion--and I am looking forward to applying there for my M.S. Plus, the library on campus is called the Love Library (I shit you not), so I may have to realize my dream of making love in the library here, since it is aptly named.

The campus was smaller than I expected it to be--which is not a bad thing at all. On campus, I found a kumquat tree that I expect will be a source of many a summer's late-afternoon snack. (Fruit trees are very valuable resources.)

The facilities for life sciences are quite nice (at least from the outside). Having been at SJSU and SDSU, I have to say that the science facilities at the former are far less welcoming and comfort-inspiring than the latter. Also, the campus as a whole is a LOT nicer than SJSU, so this place definitely has a leg up on the other. However, if I do go to SJSU, I

could

save mucho dinero living at home...

Oh, choices.

Anyway, after the SDSU visit, we came back and fucked around some more--some drinking, some time by the pool, some

Eurotrip.

Eventually, though, we headed out to a deceptively dive-y looking place called Nunu's. It was there that I was pushed to my alcohol-consumption limits. And I would just like to say that hooray--I managed to strike a balance between uncontrollably drunk and happily drunk throughout this entire

night

day.

Now I'm just sitting around waiting for the alcohol to leave while I snack on some ice cream and dick around on my computer. I may watch some

Doctor Who,

or maybe pop in one of the billions of DVDs that are staring me in the face as I type. Hmm... what to do?

Hope all your Saturdays were as pleasant as mine!

Comment! (0) | Recommend!

I'm probably making this up.

Saturday, June 30, 2007 @ 9:49 am

It's true.

Because... my body is your body.

I won't tell anybody.

If you wanna use my body, go for it, yeah. We Are Scientists

have just announced tour dates... in the UK. I want them to play a show around here, goddammit, because I love them--not only because they are Pomona College's hometown heroes, not only because

Keith Murray

is downright sexy, but because they make me happy in my soul with their earlyish nerdily-titled songs like "Ode to Star L23" or "Mothra vs. We Are Scientists."

Oh, WAS, come home!

Comment! (0) | Recommend!

Saturday, June 30, 2007 @ 12:45 pm

Too much drinking (no, honestly, we started a little after noon) and not enough sleep makes Ranor something something good-effing-night.

Comment! (0) | Recommend!

Greetings from San Diego!

Friday, June 29, 2007 @ 9:36 am

Which, as we all know by now, is German for "a whale's vagina."

I'll be down here for the next few days doing... I'm not sure what. In fact, while my friend is taking a shower, I'm supposed to be thinking of what I want to do today. Visit potential future grad schools (SDSU for M.S., UCSD for Ph.D.?)? See pandas at the zoo? Check out that street with the building that serves as the exterior for Mars Investigations in

Veronica Mars

?

Go to the beach?

I veto that last one. I don't think my melanin feels very much like filtering out UV, thank you very much. Plus, I'm not in the mood for sand in the naughty places.

I'll ruminate over the options over brunch, I suppose. That's a good way to get the day started. Brunch and chit-chat.

I do know one thing for sure, though: bar-hopping (a.k.a. bar-stumbling) tonight? Gonna be amazing!

Comment! (2) | Recommend!

Mmm... Captain Jack Harkness.

Thursday, June 28, 2007 @ 7:11 am

Wednesday, June 27, 2007 @ 10:17 pm

No particular focus for today's entry, so forgive the jumping from subject to subject. It's just one of those days.

ONE.

Today I cut my finger on broken glass tubing that was I trying to extract from a metal adapter in a vacuum manifold. That'll teach me to use brawn instead of brain to solve a problem. It cut pretty deep--not deep enough for stitches, but definitely deep enough that four hours later, it was still seeping out minute amounts of blood. The doctor at the health center placed a steri-strip on it to hold the wound closed and he instructed me to keep it on for the next two days.

It's already starting to come off.

TWO.

I arrived at my microbiology final 25 minutes late, both because I stayed extra late at work and because I needed to majorly cram since I didn't study for the test at all. I went to Starbucks beforehand and studied for an hour before driving up to school. I was afraid that maybe this would prove to be my undoing, but when I looked at the test, my anxiety left my body and I plowed through the test like a champion.

THREE.

I'm trying to decide whether to pack tonight, tomorrow morning before work, or tomorrow afternoon after work. I'm on my way to San Diego to spend some time with a high school friend. We're going to try to relive our teenage years by seeing Fall Out Boy in concert. Oh, man, we're going to be the oldest people there.

Or, you know, the oldest people who

aren't

chaperoning parents...

I'll be down there until Tuesday. On the agenda besides the concert? Drinking. Lazing around. Enjoying a tiny slice of summer and nostalgia before I come back and start interning full-time. Whoop-de-doo.

FOUR.

The 10 or so large garbage bags of empty plastic bottles (each worth 5 cents each) is starting to stink up my SUV. There's at

least

$50 in there. I just need to find the time to cash them in.

FIVE.

I still have to wait six more hours for

Doctor Who

(2005) series one to download. Big BOO.

Comment! (2) | Recommend!

Wednesday, June 27, 2007 @ 8:10 am

Quick: compare and contrast type I, II, III, and IV hypersensitivity immunological disorders!

Comment! (1) | Recommend!