A game I am stuck in at the moment [Edited]
Screenshots from The Age of Deliverance.
Why am I so exhausted right now? :(
---Edit---
So I finished the game, and it was actually a lot heavier than I expected. There was one bit where a character just asked me "What do you live for?" and prompted me to type an answer. I stared at the screen for a long time, trying to figure out what to type. There was only space for maybe twenty characters, and I'm not sure how satisfied I am with what my answer was. I don't know what impact my answer had on the game, if any, but it certainly impacted me. I just downloaded this game on a whim, I didn't think it would end up meaning anything.
My energy levels seemed to go up after I ate some food earlier. It's sort of strange, because I felt like I had eaten a lot, more than I'd been eating in the past few days, really. I had apples and cheese and some chips and hummus and a ~200 calorie fig bar this morning. I guess I could be overestimating the calories, but... well, I did eat. I've had days where I ate less but felt like I had more energy. Could be sleep... but I felt exhausted
after
taking a nap... so I don't know...
After finishing the game tonight, I thought about how there are people creating beautiful meaningful things, and I wondered why I'm not doing anything like that. At least part of it is that I don't feel like I have the skills to do anything great, but I wonder what I could make that would have some sort of impact on someone? I've had no real desire to write anything for awhile. Making a game seems like it could be pretty cool. But... I don't want to do that alone. Maybe I'll ask around and see if anybody wants to work with me on something...
Comment! (0) | Recommend!
So I ended up having a really great birthday weekend!
On Saturday my friends came over and we played Telestrations (which Gwenny called Telephone Pictionary) and chatted until Fro and Mike, her boyfriend, came over, then went to Mod Pizza for food. Hung out there for awhile... then went back to my house and played Trash Bucket and Mafia.
Background on Trash Bucket: Everybody gets a few scraps of paper each and writes a person/place/thing on each piece of paper, then folds it in half and puts it in the bowl or whatever you're using as the trash bucket. You divide the group into teams, and then alternate sending up people to take a paper out of the bucket and do something to get their team to guess the word(s). There are three rounds, and in the first round you try to get your team to guess it by talking (but no acting out allowed). The second round is like charades, and in the third round, you get to say one word related to your paper, but that's all you can say, so if you mess up and go "um" or something like that, you're stuck with it. In each round you have to go through the entire bucket until all the words are guessed.
One
of my friends (maybe he's reading this?) decided to pick some ridiculously difficult things for his papers, like "Anchorage, Alaska", "Concept", and "329". I have to admit that it was amusing watching people struggle to get their groups to guess their word. We ended up throwing those ones out though, haha.
Here are my lovely birthday gifts.
On my actual birthday, I had lunch with my parents and then met up with Trevor at his friend Cameron's house and we hung out there for a little bit, then drove over to a room escape and went through it with School Alex, Vicky, and Becka. We escaped! Barely! It was pretty fun, there was a laser maze and a tunnel you had to crawl through. Two people also got locked in a jail cell, and three people got handcuffed together. Something really awkward happened too, but... I'm not going to go into detail about that here.
After the room escape, we got frozen yogurt at Pinkberry. I got a free one because it was my birthday! Trevor and Cameron had to leave early so Trevor could catch the train back to San Francisco, but I stayed and got to have some girl time with Becka, Vicky, and Fro, who joined us a bit later. We made plans to meet up again on Friday, which I'm looking forward to.
I feel a lot better now than I had been in the days leading up to my birthday. I'm really glad I got to spend the weekend with a group of awesome people and everyone had a good time (as far as I can tell, at least...).
The awkwardness though... eugh... Could have been a mild cringe video if it had been recorded.
Comment! (1) | Recommend!
Friend:
Hope you didn't eat lunch. Cause my present is gonna make you joy vomit.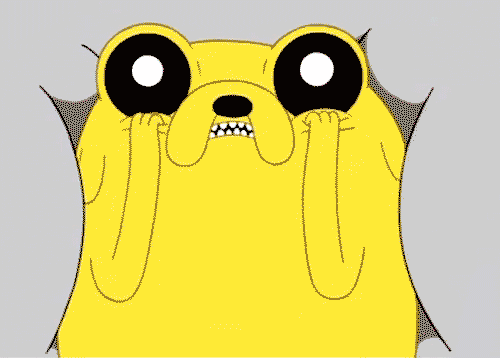 Comment! (1) | Recommend!