Sunday. 9.28.08 9:36 am
I've got pictures to upload but duper lazy
We chinatown with grandma today
we bought her everything she needed.
When she is happy, i am happy.
They are going to australia, and i'm gonna take o lvls
gg. GG. gg. good shit.
no mood.
bye.
Comment! (1) | Recommend!
Sunday. 9.28.08 8:25 am
Band of horses
http://bandofhorses.com/
American Indie rock band
Band Of Horses - The Great Salt Lake
Howie, please online alot of songs to send.
Band Of Horses, worth to be favorited +++
The Get Out Clause
,
Worth listening. Check them out
http://www.myspace.com/thegetoutclause
http://www.youtube.com/user/thegetoutclause
http://www.thegetoutclause.co.uk
Super indie band recently debuted with one single,
Paper
They are from United kingdom, Great vocalist, rockin music
other than that i've got no information of them, totally unknown.
Paper cctv music video
No where to be downloaded, Purchase the single online.
My Morning Jacket
http://www.mymorningjacket.com/
My Morning Jacket is an American rock band known for
their reverb-heavy sound, their eclectic mix of country rock,
indie rock, funk, psychedelic, and southern rock styles, and
enthusiastic and energetic live shows
My Morning Jacket - One big holiday
Their long hair looks pretty untidy. :/
The Cribs
http://www.thecribs.com/
The Cribs are an English 4-piece indie rock band
from Wakefield, West Yorkshire. The Cribs are seen as highly
influential on the current wave of British Indie bands. In 2008,
Q Magazine described the band as "The biggest cult band in the UK".
The Cribs - Men's Need
Sky Larkin
http://www.weareskylarkin.com/
are a band from Leeds, United Kingdom who formed in 2005
Sky Larkin - Molten
After all these.
I want to be a music video director.
Anyway, i'm more into british rock than american.
Recently, there's too much punk bands in america and i don't like them,
especially the click five and jonas brother.
Young and talented but
not my type of songs, Seems like they are formed to target young girls.
7 Ages Of Rock : British Indie Part 1
Comment! (0) | Recommend!
Saturday. 9.27.08 10:51 am
Comment! (1) | Recommend!
Saturday. 9.27.08 3:26 am
I saw this ad on IMEEM, i didn't know its a
deodorant ad. Chocolate fragrance? cooool. I would love to smell that.
Advertising features a man who turns into chocolate when he sprays himself
with Axe. He then goes on to be eaten by a series of women
Comment! (1) | Recommend!
Saturday. 9.27.08 1:36 am
ANDREW BIRD.
The best music i've heard this month.
Currently playing : Andrew Bird's Heretics.
Genre: Indie, folk rock
Andrew Bird is an Chicago singer/songwriter/violinist Andrew Bird
updates the traditions of small-group swing, German leider, and New Orleans
jazz, mixing gypsy, folk, and rock elements into his distinctive style.
http://www.andrewbird.net/
http://www.myspace.com/andrewbird
Andrew Bird - "Imitosis"
Andrew Bird - Skin Is, My
I've also added The Postal Service's songs in my playlist
Pam, please so and listen all the songs, you will love it.
The Postal Service is an American electronic indie pop band
composed of vocalist Ben Gibbard of Death Cab for Cutie and producer
The Postal Service - Sleeping In
A little bit like Something For Rockets, but more of electronic than rock.
Comment! (0) | Recommend!
Wednesday. 9.24.08 9:09 am
Hey.
GOODNEWS
-My FLURE album is here, finally.
The lyrics are all hand-written and really arty.
I'll scan it if i've got some time.
(i don't have, so too bad)
they are so gooood.
-I'm doing killer maths. i'm studying.
-My grandma is here, i'm spending
alot of time with her instead of the computer.
BADNEWS
-I've got a big ulcer living at the side of my tongue and i
accidentally scalded it with hot soup.
double size tongue dangling
-O lvls is in "number that freaks me out" days.
Comment! (2) | Recommend!
Sunday. 9.21.08 2:38 am
Saturday was happening. We headed to the east
After an hour cycle, we waited for the pouring rain to stop.
Its rains everytime we cycle. Took pictures and headed home.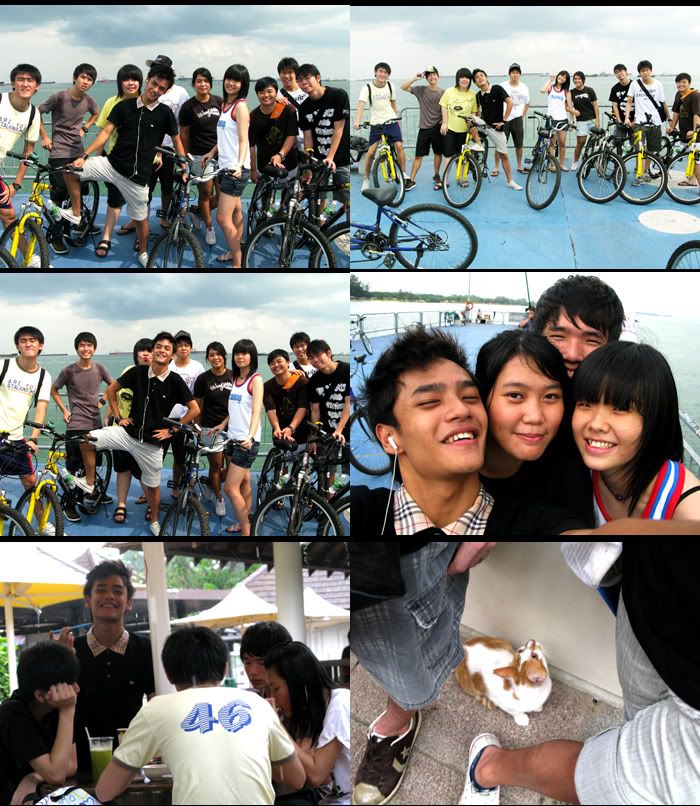 Spotlight of the day, mr derrick.
Pose anywhere, anytime and anyhow.
Derrick's random potraits.
Did i mention that we headed to the east for a cycle
because of boonchew's birthday? yes happy birthday in advance
anyway its my mother's birthday on saturday too.
You're about to witness a very weird combination of a birthday
celebration, my mother and my friend sharing a cake. WEIRRDDDD.
After the celebration, we went celebrating again
So three celebration in a row. Hap rite
hap : happening
The only
person
that was being left out.
Poorboy.
I almost miss this out.
Its a collage of kenneth's latest series of potraits.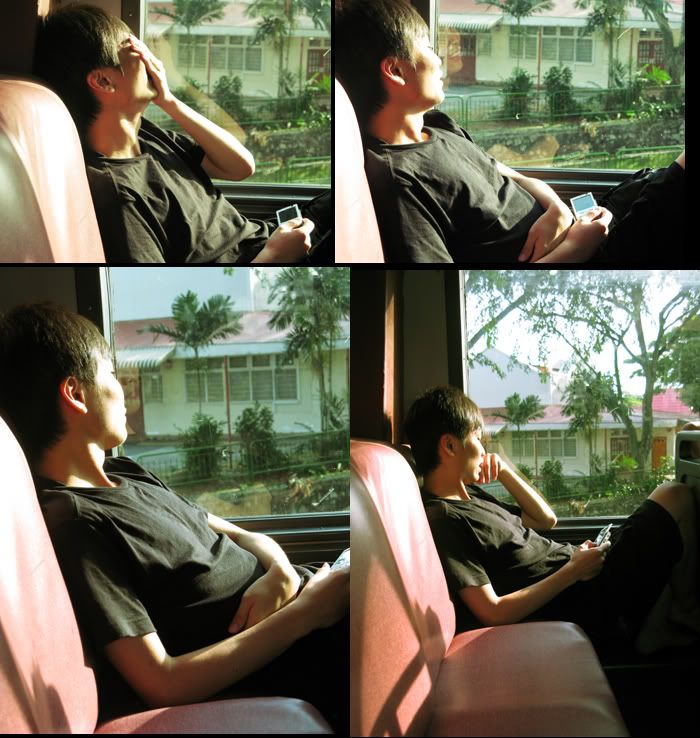 COMBO PICTURE, PICTURE OF THE DAY.
Kenneth verluptious. LOL
Comment! (5) | Recommend!
Thursday. 9.18.08 12:06 pm
Give me the money.
Show me the future.
give my 10k for good.
The Kooks - Shine On
Comment! (0) | Recommend!