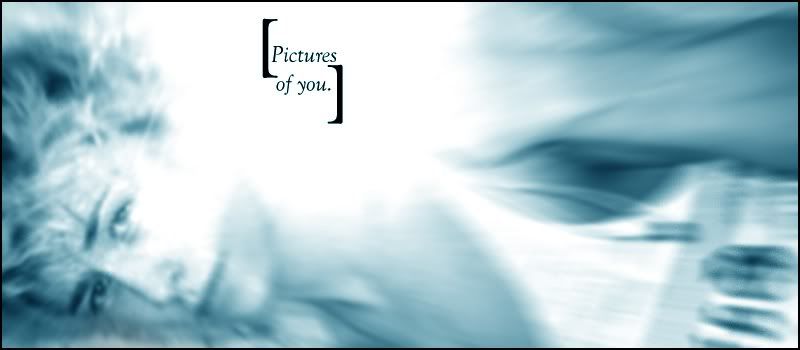 Spring Semester 2010:

* Teaching: Fundamentals of Microbiology - MW 12:00-2:40p
Medical Microbiology - TR 2:00-3:15p
Colloquium in Cell and Molecular Biology - R 3:30-4:30p
Thesis Research - Identification of T Cell Subsets and Immune Response in Colon Cancer Using Immunofluorescence - FOREVER AND EVER

Or rather, entries from the old journal, as it were...

-

An open letter to the College.

(August 27, 2006)

-

Untitled.

(July 16, 2006)

-

Haunted (Part One)

(May 29, 2006)

-

Are we growing up, or just going down?

(May 3, 2006)

-

I had a dream...

(March 19, 2006)

-

...

(March 14, 2006)

-

Enjoy it while it lasts.

(September 12, 2005)

-

Scene: 3:27 AM.

(September 3, 2005)

-

Untitled.

(July 26, 2005)

Psst... if you're looking for the academic writings I used to have here, head to my Reading Room.

Since June 2006...

- A Heartbreaking Work of Staggering Genius by Dave Eggers
- High Fidelity by Nick Hornby
- Travesties by Tom Stoppard
- The Way of the Shaman by Michael Harner
- The Tao of Pooh by Benjamin Hoff
- Nervous Conditions by Tsitsi Dangarembga
- The History Boys by Alan Bennett
- The Dark Child by Camara Laye
- Movie-Made America by Robert Sklar
- Diary by Chuck Palahniuk
- Rant: An Oral Biography of Buster Casey by Chuck Palahniuk
- Galapagos by Kurt Vonnegut
- The Dead Emcee Scrolls by Saul Williams [61.3%]
- Atonement by Ian McEwan
- Junk Science: An Overdue Indictment of Government, Industry, and Faith Groups that Twist Science for Their Own Gain by Dan Agin, Ph.D. [64.4%]
- So Yesterday by Scott Westerfield
- Lucky Wander Boy by D.B. Weiss
- The Things They Carried by Tim O'Brien
- Doctor Who: The Key to Time: A Year-by-Year Record by Peter Haining
- Why Buffy Matters: The Art of Buffy the Vampire Slayer by Rhonda Wilcox
- When You Are Engulfed in Flames by David Sedaris
- The Road by Cormac McCarthy
- 1984 by George Orwell [18.8%]
- Nick and Norah's Infinite Playlist by Rachel Cohn and David Levithan
- Intuition by Allegra Goodman
- V for Vendetta by Alan Moore and David Lloyd (Yes, I realize it's a graphic novel but it still fucking counts!)

The British Invasion, or, How I Learned to Stop Worrying and Love the Bottle.

Sunday, July 29, 2007 @ 11:15 pm

So I attempted to write this entry yesterday, to no avail. I felt like I was going to implode at any moment for all of yesterday after I woke up with that giant hangover. (Is it called a hangover if you're still drunk when you wake up?)

Anyway. Friday night/Saturday morning was pretty much the most amazing time I've had in forever. My friend Caroline (now from San Diego) was visiting (pretty much on a whim) and so it was decided--seriously for all intents and purposes mandated--that we hang out in San Francisco on Friday night for sure. So I told Kristi (my other friend, whom Caroline was staying with) that I'd be over at her apartment after I got off of work at 6:00, but I ended up being quite the late one (as usual) because my boss had me working on something while he went over to SETI. But I suppose had I been on time, what follows would never have happened.

So when I got there, we had some dinner and then got a little pre-party going to cut down on drinks at the bar. We went to Vesuvio first--I believe I've raved about that place before--and it was more packed than the last time I was there. (Damn you, Friday night!) We went upstairs looking for a place to sit, settling (but not sitting, as there were no chairs available) temporarily behind a group of three boys sitting next to the opening to the floor below. We had noticed these boys the instant we reached the second floor, and at the very next instant, Caroline turned to me and asked, "Over there. Do you think they're gay?" I delivered the verdict and it was not in my favor: No, I didn't think they were.

A corner booth opened up--my favorite seats in the house. We settled in for a few hours, ordered a few drinks, and progressively got more drunk. And we acted the part--we were somewhat loud, pretty obnoxious, and began taking pictures of "ourselves" to photograph the boys across the way. But then they left, so we followed suit about 20 minutes or so later and made our way to O'Reilly's, an Irish (no fucking duh) place.

It was packed as well. Kristi and Linh immediately made their way to the back part of the bar where there were seats readily available for us. On the way back, I pulled Caroline aside. "Look over there." She didn't know where to turn, so I had to physically move her 6'3" frame in the right direction. "Oooooh."

There they were, the same pretty boys we had tried to snap pictures of, and who, according to Caroline's instincts, may have been gay. (At the very least, the one in the tight jeans. He

had

to be, she reasoned.)

We retrieved the other two, and while I ordered our round of Sierra Nevada at the bar, they managed to get seats right next to where they were standing. I paid for the drinks and brought them over. I guess that was the perfect dosage of liquid courage we needed because the next thing I know, everyone's talking to each other! And then Caroline began to believe my assessment to be correct: they weren't gay; they were just British. (Which, in her mind, explained the tight jeans.)

So we were about to get another round, and one of our new mates was buying, but it was already time for last call (at the very prudish hour of 1:30 am; sometimes I

hate

America) so we were fucked. Luckily, the liquor store was open until 2:00, so we scrambled over there to pick up some supplies (several six packs) and headed back to the apartment with three Brits in tow.

What happened over the next few hours was an odd mixture of making out (no, not me, unfortunately), laughter, and talk about world politics, music (they knew who We Are Scientists were!), and plans to head to their neck of the woods for graduate school. Oh, right, and more drinking. (We were so noisy that I'm sure we kept half of the apartment awake.) At one point, a little before in the morning, after we had finished all but one bottle of beer, we opened the freezer and realized we still had about a third of a bottle of vodka left. So what did our new friend Luke decide should be done about that?

Right.

And so we did. John, me, and Luke. Taking swigs out of the bottle of vodka.

So. Classy.

Around 6:45, we all settled down enough to go to sleep. I woke up at 9:30 and couldn't believe what had happened. I looked through the pictures I took (all 130-something of them!) and relived what I could remember while living for the first time what I couldn't. We bid farewell to our new British friends before noon and went our separate ways. A fantastic night (or, more accurately, morning) overall, and all because I arrived late. How's that for good fortune?

And now I need to go to sleep so I can do enough work tomorrow to make up for the fun I had this weekend. :P

P.S. Luke's my favorite. A real pretty lad, that one. You can probably tell which one he is by looking at the collage. Ah, well.

Comment! (2) | Recommend!

Wednesday, July 25, 2007 @ 11:55 pm

As in, with the huge lack of updates I've been doing lately, you can hear a pin drop here on my blog.

I've just got a lot of things on my mind lately.

- Work has certainly picked up in pace. We're getting ready to publish a paper, which means I'm scrambling to fill in some holes in the data. Co-authorship, here I come? Hopefully. I've also been desperately trying to keep the lab clean while I work. Doesn't help much that my PI makes a giant mess wherever he goes. Oh, well. I guess I can keep my bench clean. That'll work.

- It just hit me that it's nearly August. This means that I need to start gearing up to fill out applications for graduate school. This also means that I'm far behind on my reviewing for the Biochem GRE. I always tell myself that I'm going to start "next weekend," but by the time the weekend rolls around, I either find myself too busy with family matters or too exhausted from the week to actually start. This is a cycle that needs to be broken somehow, but I can't see past quitting my job or letting my family down as far as options go. I'm being somewhat facetious here, but there's a kernel of truth in it. I guess there's also hidden option "C", which would be to suck it up and push myself harder than I already am. Somehow that doesn't quite scream "WISE DECISION IN THE LONG RUN!" but I might take a chance on it.

Watch me burn out.

- I need to start waking up earlier. Last few days I've skipped breakfast and felt it slowly killing me at work. Could be what I need to get through the days without feeling so dead tired by the end of them.

- ANTS. KILL. I wake up with a new bite every morning. It REALLY pisses me off.

Comment! (6) | Recommend!

Nothing is ever the same.

Monday, July 16, 2007 @ 8:50 am

As one of the most adaptive species on the planet, you'd think we'd be used to change.

Fucking

WRONG

.

Comment! (3) | Recommend!

A tear-filled prelude to a final farewell.

Friday, July 13, 2007 @ 11:38 pm

At my grandmother's memorial service, I was called upon to represent the grandchildren by giving a eulogy. I managed to get through it without completely losing it, but as soon as I got off, I cried hard and then blew a blood vessel in my nose. It didn't stop bleeding for about 10-15 minutes...

What follows is the original text of my short eulogy, with several ad-libs as faithfully recorded as I could remember:

In this day and age, it's a miracle to have two, loving parents raising you growing up. I was fortunate enough to have two grandparents as well to help raise me when my parents had to go to work during the day so we could make ends meet.

When you're five years old and you're driven to your grandmother's house at 5:00 in the morning, huddled inside a wrapped-up blanket in the backseat of a car with spotty heating at best, so that your parents could work all day long, you never think for one single minute--among all the feedings and the supervision and the words of encouragement and the inevitable punishments that follow your misdeeds--that one day your grandmother would be gone.

When you start to grow older and begin to come to terms with the sometimes-harsh realities of life, in your naivete, you still refuse to believe that one day, your grandmother won't be there to greet you--smile on her face and ready to offer you whatever food she had--as you walk into that house where you practically grew up for visits that become less and less frequent with every passing year.

When you've finally become an adult and you learn that your grandmother--the strong, proud woman who helped to raise you--has cancer, you STILL naively expect that you have an eternity to spend with her--even though you have extensively studied the molecular biology of cancer, even though you sat for hours next to her dehydrated and malnourished body in the dark and dreary hospital room, even though you know in your head that it is inevitable that she should die but your heart is in denial...

But in a way, your heart is right.

Because in your heart, she is alive forever, and she is smiling and laughing, admonishing you when you are doing something you ought not to do and encouraging you when you do what you know deep in your soul you want to do. She is there. Until the end of time.

Mama, thank you for everything. I miss you and I love you. Forever.

Tomorrow, we bury her. We finally say goodbye.

Only not really.

Comment! (2) | Recommend!

Bloodshot-eyed ramblings of a tired and nearly-defeated man.

Tuesday, July 10, 2007 @ 11:04 pm

When I look in the mirror, the first thing I notice are my eyes--more specifically, the red veins popping out of them. At least, that's what I notice when I can actually focus correctly. Most of the time, there are blurry spots which make it difficult to see clearly and particularly dangerous to drive.

Today, I took the day off work. There are so many preparations to do and errands to run and loose ends to tie up that I'm overwhelmed. They say you need to keep busy to deal with grief, but I firmly believe they are wrong--you don't deal with jack shit by keeping busy. You just run yourself ragged so that you're so tired you can't feel anything anymore, but you know it's there, waiting for you to get a good night's sleep so it can pounce on you in the morning when you're taking a shower or brushing your teeth.

I'm going back to work tomorrow. I really don't want to, but I need the money to help my family out in little ways. In addition to work, I've got to make a poster-sized collage for the viewing (since I'm pretty much the only person competent enough to do it) and write part of the eulogy for my grandmother's funeral.

I want it so much to be over, but even more, I want it to have never occurred in the first place. In an alternate universe, this week is a normal one: I'm ordering reagents and supplies, working up chemical reactions, and analyzing heaps of data. But instead, here I am, choosing floral arrangements, sifting through and scanning old photographs, and burying my grandmother. There is something completely unfair about that, and no amount of well-intended everything-happens-for-a reasons won't change that or alleviate the pain. Because in my estimation, nothing happens for some intrinsic reason--the universe is a cold, uncaring place, and it could all be over tomorrow for you or someone you love. Or maybe not. That's the crap-shoot we deal with, a cosmic die-roll whose odds we take in exchange for every single breath breathed and every single step taken--for every single fleeting moment we spend on this earth. To the wise, it's an admonition and a reminder that life is not to be taken for granted, because it can just as soon be taken forever.

Comment! (2) | Recommend!

Tuesday, July 10, 2007 @ 11:10 pm

My grandmother was the first person who believed that I could be a doctor when I grew up. Granted, she had an M.D. after my name in mind, but a Ph.D. is still a doctor, so I intend to keep the promise I made to her back when I was five.

Today, my grandmother died holding my hand. She convulsed for a few seconds, and then she just... stopped breathing.

I was the first to know she died; I will be the last to forget.

I miss you, mama. Thank you for helping to raise me. Thank you for believing in me. Thank you for everything. I love you.

Comment! (5) | Recommend!

Monday, July 2, 2007 @ 12:43 am

As much as I want to shit all over the concept of beauty that we, as a culture, have built up for ourselves and pushed onto everyone to try to conform to, I hate the fact that whenever I see someone who is "beautiful," I desperately wish I were more attractive. I hate myself for wanting to be that way and for not just saying "fuck it" and being happy with myself.

Meh.

Comment! (4) | Recommend!

Slowly sinking back into the blissful abyss.

Sunday, July 1, 2007 @ 8:44 am

I thought I'd be up for good when I woke up about half an hour ago, but truth be told--my mind just didn't know that my body was still completely knackered. Now, to trick my mind into shutting off a little faster... this is a tricky, complicated thing with which must be dealt with all deliberate speed.

Comment! (1) | Recommend!