Tuesday, February 7, 2012
On 17 November 2011...
I was exhausted. My host took me and my buddy to dinner after visiting
Pantai Kenangan
. But I was glad to be able to meet up with PYs during the dinner ceremony hosted by a fellow host family. The venue was a fantastic place for it was akin to a mini palace.
The only thing occupied my mind after dinner is sleeping. So I quickly showered and dressed in my pyjama. My host mum left a hairdryer for me on the coffee table in our room. Since the hairdryer is two-pin type, I inserted the 3-pin connector I found in the room. I was relieved. I'm now a few heartbeats away from sleeping.
So I turned on the hairdryer and POP.
The whole house went BLACK. And yet I was still continuing blowing my hair until my host dad came by. I could hear my host mum mumbling something in the living room because she was watching tv!
I felt like Mr Bean in his Christmas episode where he unplugged the shopping mall's main lighting just to test his Christmas tree lights.
Spinoff
: Host dad fixed the problem in a few seconds. I was later given a pen to plug in the hairdryer, because the connector is broken. I apologised profusely for the blackout. Host dad's eldest grandchild came and checked on me, and we ended up laughing.
What I didn't realise was my buddy was in the shower during the blackout!!! My bad!
I guess klutziness is my signature in leaving memories of myself in other people.
Comment! (0) | Recommend!
Sunday, February 5, 2012
On 28 November 2011...
It surely feels good to be back in Kuala Lumpur. I was surely happy to be in Putrajaya, maybe because my good friend lives there. I wanted to ring him up and say "I'm back!" but poor me I won't be able to meet up him ... so I just enjoy the Putrajaya view with my contingent members.
After my institutional visit in the Lim Kok Wing University in the afternoon, the PYs were transported to Putrajaya for our next itinerary, which is dinner and cultural performance. Before that, we will be interacting with the local Malaysian youths.
Oh well, here's a video of our interaction. A video says a thousand words.
I was in the video too.
Spinoff
: Sorry, what were we supposed to do again? I think I prefer to work on my relationship with violin, fife, recorder, flute, horn, pennywhistle, three-note flute, nose flute and the rainmaker (especially the rainmaker so we can return to cabin to sleep!)
Comment! (0) | Recommend!
Sunday, February 5, 2012
You know I had a very interesting life experience on the 3rd February. Thanks V for adding another feather to my cap.
We had a charity date. In the afternoon we planned to donate provisions to an orphanage I have been working with for the past 3 years. V used a GPS to the location, and it showed us to an alternative route to the one I'm used to. It happened that the GPS showed us the back route to the orphanage.
Ok. Fine. At the orphanage, the main person-in-charge cannot recognise me at all. I was very offended. How can you not recognise me?! For I'm the most important person in my program! Ugh ... renaye .. you are just too full of yourself ... Anyways, we gave the items away ... and we were glad the centre needed children books.
Our next stop after the orphanage is the soup kitchen in the next door area. So V and I used back the road where we came from. And then to our horror, the road is one-way-street! But it was too late to reverse since there were cars behind us! So ... V .. turned right ... heads on with cars!!! I was closing eyes with my palms and praying O.M.G. V was cool as a cucumber ... and nonchalantly she turned into a building and reversed out. And tada ... we were on the same direction as other cars.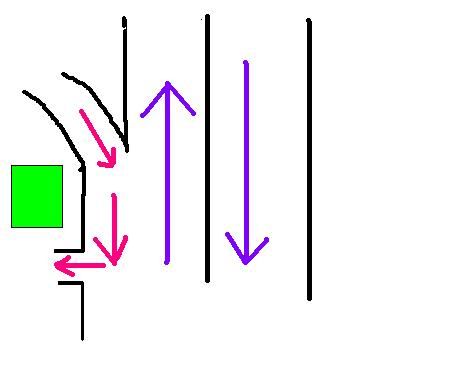 Our car is the pink one. I have always seen cars going on the opposite direction in my housing area, and I often wonder how they ended up like that. Thanks V. I finally knew how they ended up like that. Mystery solved. HAHAHA.
P.S.: Well ... I should not be such a scaredy cat since I have experienced such thing in Vietnam during my homestay. I guess ... it's just weird to experience it in my own country.
Comment! (0) | Recommend!
Saturday, February 4, 2012
A friend shared with me a quote:
Say what you want to say when you have the feeling and the chance. My greatest regrets are the things I did not do, the opportunities missed and the things unsaid
- Jim Keller -
Comment! (0) | Recommend!
A little crazy thing called Love
Thursday, February 2, 2012
On 5 November 2011 ...
I seriously could not believe that I'm finally ON the ship. It felt so unreal.
Though it's only the third day on the ship, we already had a packed schedule. To our relief, there's some activity happening tonight for all of us!
The Thai contingent organised a movie session, and we were required to bring a date. The early bird couples will be entitled to some gifts.
Whatever.
I asked one of my SG mates from Indonesia to be my date. All of us were acting quite awkward given that we don't know each other well. And all of a sudden we were required to bring a date to the movie night?
Err ...
Anyways ... I didn't get the early bird gift because we were late.
The movie they played is called A Little Crazy Thing Called Love. It is one of the funniest movies I have ever seen, albeit predictable story line. The movie has a simple storyline. It's about how an ugly duckling has a crush on the best looking guy in school. The girl tried out many activities in order for him to notice her... The girl has been hiding her feelings for him for three years. She confessed to him on the last day of school, but it was too late for he already had a girlfriend. The truth is the guy also likes her. Both were liking each other, but both didn't have the courage to confess. And ... they finally get together after 10 years.
Duh ... this kind of movie certainly has happy ending! Here's the OST so you get a glimpse of the movie!
Tidbits
: It's seriously weird. I don't know what possessed me to attend the movie night with a date. This is sooo not me for I prefer going alone than with someone else. I guess I just wanna have a boost in my sea adventure. =)
The movie is cute. Everyone can relate to this movie. I believe everyone has crushes before back in school... right? There were funny, happy and sad moments. I thoroughly enjoyed the movie despite receiving hits and slaps from my neighbour ... >.< while watching the movie.
To me ... the lesson is don't wait before it's too late. But the truth is ... it' s awful AWFUL hard to confess to someone let alone asking if the person likes you or not. No matter how many times you tell yourself that you are ready to confess, it's 50/50 that you are gonna spit it out when the person you like is in front of you.
Am I not right? When you didn't take action you will console yourself that tomorrow never dies. And the cycle repeats until you realise it is too late. Then regret kicks in. It sucks.
So whether we are ready or not, I think we should just do it. So we won't have any regrets in life!
*Sniff sniff ... watching the OST makes me recall of something I didn't walk my talk. Sigh.
Oh by the way, my date said we did get something from the movie session! It's some fish snack! Hmm ... yum yum. And ... we took a picture together with a huge heart-shaped glass frame. Owh ...
Comment! (0) | Recommend!
Thursday, February 2, 2012
On 13 November 2011 ...
It's our last day in the Philippines. The PYs was given a lovely surprise during our farewell reception.
Can you guess what kind of surprise we had?
There was a Filipino superstar to send us off!!!
What more can we ask for?! He is Christian Bautista. He sang 2 songs after a shout out for encore. I was very impressed that they was a star to sing for us. I think we really felt like a VVIP.
And ... there were helicopters releasing graffiti!!
Ah!! None of the graffiti fall on me. I wanted to touch those colourful papers!!!
The PYs were also given roses when we climbed to the ship. I wanted to give the rose to my host mum who was standing in front of me, but I thought it was not a good gesture for forwarding a gift too fast. So I brought it up to my room.
I placed the rose by my room window so it will also have a view of the sea ...
Tidbits
: Actually, I was not feeling well during the farewell reception due to stomach indigestion. (Let just say I overate during my stay in the Philippines). I almost decided to stay back in the ship because I fear my gastric will worsen. Luckily, I had taken some medicine from the nurse to relieve the pain. So I decided to tolerate the pain throughout the whole event. Of course, I have informed the nurses that I might request to return to the room should my condition worsen. I was glad the whole performance distracted me from thinking of the pain. And ... hehe ... I get to see Christian Bautista at a very close range!! This is the advantage of sitting right in front of the row. =)
To be frank ... the Malaysian contingent doesn't know who Christian Bautista is, for we have never heard of him before. Can't blame us when we don't watch any Filipino dramas nor listen to Filipino songs. The only Filipino singer I know is Jesse Zaragoza, who sang the English version of First Love.
When the emcee announced the guest performer the PYs and local people were cheering in disbelief. My contingent was looking at each other with a question mark on our face. Even the Bruneians knew who he is! Nevertheless, we enjoyed the performance. We were extremely thrilled.
And ... my pants almost drop from my waist! No thanks to my team member who was trying to straighten my blazer and scarf before I went to the stage to collect some souvenirs. She saw the pants were folded three times on my waistline, and she was about to unfold it!! AHHH!!! Luckily I caught her fingers! I know she was just being kindhearted, and not supposed to be blamed...
My pants is really really loose ... and I think I forgot to ask the tailor to alter my waist area. HAHAHA. My bad.
Comment! (0) | Recommend!