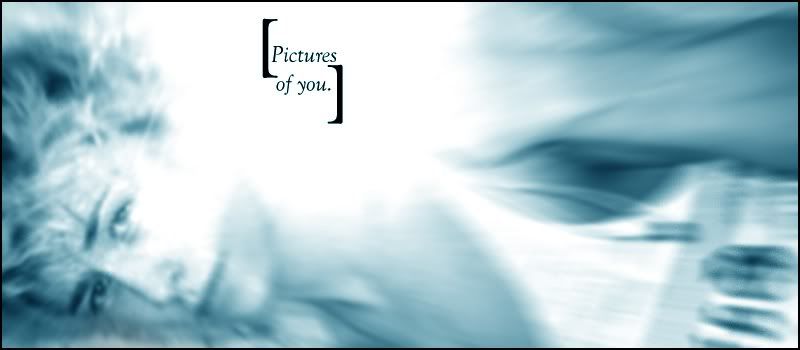 Spring Semester 2010:

* Teaching: Fundamentals of Microbiology - MW 12:00-2:40p
Medical Microbiology - TR 2:00-3:15p
Colloquium in Cell and Molecular Biology - R 3:30-4:30p
Thesis Research - Identification of T Cell Subsets and Immune Response in Colon Cancer Using Immunofluorescence - FOREVER AND EVER

Or rather, entries from the old journal, as it were...

-

An open letter to the College.

(August 27, 2006)

-

Untitled.

(July 16, 2006)

-

Haunted (Part One)

(May 29, 2006)

-

Are we growing up, or just going down?

(May 3, 2006)

-

I had a dream...

(March 19, 2006)

-

...

(March 14, 2006)

-

Enjoy it while it lasts.

(September 12, 2005)

-

Scene: 3:27 AM.

(September 3, 2005)

-

Untitled.

(July 26, 2005)

Psst... if you're looking for the academic writings I used to have here, head to my Reading Room.

Since June 2006...

- A Heartbreaking Work of Staggering Genius by Dave Eggers
- High Fidelity by Nick Hornby
- Travesties by Tom Stoppard
- The Way of the Shaman by Michael Harner
- The Tao of Pooh by Benjamin Hoff
- Nervous Conditions by Tsitsi Dangarembga
- The History Boys by Alan Bennett
- The Dark Child by Camara Laye
- Movie-Made America by Robert Sklar
- Diary by Chuck Palahniuk
- Rant: An Oral Biography of Buster Casey by Chuck Palahniuk
- Galapagos by Kurt Vonnegut
- The Dead Emcee Scrolls by Saul Williams [61.3%]
- Atonement by Ian McEwan
- Junk Science: An Overdue Indictment of Government, Industry, and Faith Groups that Twist Science for Their Own Gain by Dan Agin, Ph.D. [64.4%]
- So Yesterday by Scott Westerfield
- Lucky Wander Boy by D.B. Weiss
- The Things They Carried by Tim O'Brien
- Doctor Who: The Key to Time: A Year-by-Year Record by Peter Haining
- Why Buffy Matters: The Art of Buffy the Vampire Slayer by Rhonda Wilcox
- When You Are Engulfed in Flames by David Sedaris
- The Road by Cormac McCarthy
- 1984 by George Orwell [18.8%]
- Nick and Norah's Infinite Playlist by Rachel Cohn and David Levithan
- Intuition by Allegra Goodman
- V for Vendetta by Alan Moore and David Lloyd (Yes, I realize it's a graphic novel but it still fucking counts!)

Sunday, August 12, 2007 @ 4:37 pm

I don't want to move.

I just... want to stay in one position frozen in time and space.

Is that so much to ask for?

Comment! (3) | Recommend!

Cleanliness is godliness, and God is empty, just like me.

Saturday, August 11, 2007 @ 6:23 pm

So sometimes I get a little... "carried away" (that's how we'll put it) when I get in one of my moods about cleaning. My parents went grocery shopping today and as usual we struggled to find places to put all the new food. So I guess it started out as just a little tidying up--shifting some things in the fridge so the food could all fit. But it all soon spiraled out of control.

Like that meth chick in the public service commercial from a few years back, I flew into a cleaning frenzy. Before I knew it, half the real estate in the refrigerator was put back on the market as I evicted the more elderly of the group from their previous homes. The same happened with the freezer--this was my eminent domain.

When I was finished with the refrigerator, I rushed over to the cabinets and made a clean sweep. I exorcised the demons living inside the pantry that allowed Indian meal moths to thrive and reproduce faster than the welfare queens on

Maury

. I emptied containers left and right and sent them off for decontamination in the sink. I removed the no-slide shelf lining to reveal more places where the moths laid their eggs, where the larvae wriggled like new paraplegics on the battlefield, desperate to escape the onslaught of my hands, possessed with the desire to clean. Because no longer would I allow my snack foods to be ruined by their presence! No longer would I sit back while my flour was violated by their voracious appetites! No longer would I stand for such kitchen anarchy! No--this was the beginning of a new age: the Age of Aquarius--the water-bearer--and of Triclosanius--the bearer of antibacterial soap. And just as God drove man out of the Garden of Eden, so it must be here, in my kitchen, for the sins that have transgressed here are enough to make even deities weep over spilled, spoiled milk.

Comment! (2) | Recommend!

Thursday, August 9, 2007 @ 8:25 pm

Just because you own a German car does NOT give you the right to drive like Hitler on an autobahn full of Jews.

Fuckface.

Comment! (7) | Recommend!

Wednesday, August 8, 2007 @ 7:32 pm

Not

very aptly named, if you ask me...

So last night I got out of work even

later

(9:30 pm), but at least today, I got out

on time

. Amazing.

What am I going to do with all this free time in the evening you may ask? No, I am not going to watch reruns of

ANTM

. Rather, I'm going to Starbucks and studying for It-Which-Must-Not-Be-Named.

Let the wonder-elixir work its magic and let my brain become porous like a sponge which absorbs knowledge. Except, not literally. Because that would mean I am probably suffering from Creutzfeldt-Jakob disease...

Comment! (4) | Recommend!

Tuesday, August 7, 2007 @ 8:19 am

Since yesterday wasn't the most spectacular of days, and since I spent two extra hours at work last night (honestly, I was the only other person along with my PI in that entire asbestos-ridden building at NASA), I won't be going into work until 11:30.

Sure, there's work to do, but the terms of the internship state that I cannot work more than 40 hours a week, the time has to be made up somehow. What better day than today?

I'm going to treat myself to a leisurely breakfast and take a trip to the bookstore. Fuck work.

In other news, there was a M-sighting online. I didn't know what to do, so instead of trying to reconnect with people (the reason I opened up AIM in the first place), I immediately stuck an away message up and totally emoed it out.

Why do I still feel like that? I mean, it's fucking lame to begin with, but typing it out makes me feel so much LAMER... God, what am I--14?

Whatever. Breakfast time.

Comment! (7) | Recommend!

So I just got back from working 10 hours in the lab...

Monday, August 6, 2007 @ 8:43 pm

...and when I got home, I hit a car parked in front of my house while trying to parallel park.

I left my contact info, but the truth is, I don't really fucking care.

That girl's a fucking slut-whore-druggie-bitch anyway. Who really shouldn't be parking in front of my house.

Boo motherfucking hoo.

Comment! (9) | Recommend!

Are you a US postal worker, or just stupid?

Sunday, August 5, 2007 @ 2:15 am

So a few days ago, I stopped by the post office on base while I was at work to send something muy importante to

Zanzibar

via flat-rate Priority Mail so that it would get to her quickly and, perhaps more importantly since time was not necessarily of the essence, rather cheaply. The next day, in the mail, I happened to receive a package. All feelings of would-be happiness to receive a package in the mail were quickly dispatched when I found that the package was from no one other than

myself

. On the address label, across the careful lettering I had skillfully scripted was the following notice on a bright green sticker:

Important Customer Information

We regret that your mail is being returned to you because of heightened security measures. All domestic mail, weighing 16 13 ounces or over, that bears stamps and all international and military APO/FPO mail weighing 16 13 ounces or over, MUST be presented to a retail clerk at a post office. Postage that is affixed to the returned mail may be used for re-mailing the item.

Alright. Not so bad, right? I mean, I appreciate the importance of certain security measures in this day and age. I suppose if I allow myself to get frisked at an airport by a very unattractive middle-aged Homeland Security officer, I most certainly can accept the fact that I must bring in any domestic mail weighing

16

13 ounces or over to a post office clerk before getting it sent...

Except...

I kinda already did that. And yet the mail got returned to me with a helpful suggestion that I do exactly what I already did previously in order to have the package sent.

It's this sort of ineptitude that makes me wonder why more customers--as opposed to workers--don't go postal.

Argh. So I guess it's back to the Post Office to send it off AGAIN. Dammit, I want my 30 minutes of free time back.

Comment! (5) | Recommend!

Monday, July 30, 2007 @ 8:52 pm

An entry which more people will read than the monster directly below it.

I admit it. I do it too. We're all so goddamned impatient these days.

Comment! (7) | Recommend!