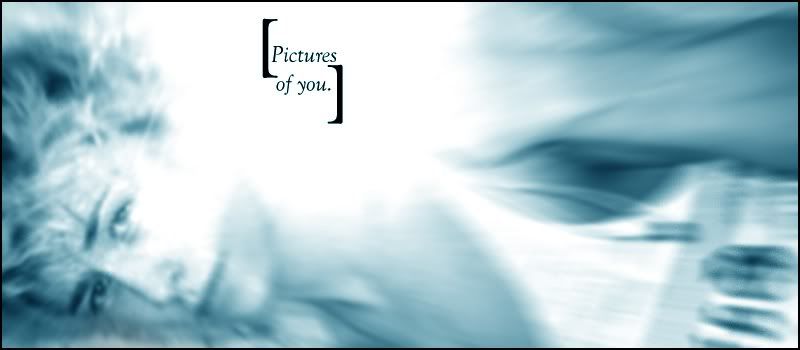 Spring Semester 2010:

* Teaching: Fundamentals of Microbiology - MW 12:00-2:40p
Medical Microbiology - TR 2:00-3:15p
Colloquium in Cell and Molecular Biology - R 3:30-4:30p
Thesis Research - Identification of T Cell Subsets and Immune Response in Colon Cancer Using Immunofluorescence - FOREVER AND EVER

Or rather, entries from the old journal, as it were...

-

An open letter to the College.

(August 27, 2006)

-

Untitled.

(July 16, 2006)

-

Haunted (Part One)

(May 29, 2006)

-

Are we growing up, or just going down?

(May 3, 2006)

-

I had a dream...

(March 19, 2006)

-

...

(March 14, 2006)

-

Enjoy it while it lasts.

(September 12, 2005)

-

Scene: 3:27 AM.

(September 3, 2005)

-

Untitled.

(July 26, 2005)

Psst... if you're looking for the academic writings I used to have here, head to my Reading Room.

Since June 2006...

- A Heartbreaking Work of Staggering Genius by Dave Eggers
- High Fidelity by Nick Hornby
- Travesties by Tom Stoppard
- The Way of the Shaman by Michael Harner
- The Tao of Pooh by Benjamin Hoff
- Nervous Conditions by Tsitsi Dangarembga
- The History Boys by Alan Bennett
- The Dark Child by Camara Laye
- Movie-Made America by Robert Sklar
- Diary by Chuck Palahniuk
- Rant: An Oral Biography of Buster Casey by Chuck Palahniuk
- Galapagos by Kurt Vonnegut
- The Dead Emcee Scrolls by Saul Williams [61.3%]
- Atonement by Ian McEwan
- Junk Science: An Overdue Indictment of Government, Industry, and Faith Groups that Twist Science for Their Own Gain by Dan Agin, Ph.D. [64.4%]
- So Yesterday by Scott Westerfield
- Lucky Wander Boy by D.B. Weiss
- The Things They Carried by Tim O'Brien
- Doctor Who: The Key to Time: A Year-by-Year Record by Peter Haining
- Why Buffy Matters: The Art of Buffy the Vampire Slayer by Rhonda Wilcox
- When You Are Engulfed in Flames by David Sedaris
- The Road by Cormac McCarthy
- 1984 by George Orwell [18.8%]
- Nick and Norah's Infinite Playlist by Rachel Cohn and David Levithan
- Intuition by Allegra Goodman
- V for Vendetta by Alan Moore and David Lloyd (Yes, I realize it's a graphic novel but it still fucking counts!)

10 Second Interview (Segment Two).

Wednesday, August 29, 2007 @ 9:16 pm

Sorry--I'm so exhausted right now that I can't even type up a real entry. So here's another exciting installation of 10 Second Interview...

If I had a time machine, I'd...


...probably be breaking the laws of physics if it could transport me backwards in time.



I'd describe my sense of humor as...


...both light and dark at different times.



I collect...


...myself on occasion, and you'd be surprised how well I carry on.



Wii, XBox 360, or PS3?


Wii would like to play!



What's the first frivolous thing you'll buy when you're rich and famous?


WHEN I'm rich and famous? This thing is rather presumptuous. Shouldn't we be using the subjunctive mood here?



What is the most useful class you've taken?


Thesis. I learned so much myself and what I'm capable of that it's not even funny.



Five star hotel or a tent in the woods?


Five star hotel. I like nature, but I'm not one for giving up luxury if I can help it.



I wish I had never seen...


...you and your beautiful face. Fuck you for existing in the first place.



Twizzlers or Red Vines?


Not particularly a fan of either, but if forced to choose: Red Vines, simply based on the fact that "Twizzlers" kinda sounds sketchy.



Propose a new toothpaste flavor:


Cock.

Comment! (4) | Recommend!

10 Second Interview (Segment One).

Thursday, August 23, 2007 @ 10:13 pm

So Facebook has an application called 10 Second Interview with a variety of questions--some odd, some mundane--that one can answer and have those answers displayed on their profile. This is a nice way to waste some time, not to mention a great way to get a pretend blog entry without really trying when you're feeling a bit too pooped out to write an actual one. So here it is, my first 10 Second Interview with ten questions. Enjoy.

If you were famous, what would you be famous for?


I'd be the only person who marries someone rich and famous solely to fund my scientific research. Duh.



Early riser or night owl?


NIGHT OWL, ohmygod, definitely fucking NIGHT OWL. (Hate the sun most of the time.)



How old were you the last time you trick-or-treated?


Trick-or-treated for reals? I don't even remember.



If I had to spend twenty bucks in the next twenty minutes, I would...


...use it to help pay for the books I need for class.



I'd be nothing if it weren't for...


...a Y-chromosomed sperm from my father and an egg from my mother.



The best ride at Disneyland is...


...that cute teenager working the concession stand.



If you were a candy bar, which would you be?


I wouldn't be a cheap-ass American-made candy bar. I'd be a fucking truffle.



Late at night, I like to eat...


...whatever's in the fridge. That late at night, I'm not too particular.



No matter how badly I needed the money, I'd never...


...kill someone. Sure, I'll synthesize drugs and sell them, but murder's where I draw the line.

Comment! (3) | Recommend!

The quickest way to ruin my day:

Wednesday, August 22, 2007 @ 11:16 am

Missing breakfast and finding that the only food any place is LUNCH food. (Fucking VOMIT.)

I'm in such a foul mood right now that I wouldn't want to be the person driving the car in front of me.

Comment! (5) | Recommend!

"Are we there yet?" "No, we're not fucking there yet. Now sit the fuck down and shut the fuck up!"

Tuesday, August 21, 2007 @ 10:04 pm

Reading the comments on

this article

(a HI-larious article if you ask me--as long as you don't take it too seriously) is a reminder to me that for all of the "advancements" America has made to "accept" homosexuality as a normal part of society and culture, we still aren't to the point where homosexuals are truly considered the equals of heterosexuals.

I won't wax activism with you because I'm just as tired as the words "heteronormative" and "homophobic" as everyone else--I did go to a liberal arts school after all--but just because I won't actively "take up the cause" doesn't mean that it doesn't suck and that it isn't kinda sad that someone thinks that "by [the author] calling the movie 'gay' then your [sic] truly putting down all the fans and the singers who could be in the show next." Um, implicit-viewpoint-that-gayness-is-a-bad-thing anyone?

Ugh, I can't think about this any longer. I just got home from work half and hour ago and I need to dust the insides of my computer before I go to bed, which should be fairly soon. I'm fucking tired.

In more ways than one.

Comment! (3) | Recommend!

Wednesday, August 15, 2007 @ 11:07 pm

So I decided to call in sick to work today because I didn't feel much like handling hazardous chemicals when my brain feels somewhat detached from my body and while I suffer from generalized muscle aches. Probably will call in sick tomorrow as well since I need to prepare some food for my grandmother's 40th day memorial of her death.

I'm going to be making two flans (one normal and one infused with a slight citrus flavor in addition to the vanilla). They always take longer than I think they will to make, and I need to get all the supplies for that anyway. May also cook up a large batch of chicken adobo (with a gourmet flare, of course!) for the gathering on Friday. So much to prepare for because everything must be perfect for the large number of guests we are expecting. I think it's better for my health (both mental and physical) to take the day off tomorrow before dealing with all those people. (Social situations with people I don't particularly know or care to know always drain me.)

The good news is that it isn't a nine day event like last time. That means that I'll be back to my regularly scheduled program--i.e. studying for the biochem GRE and getting started on grad school applications--a lot sooner. Which may or may not be a good thing.

Comment! (2) | Recommend!

Wednesday, August 15, 2007 @ 12:46 pm

That's my new mantra; I'm just trying it out.

I'm a patient person.

I have to be, since I don't have the means to get everything I want right now.

I'm a patient person.

I'm really not, though. But I'm trying to be.

I'm a patient person.

Fuck this shit...

Sacrifices are overrated, and the best things don't come to those who wait--they come to those who have the money to buy them.

Comment! (4) | Recommend!

Tuesday, August 14, 2007 @ 11:18 pm

When did supposedly-straight boys making out suddenly become vogue?

And why wasn't I invited (or, at least, CC'd on the memo)?

Comment! (0) | Recommend!

Monday, August 13, 2007 @ 12:00 am

So I'm here in my room, not able to sleep. I decide to watch some On Demand shows, and stumble upon that classic 80s sitcom,

The Facts of Life.

I go ahead and start it up and notice something oddly familiar about the exterior shots of the academy in the opening credits. I pause the show and search online for pictures to confirm my suspicions: those exterior shots were of no other than Harwood Court, Lebus Court, and Marston Quad... at my alma mater, Pomona College.

What a mindfuck. Seems like everywhere I go, I can't escape the memory of the place.

Zanzibar

--check this shit out:

Comment! (3) | Recommend!