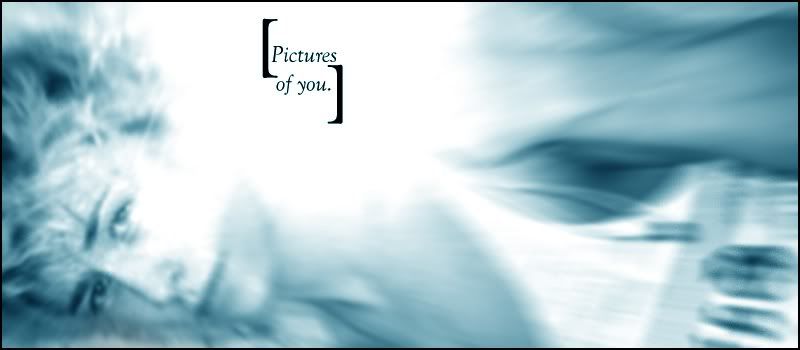 Spring Semester 2010:

* Teaching: Fundamentals of Microbiology - MW 12:00-2:40p
Medical Microbiology - TR 2:00-3:15p
Colloquium in Cell and Molecular Biology - R 3:30-4:30p
Thesis Research - Identification of T Cell Subsets and Immune Response in Colon Cancer Using Immunofluorescence - FOREVER AND EVER

Or rather, entries from the old journal, as it were...

-

An open letter to the College.

(August 27, 2006)

-

Untitled.

(July 16, 2006)

-

Haunted (Part One)

(May 29, 2006)

-

Are we growing up, or just going down?

(May 3, 2006)

-

I had a dream...

(March 19, 2006)

-

...

(March 14, 2006)

-

Enjoy it while it lasts.

(September 12, 2005)

-

Scene: 3:27 AM.

(September 3, 2005)

-

Untitled.

(July 26, 2005)

Psst... if you're looking for the academic writings I used to have here, head to my Reading Room.

Since June 2006...

- A Heartbreaking Work of Staggering Genius by Dave Eggers
- High Fidelity by Nick Hornby
- Travesties by Tom Stoppard
- The Way of the Shaman by Michael Harner
- The Tao of Pooh by Benjamin Hoff
- Nervous Conditions by Tsitsi Dangarembga
- The History Boys by Alan Bennett
- The Dark Child by Camara Laye
- Movie-Made America by Robert Sklar
- Diary by Chuck Palahniuk
- Rant: An Oral Biography of Buster Casey by Chuck Palahniuk
- Galapagos by Kurt Vonnegut
- The Dead Emcee Scrolls by Saul Williams [61.3%]
- Atonement by Ian McEwan
- Junk Science: An Overdue Indictment of Government, Industry, and Faith Groups that Twist Science for Their Own Gain by Dan Agin, Ph.D. [64.4%]
- So Yesterday by Scott Westerfield
- Lucky Wander Boy by D.B. Weiss
- The Things They Carried by Tim O'Brien
- Doctor Who: The Key to Time: A Year-by-Year Record by Peter Haining
- Why Buffy Matters: The Art of Buffy the Vampire Slayer by Rhonda Wilcox
- When You Are Engulfed in Flames by David Sedaris
- The Road by Cormac McCarthy
- 1984 by George Orwell [18.8%]
- Nick and Norah's Infinite Playlist by Rachel Cohn and David Levithan
- Intuition by Allegra Goodman
- V for Vendetta by Alan Moore and David Lloyd (Yes, I realize it's a graphic novel but it still fucking counts!)

This Is Your (Father's) Brain on Drugs - New York Times

Monday, September 17, 2007 @ 4:25 pm

Original article here.

This Is Your (Father's) Brain on Drugs

By MIKE MALES
Published: September 17, 2007

Santa Cruz, Calif.

A SPATE of news reports have breathlessly announced that science can explain why adults have such trouble dealing with teenagers: adolescents possess 'Äúimmature,'ÄĚ 'Äúundeveloped'ÄĚ brains that drive them to risky, obnoxious, parent-vexing behaviors. The latest example is a study out of Temple University that found that the 'Äútemporal gap between puberty, which impels adolescents toward thrill seeking, and the slow maturation of the cognitive-control system, which regulates these impulses, makes adolescence a time of heightened vulnerability for risky behavior.'ÄĚ

We know the rest of the script: Commentators brand teenagers as stupid, crazy, reckless, immature, irrational and even alien, then advocate tough curbs on youthful freedoms. Jay Giedd, who heads the brain imaging project at the National Institutes of Health, argues that the voting and drinking ages should be raised to 25. Deborah Yurgelun-Todd, a psychiatrist at Harvard Medical School, asks whether we should allow teenagers to be lifeguards or to enlist in the military. And state legislators around the country have proposed raising driving ages.

But the handful of experts and officials making these claims are themselves guilty of reckless overstatement. More responsible brain researchers 'ÄĒ like Daniel Siegel of the University of California at Los Angeles and Kurt Fischer at Harvard'Äôs Mind, Brain and Education Program 'ÄĒ caution that scientists are just beginning to identify how systems in the brain work.

'ÄúPeople naturally want to use brain science to inform policy and practice, but our limited knowledge of the brain places extreme limits on that effort,'ÄĚ Dr. Siegel told me. 'ÄúThere can be no 'Äėbrain-based education'Äô or 'Äėbrain-based parenting'Äô at this early point in the history of neuroscience.'ÄĚ

Why, then, do many pundits and policy makers rush to denigrate adolescents as brainless? One troubling possibility: youths are being maligned to draw attention from the reality that it'Äôs actually middle-aged adults 'ÄĒ the parents 'ÄĒ whose behavior has worsened.

Our most reliable measures show Americans ages 35 to 54 are suffering ballooning crises:



'ÄĘ



18,249 deaths from overdoses of illicit drugs in 2004, up 550 percent per capita since 1975, according to data from the National Center for Health Statistics.



'ÄĘ



46,925 fatal accidents and suicides in 2004, leaving today's middle-agers 30 percent more at risk for such deaths than people aged 15 to 19, according to the national center.



'ÄĘ



More than four million arrests in 2005, including one million for violent crimes, 500,000 for drugs and 650,000 for drinking-related offenses, according to the F.B.I. All told, this represented a 200 percent leap per capita in major index felonies since 1975.



'ÄĘ



630,000 middle-agers in prison in 2005, up 600 percent since 1977, according to the Bureau of Justice Statistics.



'ÄĘ



21 million binge drinkers (those downing five or more drinks on one occasion in the previous month), double the number among teenagers and college students combined, according to the government's National Household Survey on Drug Use and Health.



'ÄĘ



370,000 people treated in hospital emergency rooms for abusing illegal drugs in 2005, with overdose rates for heroin, cocaine, pharmaceuticals and drugs mixed with alcohol far higher than among teenagers.



'ÄĘ



More than half of all new H.I.V./AIDS diagnoses in 2005 were given to middle-aged Americans, up from less than one-third a decade ago, according to the Centers for Disease Control.



What experts label 'Äúadolescent risk taking'ÄĚ is really baby boomer risk taking. It'Äôs true that 30 years ago, the riskiest age group for violent death was 15 to 24. But those same boomers continue to suffer high rates of addiction and other ills throughout middle age, while later generations of teenagers are better behaved. Today, the age group most at risk for violent death is 40 to 49, including illegal-drug death rates five times higher than for teenagers.

Strangely, the experts never mention even more damning new 'Äúdiscoveries'ÄĚ about the middle-aged brain, like the 2004 study of scans by Harvard researchers revealing declines in key memory and learning genes that become significant by age 40. In reality, human brains are highly adaptive. Both teenagers and adults display a wide variety of attitudes and behaviors derived from individual conditions and choices, not harsh biological determinism. There'Äôs no 'Äútypical teenager'ÄĚ any more than there'Äôs a 'Äútypical'ÄĚ 45-year-old.

Commentators slandering teenagers, scientists misrepresenting shaky claims about the brain as hard facts, 47-year-olds displaying far riskier behaviors than 17-year-olds, politicians refusing to face growing middle-aged crises ... if grown-ups really have superior brains, why don't we act as if we do?

Comment! (3) | Recommend! (1)

Sunday, September 16, 2007 @ 4:08 pm

Among my top 10 career matches using Career Matchmaker at

CareerCruising.com

were the following:

- Scientist

- Forensic Specialist

- Professor

- Microbiologist

- Anthropologist

It's eerie how dead-on they can be when they assess your interests and skills...

It's definitely a good sign, though. It says I'm heading in the right direction so everything is A-OK.

Comment! (3) | Recommend!

It was never my intention to leave work 45 minutes early only to arrive at home 15 minutes before I normally would.

Wednesday, September 12, 2007 @ 6:55 pm

I am so over Silicon Valley.

If I am lucky enough to leave this place, I wouldn't be too torn up about it.

Today, it took me 70 minutes to drive 18 miles.

While sitting in traffic, I started yelling "Fuck! Fuck! Fuck! Fuck! Fuck!" with my windows rolled down, calling out to no one in particular, but searching for a way to soothe my soul.

And you know what? It kinda worked. For a while there, I was laughing. My one pure moment of lysergic bliss in all the maddening, stagnant chaos consuming me.

And then I realized I was still five miles from home.

And then the rage took over.

And then the stereo volume exploded.

And they fed into each other.

And here we are now.

I HATE YOU, SAN JOSE! DO YOU HEAR THAT? I HATE YOU! I HATE YOU AND YOUR TRAFFIC AND YOUR LACK OF USABLE PUBLIC TRANSPORTATION AND YOUR CRAPPY DOWNTOWN! I HATE YOU AND YOUR STOLEN SHOPPING CARTS ON STREET CORNERS AND YOUR IDIOTIC ASIAN MOTORCYCLE GANGS AND YOUR TACKY MCMANSIONS ON TREELESS HILLS! I HATE YOU AND YOUR ENDLESS SUBURBIAN NIGHTMARE AND YOUR INCESSANT NEED TO DEVELOP OPEN LANDS INTO HOUSING THAT CANNOT POSSIBLY BE SUPPORTED BY YOUR CURRENT INADEQUATE INFRASTRUCTURE! I HATE YOU AND YOUR PUBLIC PARKS WITH NO RESTROOMS AND YOUR DISTINCT LACK OF DISTINCT GEOGRAPHY AND YOUR STUPID FLUORESCENT MARIGOLD SODIUM STREETLAMPS THAT POLLUTE THE NIGHT SKY WITH ITS SICKLY UNNATURAL GLOW!

I hate that you're all I've got...

And maybe that's why I'm so angry.

Comment! (7) | Recommend!

Saturday, September 8, 2007 @ 2:07 am

The itching gets

much

worse when I go to sleep.

When I wake up for a while, it tends to subside, but I can't keep losing sleep like that.

If only there were a neverending supply of cold compresses (to discourage the immune response that stimulates pruritis) at my bedside, I would be a happy (and well-rested) man.

I know I've been saying this for a long time now, but I really,

really

need insurance. Maybe then I can see that dermatologist at the new clinic who went to my college. Perhaps he would be willing to work extra hard to help out a fellow alumnus.

Lord knows I'll need all the help I can get.

Alright, I need another cold pack...

Comment! (6) | Recommend!

Wednesday, September 5, 2007 @ 7:53 pm

I haven't seen my mom worked up that much about anything in a long time.

She has a history of hypertension; it's why she had to go on medical leave a few years ago. She's mellowed out considerably since then, which is why it is so disconcerting to see her in such a tizzy.

I'd better tell my sister not to piss her off today...

Comment! (6) | Recommend!

Ten Second Interview (Segment Three).

Wednesday, September 5, 2007 @ 4:50 am

Damn itch! (No, that isn't a typo.) I want to sleeeeeeeeeeep... To pass the time, here's another exciting segment of Ten Second Interview.

When I'm elected, the first law I'll pass...


Again with the presumption. I'll never be elected because I will never run.



What was the best prank you ever played on someone?


When I was a senior in high school, I nearly convinced a freshman girl that one color wasn't what she said it was.



What flavor are you glad is not included in Bertie Bott's Every Flavor Beans?


Smoker's Cum.



Jessica Alba or Jessica Simpson?


Alba. Duh.



The key to success is...


...lowered expectations.



The best things in life are...


...sometimes the worst for you.



Make up a new word right now:


Winsome: a baby fox. (Okay, I'm very much aware that winsome is already a word, but this definition came to me in a dream a couple years back and it's going to catch on, dammit!)



The best question I've seen so far on 10 Second Interview is...


...this one.



My worst part time job was...


...selling knives. No joke.



Truth or Dare?


Truth. And it ain't pretty.

Comment! (2) | Recommend!

I tire of sucking the teat from this business we call misery.

Tuesday, September 4, 2007 @ 8:47 pm

File these under "T," for "Things That Are Pissing Me Off Today":

- My cousin takes 15-20 minute showers twice daily. Ordinarily, I'd say go ahead and shower to your hygiene's content--whatever twangs your balalaikas. But! Water prices have been on the rise, especially with the threat of the dreaded D-word hanging above our heads, which is putting a strain on my parents' checking account. My cousin's been living with us for... I don't even remember how long anymore and she STILL doesn't pay rent. Not like we'd charge her anything super-exorbitant--she is, after all, family--but in a way that's what makes it more aggravating. Now it's like she feels she can get away with it, and quite frankly, my mother's getting tired of it. When the shit hits the fan, I sure as hell don't want to be around...

- I can't for the life of me figure out where all these rashes are coming from. Long ago we ruled out scabies, and I'm sure that eczema along can't explain how suddenly it came on and how widespread it is. I still haven't seen a dermatologist (damn insurance, or lack thereof!) but hopefully that will change soon. I just wish I knew what to tell him/her. So far I've found out that we have changed detergents, so it could be an allergic reaction, as the rashes appear generally anywhere I wear clothes (which is to say, EVERYWHERE except my face). I also suspect that perhaps it could be some sort of contact dermatitis from exposure to certain chemicals at my work (which should mean that if I cover up--and believe me, I do--it should start to go away...which it hasn't). Hydrocortisone doesn't work as well as it should in that it brings me very little relief, and it's getting ridiculous to the point where it's robbing me of precious sleep time. I don't know what to do. All I know is that the South Koreans better hurry up and do something with their

pseudoceramide discovery

so I can get some relief!

- You know those people who think they're The Academic Shit--the ones who ask questions in class not because they don't know or because they need clarification, but because they already know the answer and want to rub it in everyone else's faces that they're just SO smart? There's a guy like that in my virology class. Every time he speaks, I want to kill him. He's the reason our class is behind ONE FULL LECTURE (and it's only the fourth class!)--he keeps interjecting (without even raising his hand most of the time) which sidetracks our professor, who isn't the clearest person to follow in the first place. I did all I could to concentrate on trying to learn in today's class, but I found myself trying to suppress my urge to kill him even more. Although... it was funny when the girl sitting behind me whispered "Oh my God, shut the fuck up" or other variants on that theme whenever he spoke. Glad to know I'm not the only one who hates him.

Now file these under "W," for "Why My Life Doesn't Completely Suck Despite Those Things Listed Above":

- I have to keep reminding myself that my friends are awesome. Not because sometimes I doubt the veracity of that statement, but because it's easy to overlook when things get rough. I listened through the drunk dials from this weekend again when there was downtime at work today. It makes me feel like I should have a "friend fund" where the express purpose of that money I save is to blow it all on going out with my friends. Our next planned excursion is at the end of the month... maybe. I guess there was talk about heading up to Tahoe the last weekend of September. I'm totally in if it's going to happen. I haven't been up that way in years.

- I am thankful for the fact that my parents are incredibly supportive of whatever I do, even if my mom does piss me off

sometimes

more than is necessary every once in a while when she questions my choices. Even then she is ultimately supportive of my decisions... as long as I find someway to explain them to her. My friend at work was complaining again because her parents are pretty much

refusing

to help her out if she decides to renew her internship, which is such bullshit. Shouldn't it be your desire as a parent to make sure that your kids don't endure the same hardships you did? Because if it isn't, doesn't that make you seem just a tad bitter? I don't know. Seems like they're rushing to push her out of their house or something. That is something I will never understand about American culture: the sink-or-swim mentality of adulthood--you're an adult now, so you're out. Is that a common thing? Maybe it's less common than I think, but I certainly get the impression that my parents believe it to be the norm.

- Affogato--gelato and espresso make everything better.

Comment! (2) | Recommend!

Monday, September 3, 2007 @ 10:47 pm

It's beginning to feel like one of those times where I just want to do absolutely nothing.

I took Friday off. I didn't technically have it off, but I've been working far more hours than I am technically allowed to by the internship program, so I said "Fuck it, I'm taking a four day weekend." It doesn't help that all I seem to be doing at work is getting ready for the stupid safety inspections. I swear to God, if I have to defrost one more immovable freezer unit with a glorified blow dryer and a makeshift dam made out of clay...

That said, it was nice having the long weekend. I didn't do much except for study. I was supposed to see some friends I hadn't seen in forever over in Berkeley on Saturday, but I realized that I didn't have enough money to justify making the trip and getting bloody smashed. Which is a shame--it sounded like they had fun (from the

NINE

drunk dials I received!).

This weekend, I started to give more thought about graduate school in the UK. I looked into the numbers and a one year taught master's at a university across the pond costs roughly the same as doing a two year master's program with in-state tuition charges at a public university. Plus, I have my aunt over there in London who would probably pay for my living expenses while I'm there. The only problem is that I think the deadlines are fast approaching, so I think what I'll do is apply to schools here and in the UK, and if I get into one of them then spend the next year here in the states whoring myself out to industry to save up some cash for the big move. But I still have to figure out the logistics a little bit before ultimately deciding whether or not to take the plunge.

Ah, well. It's early to rise tomorrow morning--got an 8 am class followed by work. I don't remember if the inspections are tomorrow or not; if they aren't, I can only guess what I'll be spending the bulk of my time doing...

I mean, besides wishing I were dead.

Comment! (1) | Recommend!