Monday. 3.26.12 3:12 am
I proudly announce that i am a new owner of a smartphone. Though i am now using samsung galaxy tab, i need someone to teach me how to use for i am ver IT illiterate. No kidding. I dont even know how to use the camera because i overlook the camera icon.
Me so dummy.
So i am now borrowing from my future savings to buy this phone. Not too sure if i have any regrets.
Comment! (0) | Recommend!
Saturday, March 24, 2012
I was surprised to read this article:
Kancheong parents
. I was also somewhat sad to know this is not only happening to me but to other people.
I have been in my current job for 4 years. I had never had issues with my job until after my 4th anniversary in my job.
One of my responsibilities is to arrange student's placement for internship. It's a tedious job, and I lose more hair each year given that I'm already experiencing hair loss problem.
One afternoon, a student came to me and pleaded to have a specific placement due to distance factor. She was pleading until I have to tell her off that she HAS to negotiate with me NOT begging. I added to do it with dignity. I cannot tolerate such attitude even this could be her life and death situation.
I'm not an understanding person, but the students also have to understand that it's not easy to place 140 students in one of the placements they have chosen. Each placement can only accommodate a limited amount of students.
So when students came to me to request for their placement of choice I cannot entertain because it is strictly on first-come first-served basis.
I do not wish to entertain the student who pleaded just because she wanted a placement that is within her home radius. I offered her instead the next closest place to her home since there is still space and she accepted.
After I have announced the placement, I unexpectedly received a call from a parent whose daughter had come pleading to me earlier. She was pleading to me to change her daughter's placement by smothering the fact that her daughter is highly interested to work in that place. I didn't buy it because she didn't show such passion when she came pleading to me. In fact, there was fear drawn on her face. And I understood why the fear from the call.
The mother gave me every excuse she could think of to make me change her daughter's placement. It was my turn to plead for help. My 3 superiors were no where in sight and I alone have to battle with the call.
I talked to the mother for 30 minutes because I could not find any loops to end the call. So in the end, I requested the mother to let me talk to the daughter to end the call for good.
I ended up being distraught the whole afternoon. I could not do any of my work, and in fact I got scolding from my direct superior for entertaining the call. No one even asked me how I felt after having my energy drain.
The student apologised to me on behalf of her mother, but the damage to me cannot be undone.
If only I can tell the mother that she has forgotten that I'm too someone else's daughter. How would you feel if your daughter was me receiving those blows from you?
How selfish people are nowadays!
Comment! (3) | Recommend!
Saturday, March 24, 2012
On 28 October 2011 ...
It's the fourth day since I have arrived, and all I could do is to sigh, as I have no means to record my thoughts and feelings of the moment.
I wanted to write down my emotions the moment I stepped into Narita Airport, but all I could do is to hope that my brain's recording function won't falter.
I was pretty happy that we were told to kill time in the 100 Yen shop that is just 5 minutes away from the school we had our
institutional visit
.
The first shelf I visited is the stationery. There were a lot of plain books, but I just could not find the one that I like.
I spent a good 15 minutes going through the shelf. I finally settled for a black book. It reminds me a lot of moleskine ruled notebook. I preferred a thicker one, but there is none to my liking. Besides, I have to think of the book's mobility too. The size of the notebook is perfect for my handbag and it won't add additional weight to my already restricted baggage weight.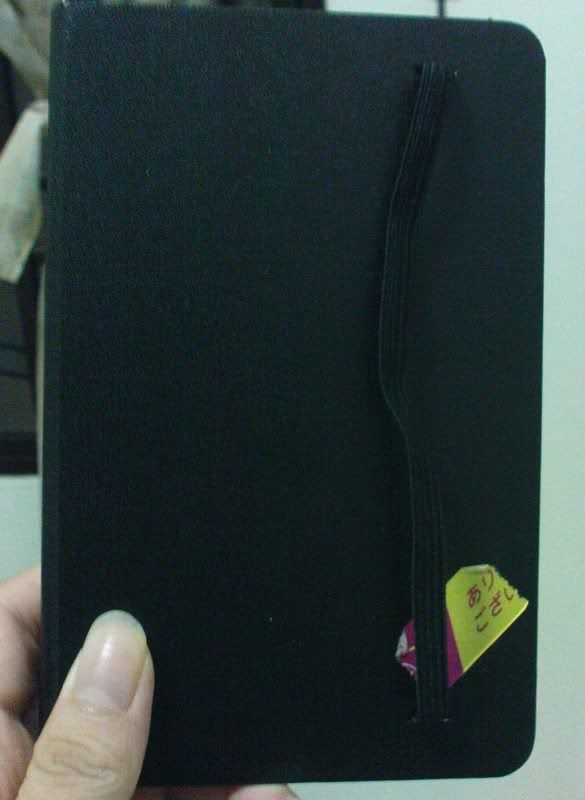 Spinoff
: Despite buying the book before going on board, my first entry was dated 5 November.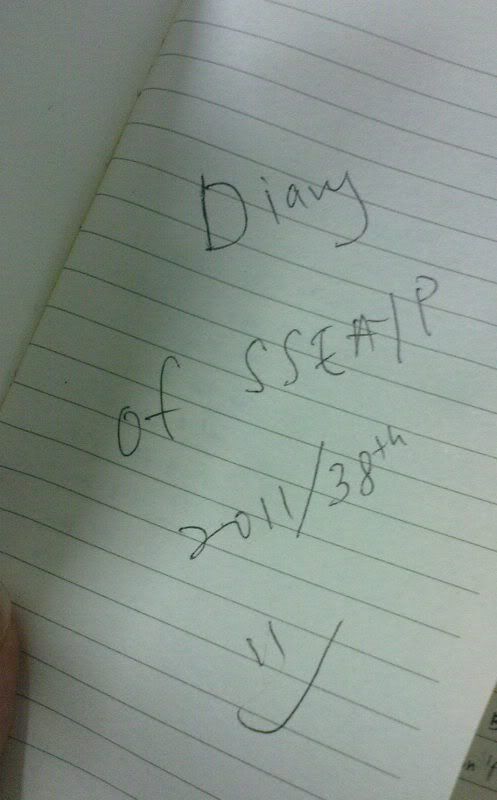 I was actually reluctant to buy the notebook because I have already prepared a thick one back home. However, it is extremely unfortunate that I cannot bring it along due to limited baggage weight. In fact, I didn't even have allowance for toiletries. I bought them in Japan and survived on samples I obtained earlier.
Comment! (0) | Recommend!
Saturday, March 24, 2012
On 24 November 2011 ...
After our visit at the
Mini Bali
, we headed to a shopping mall's restroom to change our outfit for our next event: Dinner.
The main committee member for the host family association in Indonesia decided to throw in a gathering dinner for all families with their anak angkat (adopted children).
Not knowing what does the dinner entail, the four of us were given two sets of identical costumes the night before the dinner. I wanted the pink costume because I think it will look better on my skin colour, but unfortunately its size is smaller than the brown one.
And you know what? I needed oxygen badly. Because the costume is so small! And I have to tuck in my stomach all night in that costume. I didn't eat much either.
As you can see from the picture, I am really controlling my breathe and tucking in my stomach!
The most adventurous part is not pleading for oxygen but the catwalk show! All the other anak angkat were dressed up in the traditional Indonesian costumes, and the host parents proudly present us via catwalk. All host parents were vying for the best costumes prize. My host mum was beaming with smiles.
I didn't win but my fellow female Malaysian member won the best costume prize!
Tidbits
: Luckily, I lose weight before and during the program. If not, I won't be able to fit into the costume. And my host mum has no spare costumes. I surmise my host mum really knows how to flaunt her four female anak angkat's bodies!! I supposed mama was also lucky to get 4 moderate-size girls! Cannot imagine otherwise!
Comment! (0) | Recommend!
Monday, March 19, 2012
ARGHHHH!!
I noticed my fly was partially open in a picture taken with a friend during my program on the ship, but I decided to keep quiet about it.
However, my statement of the picture made my friend who uploaded the photo noticed that the fly was open.
I should not have written "Ah! There's a chopstick in my pocket." That sentence drew attention to the red spot of my zipper.
And my friend argued that the fly is open. It's my jeans, for god sake. I was wearing the best and most comfy jean I have from my wardrobe. My definition of best means the fly doesn't get open so easily, and the threads are intact. (Yes you read it right: Threads are intact. I have jeans where the threads are already loosen ... it makes me look hippy whenever I wear that for lunch).
So now in conclusion I am not sure if my fly is open during the taking of the photo. I don't even want to analyse it. Wait, hang on. Right. It's confirmed that the fly is not open. The zipper part is red in colour. I just checked my jeans.
I have demanded my friend to edit the photo by the way before our other mutual friends thought the fly is open.
Ugh.
Comment! (0) | Recommend!
Saturday, March 17, 2012
A friend shared this video during an organisation meeting, and shared that we should think before we buy as the ecosystem and the wildlife are now the collateral damage to our consumerism culture. I actually wanna say out loud in the meeting what is the point of watching such emotional video when WE at this very moment are not doing ANYTHING NOW to minimize such damage? My sister works very hard to spread environmental education within the organisation but it is not appreciated when there are times members said it's not convenient to be green.
Correction: It is Never convenient to be a greenie.
And yet our organisation endorsed the Earth Charter. What a joke. Of course, my friends who are of high-ranked in the organisation will be unhappy with my complaints, but the stark truth is WE never practiced green ways. If yes, it's not ENOUGH.
I still could cope watching those dead chicks being stuffed with plastics, but not watching how pests eating native wildlife. Actually if possible I would like to avert my eyes from this sad documentary.
The chicks ... were just born in the wrong era. What a tragic way to die. Their death is not even a natural one but man-made.
Even if I sent millions of prayers to the environment, I cannot do so much to prevent such unnatural disasters.
And albatross chicks are such cute and adorable animals. Can you just imagine if they were human babies with their stomach stuffed with plastic?
It's a nightmare. It's too gruesome to imagine that? You don't have to. Just do your bits for the environment. We just don't have to be so territorial.
Comment! (0) | Recommend!