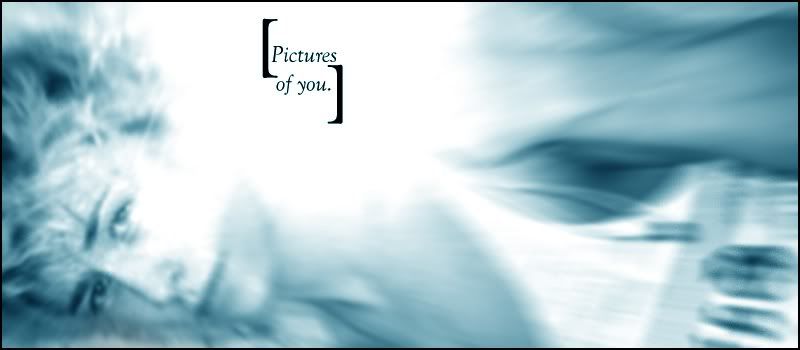 Spring Semester 2010:

* Teaching: Fundamentals of Microbiology - MW 12:00-2:40p
Medical Microbiology - TR 2:00-3:15p
Colloquium in Cell and Molecular Biology - R 3:30-4:30p
Thesis Research - Identification of T Cell Subsets and Immune Response in Colon Cancer Using Immunofluorescence - FOREVER AND EVER

Or rather, entries from the old journal, as it were...

-

An open letter to the College.

(August 27, 2006)

-

Untitled.

(July 16, 2006)

-

Haunted (Part One)

(May 29, 2006)

-

Are we growing up, or just going down?

(May 3, 2006)

-

I had a dream...

(March 19, 2006)

-

...

(March 14, 2006)

-

Enjoy it while it lasts.

(September 12, 2005)

-

Scene: 3:27 AM.

(September 3, 2005)

-

Untitled.

(July 26, 2005)

Psst... if you're looking for the academic writings I used to have here, head to my Reading Room.

Since June 2006...

- A Heartbreaking Work of Staggering Genius by Dave Eggers
- High Fidelity by Nick Hornby
- Travesties by Tom Stoppard
- The Way of the Shaman by Michael Harner
- The Tao of Pooh by Benjamin Hoff
- Nervous Conditions by Tsitsi Dangarembga
- The History Boys by Alan Bennett
- The Dark Child by Camara Laye
- Movie-Made America by Robert Sklar
- Diary by Chuck Palahniuk
- Rant: An Oral Biography of Buster Casey by Chuck Palahniuk
- Galapagos by Kurt Vonnegut
- The Dead Emcee Scrolls by Saul Williams [61.3%]
- Atonement by Ian McEwan
- Junk Science: An Overdue Indictment of Government, Industry, and Faith Groups that Twist Science for Their Own Gain by Dan Agin, Ph.D. [64.4%]
- So Yesterday by Scott Westerfield
- Lucky Wander Boy by D.B. Weiss
- The Things They Carried by Tim O'Brien
- Doctor Who: The Key to Time: A Year-by-Year Record by Peter Haining
- Why Buffy Matters: The Art of Buffy the Vampire Slayer by Rhonda Wilcox
- When You Are Engulfed in Flames by David Sedaris
- The Road by Cormac McCarthy
- 1984 by George Orwell [18.8%]
- Nick and Norah's Infinite Playlist by Rachel Cohn and David Levithan
- Intuition by Allegra Goodman
- V for Vendetta by Alan Moore and David Lloyd (Yes, I realize it's a graphic novel but it still fucking counts!)

I was going to write about something that made me happy, and then that bitch had to go and ruin the mood.

Tuesday, September 25, 2007 @ 9:30 am

So on my drive home from class today, I was stopped at a red light at the intersection of two one-way streets, waiting to make a left turn. There was a car in the far lane coming into the intersection, but since I was waiting to turn into the close lane I decided to go for it. Next thing I know, this bitch is honking her horn and swerving around me, flipping me off.

The gall of this woman--to try to pin this near-accident on me! SHE was the one in the far lane; SHE was the one who didn't signal her intent; SHE was the one who almost hit MY car, and not the other way around! I thought about following her to scare the shit out of her, maybe jumping her when she got out of her car and socking her in the face. Sometimes, I absolutely HATE how we have to remain civil when we have clearly been wronged. Sometimes I think that we're actually making ourselves psychologically unhealthy when we hold these murderous impulses in and allowing them to fester until you want to amputate your own limbs just to have a weapon with which to engage the other person in combat.

Thank goodness for blogs, I guess, without which I would be stewing in my anger all day.

(But yeah, I hope this woman gets her tubes tied just so she doesn't risk bringing into this world another generation of shitty drivers; the world is already oversaturated with them as we speak.)

Anyway, when I got home, my cousin's car was still here. Still frustrated, I couldn't help but think about the last few weeks and how my mom is getting completely fed up with my cousin. First of all, she tried to hide her pregnancy from us. Like we wouldn't notice the 7 pound miniature human being popping out of her vagina and keeping us awake at all hours of the early morning. Then, my mom found out that my cousin is resigning from her new job as an LVN at a local hospital, after FINALLY passing her boards after however many fucking years its been. So not only does my cousin have a BABY growing inside of her, but also, apparently, no income. And she still has credit cards to pay off, and she needs to come up with some form of monetary contribution to my family who has been letting her stay here rent free for like 8 or 9 years now, and I'm just sick and tired of her shit. How's she going to buy baby stuff--charge it on her maxed out credit cards? And how will she pay those off? She will soon have no more job, and her husband is in the middle of studying for a physical therapist licensing exam, so it will be a while before he has one. Is she going to mooch off my parents? Our aunties? She already has had too many handouts. And there's nothing we can really do about it. We can't kick her out--even if she is a bitch, she's still family, and she's still pregnant, and we can't tell a pregnant woman to fuck off because that baby didn't choose to be conceived in the womb of a stupid bitch like her. The best we can do is tolerate this bullshit until she DOES get her life back on track and starts repaying us for all the crap we've done for her and I can't type anymore because I'm afraid I'll break the keyboard...

Ugh. These things completely overshadow the joy that I felt when I learned I had the second highest grade on my virology exam in a class with about 40 undergrads and 10 graduate students in it. This does wonders for my confidence, but right now, all I want to do is strangle someone.

I'm done.

Comment! (2) | Recommend!

Why would-be scientists should NOT send each other Facebook messages...

Monday, September 24, 2007 @ 8:31 pm

Linh D____
Today at 8:01pm



Fifth week of class on physiology, my student asked me whether the inside of a cell is more positive or negative relative to the outside.

It's only the fundamental of physiology! Been repeated for how many times, I can't even count!

By the way, midterm is on Thursday.



Ranor B____
Today at 8:30pm



I guess this kid isn't living up to his... POTENTIAL!

Okay. I need to shoot myself for bringing that pun into the world.

If you didn't get that pun, then good for you. Congratulations--you probably have a life!

Comment! (1) | Recommend!

Saturday, September 22, 2007 @ 9:33 pm

For the bulk of the last 9 hours, I have spent my time doing the following:

- Compiling a list of about 15 potential thesis advisors for graduate school, each of whom I should contact regarding my eagerness to work with them provided I am granted admission to their respective institutions.

- Taking down all the dates of interest with regards to applications (due dates, initial filing dates, other important deadlines, etc.).

- Attempting to figure out the amount of money it will take to file all of these applications, take all the necessary tests, acquire all the necessary transcripts, and so on.

- Bookmarking important websites with crucial graduate admissions information on them.

- Vacillating between having confidence in my abilities to get into grad school (at times bordering on OVERconfidence) and losing said confidence in my abilities (often accompanied by a rush of neurotransmitters that make my heart beat quickly in a sort of mini-panic attack mode)... Must find stable ground.

I refuse to return to this computer for a little while. I have flipped on the local PBS channel and have begun to watch

Mystery!

, so that should get my mind off of these things for a bit...

Comment! (5) | Recommend!

At the end of the week...

Friday, September 21, 2007 @ 10:20 pm

...sometimes all you need is a comfortable chair and a bottle of wine.

Comment! (3) | Recommend!

Thursday, September 20, 2007 @ 9:35 am

It isn't Friday.

I woke up this morning and came to that realization and a part of me quietly shriveled up and died.

I expect its exuberance to return upon the morrow. Or, at least, upon the morrow's evening when I get off of work.

I hate days that start of like this.

I will say one thing, though:

September never stays this cold
Where I come from and you know
I'm not one for complaining

Despite what the emo song lyrics say, I love it. I saw my breath this morning and everything. GOOD RIDDANCE, SUMMER! Your annoyingly warm days seem to be over and for that I'm thankful.

Oh, what's this? It seems to be a resurgence of that exuberance I felt I lost, coming back to me a little bit sooner than I expected...

Comment! (2) | Recommend!

NASA Maps the Moon with Google

Tuesday, September 18, 2007 @ 2:49 pm

Original news release here.

NASA Maps the Moon with Google

MOFFETT FIELD, Calif. - New higher-resolution lunar imagery and maps that include NASA multimedia content now are available on the Google Moon Web site.

Updates include new content from the Apollo missions, including dozens of embedded panoramic images, links to audio clips and videos, and descriptions of the astronauts' activities during the missions. The new content is overlaid on updated, higher-resolution lunar maps. Also added are detailed charts of different regions of the moon suitable for use by anyone simulating a lunar mission.

"NASA's objective is for Google Moon to become a more accurate and useful lunar mapping platform that will be a foundation for future web-based moon applications, much like the many applications that have been built on top of Google Maps," said Chris C. Kemp, director of strategic business development at NASA's Ames Research Center, Moffett Field, Calif. "This will make it easier for scientists everywhere to make lunar data more available and accessible."

Google Moon's visible imagery and topography are aligned with the recently updated lunar coordinate system and can be used for scientifically accurate mission planning and data analysis. The new site is designed to be user-friendly and encourage the exchange of data and ideas among scientists and amateur astronomers.

This announcement closely follows the release of new NASA content in Google Earth, including photographs taken by NASA astronauts and imagery from NASA's Earth observing satellite sensors, such as the Sea-viewing Wide Field of View Sensor, Landsat and the Moderate Resolution Imaging Spectrometer.
Astronaut photography was developed in collaboration with the Crew Earth Observations team, part of the Image Science and Analysis Laboratory at NASA's Johnson Space Center, Houston. Satellite imagery of Earth was developed in partnership with the Earth Observatory team at NASA's Goddard Space Flight Center, Greenbelt, Md.

The alliance was accomplished under a Space Act Agreement signed in December 2006 by Google and NASA's Ames Research Center. Google is headquartered near Ames in northern California's Silicon Valley.

Great. Yet another way to waste time online.

Comment! (3) | Recommend!

Bend over and take it like an inmate, virology exam!

Tuesday, September 18, 2007 @ 9:22 am

Well, okay, maybe I didn't do

that

well; I certainly wouldn't want to jinx myself. But it wasn't bad and I understand now why some mediocre science majors at many colleges and universities have higher GPAs than the science majors I have had the pleasure of meeting at my own alma mater.

Kiss my ass, virology! You are not the master of me!

Comment! (2) | Recommend!

Tuesday, September 18, 2007 @ 7:20 am

I don't know how to feel about this exam. Part of me says that it's going to be "easy peasy pumpkin peezy pumpkin pie motherfucker!" and the other part of me says that my hubris is only exceeded by that of those in Greek tragedies... so... yeah.

I'll play it safe and say that it will probably suck the big one.

Comment! (1) | Recommend!