Wednesday, September 30, 2015
Maybe I will try to start making things again.
Comment! (0) | Recommend!
Abstract/concrete/random things
Monday, September 28, 2015
I had a dream that my friend and I were sitting on his couch on a little desert island, and the water was slowly rising around us. I watched it lap at the feet of the couch while he told a story about a cliff overhanging darkness.
I'm not sure whether it was day or night in the dream, because I seem to have two memories, one in which it was day and one in which it was night. But maybe it was just both at the same time. I also remember being on both sides of the couch, so I'm really not sure exactly how this was set up in my mind.
---
Trevor challenged me to draw baby Krampus in GIMP...
I think this is the first thing I've really drawn in GIMP in quite awhile. Forgot how much it sucks to draw with a mouse. Trevor thought it was good, though. I wish I had the drive to draw as much as I used to.
---
On IRC I was talking to a guy about a CBT thing I linked him to.
Him: Yeah. I think all it's going to tell me is that I show high signs of anxiety and depression and need to recognize my negative thoughts and think positive instead.
Me: Well, that's possible I guess.
Me: Though usually these things try to tell you how you can do that rather than just telling you to do it.
Him: Ha, that would be nice.
Me: It helps take it from abstract to concrete.
Him: Explain?
Me: Well, I think the issue with a lot of broad advice (e.g. "you just need to be aware of negative thoughts") is that it's too abstract to be useful.
Me: For instance, with environmental issues
Me: It's easy for us to say "we should clean up the ocean so it's not polluted anymore"
Me: But how the hell do we do that?
Me: So the little concrete steps are important
Me: Using dish soap to scrub sea birds and coming up with things to filter the water, stuff like that.
Talking about this made me think of other things that are too distant or abstract for people to take seriously. You can tell someone the same thing a hundred times and they might never get it, but if you offer specific concrete steps they can take, it makes a big difference... Or, well, it can. Sometimes it's hard to put things into concrete terms though, or even if you can, you might not want to... Maybe a good analogy would be trying to get someone to solve a math problem, and you don't want to tell them every step they need to take to do it, because then they won't learn how to do problems on their own... Better to just give them the basic tools they need and let them figure it out from there.
---
On Sunday night I talked to my friend about the romantic... daydreams? Fantasies? that I have. They're pretty realistic, as far as I'm concerned. I don't want much. Just someone I can be alone with. I imagine quietly reading separate books in a room together and occasionally commenting on something to each other. Or sitting near the kitchen while the other person is somewhere else in the house, and when they walk over to open the fridge to see if anything appealing has magically appeared in it, mentioning some amusing little thing to them, and they smile a bit and then go back to whatever they were doing. My parents have this kind of relationship, and it seems nice to me. It's also nice to have long engaging conversations, but sometimes you just want something more relaxed.
Maybe my desire for this kind of relationship is just a compromise between a need for alone time and a need for companionship. I want a lot of contact with people, but not necessarily at an intensive level all the time... Like, I might spend hours IMing someone on my computer, but it's harder to spend the same amount of time with them in person. I mean, it's not like that with everyone every time I hang out with people, but sometimes I just want to like, take a nap or something, and I can't really do that without ending the hangout. Or being weird, I guess.
Man, I wonder if I'm anemic or something. I feel tired so much. Could also be a bad sleep schedule (most likely) or dying (less likely). If I start sleeping twenty hours a day and it's slowly increasing though, I'm probably dying. I had a hospice meeting tonight and the volunteer services manager told us that the patients we work with tend to sleep more and more as they get closer to death.
I've been thinking a lot about death lately. I guess it's never really that far from my mind, though. It's just that the thoughts are a bit different when I'm feeling good. More "I'm glad I'm not dead!" type stuff.
Comment! (0) | Recommend!
Sunday, September 27, 2015
Friday, September 25, 2015
A game I am stuck in at the moment [Edited]
Thursday, September 24, 2015
Screenshots from The Age of Deliverance.
Why am I so exhausted right now? :(
---Edit---
So I finished the game, and it was actually a lot heavier than I expected. There was one bit where a character just asked me "What do you live for?" and prompted me to type an answer. I stared at the screen for a long time, trying to figure out what to type. There was only space for maybe twenty characters, and I'm not sure how satisfied I am with what my answer was. I don't know what impact my answer had on the game, if any, but it certainly impacted me. I just downloaded this game on a whim, I didn't think it would end up meaning anything.
My energy levels seemed to go up after I ate some food earlier. It's sort of strange, because I felt like I had eaten a lot, more than I'd been eating in the past few days, really. I had apples and cheese and some chips and hummus and a ~200 calorie fig bar this morning. I guess I could be overestimating the calories, but... well, I did eat. I've had days where I ate less but felt like I had more energy. Could be sleep... but I felt exhausted
after
taking a nap... so I don't know...
After finishing the game tonight, I thought about how there are people creating beautiful meaningful things, and I wondered why I'm not doing anything like that. At least part of it is that I don't feel like I have the skills to do anything great, but I wonder what I could make that would have some sort of impact on someone? I've had no real desire to write anything for awhile. Making a game seems like it could be pretty cool. But... I don't want to do that alone. Maybe I'll ask around and see if anybody wants to work with me on something...
Comment! (0) | Recommend!
Tuesday, September 22, 2015
Monday, September 21, 2015
So I ended up having a really great birthday weekend!
On Saturday my friends came over and we played Telestrations (which Gwenny called Telephone Pictionary) and chatted until Fro and Mike, her boyfriend, came over, then went to Mod Pizza for food. Hung out there for awhile... then went back to my house and played Trash Bucket and Mafia.
Background on Trash Bucket: Everybody gets a few scraps of paper each and writes a person/place/thing on each piece of paper, then folds it in half and puts it in the bowl or whatever you're using as the trash bucket. You divide the group into teams, and then alternate sending up people to take a paper out of the bucket and do something to get their team to guess the word(s). There are three rounds, and in the first round you try to get your team to guess it by talking (but no acting out allowed). The second round is like charades, and in the third round, you get to say one word related to your paper, but that's all you can say, so if you mess up and go "um" or something like that, you're stuck with it. In each round you have to go through the entire bucket until all the words are guessed.
One
of my friends (maybe he's reading this?) decided to pick some ridiculously difficult things for his papers, like "Anchorage, Alaska", "Concept", and "329". I have to admit that it was amusing watching people struggle to get their groups to guess their word. We ended up throwing those ones out though, haha.
Here are my lovely birthday gifts.
On my actual birthday, I had lunch with my parents and then met up with Trevor at his friend Cameron's house and we hung out there for a little bit, then drove over to a room escape and went through it with School Alex, Vicky, and Becka. We escaped! Barely! It was pretty fun, there was a laser maze and a tunnel you had to crawl through. Two people also got locked in a jail cell, and three people got handcuffed together. Something really awkward happened too, but... I'm not going to go into detail about that here.
After the room escape, we got frozen yogurt at Pinkberry. I got a free one because it was my birthday! Trevor and Cameron had to leave early so Trevor could catch the train back to San Francisco, but I stayed and got to have some girl time with Becka, Vicky, and Fro, who joined us a bit later. We made plans to meet up again on Friday, which I'm looking forward to.
I feel a lot better now than I had been in the days leading up to my birthday. I'm really glad I got to spend the weekend with a group of awesome people and everyone had a good time (as far as I can tell, at least...).
The awkwardness though... eugh... Could have been a mild cringe video if it had been recorded.
Comment! (1) | Recommend!
Saturday, September 19, 2015
Friend:
Hope you didn't eat lunch. Cause my present is gonna make you joy vomit.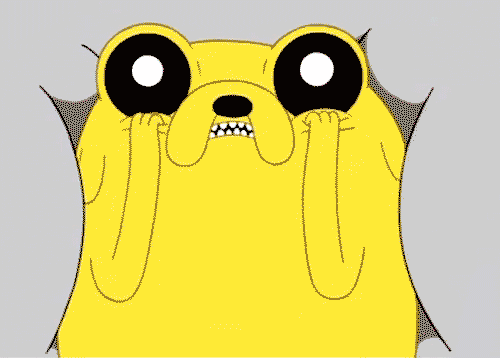 Comment! (1) | Recommend!