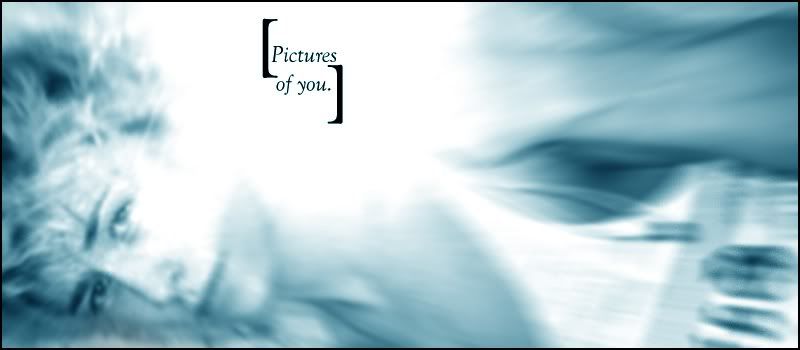 Spring Semester 2010:

* Teaching: Fundamentals of Microbiology - MW 12:00-2:40p
Medical Microbiology - TR 2:00-3:15p
Colloquium in Cell and Molecular Biology - R 3:30-4:30p
Thesis Research - Identification of T Cell Subsets and Immune Response in Colon Cancer Using Immunofluorescence - FOREVER AND EVER

Or rather, entries from the old journal, as it were...

-

An open letter to the College.

(August 27, 2006)

-

Untitled.

(July 16, 2006)

-

Haunted (Part One)

(May 29, 2006)

-

Are we growing up, or just going down?

(May 3, 2006)

-

I had a dream...

(March 19, 2006)

-

...

(March 14, 2006)

-

Enjoy it while it lasts.

(September 12, 2005)

-

Scene: 3:27 AM.

(September 3, 2005)

-

Untitled.

(July 26, 2005)

Psst... if you're looking for the academic writings I used to have here, head to my Reading Room.

Since June 2006...

- A Heartbreaking Work of Staggering Genius by Dave Eggers
- High Fidelity by Nick Hornby
- Travesties by Tom Stoppard
- The Way of the Shaman by Michael Harner
- The Tao of Pooh by Benjamin Hoff
- Nervous Conditions by Tsitsi Dangarembga
- The History Boys by Alan Bennett
- The Dark Child by Camara Laye
- Movie-Made America by Robert Sklar
- Diary by Chuck Palahniuk
- Rant: An Oral Biography of Buster Casey by Chuck Palahniuk
- Galapagos by Kurt Vonnegut
- The Dead Emcee Scrolls by Saul Williams [61.3%]
- Atonement by Ian McEwan
- Junk Science: An Overdue Indictment of Government, Industry, and Faith Groups that Twist Science for Their Own Gain by Dan Agin, Ph.D. [64.4%]
- So Yesterday by Scott Westerfield
- Lucky Wander Boy by D.B. Weiss
- The Things They Carried by Tim O'Brien
- Doctor Who: The Key to Time: A Year-by-Year Record by Peter Haining
- Why Buffy Matters: The Art of Buffy the Vampire Slayer by Rhonda Wilcox
- When You Are Engulfed in Flames by David Sedaris
- The Road by Cormac McCarthy
- 1984 by George Orwell [18.8%]
- Nick and Norah's Infinite Playlist by Rachel Cohn and David Levithan
- Intuition by Allegra Goodman
- V for Vendetta by Alan Moore and David Lloyd (Yes, I realize it's a graphic novel but it still fucking counts!)

Friday, October 5, 2007 @ 9:36 am

You know a few weeks ago when I was

ranting about how much I hate this damn city

? Well, over time, the feelings faded a little bit and life in San Jose was becoming tolerable again. Until this morning.

I don't want to get into it because words cannot describe how angry I was, and I prefer not to mentally relive it. Just know that I am back to hating this place, which is upsetting in itself.

I feel kinda guilty because my parents could theoretically afford to move out of this part of the city and into someplace nicer. A whole lot nicer. But it's pretty much all my fault because they have been spending their hard-earned money to send me to the best schools all of my life. The same is happening for my sister. It's frustrating when you know that you're the reason your family is stuck here. But it also makes me want to work harder so that I don't have to worry about stuff like that as much as they do.

Anyway, that was really beside the main point of the entry. I fought through abnormally-heavy traffic to drop my sister off at school only to realize that I left my badge to get into NASA at home.

Rather than drive back home then fight through traffic again only to arrive at work late, I called in sick.

I couldn't be at work anyway with my day going like this. I'd be miserable and probably angry. So I'm taking a mental health holiday to make this a four-day weekend, because my other job starts on Tuesday, and it's going to be a long quarter, so I need to collect myself NOW before it gets out of control.

So, in conclusion: goodnight. I'm going back to bed.

Comment! (4) | Recommend!

Thursday, October 4, 2007 @ 1:52 pm

The good news is that this tutoring job will help me review for the Biochem GRE.

The bad news is that I'm the only tutor for Molecular Genetics, Molecular Genetics Lab, Microbiology, and Survey of Organic and Biological Chemistry, which means that I will NEVER have a day where I just stroll into the tutorial center and sit around and do nothing because I will ALWAYS be in demand.

Comment! (1) | Recommend!

Wednesday, October 3, 2007 @ 10:53 pm

(From xkcd.com.)

Not amazing:

The website I need to access in order to do a virology assignment is down. BOO.

Comment! (2) | Recommend!

Don't treat the symptom. Treat the cause.

Tuesday, October 2, 2007 @ 7:55 pm

I have a headache that's part dehydration, part stress, and part disgust with all of the stupidity of the human race.

Make it stop.

Comment! (4) | Recommend!

Come on, let go of those affectations--you're not fooling anyone.

Tuesday, October 2, 2007 @ 10:24 am

I slept through my virology class today. I feel a little bad about it--I really like that class and I've been doing really well on the whole attendance-thing so far. One thing I'm not completely crushed about is the fact that I didn't have to spend an hour listening to that kid in the front row interrupting the professor from teaching the rest of the class by interjecting his own little "Oh, look at me! I'm so smart and this comment proves it!" comments. Makes me fucking nauseated.

Comment! (0) | Recommend!

Strange phonecalls at 3:30 in the morning.

Sunday, September 30, 2007 @ 2:46 am

I'm sitting here in my favorite cafe on a fine Sunday afternoon, sipping an almond cappucino and enjoying the atmosphere of this place... which fortunately includes some form of eye candy. (When I usually come here, which is early on weekday mornings, it's usually the typical Silicon Valley crowd that hangs out here--early-to-mid 30s, stopping in for an Americano on their way to their jobs in tech. Not the most attractive of crowds, mind you, but the coffee is still good despite the less-than-libido-arousing surroundings.) It seems like a very normal Sunday: homework to do, preparations to make for the following week... but it wouldn't have been if I had gone to Tahoe with my friends. Unfortunately, piano class precluded that from happening.

So they went without me, and from the phonecalls I received, it sounded like they had a very good time. The drunk-dial started out normally enough... well, as normally as drunk-dials can possibly be. There was the name-calling (e.g. "Hey you FUCKING fuckface asshole!"), the admonishing ("Your voicemail greeting is WAY too professional. You need to CHANGE it."), the multiple voices trying to all speak into the phone at once ("You need to come up to San Francisco next week for sailor's week." "It's FLEET week." "Oh, I'm sorry--for FLEET week."), the unwittingly witty comments ("You know Seaman Hall at Claremont McKenna? Well, it'll be something like that... except it will be Seaman City!"), and the off-color demands ("You should FUCK that PI." "FUCK HIM HARD!"), all from familiar voices that are slurring and pausing a little more than usual. Everything was fine until there was a voice I couldn't identify.

His name was Andy.

And he had been waiting for me his entire life.

I don't know how drunk he was, and I don't know how much they paid him to say that, but it was the most surreal thing to be listening to on voicemail at 3:30 in the morning. That someone you had never met had been waiting for me his entire life.

Alright, guys. Point taken. I should have been there.

NOW SET ANDY FREE OF HIS INDENTURED SERVITUDE!

That wasn't the end of it, though. Some other kid called me from my friend's cell phone at 4:00 in the morning, also claiming that he and I were meant to be together. That early in the morning, I'd believe anything, so I fell asleep and dreamed of how my life would be radically different if I had chosen to forgo my piano class and instead jet off to Tahoe.

I wouldn't be here if I had.

I'd be in the arms of Andy, or that other kid (whatever his name was), and we'd be happy. Or, at the very least, I'd be in the company of friends, which is probably more important anyway.

Then again, I wouldn't have gotten any work done and I'd be completely screwed right now.

For the sake of my sanity, I have to believe that the choice I made was the right one.

Comment! (5) | Recommend!

Friday, September 28, 2007 @ 8:02 am

And couldn't be happier.

My boss is out of town until Tuesday, which means that for today and Monday, I get to run the lab by myself without supervision. Which I guess isn't too much of a change, since he's been busy working on grant proposals and publications recently so he hasn't really been in the lab all that much. But still, this means he won't be coming around giving me extra stuff to do when it looks like I'm not busy... which is quite frequently because I am just that efficient (well, most of the time).

I work so much better when I'm by myself. I think I get nervous just having someone in the room with me because I feel like everything has to be done absolutely perfectly so as to not be criticized for doing something in a certain way (especially when the way I'm doing something is still correct, but different from what the other person is used to). And the pressure inevitably leads me to fuck up in some small way. It's something I need to work on, but the truth will always be that I am much more comfortable working alone than with someone else there.

Of course, his absence means that I can get in later and leave earlier than usual. It also means I will feel alright taking a longer-than-usual lunch. In essence, today I will be able to enjoy all the free time that I would have by being so efficient in lab.

Thrilled? Yes. Fucking ecstatic.

EDIT:

Completely unrelated to the entry, but

this craigslist ad

is preeeetty creeeepy.

Comment! (3) | Recommend!

Wednesday, September 26, 2007 @ 6:18 pm

I slept really early last night--a little after 9:00--but I never sleep the entire night through. I woke up at around 1:00 am, and there was a bit of a commotion. My cousin and her husband went to the hospital at that time, but I didn't know it. I just headed back to sleep.

When I woke up this morning, I kinda pieced it together from what I heard my parents discussing in Ilocano and from what I'd seen last night.

My mom confirmed it when she got home today: my cousin had a miscarriage.

Despite the feelings that I laid out in the previous entry and others like it, I feel bad for her. It doesn't change what I felt previously and what I continue to feel, but it sucks to lose a child, even if it is just a developing fetus.

But in all honesty, she wasn't ready for the child. And I don't know if she was going to be when she had it six months down the road; my confidence in that possibility is next to none. Perhaps now, though, she can concentrate on getting her shit together so that the next time she's pregnant--which I hope isn't until after she and her husband move out of that one room they're staying in, and after she has a better grasp on her personal finances--she will be ready for the responsibility of having a child.

Comment! (4) | Recommend!