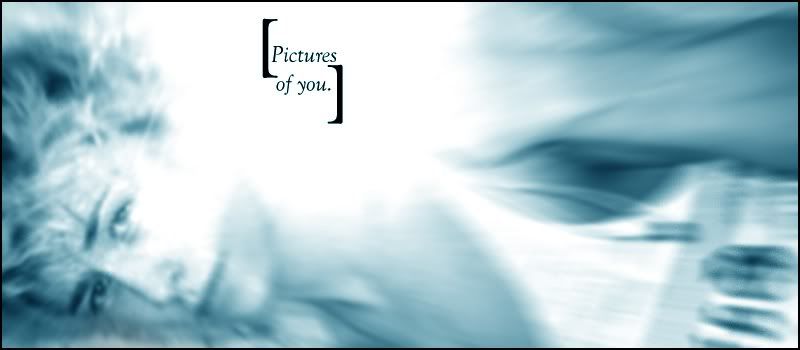 Spring Semester 2010:

* Teaching: Fundamentals of Microbiology - MW 12:00-2:40p
Medical Microbiology - TR 2:00-3:15p
Colloquium in Cell and Molecular Biology - R 3:30-4:30p
Thesis Research - Identification of T Cell Subsets and Immune Response in Colon Cancer Using Immunofluorescence - FOREVER AND EVER

Or rather, entries from the old journal, as it were...

-

An open letter to the College.

(August 27, 2006)

-

Untitled.

(July 16, 2006)

-

Haunted (Part One)

(May 29, 2006)

-

Are we growing up, or just going down?

(May 3, 2006)

-

I had a dream...

(March 19, 2006)

-

...

(March 14, 2006)

-

Enjoy it while it lasts.

(September 12, 2005)

-

Scene: 3:27 AM.

(September 3, 2005)

-

Untitled.

(July 26, 2005)

Psst... if you're looking for the academic writings I used to have here, head to my Reading Room.

Since June 2006...

- A Heartbreaking Work of Staggering Genius by Dave Eggers
- High Fidelity by Nick Hornby
- Travesties by Tom Stoppard
- The Way of the Shaman by Michael Harner
- The Tao of Pooh by Benjamin Hoff
- Nervous Conditions by Tsitsi Dangarembga
- The History Boys by Alan Bennett
- The Dark Child by Camara Laye
- Movie-Made America by Robert Sklar
- Diary by Chuck Palahniuk
- Rant: An Oral Biography of Buster Casey by Chuck Palahniuk
- Galapagos by Kurt Vonnegut
- The Dead Emcee Scrolls by Saul Williams [61.3%]
- Atonement by Ian McEwan
- Junk Science: An Overdue Indictment of Government, Industry, and Faith Groups that Twist Science for Their Own Gain by Dan Agin, Ph.D. [64.4%]
- So Yesterday by Scott Westerfield
- Lucky Wander Boy by D.B. Weiss
- The Things They Carried by Tim O'Brien
- Doctor Who: The Key to Time: A Year-by-Year Record by Peter Haining
- Why Buffy Matters: The Art of Buffy the Vampire Slayer by Rhonda Wilcox
- When You Are Engulfed in Flames by David Sedaris
- The Road by Cormac McCarthy
- 1984 by George Orwell [18.8%]
- Nick and Norah's Infinite Playlist by Rachel Cohn and David Levithan
- Intuition by Allegra Goodman
- V for Vendetta by Alan Moore and David Lloyd (Yes, I realize it's a graphic novel but it still fucking counts!)

Thursday, November 8, 2007 @ 9:56 am

I haven't bought myself anything in a while, so I went ahead and spent money (that I actually HAVE, amazingly enough!) on this beauty:

It should arrive either tomorrow or Saturday--just in time for the

Sondre Lerche

concert I'm going to in San Francisco on Sunday. Even if I end up sitting far away (and by far away, I mean, towards the back of the room because the venue isn't all that big to begin with), the 10x zoom will hopefully help me produce somewhat intimate looking photographs as though I were right next to him, feeling the heat radiate off his body...

Aaaaanyway, I guess a quick update's in order. Here's the ADD rundown:

1) Applications suck. Need to

formally

ask for recs now so I can get that crap done ASAP.

2) Tutoring's picking up and NASA's slowing down. I've found I kinda like seeing the lightbulb go off when I explain something to someone who's having trouble. Very satisfying. I've also found that I'm being given more and more responsibility at NASA, which isn't always a good thing.

3) Thanks to my free training class at NASA: I know first aid (said in the style of Keanu Reeves playing Neo in

The Matrix

).

4) If you haven't yet had the opportunity to catch the first season of

30 Rock

, do so. It's hi-larious. (Bonus: hearing the whitest guy on the show say "...work that vajayjay.")

5) I've run out of things to say, but lists aren't aesthetically pleasing if they have an even number of items.

And now we have come to the very abrupt end of this entry.

Comment! (3) | Recommend!

Monday, November 5, 2007 @ 7:50 pm

"It's not cooked," she says, as another slice of pot roast peels off the side like another layer of onion.

"That's cooked."

"No, it isn't," she insists. "See how

pink

that is," she remarks disgustedly.

I'm getting angry now. No, not angry--frustrated. "It's FINE."

Ever the peacemaker, my father offers to fry up several of the pinker slices to "cook" them, but the chef in me will not have it. The artistic integrity of the dish--both in terms of ingredients and in terms of execution--must not be destroyed.

"That will

ruin

it," I say, bitterly, channeling the inner artist who has just been told that his latest work should be changed to be more

commercial,

more

acceptable

to the general public. "That will dry it out and make it taste like SHIT."

My mother picks up a hunk of meat and inspects it with eagle eyes.

"It's

COOKED

," I say harshly, almost screaming, as she cautiously takes a bite out of it. And then--

POCK! I feel a dull stinging sensation on my chest. I look down, and there is a stain on my t-shirt where a piece of pork has just landed.

I sneer at her while she stomps off towards the couch.

Bitch.

I eat my dinner in silence as my father pan-fries the meat and my mother stares at--or rather, towards--the television, altogether intensely and blankly.

Every year, it seems she is getting more neurotic. I don't know if it's pathological or if it's just the menopause, but I can't stand it. I can't stand having her as a passenger in my car because she starts fretting when a car several car-lengths away starts to change lanes on the highway. I can't stand her growing paranoia over cleanliness and sterility, as if she's doing my sister a

favor

by preventing her immune system to develop resistance against a wide array of germs. I can't stand the way she can't ride elevators or stay in rooms above the second or third stories above the ground floor in hotels.

I can't stand what she's becoming.

There's a history of mental illness in my family. My aunt--my mother's sister--is suffering from... something. It isn't really talked about in great detail. Ever Filipino, we don't talk about problems. Because if we don't talk about them, they don't exist. They disappear.

But I can't

not

talk about it any longer. Because if this is genetic, there's always the chance that I may be catching a glimpse into my own future. My proximate future may involve taking care of her in varying degrees of dementia, which I dread. A more distant future may involve me slowly losing my mind, which I also dread, albeit less because if that happens, chances are I won't notice it anyway so it wouldn't really matter to me.

These thoughts scare me.

And they make it seem like arguing over whether or not a piece of meat is cooked is completely insignificant in comparison.

And

that

makes me sad.

Comment! (3) | Recommend!

Stupid fucking earthquake, part II.

Wednesday, October 31, 2007 @ 8:20 am

It's confirmed: this was the strongest earthquake in the area since Loma Prieta in 1989.

So I ended up cleaning my room last night. I didn't have time to write a short paper like I wanted, so I'm going to have to scramble to do that tonight. Whoever thought that a measly 5.6 could disrupt my schedule so?

I'm about to go into work in a little bit. I'm worried: if the glassware toppled over or the instruments broke or the chemicals spilled... well, of course that means that the experiments would have to be pushed back a little bit. But it also means that I have to clean it up.

And I HATE cleaning. But I love a clean lab.

Damn you, Inner Conflict!

Comment! (9) | Recommend!

Stupid fucking earthquake.

Tuesday, October 30, 2007 @ 8:09 pm

One day when man has gained complete control over nature, I will dance on the grave of your memory!

Great. Now my books are all out of place and there's a bunch of water on the floor.

At least my monitors are okay. Or I would have gone completely apeshit.

Edit:

Thanks to the USGS, we have the preliminary report that the magnitude of the quake was

5.6

. Nothing that big, but it was still totally annoying to have glass shit broken in the house.

Comment! (3) | Recommend!

Monday, October 29, 2007 @ 7:09 am

Please rain. It would be nice to clear out the smoky haze that isn't even ours. (Damn you, Southern California fires!)

Love,

Me

Comment! (10) | Recommend! (1)

Thursday, October 25, 2007 @ 9:41 pm

We got our exams back from Virology. 195/200 -- which was one point off the high score (so fucking frustrating). In any case, the average was something like 162/200, so I'm happy with how I did. I am also ecstatic about the fact that I have the 3rd highest grade in the class (of nearly 40 people) overall. Take that, 6 grad students! I am doing better than at least 4 of you!

This does wonders for my self-esteem. Now if that Johns Hopkins program coordinator would just get back to me as to how many rec letters I need to send them to be considered for the M.S. in Biotechnology, that would be great. I've decided to go ahead and apply to the programs that don't require the Biochem GRE for now (which is like, SDSU, SFSU, and Johns Hopkins) and if I don't get in then boo fucking hoo. I'll just reapply the next year after making some money in the biotech industry. With that $30-40k salary, I can pay down some loans and save up more money for grad school anyway, so it looks like a win-win situation for me. (Except for the part where I'll still live at home. Oh well--no rent!)

Comment! (4) | Recommend!

Do I smell a new research project?

I took a media studies course at Pomona in Spring 2005 and found out that my professor had joined facebook the following semester, so I sent her a friend request. Two years later--that is to say, yesterday--she finally approved that request, along with about 5 others that I'm sure were sent for approval in that same time period.

I believe she may be embarking on a new project on online social networks. How else would you research something like that other than just jumping in and experiencing it?

Either that, or she just really wants to be a part of it all.

That's the nice thing about disciplines like anthropology or media studies: you can justify your questionable life choices by saying it's all in the name of research. Case in point: an anthropology professor at Pomona decided to do a research project in the world of S&M. That's right: he got to engage in kinky sex acts for his research. Who said research isn't fun?

Comment! (4) | Recommend!

Monday, October 22, 2007 @ 11:21 pm

well, ranor... i think I speak for everyone when i suggest that we'd rather have you at tom's party than at dinner before lerche... we could always order pizza before lerche? $10 or less for dinner on sunday night...

and on saturday...um...well, there'll be dinner...which could be like $20 and drinks which will be a mere $10 since you can pre-party at my place or you could not drink much, whatever...

we'll get to the clubs before cover, so don't worry about that...

or don't come, but I can't be responsible for being frustrated if you don't, it's tom's birthday!

See, this is why I had reservations about even saying "No" in the first place...

All of a sudden, it's like I'm the one who's being an ass because I can't afford it.

Well, if you have been paying attention to me at all, I

don't

like clubs, so I wouldn't even consider going to one without the intention of being so drunk I didn't care. But then again, since I don't want to spend money, how can I get drunk?

And $20 for dinner? $10 for a drink? Sure, that

seems

reasonable, but I also pay for 100 miles of gas roundtrip, and for parking in San Francisco which is too damn expensive anyway. It's easy to say "Oh, it's going to be cheap!" when you don't have student loans, have a sizeable savings account, and DON'T LIVE 50 FUCKING MILES AWAY FROM THE PLACE WE ALWAYS HAVE TO HANG OUT IN.

I'm so fucking frustrated right now.

Comment! (1) | Recommend!