Tuesday. 3.4.08 11:17 pm
Well, I took a little break from here, but now I'm back. After the whole baby's funeral thing, I was sort of torn up and really didn't want to talk to anyone. Pretty much a week to the day the baby's funeral was, someone at work (an older woman) left work and she was driving to visit her mom and found out her mom died. THEN, someone else's dad died from my work. I don't think that my work is have good luck with people staying alive.
Other than working, I haven't really been doing much. I've been in a really artistic mood and I post on a forum with lots of interesting people and someone on there had a link to their DeviantArt page. I am aware of what DeviantArt is and I've been there a few times to get photoshop goodies and whatnot, but I really had no idea that it was anyone who wanted to post whatever on the site. I seriously only saw the really good art and I assumed it was for people of exceptional talent (which is what the majority of the site is), but it also had room for people like me that like to doodle, like to take pictures, like to delve into the art work, but really have no skill. SOOOO...I made myself a DeviantArt page.
Here's my link:
My DeviantArt Site
You should go check it out...it's nothing spectacular, but I'm enjoying it.
Um...Sunday, someone decided it'd be cool to throw chocolate pudding on my car. That was FANTASTIC! It was 72 degrees on Saturday...and Sunday, it was 32 and snow...so the lovely chocolate pudding froze to my car. Needless to say, I was pissed...über pissed. I wish I knew the little bastard who did it. I'd love to defile their personal property.
Speaking of Saturday, we went to the zoo with pretty much the rest of the Denver Metro area. The place was packed, but we enjoyed ourselves. Here's a few pictures of Greg from the zoo:
Sorry for the diaper shot...lol
Here he is with the baby polar bear statue...the polar bears are much older.
Look how short he is compared to that polar bear! That bear is 9 1/2 feet tall...Greg's about 2 1/2 feet tall...lol
Anyway...have a great rest of the day!
Comment! (6) | Recommend!
Monday. 2.25.08 11:56 pm
The more and more I think about it, the worse and worse I feel.
We received an e-mail this morning from the lady whose child passed away last week telling us when the viewing and burial was and that we were all welcome to come. Then, someone sent out a big e-mail with a tribute site to little baby Lorenzo so I opened it up at work and I just wanted to bawl at my desk. I looked at one picture on the front of the site and my eyes filled with tears. I couldn't even look at the rest of the site at work because I was so tore up. I went and talked to other people and just wanted to cry.
I looked at the website at home and it seriously hit close to home...SO CLOSE. All the little baby pictures are the same pictures that I have of Gregory when he was that little. I think of all the things that baby Lorenzo will never be able to see...and places he'll never be able to go and I wish that would have never happened to them. They are such good people and this is just horribly devastating. I hate even thinking about it, but who could even sit there and deny that this did not happen. My eyes are filling up with tears right now as I try to write it. I feel so broken on the inside...I feel so broken for them. I couldn't even fathom what it would be like to be in their shoes. I don't know if I want to feel what it feels like to be in their shoes.
His viewing is tomorrow and I am trying to get the guts up to go to it. I want to go with all my heart, but I don't know if I will be able to handle it. If I do go, I'm going to go with someone from my work. I told her that I didn't want to go alone. To think, this is the last time that anyone is going to be able to see his cute little baby face, his cute little baby hands, his cute little baby body...then he'll be gone from this earth, physically, on Wednesday. How HORRIBLE...HOW COMPLETELY HORRIBLE! Your body works 9 months raising a healthy, beautiful baby that you give to the world on their birthday...and they were only able to spend 4 months with him. They held him, loved him, nurtured him and God took him away. Life can be so cruel sometimes. Did he really deserve to go? Maybe...but no little baby should have to leave the earth before his parents.
Ugh...I'm sorry. I'm just tore up...I keep rehashing this...but it's only because it keeps running over and over through my head...what if it were me? what if it were me...
Comment! (6) | Recommend!
Saturday. 2.23.08 9:18 pm
My day consisted of going to work...and working all day long. BOY, was that fun and exciting. I was there from about 8am until 4:30pm when I was done. NO MORE...I'll be back tomorrow to do some more work. I'm just glad to say that we're getting all the stuff done that we need to to leave work at a somewhat decent hour next week.
I had to go get fruits and veggies for my new little friend (which I haven't really said what he was yet)...we bought a guinea pig last night. He sort of looks like this one: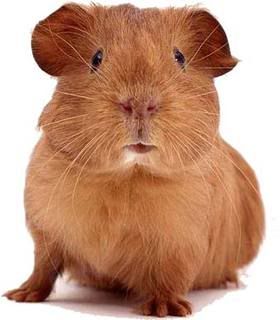 When he gets accustomed to living with us strangers, I'm sure I'll get a picture of him. So far, I think Greg has been more of a nuisance than anything to him. He was trying to help Brian set up his cage last night and was getting the bedding all over the floor. Then when he finally get the cage set up and we put him in there (we named him Apollo), Greg was over there beating on his cage. If I was Apollo, I'd be freaking out...he was hiding in his little "pig-loo" and he eventually came out after everyone went to bed and Brian was still up. I'm sure it will get better.
He came out more this evening when we gave him some orange slices, but I'm sure he'll be more sociable when Greg goes to bed and he doesn't have to worry about some little baby pointing at him and going "SHU!! SHU!!!" and beating on his cage.
When we get more room, my plan is to let him have a way larger habitat. He needs room to run around and he seems to thrive better when we let him loose...granted, he likes to hid under the chair...but I think he's more comfortable when he's not smooshed in a cage or something.
But yeah...that was my day (and my new pet)
Comment! (5) | Recommend!
Friday. 2.22.08 8:00 pm
Someone at my work had a horrible tragedy today :(
Her son (he was about 4 months) passed away last night in his sleep. It appears that maybe SIDS was responsible for his death (not quite sure though...I hear conflicting information.
I know I've posted about SIDS before, but now it has really struck close to home. For all of you who don't really know what it is, here's a definition:
SIDS is the sudden death of an infant under one year of age which remains unexplained after a thorough case investigation, including performance of a complete autopsy, examination of the death scene, and review of the clinical history. (Willinger et al, 1991).

In a typical situation parents check on their supposedly sleeping infant to find him or her dead. This is the worse tragedy parents can face, a tragedy which leaves them with a sadness and a feeling of vulnerability that lasts throughout their lives. Since medicine can not tell them why their baby died, they blame themselves and often other innocent people. Their lives and those around them are changed forever.
http://www.sids.org/ndefinition.htm
Every day, you don't even know how much I thought this would happen to Gregory and I am SOOO glad that I have never gone into his room to find him dead. This was my #1 fear and I can't even imagine what they're going through at this moment. SOOOO HORRIBLE!!!
I did find this though about it:
Did the Baby Suffer?
SIDS is considered to be an almost instantaneous event. There may be some movement during the last few seconds of life, accounting for the unusual positions in which some babies are found. Babies do not cry out and often show no sign of having been disturbed in their sleep. Parents who have witnessed their baby's death have reported that they appeared to die very peacefully in their sleep, that they appeared simply to stop breathing.

The reality of a SIDS death, however, is that they did not just stop breathing – their entire body shuts down in an instant, making it impossible to revive these babies even if immediate intervention is made. While scary and hard to understand, this can be of some comfort to those that struggle with feelings of guilt for not being there when the baby died.
I guess it is good that most of them to appear to have not suffered...if only it were that easy for the parents :(
Comment! (5) | Recommend!
Friday. 2.22.08 12:12 am
...and that's why I'm here posting a blog! What a great way to allocate my time well.
To start off...here are Greg pictures:
Greg...the naked cowboy! That horse, its mouth moves when it talks and Melissa (
pyrogrrl12
) thinks that it is creepy. Yes, I know the song the horse sings...and that might be creepier.
I have a feeling Greg will be a drummer. He's waving the sticks around like he knows what he's doing...I'm crossing my fingers that he wants to play the violin! Then I can have a duo!
Last but not least, Greg and mommy....mommy looks like she's on crack! Greg, not so much...fun stuff...fun stuff...
Anyway, I've been busy being a slave at work. We'll be there FOREVER and EVER and EVER it seems. So much work...no time to do it. It really sucks MAJOR. I'm crossing my fingers that it will be better next month...I always do!
For any of you who visited my blog earlier and got hooked on E Nomine, here is another video. I know I've got
LostSoul13
hooked on it...but who else? Here's "Das Omen" and that means exactly what it looks like...The Omen. This video is sort of creepy...or should I saw, some strange people are in the video...but that really hot guy is still there.
From what I get, all of their CD's are like hour long (or more) stories. Their one CD ( Die Prophezeiung...in english, The Prophecy) has a whole entire video and "Das Omen" is on it...and it's basically about this one guy being the prophet (and in the video, they abduct him because he's the sign, the prophet)...it's a very big good vs. evil thing...quite interesting since I have NO idea what's going on because I can't understand them...lol
Ummm...I don't think I have anything else for now. Enjoy!
Comment! (8) | Recommend!
Monday. 2.18.08 5:07 pm
BUT...I really NEED to clean. I was so sick and tired of the pig stye that I live in this morning, I walked out...I didn't even tell Brian where I was going. I'm not going to say that I don't leave messes, but seriously, he is about 70% of the trash mess. Gregory just makes the trash look worse than it should because he thinks he needs to help...and his toys and papers are all strewn about the living room.
I spent a whole evening cleaning up the pit we call a kitchen...it was clean for a few days, but Brian's got it all trashed up again. I'm so fucking pissed off about it! Why should I have to clean up my mess and his gigantic mess? I don't mind picking up if there are a few things out of place or things like that, but I don't feel like I should have to put on a pair of rubber gloves (I don't do that when I clean anyway, but sometimes I feel like I should) and the bleach and cleaning supplies every time I clean. I would rather scrub a dumpster...because that's what it looks like in our apartment.
Brian doesn't know where the garbage can is, doesn't know where the dishwasher is (would rather leave the dishes in the sink even though they're right next to the dishwasher)...he leaves dirty rings around the bath tub, shaves and leaves his hair all over the sink in the bathroom, hair all over the floor...doesn't know how to put the toilet paper on the roll...I feel like I'm drowning in a pile of filth!
Ugh...I guess back to cleaning...
Comment! (11) | Recommend!
Friday. 2.15.08 11:05 pm
| | | |
| --- | --- | --- |
| Greed: | Medium | |
| Gluttony: | Medium | |
| Wrath: | Medium | |
| Sloth: | Medium | |
| Envy: | Very Low | |
| Lust: | Medium | |
| Pride: | Low | |
Take the
Seven Deadly Sins
Quiz
I don't really have a low amount of anything...but dang, did it nail it right on the head with WRATH. I do have a short temper...lol
BTW, I stole that from
LostSoul13
Here's what I got for Valentine's Day...it's an Alpine CDA-9886.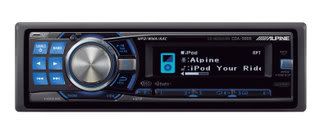 It's gonna go in my new car (my Jetta has an Alpine in it as well that they don't make anymore). It's gonna be cool... but the only drawback is that it won't play my ZUNE. That's okay though...we had an extra iPod laying around that we're just going to gear up in the new car and it'll be good to go. It's peachy...
I don't think we're going to go to Orlando anymore, but we're still going to try and get away for the weekend. We're thinking Estes Park. BUT, I was looking around for pictures and now I really want to go Whitewater rafting...they have places to go down in Cañon City, but I don't really want to stay down there. That's where the Colorado Prison system is and as appealing as staying around the prisons is, I don't really want to. At least up in Estes, we're a few miles outside of Rocky Mountain National Park...and we can go visit the Stanley Hotel (where they filmed the Shining...it's haunted...WILL NOT BE SPENDING THE NIGHT THERE)...I don't know. Stuff to think about...
Anyway, my eyes are tired...and I'm tired...and I'm going to bed.
Comment! (4) | Recommend!
Wednesday. 2.13.08 12:04 am
I'm so warn out...I seem to be in pain for some reason, but that isn't anything new. I think I'm getting some bad heartburn, so I chewed up some Gaviscon and called it an evening.
Melissa and I went downtown tonight and ate at Rock Bottom. I had a beer and a half and it felt okay...not like I needed a beer, but I just needed one after today.
I took a few pictures when I was down there...they aren't anything spectacular, but I love Denver at night (especially downtown)...it's very quiet.
The trees are all still lit up...it was purty!
You can see that we were right in the middle of the map...we rode the shuttle all the way up to Tremont Street and went to the Virgin Megastore (see below):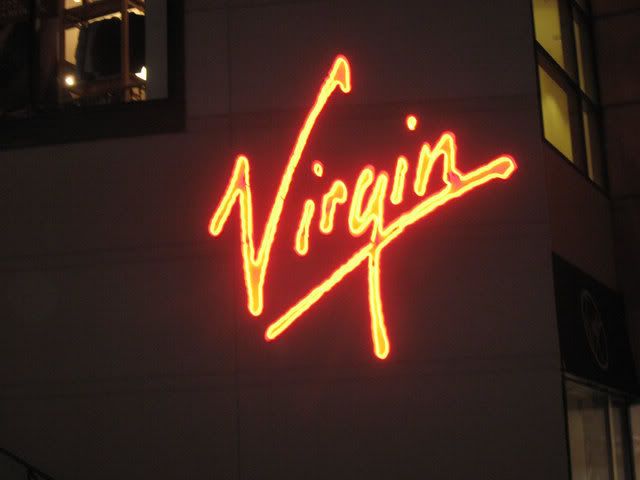 I bought a case for the Zune player...and then we rode the bus back down to the Tabor Center...and left.
Here's the other pictures I took down there:
There are cows all over the 16th Street mall...this happened to be the one we passed. I think this is the cow that's been all over the world!
We rode the unlucky elevator. It's wasn't that bad...the parking garage is under the Tabor Center...and since Rock Bottom validates your parking, we didn't have to pay a nickel! It was peachy!
Anyway...
I'll leave you with a picture of Gregory, future race car driver of the future!!! Look for him driving race cars near you!
Comment! (5) | Recommend!