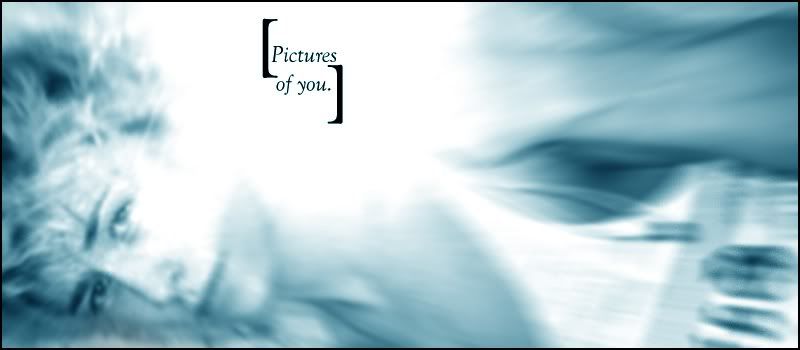 Spring Semester 2010:

* Teaching: Fundamentals of Microbiology - MW 12:00-2:40p
Medical Microbiology - TR 2:00-3:15p
Colloquium in Cell and Molecular Biology - R 3:30-4:30p
Thesis Research - Identification of T Cell Subsets and Immune Response in Colon Cancer Using Immunofluorescence - FOREVER AND EVER

Or rather, entries from the old journal, as it were...

-

An open letter to the College.

(August 27, 2006)

-

Untitled.

(July 16, 2006)

-

Haunted (Part One)

(May 29, 2006)

-

Are we growing up, or just going down?

(May 3, 2006)

-

I had a dream...

(March 19, 2006)

-

...

(March 14, 2006)

-

Enjoy it while it lasts.

(September 12, 2005)

-

Scene: 3:27 AM.

(September 3, 2005)

-

Untitled.

(July 26, 2005)

Psst... if you're looking for the academic writings I used to have here, head to my Reading Room.

Since June 2006...

- A Heartbreaking Work of Staggering Genius by Dave Eggers
- High Fidelity by Nick Hornby
- Travesties by Tom Stoppard
- The Way of the Shaman by Michael Harner
- The Tao of Pooh by Benjamin Hoff
- Nervous Conditions by Tsitsi Dangarembga
- The History Boys by Alan Bennett
- The Dark Child by Camara Laye
- Movie-Made America by Robert Sklar
- Diary by Chuck Palahniuk
- Rant: An Oral Biography of Buster Casey by Chuck Palahniuk
- Galapagos by Kurt Vonnegut
- The Dead Emcee Scrolls by Saul Williams [61.3%]
- Atonement by Ian McEwan
- Junk Science: An Overdue Indictment of Government, Industry, and Faith Groups that Twist Science for Their Own Gain by Dan Agin, Ph.D. [64.4%]
- So Yesterday by Scott Westerfield
- Lucky Wander Boy by D.B. Weiss
- The Things They Carried by Tim O'Brien
- Doctor Who: The Key to Time: A Year-by-Year Record by Peter Haining
- Why Buffy Matters: The Art of Buffy the Vampire Slayer by Rhonda Wilcox
- When You Are Engulfed in Flames by David Sedaris
- The Road by Cormac McCarthy
- 1984 by George Orwell [18.8%]
- Nick and Norah's Infinite Playlist by Rachel Cohn and David Levithan
- Intuition by Allegra Goodman
- V for Vendetta by Alan Moore and David Lloyd (Yes, I realize it's a graphic novel but it still fucking counts!)

The desire was far too overwhelming.

Friday, December 14, 2007 @ 9:51 am / 11 days unti

I've been wanting to blog for weeks, but ultimately did not want to create a temporary account to keep entries. I decided this would be the best way to do it (disagree if you want, I'm not going to stop) because everyone's (hyperbole) on here anyway. So, despite my intense feelings of dislike for BBCode (very similar to HTML, I know, but I still don't like the idea of using square brackets), I will post new entries at this very spot until NuTang is returns to its lovable self again. And when that day comes, I will transfer everything over to my real blog and we'll pretend this never happened.

Right now, I'm running on literally half an hour of sleep. Today was my virology final, and despite studying really hard for it (hence, the lack of sleep), I know this is going to be the worst score I will receive in the class for sure. Go figure that the test I study the hardest for is the one that will end up scrapping my A+ in the class and dropping down to an A (which admittedly I can't complain about but it still makes me a little sadface).

Today, I've got a fairly busy day. Though I took the day off from work, I need to sell back a buttload of anthropology books so I can have some more money with which to buy presents and to offset the cost of next quarter's/semester's schooling. Then I'm heading up to San Francisco to see a few friends (including Zanzibar) and do some Christmas-y type stuff, like decorating cookies and making gingerbread houses and playing with the Wii (video games are a holiday tradition, I swear!).

Though finals are officially over (yay!), this weekend is still going to be a bitch because I've got all sorts of grad school application stuff to catch up on (boo!). I'm also going to prepare a schedule for work next week as my PI is going to be gone and I will be left alone to work on three projects simultaneously.

Needless to say, by the week after, I will be ready for a bit of rest. I have a feeling though that things won't be all that restful then either. Christmas party to throw, last-minute shopping to complete, even MORE grad school stuff to tend to (it won't be over for a while!)... but we'll see. I guess I'll just have to take it a day at a time and jump each hurdle as I approach them.

Man, it feels nice getting thoughts out on paper again. But now, I'm all out. I think I'll take a little nap and then carry on with the rest of my day.

Comment! (0) | Recommend!

Thursday, November 29, 2007 @ 4:22 am

Another fever/chills bout?

This is pretty ridiculous.

My eyes hurt... :(

Comment! (4) | Recommend!

Tuesday, November 27, 2007 @ 9:34 am

Taking time off for being sick is a wonderful way to get well more quickly, because nothing prolongs illness than overworking your mind and body. But it also makes it harder to get back to return to your regularly-scheduled life.

This last bout with the cold was over pretty quickly in comparison to my experiences last year, but I've been fucking up on time management lately and now I'm pretty disappointed in myself. Two weeks ago, my regular schedule was disrupted because I was beginning to get sick. Last week was Thanksgiving, which threw yet another 4 day weekend in my face... and not a lazy one either--there was far too much activity going on around these parts.

So now I'm practically about two weeks behind on the schedule I set for myself regarding applications. It looks like I'm about to get my first B in an anthropology class--and that's if I score nearly perfect on the final. And I'm juggling working on a new project at work and finishing the one that's been ongoing for FOREVER which probably means a hectic week leading up to Christmas as I try to catch up while my boss is away.

I'm desperately trying to keep everything straight and attack the work methodically, but that is turning out to be a chore in itself!

At least things are going well in virology. I got my third midterm back today and it turns out I got a 198/200! Kinda pisses me off though because I lost those two points due to a stupid mistake (I said "different serotypes" instead of "different viruses"... totally lame), but I can't complain too much.

Now, I shall eat some breakfast so I don't keel over when I'm working my ass off today. Because that's JUST what I need at this point: hunger pains. That will

really

help me do everything that I need to do.

Comment! (1) | Recommend!

Thanksgiving? No, not quite yet.

Friday, November 23, 2007 @ 12:19 am

For some reason, my extended family decided to celebrate Thanksgiving on the Friday this year. One thing that hasn't changed: the party's at my house.

I've never had a sit-down meal for Thanksgiving, and I don't think I'd ever like that. With us, the family's too big and our houses are too small to pull off the whole sit-down dinner thing. I prefer it this way anyway: being surrounded by my close-knit family, doing everything pot-luck style. In that respect, I'm really lucky that I have family I can actually stand. I mean, there are things that my family members do or say that get on my nerves, and we certainly aren't immune to the drama (what family can claim to be that way?), but for the most part, at family gatherings, we don't want to kill each other.

I think that's what I'm most grateful for this year. Even though my grandmother died a few months back, I'm thankful for how that tragedy managed to bring the family closer together--like I remember we were when I was younger. Hopefully we won't need another grim wake-up call like that one to realize that family comes first.

Comment! (5) | Recommend!

Obligatory procrastinatory post.

Tuesday, November 20, 2007 @ 2:26 pm

Q:

Why does Ariel (the Little Mermaid) wear seashells?

A: Because B-shells are too small, and D-shells are too big!

Comment! (4) | Recommend!

Second entry in less than an hour.

Tuesday, November 20, 2007 @ 12:19 pm

I think one day, I might like a job with the CIA doing science work that can has the ability to protect our nation... but I don't know how I'd deal with the secrecy. Especially with regards to my close friends and family.

Take a look at the job description:

Research Scientist
Work Schedule: Full Time
Salary: $57,564 – 143,471
Location: Washington, DC metropolitan area


The Directorate of Science and Technology (DS&T) seeks Research Scientists to direct and oversee scientific research and development activities across multiple programs and through one or more projects addressing Agency and Intelligence Community (IC) objectives. This includes development and implementation of innovative original theories/methods applicable to support and enhance the intelligence mission. Perform exploratory and applied scientific research, provide operational and strategic technical guidance on use of current and emerging technology, and provide technical expertise for initiating and implementing research and development programs. This work demands initiative, creativity, advanced research skills and technical expertise. Agency Research Scientists are encouraged to maintain and broaden professional ties through academic study, contacts and attendance at professional meetings. They may also choose to pursue additional studies in fields relevant to their areas of responsibility. Opportunities exist for foreign travel, technical and management training, and assignments in other offices in the Agency and throughout the US Government.

Minimum requirements include a bachelor's or master's degree (PhD desired) in: General Engineering; Mechanical Engineering; Electrical Engineering; Computer Science; Physics, Mathematics, Chemistry and Chemical Engineering; Biology; Biomedical Engineering; Cultural Anthropology; Psychology; Material Science; Research Methodology/Statistics; Electrochemistry; or Sociology. Applicants must also possess strong written and oral English communications skills. A GPA of 3.0 or better on a 4.0 scale is preferred.

All applicants must successfully complete a thorough medical and psychological exam, a polygraph interview and an extensive background investigation. US citizenship is required.

To be considered suitable for Agency employment, applicants must generally not have used illegal drugs within the last twelve months. The issue of illegal drug use prior to twelve months ago is carefully evaluated during the medical and security processing.

Important Notice: Friends, family, individuals, or organizations may be interested to learn that you are an applicant for or an employee of the CIA. Their interest, however, may not be benign or in your best interest. You cannot control whom they would tell. We therefore ask you to exercise discretion and good judgment in disclosing your interest in a position with the Agency. You will receive further guidance on this topic as you proceed through your CIA employment processing.

To Apply:
Submit Resume Online


Note: Multiple submissions are unnecessary and will slow the processing of your resume. Of course, if you made an error in your submission or need to update your resume, you may submit another resume. The second resume will overwrite the first.

An equal opportunity employer and a drug-free work force.

Comment! (3) | Recommend!

Delayed gratification is not for me.

Tuesday, November 20, 2007 @ 11:24 am

I'm constantly amazed at those among my friends who can afford to go out a lot, or go on semi-expensive trips during the holidays, or splurge on nearly-$100 theater tickets like it's no big deal. And I can understand if they are working a job that pays semi-decently, or if they are I-bankers (whom everyone should marry, btw, just so when they kill themselves from working too hard, you can get all their money), but when those people are students, it's hard to comprehend--at least for me--where all the money is coming from.

I guess the reason it's hard for me to comprehend is that although I work, there are always things I need to pay for that suck up my money: classes, books, gas--ESPECIALLY gas! (Now that regular-grade gas has reached $3.50/gal in these parts, filling up my SUV costs $80! And I fill up on average once a week because of all the driving I do...) I also spend money on the little things: coffee, a lunch that ISN'T Cup-'o-Sodium (now with noodles and dehydrated carrot slivers!), the occasional ice cream cone.

Sure I save money for things I want, but usually those are things like cameras, a new TV, computer parts, games for my Wii... I

do

have a Y-chromosome after all. But that happens so sparingly that even when I do spend money on these things, it still doesn't add up to the price of a four-day trip to Cabo San Lucas.

The only explanation I can come up with--barring the parental assistance possibility--is that my friends who are able to do these things with surprising frequency although they are in med school or grad school or law school or whatever deprive themselves of what I consider to me the little pleasures: an almond cappucino, pumpkin flavored gelato, a nice hunk of brie.

I suppose if I didn't have my daily coffee, if I didn't buy a decent lunch rather than bring top ramen from home (ew, salty!), if I didn't spend that extra two dollars on the nice cut of beef from the market, if I didn't buy the always-expensive but always-deliciously sweet Asian pear from the grocer, if I didn't treat my sister to gelato downtown, if I didn't buy fresh flowers from the farmer's market to brighten up the house, if I didn't do

any

of these things that make me happy in ever so small ways--then I'd be able to afford to jet off to Europe for a week or two... after about 10 months of torture and suffering.

I guess I'm just not good at delaying gratification.

And that's fine with me.

I'd rather have a bit of luxury every single day than have it all at once. I'm just not that kind of person. And I refuse to feel guilty for feeling that way and not going with friends when they want to do something like that. Because the only thing I'm guilty of is treating myself right day after day after day.

Comment! (0) | Recommend!

Three and a half hours later.

Friday, November 16, 2007 @ 12:50 am

I let the fire purge my blood. I hesitantly rose from my bed, noting the strength returning to my limbs and the ability to withstand 75-degree temperatures (Fahrenheit, most certainly, because the other way would be impossible) and NOT succumb to the biting cold.

It felt good fighting the infection rather than fighting the symptom with fever medicine. I feel like I've got a better chance of getting over this by this weekend--not completely, but enough such that I can cook for Thanksgiving next week and not worry about spreading the disease to all my relatives.

Nn, I need water.

Comment! (3) | Recommend!