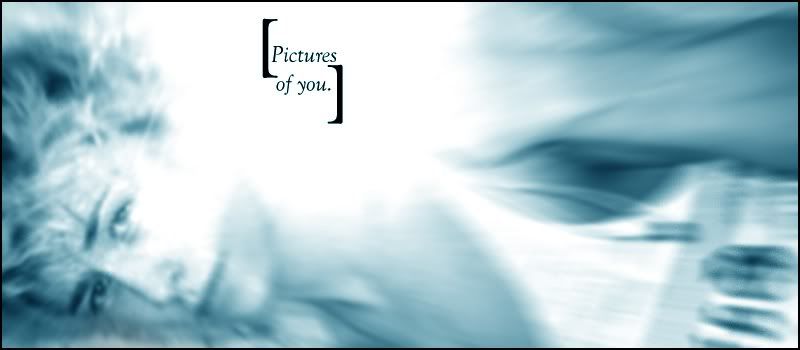 Spring Semester 2010:

* Teaching: Fundamentals of Microbiology - MW 12:00-2:40p
Medical Microbiology - TR 2:00-3:15p
Colloquium in Cell and Molecular Biology - R 3:30-4:30p
Thesis Research - Identification of T Cell Subsets and Immune Response in Colon Cancer Using Immunofluorescence - FOREVER AND EVER

Or rather, entries from the old journal, as it were...

-

An open letter to the College.

(August 27, 2006)

-

Untitled.

(July 16, 2006)

-

Haunted (Part One)

(May 29, 2006)

-

Are we growing up, or just going down?

(May 3, 2006)

-

I had a dream...

(March 19, 2006)

-

...

(March 14, 2006)

-

Enjoy it while it lasts.

(September 12, 2005)

-

Scene: 3:27 AM.

(September 3, 2005)

-

Untitled.

(July 26, 2005)

Psst... if you're looking for the academic writings I used to have here, head to my Reading Room.

Since June 2006...

- A Heartbreaking Work of Staggering Genius by Dave Eggers
- High Fidelity by Nick Hornby
- Travesties by Tom Stoppard
- The Way of the Shaman by Michael Harner
- The Tao of Pooh by Benjamin Hoff
- Nervous Conditions by Tsitsi Dangarembga
- The History Boys by Alan Bennett
- The Dark Child by Camara Laye
- Movie-Made America by Robert Sklar
- Diary by Chuck Palahniuk
- Rant: An Oral Biography of Buster Casey by Chuck Palahniuk
- Galapagos by Kurt Vonnegut
- The Dead Emcee Scrolls by Saul Williams [61.3%]
- Atonement by Ian McEwan
- Junk Science: An Overdue Indictment of Government, Industry, and Faith Groups that Twist Science for Their Own Gain by Dan Agin, Ph.D. [64.4%]
- So Yesterday by Scott Westerfield
- Lucky Wander Boy by D.B. Weiss
- The Things They Carried by Tim O'Brien
- Doctor Who: The Key to Time: A Year-by-Year Record by Peter Haining
- Why Buffy Matters: The Art of Buffy the Vampire Slayer by Rhonda Wilcox
- When You Are Engulfed in Flames by David Sedaris
- The Road by Cormac McCarthy
- 1984 by George Orwell [18.8%]
- Nick and Norah's Infinite Playlist by Rachel Cohn and David Levithan
- Intuition by Allegra Goodman
- V for Vendetta by Alan Moore and David Lloyd (Yes, I realize it's a graphic novel but it still fucking counts!)

A Whale's Vagina, part 1.

Saturday, January 12, 2008 @ 2:37 am

Headache from flying + copious amounts of alcohol = no more headache + hangover tomorrow morning.

My math was never that great.

Comment! (5) | Recommend!

The rundown is that I'm run down.

Friday, January 11, 2008 @ 7:17 am

This is what happened, in scatterbrained sore-left-assed didn't-sleep-'til-2 I-have-no-idea-why-I'm-even-awake-right-now fashion:

- Met up with people to go bowling after work.

- Saw people I hadn't seen in years (from high school).

- Proceeded to hyperextend my left ass muscle (sorry, no anatomical terms right now--brain no worky).

- Went to TGI Fridays where good times were had with best friend from high school, a guy I went to K-8 with, and a guy I used to think was super-adorable. (Still do, actually, but in a totally different way if that makes any sense.)

- Got home waaaaaaay later than I had planned (12:30ish).

- Right before I slept, I sent an e-mail to my PI saying I wouldn't be coming in today.

- Woke up at 7:00 to feed the cats.

- Started writing this goddamn entry.

- Proceeded to go back to sleep because I am BEAT.

Comment! (4) | Recommend!

Thursday, January 10, 2008 @ 12:19 am

Later. Fuck it. I'm going to sleep.

The physics reading will have to wait for morning.

Today was... too long. Wake early. Work. Apps. Guitar. Numb fingertips. Tomorrow... physics, work, BOWLING.

At least

something

to look forward to.

And then Friday...

SAN DIEGO HERE I COME!

Should be nice there this weekend.

But for now...

Zzz...zz.z..z.z.zzzz..z.zz.z.....z.z..zz.....

Comment! (4) | Recommend!

Tuesday, January 8, 2008 @ 11:12 am

Tuesday, January 8, 2008 @ 9:51 am

I just got an e-mail from my PI saying that we "should talk about [my] work schedule," indicating he is not very happy with it.

What can I do? I have classes to take, goddammit, and I cannot move those times around like I can with my work hours.

Boo. Now I'm not looking forward to going into work today after class.

Comment! (0) | Recommend!

Tuesday, January 8, 2008 @ 9:04 am

I just found out I got a raise at my tutoring job.

$14.00/hr, up $2/hr from last quarter.

Ich bin sehr excitedlikewhoa.

Comment! (0) | Recommend!

Answers to life's most pressing questions.

Monday, January 7, 2008 @ 2:14 pm

1) I

can

wake up early enough to get to work on time, but traffic always has a way of throwing a wrench in your gears...

2) Possibly. Maybe. Maybe not? No? Yes.

I MUST.

If I can.

This quarter, I started a new work schedule where I go into work for only 4 hours a day. It's still 20 hours a week, but it feels so much... easier because work doesn't drag on forever before I get to move on to a different activity. Okay, so maybe it isn't the best way to train my (self-diagnosed) ADD-self to ready myself for the prospect of a lifetime of extended work periods, but for the right-here-right-now, I'm totally fine with it.

A funny thing happened to me at the Vietnamese sandwich shop. Okay, it wasn't very funny. It was more along the lines of mildly frightening. I ate a couple of spring rolls and then I had a little difficulty swallowing for a while. I was worried I might have inadvertently discovered a food allergy and I was going through anaphylaxis, but I obviously didn't die or anything. The swelling in my throat has calmed down now (without the use of an epi-pen, thank god) and it doesn't hurt anymore when I swallow, so that's a good sign. Still searching for an explanation for what happened, though...

I've got about 25 more minutes before I have to go pick up my sister from school, so I should get to work on writing about myself in an official capacity. Boo, statements of purpose.

Comment! (3) | Recommend!

And now we return to your regularly scheduled life. [EDITED]

Monday, January 7, 2008 @ 12:00 am

The big question is: Can I wake up early enough tomorrow to actually get to work on time?

A second, possibly bigger question: Can I muster up enough motivation to not piss away my free time when work is through?

Stay tuned for the answers...

EDIT:

I just realized that

tomorrow

TODAY marks the beginning of my last 11 weeks at my internship! Holy CRAP! Time really does fly by (except when you really want it to)...

Comment! (2) | Recommend!