Tuesday, October 2, 2012
I had a nightmare recently.
I dreamed of
mizutama
and I sitting in a stationary car on an island to visit a schoolmate who happened to be as an environmental officer on a nearby island.
Beside the car around 500 m away was another island with two hills. The hill height is equivalent to 5-storey building.
At first, the hill on our right had a mild landslide with some rubble going down the slope. We exhaled in relief for it was just a minor slide. Then a few seconds later, the second hill next to it collapsed. We ran out of the car upon seeing the collapse and reached out for the slim river next to the car. It seemed it was the only exit, and I got no idea how did we drive to that island in the first place. Ah... the road was blocked by the landslide. That's why.
So we swam.
Mizutama was very ahead of me, and I was calling out to her to wait, but she didn't. I then realised I could not swim fast because I had my backpack. I removed it and used it as a float.
We swam to safety.
What a nightmare...
The next night, my nightmare involved a cobra. I wanted to tell the cobra that it is safe, but it suddenly sank its fang into my palm. I knew it was painful, but I didn't really feel the pain. It was a golden cobra.
Right... the nightmare of snake is back.
Comment! (1) | Recommend!
Tuesday, September 18, 2012
Yes, I'm finally 27.
And I don't feel any thing special, apart of exhausted from life and my own environment.
And I'm sick to explain to people why I don't have a car. Must I own a car just because it's a norm in Malaysia?
I still owe my friend a testimonial on his angelic healing therapy. I like his oracle readings. It's very accurate, but I was just playing dumb when he touched on certain topics. I don't need to explain because he already knew the answer. Well, welcome to the world of psychics.
I bought myself a paulina tarot for myself as birthday present simply because I insisted of getting one when my inner voice told me to return to the shelf due to financial crisis. But that's the only thing I gotten myself... I guess people tend to get less presents as they aged. Sad. Should not the presents graph go up along with the number of friends we have?
I dreamed of my father. Yes, he is very alive and he is living in the next room to mine. But I think I was connected to his vibes. I saw him being sad and crying over the family situation. Right. My advise is it's too late for him to revert back the situation, because whatever the situation is today is caused single-handedly by him. Well, it was fun to play with someone's life, right? You reap what you sow.
As previous post mentioned, I really wanna disappear from my environment. I think it's time for me to return to the cradle of books and kick some asses. Oh, you stupid gravis illness, please be kind to me, for I don't want to be on long term medication. You are just simply too freaking expensive!
I applied to be a tarot reader apprentice. HAHA. Hopefully, my application passes and an looking forward to meet the mentor. I have been wanting to do such thing for a long long time... Am I psychic? Oh well, everyone is...
I finally am starting on my handicraft projects. It's not owing to procrastination, it's about finally seeing the right tool in the market? Even so... they are damn expensive. I have expensive hobbies. And finally my mother shuts up about knowing me very well. Because she doesn't!
I have been crying a lot this year. For whatever the reason is, I'm still not sure if all these tears are worth it. renaye? move on ... hmm.. because there's rainbow on the other side. duh, cliche.
I never thought of writing such post for my birthday. I thought of writing a non-sarcastic post, but inspiration and mood reign.
Let me then end this post with an outdated haiku.
a celebration
without
celebration
Comment! (0) | Recommend!
Monday. 9.17.12 9:24 am
My family just got intona fight. Mother was screaming at sister who was showing tantrums. And then pulled me into the fight just because I did not was her dinner bowl.
Mother was screaming that there is never a day she is not worried about sister and how she works dilligently to assist her in getting sales.
Right. I do not really care who my mother cares the most, because everyone in the family is so unhappy that we are together in this simply because we are pooling our financial resources to survive. We will surely leave each other once we are financially able.
I no longer have a family to begin with. I ceased talking to sister except those squabbling and father.
I feel like an orphan actually.
Like what I read recently. What if those people who commit suicide realised that this life is not worth fighting for? You can say it is worth, but I sometimes do not feel it. I feel stuck in this vicious cycle.
Maybe that is also like what my friend said, I have birth trauma. It means I did not want to reborn in the first place due to past live trauma. Do not know how true it is... Do I often feel like returning to somewhere?
Does feeling want to disappear count? Because I always want to disappear, but just have not found the right plave and time to do so.
I should not even write such morbid post on my birthday, but this is life unfortunately. I am seriously thinking of disappearing. There is no point of dwelling in such situation. I may choose to escape those situation is because all solutions are not practical to my family.
I may not want to born into this family because I may have already known the life of this writer.
Anyways, happy birthday to myself, kid.
Comment! (0) | Recommend!
Sunday. 9.16.12 9:28 am
Mizutama
came to KL for the weekend and we decided to catch up with another friend in a shopping mall in Bukit Bintang.
Since our friend came late, I jokingly punished him to buy us desserts for our birthdays, which happened to be around three weeks away from each other. So we decided to try out Mango chacha, which specialised in mango dishes.
I know his birthday is just a few days after mine, and I sarcastically thanked him for my advance birthday present.
In response, he replied "Yealo, so who will buy birthday present for me?"
In a zap, I replied "You buy for yourself la! There... You bought that dessert for yourself."
We laughed so loud that I was throwing my head backward.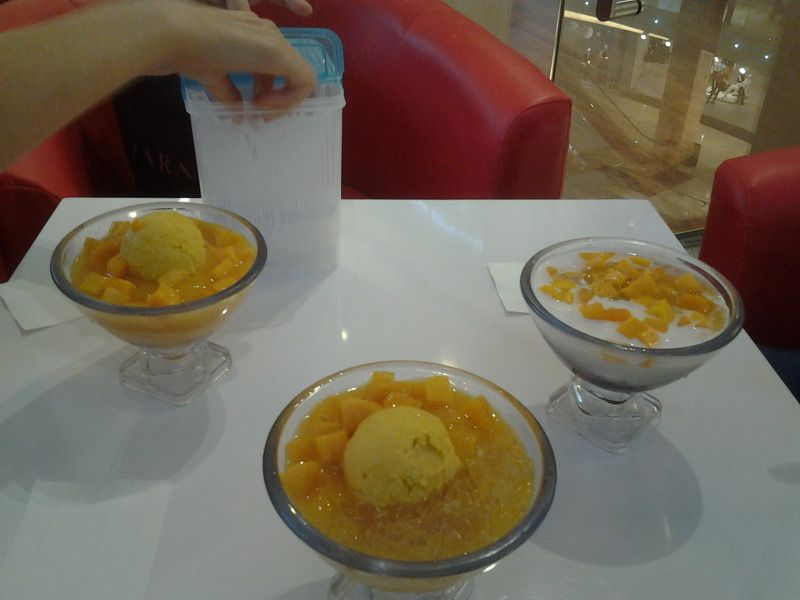 Mine is the center, mizutama's left and our generous payer the right.
Comment! (0) | Recommend!
Friday, September 14, 2012
The most frightening event for this week was my sister's car got broken into. It happened on a Monday's afternoon.
My mother was on a half day medical leave, so she retired home at 2 pm-ish. A neighbour spotted a guy sitting in the car between 4.30 pm and 6 pm.
Apparently, this guy was breaking into a neighbour's house but got busted by another neighbour, so he was forced to abandon his activity.
This neighbour reported to the security guard and together they walked towards the car which he was trying to flee with. The neighbour saw him moving the steering wheel, but it was unsuccessful, so he fled once he saw them approaching nearer.
The security guard wanted to clamp the car because he thought it belongs to the perpetrator. They searched the car for any signs belong to him, and they found my sister's outdated name card. Hence they contacted my sister in the evening.
As my sister was away for a meeting, my mum received the news from my sister who was not telling the story in order, making me frustrated the whole night, as I was lazy to check out on the car, but I do not want mother to go out alone. So I followed.
The three of us approached the guard house and were told the whole story. My sister and mother were horrified, and my mother was cursing the perpetrator the whole night for attempting to steal the car.
Among the three, I was the most alert and calm, because my sister was not thinking clearly due to the sudden shock and my mother was swallowed with her curses and bitterness for that asshole.
I said we should make a police report regardless they want to help or not. However, received mixed feedback.
Later, we bumped into three trucks of policemen ferrying illegals. They stopped and checked out thr car. The sarjan advised to make a report for car theft attempt, which we did.
It was my first time wearing shorts out of my home in years, and I felt awkward in the police station.
We were there at 11 pm, and I was bores. The discovery channel did not save me because simply I was exhausted. Luckily, my boredom was distracted by a father, daughter and a young gentleman.
The trio entered with a policeman without uniform. The girl has obvious spent the day crying... While the gentlemam was busy writing the report. The policemzn kept asking the girl if she was married. The father did not look like her father bit.
I became curious. I kept eavedropping the whole night but could not get any info!
How I failed at being a spy. :-(
Comment! (0) | Recommend!
Friday, September 7, 2012
My first birthday gift is a movie ticket to a local horror film called hantu air. It is known as water spirit in English.
There was a line said 'a comedy horror'. I breathed in relief. But not until the movie started.
Hmm. Liar? There were scenes that were horrifying! I shut my eyes at certain scenes. The spirit's makeup was ugly. I think simple makeup is enough to scare the audience.
My friend who bought me the ticket seemed to be enjoying the show; he was laughing at the horror scenes! :-(
Anyways, one tick on my birthday wishlist. :-)
P.S: Actually watching horror movie is one of the things that I wanna do for my birthday. By not watching some horror scenes, I am able to not attract their presence. I know the trade already...
Comment! (1) | Recommend!