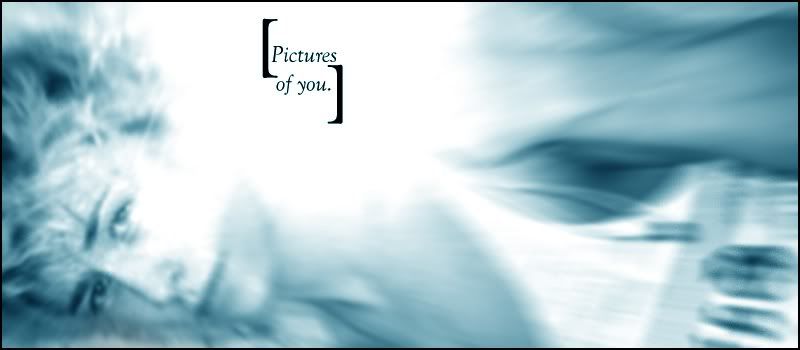 Spring Semester 2010:

* Teaching: Fundamentals of Microbiology - MW 12:00-2:40p
Medical Microbiology - TR 2:00-3:15p
Colloquium in Cell and Molecular Biology - R 3:30-4:30p
Thesis Research - Identification of T Cell Subsets and Immune Response in Colon Cancer Using Immunofluorescence - FOREVER AND EVER

Or rather, entries from the old journal, as it were...

-

An open letter to the College.

(August 27, 2006)

-

Untitled.

(July 16, 2006)

-

Haunted (Part One)

(May 29, 2006)

-

Are we growing up, or just going down?

(May 3, 2006)

-

I had a dream...

(March 19, 2006)

-

...

(March 14, 2006)

-

Enjoy it while it lasts.

(September 12, 2005)

-

Scene: 3:27 AM.

(September 3, 2005)

-

Untitled.

(July 26, 2005)

Psst... if you're looking for the academic writings I used to have here, head to my Reading Room.

Since June 2006...

- A Heartbreaking Work of Staggering Genius by Dave Eggers
- High Fidelity by Nick Hornby
- Travesties by Tom Stoppard
- The Way of the Shaman by Michael Harner
- The Tao of Pooh by Benjamin Hoff
- Nervous Conditions by Tsitsi Dangarembga
- The History Boys by Alan Bennett
- The Dark Child by Camara Laye
- Movie-Made America by Robert Sklar
- Diary by Chuck Palahniuk
- Rant: An Oral Biography of Buster Casey by Chuck Palahniuk
- Galapagos by Kurt Vonnegut
- The Dead Emcee Scrolls by Saul Williams [61.3%]
- Atonement by Ian McEwan
- Junk Science: An Overdue Indictment of Government, Industry, and Faith Groups that Twist Science for Their Own Gain by Dan Agin, Ph.D. [64.4%]
- So Yesterday by Scott Westerfield
- Lucky Wander Boy by D.B. Weiss
- The Things They Carried by Tim O'Brien
- Doctor Who: The Key to Time: A Year-by-Year Record by Peter Haining
- Why Buffy Matters: The Art of Buffy the Vampire Slayer by Rhonda Wilcox
- When You Are Engulfed in Flames by David Sedaris
- The Road by Cormac McCarthy
- 1984 by George Orwell [18.8%]
- Nick and Norah's Infinite Playlist by Rachel Cohn and David Levithan
- Intuition by Allegra Goodman
- V for Vendetta by Alan Moore and David Lloyd (Yes, I realize it's a graphic novel but it still fucking counts!)

E&M?! I can barely remember how to do calculus...!

Tuesday, January 22, 2008 @ 10:27 am

So my first E&M exam is in an hour and a half. We can drop our lowest midterm score at the end of the quarter, but I still want to do well. But we'll see how that goes.

Everything on the exam is basically Coulomb's and Gauss's Laws, which are easy enough concept-wise. It's the mathematics I'm going to have problems with. Last time I did calculus was--as you may remember--about a year ago. And before that it had been several years since. So needless to say, the integrations and derivations and whatnot are giving me a little bit of pain. But so is trying to remember anything from mechanics. Most of the kids in the class had taken mechanics just last quarter, so stuff like velocity and acceleration and springs and whatever else are fresh in their brains. I have to pull that file out from a few years ago and hope it isn't corrupted too much yet.

Hopefully the test is on most the new stuff, not crazy things like "An electron is shot into an electric field of strength X... Find the instantaneous velocity of the electron at t = 30 sec." I think I'd panic and perhaps die.

A negatively-charged Ranor is walking towards the physics classroom, containing a midterm freak-out field of of strength y, at x m/sec. How close does Ranor approach the physics classroom before stopping, turning around, and running for dear life?

Comment! (2) | Recommend!

Monday, January 21, 2008 @ 6:03 pm

Electricity and internet access have returned to my room after an absence since Thursday night.

Now, if you'll excuse me, I've got to turn in some online homework, post some photos on Facebook from last weekend, send an e-mail to an old professor with info she needs to write me a recommendation letter for grad school,

reacquaint myself with the wide world of internet pornography

, and explain to everyone why I never replied to their e-mails...

Comment! (2) | Recommend!

It's been two weeks. Feels like six.

Thursday, January 17, 2008 @ 9:05 pm

A two-week break is scarcely enough to make a completely fresh and rested start to a new quarter. We're two weeks in and I already feel like giving up. Honestly, though, all I do is drive, go to class, go to work, come home, and do homework.

And it's going to be like this for ten. More. Weeks.

I need to find some place to take a nap in the middle of the day where I won't be gawked at or asked "Are you okay?"

Well, I was, you bastard, until you interrupted my nap with your inquisitions laced with faux-concern.

Fuck this. I had more to say, but my back is killing me...

Comment! (3) | Recommend!

A Whale's Vagina, part 4.

Monday, January 14, 2008 @ 9:14 am

I am sitting in the airport terminal waiting for my flight to take me home. I am supposed to work today, but I did tell my boss that I'd be flying in and wasn't sure if I'd make it on time, so what I think I'll do instead is get further acquainted with my guitar (I haven't played all weekend so I'm sure to be the crappiest one in class on Wednesday!!!) and finish the physics homework and reading I neglected to do this weekend while utterly sloshed.

Well, San Diego, it's been real. While I'm understandably sad to leave such good friends behind, I do miss my own bed. And my giant plasma television.

Hopefully, I'll be back soon as a graduate student. I know I won't be able to have a life so full of beer and adventure if that happens, but I'm sure the opportunity will present itself. Especially with good friends in San Diego.

Comment! (3) | Recommend!

A Whale's Vagina, part 3.

Sunday, January 13, 2008 @ 10:54 pm

"There is no such thing as an alcoholic. There is only such thing as a loser."

I fly home tomorrow, but I wish I didn't have to. I want to stay longer and play more board games and drink more beer and enjoy more of the fine San Diego weather... but alas, all good things come to an end.

Ah, well.

BEER ME SOME CAKE!

Comment! (2) | Recommend!

A Whale's Vagina, part 2.75.

Sunday, January 13, 2008 @ 12:09 pm

I don't like pretending to like people, but I do it so as to not create awkward social situations.

But it makes

me

feel awkward.

I don't know. I just don't like this guy. He kinda gets on my nerves a little bit. Just a little.

Okay, more than a little.

But he's one of my friend's friends and I don't want to be rude.

Meh.

Comment! (4) | Recommend!

A Whale's Vagina, part 2.5.

Sunday, January 13, 2008 @ 2:57 am

I don't know. I'm not too much of a music snob, but

most

(note: NOT

all

) mainstream hip hop, r&b, and pop music just doesn't speak to me the way it does to others.

Which is why when they started busting out the Chris Brown, I was not particularly interested in sticking around any longer. Just bored me.

So, in conclusion: good night.

Comment! (2) | Recommend!

A Whale's Vagina, part 2.

Sunday, January 13, 2008 @ 1:47 am

I've been drinking for the last 12--almost 13 hours. Not like a drink an hour, either. We're talking pretty drunk.

For almost 13 hours.

Today was a lot of fun except my friend's boyfriend kept getting kicked out of the bars we visited at Pacific Beach. Apparently, if you look too drunk, that's a reason to get the boot.

I understand why they'd want to do that--to protect their own asses--but it was still very frustrating to have to leave after we were having such a good time.

I still want to party...ish. But I'm getting tired. I guess time will tell how much more abuse this body and mind can take.

Comment! (0) | Recommend!