Saturday. 3.8.08 11:41 pm
Picture 1:(7?) I hope you like it.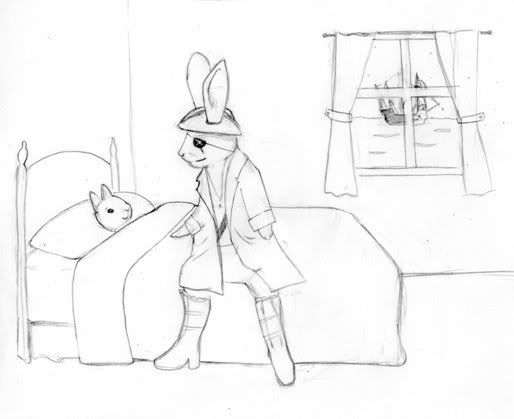 Comment! (6) | Recommend!
If this were the last day I was alive...
Saturday. 3.8.08 11:18 am
... I would probably start by getting some boxes. I would pack up all my crap and throw away all the stuff that people probably wouldn't want, label them, put as many as I could in the car and then lie on the bed and wait.
I wouldn't go sky diving. Ignoring the inpracticality of it, I have to say that, even if I knew I was going to die (and probably especially because I knew that I was going to die) I would find the whole thing terrifying and I don't enjoy being terrified. That means bungee jumping is out, too. I might go putput golfing or eat some candy, but as putput golfing is miles away and the candy here isn't much to talk about either, that would kind of be a disappointment, too. A day isn't THAT long after all.
I guess the point is that this is a stupid analogy. If you really want to live your life to the fullest then you should not THINK at all.
Comment! (6) | Recommend!
Friday. 3.7.08 11:40 pm
So I've been gone since last semester. I almost wonder if everyone forgot who I was! Lol. I don't think that they did, though (they didn't ask me what my name was). We watched a couple of interesting anime. Dennou Coil, Ergo Proxy and then some thing that I couldn't catch the name of. The last one was interesting though. It was a mix of the Harin Chronicles and Stillborn... if I've told you about those... they are stories of mine in progress. The plot of the anime is that there is this separate world where there are these people with wings and halos and they can't leave this particular village to go into the real world. They also are born out of these cacoons, just like the harnians. Harinians are a little bit more free to move between worlds though and their world encompasses a little more than a town.. but since most of that is subject to change, I'll leave you there on my plot.
It is nice to get back to watching anime. With all my nights being taken up by classes, it has been a little hard to get out to the meetings, but now, I think I might be able to manage it. :)
For tonight... I think I'm going to just take the rest of the night off. Work! Wait till tommorow! Ah, look! It works!
Comment! (0) | Recommend!
Wednesday. 2.27.08 11:47 am
Cricket Player
by ~
rockslide
on
deviant
ART
For a project in Computer Graphics!
Comment! (3) | Recommend!
Friday. 2.22.08 6:12 pm
So... I worry too much. It is kind of this curse that had been passed down to me through evil wood spirits that eventually want to steal my soul and sell it on the black market for peanuts? Yeah, you know the kind. I should list it on Facebook- Hobbies and Interests: knitting, creative writing, and worrying excessively. I am getting better. If I keep rationalizing and breathing, I'm sure I'll be fine, but since it is such a big thing, I thought it might be worth sharing.
The things that I worry about most are: 1. Offending people 2. Avoiding Hell 3. Politics and 4. School policy.
What kind of things do you worry about?
Comment! (3) | Recommend!
Wednesday. 2.20.08 4:55 pm
Today is my 21st birthday! Yeah!
Well, since today is a Wednesday and I knew that I wasn't going to go bar hopping or anything, I decided that I would just have an honorary shot of Jameson Whiskey for the occasion. It kind of... was about a third of a shot... in a very small glass... and I didn't exactly... shoot it... but there is a reason to all this.
You see whiskey is a really amazing thing. It's kind of like cotton candy and cheap church wine all mixed up into one except... transcendent. You can really understand why they call it the "water of life" in Galic. When you first sniff it, it has that dampened smell, that rich warmth to it that is akin to warm whole grain bread. You raise the glass to your mouth and you let the room tempurature liquid hit your tounge. It doesn't actually taste like anything. In fact, it feel as though it has evaporated before it even hit your tongue and then... like the back kick of a Dr. Pepper, it hits you. Your mouth starts to feel warm and fuzzy, the way it does when the dentist's novacaine finally starts moving through your jaw except, insted of killing all of your nerves, it just burst into a small flame, a breath of life that lingers in the hallow of your mouth as it balloons in its short life, breathing through your nostrils like fire. Then you smile... and you say, "That was cool."
Whiskey... is an experience, not a drink. To slosh it down like some kind of two-buck-chuck would be blasphemy to its very name and would only leave you startled and snorting, trying to figure out where all your saliva went... no... I didn't shoot it... but I did enjoy it.
Happy Birthday to me!
Comment! (1) | Recommend!