JUST WITHDRAWED THE $25 DOLLARS I GOT FROM REVOLUTION MONEY EXCHANGE[PROOF HERE] JOIN TODAY
Thursday. 5.15.08 10:24 am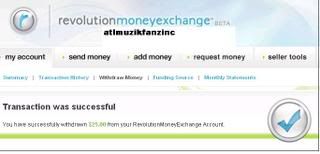 TODAY IS YOUR LAST DAY TO SIGN UP AND GET $25 DOLLARS, ACT NOW.
Comment! (0) | Recommend!
MAY 15,2008:IS THE LAST DAY TO GET $25 DOLLARS FROM REVOLUTION MONEY EXCHANGE SO JOIN NOW
Wednesday. 5.14.08 8:55 pm
JOIN REVOLUTION MONEY EXCHANGE AND RECEIVE $25 DOLLARS JUST FOR JOINING[GIFT EXPIRES MAY 15,2008] SO JOIN NOW
Wednesday. 5.14.08 4:21 am
Hello people,
I just found out about this new site thats something like paypal, that's giving out $25 dollars to all who join their website. This is definitely more than what obopay paid for people to join, so take advantage of this now because it ends on May 15, 2008.
Comment! (0) | Recommend! | Categories: revmoneyexchange [t], 25 dollars [t], free [t], join [t]
SHAWTY LO RESPONDS TO T.I.'S DISS ON DJ KAY SLAY RADIO SHOW [LISTEN HERE]
Monday. 5.12.08 8:51 pm
VIDEO:THREE-SIX MAFIA:I'D RATHER
Saturday. 5.10.08 2:55 am
Friday. 5.9.08 3:04 am