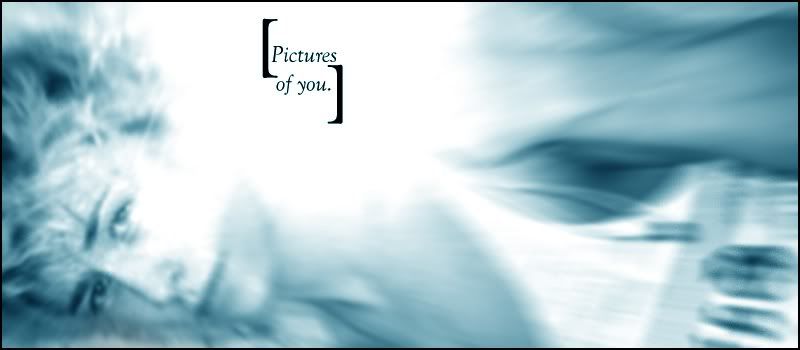 Spring Semester 2010:

* Teaching: Fundamentals of Microbiology - MW 12:00-2:40p
Medical Microbiology - TR 2:00-3:15p
Colloquium in Cell and Molecular Biology - R 3:30-4:30p
Thesis Research - Identification of T Cell Subsets and Immune Response in Colon Cancer Using Immunofluorescence - FOREVER AND EVER

Or rather, entries from the old journal, as it were...

-

An open letter to the College.

(August 27, 2006)

-

Untitled.

(July 16, 2006)

-

Haunted (Part One)

(May 29, 2006)

-

Are we growing up, or just going down?

(May 3, 2006)

-

I had a dream...

(March 19, 2006)

-

...

(March 14, 2006)

-

Enjoy it while it lasts.

(September 12, 2005)

-

Scene: 3:27 AM.

(September 3, 2005)

-

Untitled.

(July 26, 2005)

Psst... if you're looking for the academic writings I used to have here, head to my Reading Room.

Since June 2006...

- A Heartbreaking Work of Staggering Genius by Dave Eggers
- High Fidelity by Nick Hornby
- Travesties by Tom Stoppard
- The Way of the Shaman by Michael Harner
- The Tao of Pooh by Benjamin Hoff
- Nervous Conditions by Tsitsi Dangarembga
- The History Boys by Alan Bennett
- The Dark Child by Camara Laye
- Movie-Made America by Robert Sklar
- Diary by Chuck Palahniuk
- Rant: An Oral Biography of Buster Casey by Chuck Palahniuk
- Galapagos by Kurt Vonnegut
- The Dead Emcee Scrolls by Saul Williams [61.3%]
- Atonement by Ian McEwan
- Junk Science: An Overdue Indictment of Government, Industry, and Faith Groups that Twist Science for Their Own Gain by Dan Agin, Ph.D. [64.4%]
- So Yesterday by Scott Westerfield
- Lucky Wander Boy by D.B. Weiss
- The Things They Carried by Tim O'Brien
- Doctor Who: The Key to Time: A Year-by-Year Record by Peter Haining
- Why Buffy Matters: The Art of Buffy the Vampire Slayer by Rhonda Wilcox
- When You Are Engulfed in Flames by David Sedaris
- The Road by Cormac McCarthy
- 1984 by George Orwell [18.8%]
- Nick and Norah's Infinite Playlist by Rachel Cohn and David Levithan
- Intuition by Allegra Goodman
- V for Vendetta by Alan Moore and David Lloyd (Yes, I realize it's a graphic novel but it still fucking counts!)

Headache. Slight fever. Forging ahead with grad school essays. [BONUS MATERIAL]

Tuesday, January 29, 2008 @ 2:27 pm

Those are the answers to the question, "What are three reasons why Ranor is not going to work today?"

Alright, so I could probably go into work with the headache and light fever. And maybe, just maybe, when I tell my PI why I'm not coming into work today, I'll maybe perhaps just exaggerate a teeny-tiny bit. Maybe.

But I

really

want to get these apps done and sent before the full blown sickness appears and renders me an incoherent, babbling idiot. (More so than I am usually.)

BONUS MATERIAL!

(a.k.a. actual content)

Three things I hate about pairs of people:

1) Mother/daughter pairs that look and act the same.

2) Couples who dress similarly (on accident or on purpose).

3) Identical twins dressed in identical clothing. That's just mean.

Three things that creep me out about human/dog relationships:

1) Baby talk.

2) Letting the dog lick your mouth. Fucking, EW.

3) Dressing the dog up in anything other than a collar.

Three things that I take into consideration when choosing a seat in a cafeteria or library:

1) Can anyone stare directly at my back or the back of my head?

2) Do I have a view of most of (or all of) the room?

3) What are the chances of unwanted awkward social interactions with other patrons?

Three things that bother me about teenage girls at Starbucks:

1) Can I have a triple white chocolate double hazelnut half-caf non-fat nipple twister with three pumps of SHUT THE FUCK UP?

2) Five words: loud, whiny, high-pitched voices.

3) I don't need to relive my high school experience vicariously through the stories you tell, thank you very much.

Alright, I lied to you. That wasn't actual content. That was me killing more time. My apologies.

Comment! (4) | Recommend!

My mother is a bad influence.

Sunday, January 27, 2008 @ 11:14 pm

She just convinced me to call in sick from work tomorrow because she does not want to be at home alone with my

disrespectful bitchface cuntbrain

cousin. (The story behind that is an epic best saved for a day when I feel like elevating my own blood pressure for no good reason.)

Not that calling in sick is at all a big deal to my PI anyway. He told me that he doesn't care when I work as long as I put in the hours I need to get the job done. I guess that could either be a blessing or a curse: on the one hand, I have the potential to get paid for more hours than I actually worked; on the other hand, if there comes a week when I have to work a buttload of hours over the limit, I don't get paid overtime.

Whatever. I'm probably about--oh, 40%?--done with my personal statements for grad school. I'm going to work on it tonight until my eyes shrivel up from dessication, then again tomorrow when I wake up wondering why my eyes are all red and bloodshot...

Comment! (2) | Recommend!

Sunday, January 27, 2008 @ 5:51 pm

There's something about shopping that's supposed to elevate your mood, but it doesn't work for me anymore. I spent 3 hours at the mall with my family and I was not inspired to buy anything at all. I think it's because of my newer, more realistic, arguably more mature outlook on life that says that I need to use the money I would have used for buying new clothes for other, more important things. And those things are what's really getting me down in the first place.

Oh, shopping. In a way, I miss the days when blowing a whole lot of cash on stuff I don't

really

need made me happy. It was a much simpler time when I didn't have to worry so much about where the money was going. Unfortunately, those days are over.

At least, until after graduate school when I whore myself out to a biotech firm or pharmaceutical company and make six figures....

Comment! (3) | Recommend!

One-eyed Willy can't wink.

Saturday, January 26, 2008 @ 8:09 am

Friday, January 25, 2008 @ 8:22 am

I'm at work a bit early so I'm just sitting in my office, wasting the time. I really don't want to be here today, but I am contractually obligated to be. However, my PI is out at a conference, so really, no one will know (or care) if I decide to play hooky today. It just seems like too dreary a day to do anything but lie in bed for hours on end, waiting for the sun to arrive.

Which is a bit more optimistic than it seems one should be on a day like this, I admit. Lately it's been cold and wet, but today we're adding "windy" to the mix, and the result is an altogether unpleasant experience. Usually, rainy days make me happy--a bit like that Garbage song from the 90's--but I prefer the warmer, nurturing rains from the south. The northern rain is cold, uncaring. It is certainly not bothered when it sends a gust to whip your face with numbing BB pellets of chilly water. Where the southern rain caresses you like a lover, the northern rain slaps you like a pimp does to his ho.

The weather report said it will be cold like this all weekend long. And while that would put a damper (ha, ha) on any sort of weekend plans, it does provide perfect grad school statement of purpose-writing atmosphere, so I will use my disinclination to go anywhere or do anything to my advantage.

I suppose sufficient time has passed. The more I think about NOT being here, the closer I get to making that thought a reality. As a compromise between my head and my heart, I will work as quickly as possible to get out of here early (so that I might have a nap before physics lab).

So here we go...

Comment! (2) | Recommend!

Another good news/bad news type of thing. Because in physics, it's all relative.

Thursday, January 24, 2008 @ 2:44 pm

The bad news is that out of the 24 people in the class, 9 people outright failed the midterm, and there were only 3 people who got A's, which in the case of this midterm, would be having 75-85/100 points. (It follows that the highest grade in the class on the midterm was a paltry 85/100.)

The good news is that I got an 84.5/100, which means I got one of those 3 A's.

Suck it, physics!

Comment! (4) | Recommend!

Good OR bad news, depending on how you look at it.

Wednesday, January 23, 2008 @ 8:17 pm

As an Open University student at SJSU, I can only enroll in class if there is space available after every other matriculated student waiting to add has done so. When I checked the enrollment stats this morning, it said that 55/60 spaces had been filled during pre-registration for continuing students. Unfortunately, when I arrived at the Microbial Physiology class today, there were about 13 students who wanted to add the course, most of whom were officially matriculated at the university.

Needless to say, this bummed me out a little. But the more I thought about it, the more it seemed like I'd be fine either way. If I can enroll in the class, it will probably be an easy upper-division "A" (or at very least, "B"-ish) which can only help my GPA. If I am denied the chance to enroll, it isn't the end of the world: it's not like I

need

the class for any reason other than padding my GPA, and, on the upside, I wouldn't have to fork over $420.00 + whatever the book costs (I'm guessing somewhere around $100.00) to take the class. I'd also have more time to work at the tutorial center as well, so that's even more money for me.

The only possible downside to not getting into the class would be that I already listed it as one of my future courses on all the grad school apps I sent out so far. I guess it isn't

too

bad if I put that down and they look at my transcript and--oops!--turned out I never took that class. Then again, I'm not a graduate admissions officer so I don't know how they think. For all I know, when they see that, they'll think I'm not committed enough to carry out my plans to completion, and that would be a point against me in determining my worthiness for graduate school...

I don't know. Either way, I suppose I'll just have to make it work.

Comment! (1) | Recommend!

The Good, the Bad, and the Ugly, Vol. 1.

Tuesday, January 22, 2008 @ 6:42 pm

THE GOOD:

- I didn't fail the physics test. I actually think I did pretty well in terms of conceptually understanding the problems, and I think my solutions are correct in as much as they represent the correct steps taken to solve the problem (but may not necessarily have come out with the correct answer due to my rusty math skills). I figure as long as I get above a 70% (which is the lower boundary for a "B"--if that's any indication as to how crazy hard this class is supposed to be for those of us not naturally mathematically- or physically-inclined) then I'll be happy.

THE BAD:

- Most of my favorite tennis players (well, the American ones) are dropping like flies in the Australian Open.

THE UGLY:

- If I hear one more person say that they "LOVE that song" (

Apologize

), it will not be pretty. (It's reminiscent of mediocre late-90's/early-2000's R&B, and is marginal at best.)

Comment! (5) | Recommend!