Sunday. 3.1.09 4:49 am
Currently my blog is pissing me off, i still didn't manage to
get all the images back loading. So i guess i will just have to contiune with my
new shoot and blog, and hack abt the old ones. lol Visit my Deviantart for works.
Im so not gonna fucking pay photobucket 3.59 every month. Fuck photobucket.
I need a new hosting site for my pictures.
I admired the courages you have to stand up for yourself
and handle things maturely, doing what is good for you and not
wasting time procrastinating that relationship that is eating you up
everyday. You will definitely overcome these gloomy days and be
jubilant again to pursue your passion and dream in the near future.
Comment! (1) | Recommend!
Friday. 2.27.09 10:27 am





Today's shoot is so dope.
I'll upload asap.

Comment! (0) | Recommend!
Sunday. 2.22.09 7:43 am

Im feeling very thankful.
Thanks for the cake, greetings and celebration.


I love this damn cake so much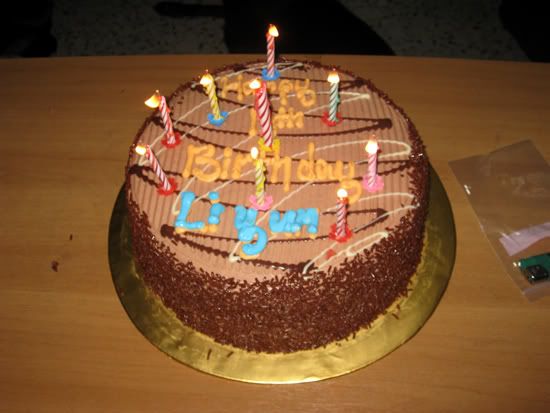 Dopest
pardon my thick hair, im gonna cut tml. lol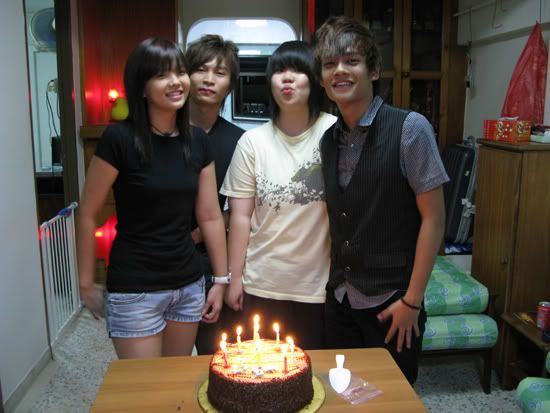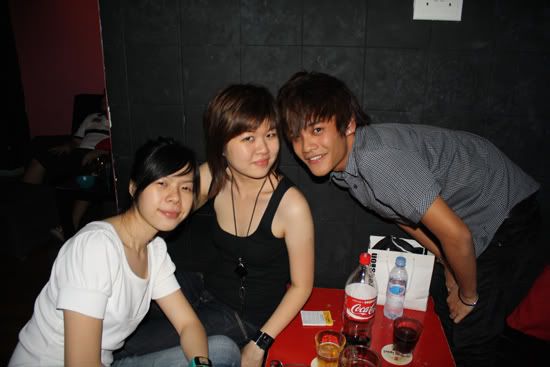 okay bernard u look like yu wen le. lol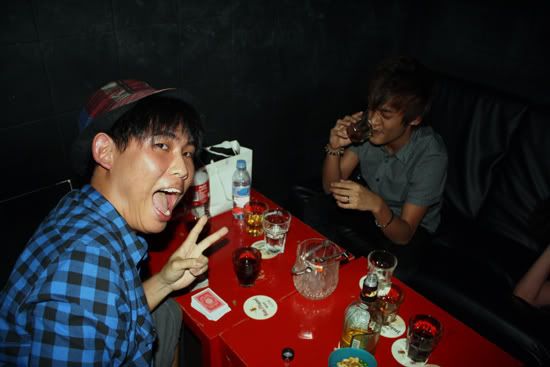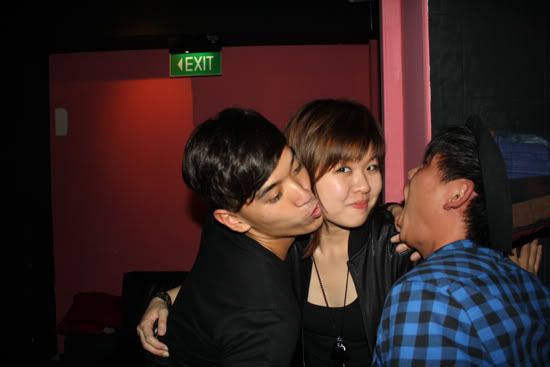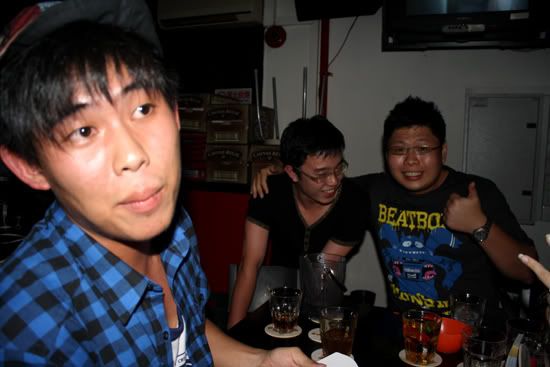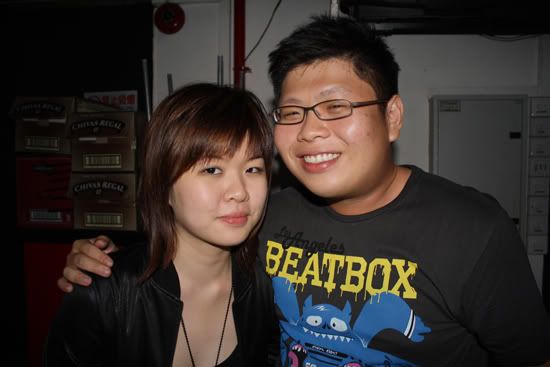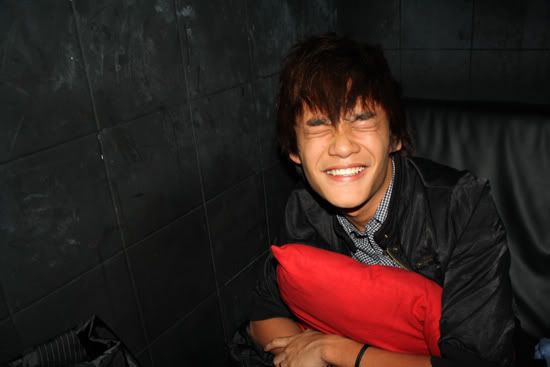 What a card, by derrick, liting and kenneth.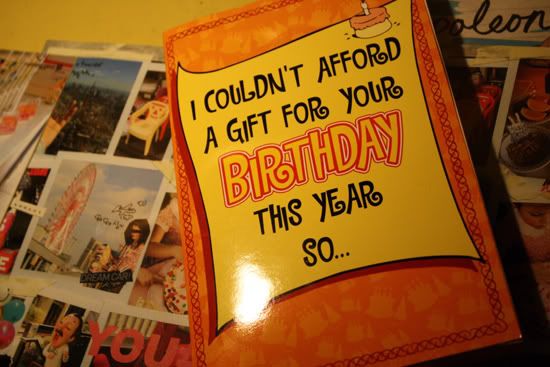 Nice one.
Thanks Wilson and Dewei! I will finish up. lol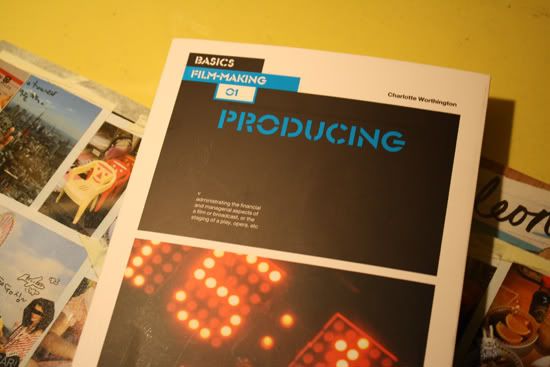 Thanks derrick, liting and kenneth for the cake and the big ang pao.


Comment! (2) | Recommend!
Saturday. 2.21.09 12:03 am

The only thing that kept me excited abt turning 18 is definitely
gonna be the M18 rated movies. Apparently im still behaving like a fat baby
and im reluctant to change, i hate growing up. There's so much things to worry
once you growed up. I sounds like an ass. Anyways, no mood for birthday
at all, because im so not over bangkok yet. lol

My friends are the dopest, please remain as my dopest
friends for the many years ahead, this is not an request.. its a must. lol


Hope to see flure live.





Comment! (3) | Recommend!
Physically back from thai but not mentally.
Monday. 2.16.09 11:10 am
I never had enough of thai and i guess i never will.
The feeling of returning back was dreadful, i was never a happy
person since returning. Im emotionally attached to the people there
and the country itself. I witness how people look and yearn for every
single working opportunity to survive in the chaotic city but nevertheless
i felt a great warmth around the people's lively spirit and attitude.
I didn't just had fun in my trip, but i learnt as well.
The times i had spent with my friends and sisters will remain
as photographic memories in my mind.
especially! the moment
when we squeezes 7 big asses into the taxi, and sharing the front single
sit with sam which is a mission impossible but we strive though the 15mins ride
purely classic, dopest experience throughout the trip and my entire life.
I'm so missing thailand.
I need to be mentally back to reality tomorrow and get my ass off
to work and plan for the next thai trip, i will be back to where im belong. lol
Big thanks to sam, dewei, weiling and sisters for looking out for me
ALL PICTURES AND CAPTIONS WRITTEN ARE FROM PAM'S BLOG.
I STOLE EVERY SINGLE PICTURES FROM HER BLOG. IM A PIRATE.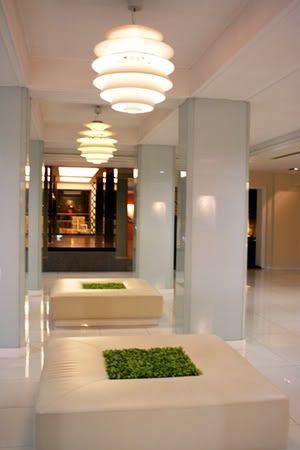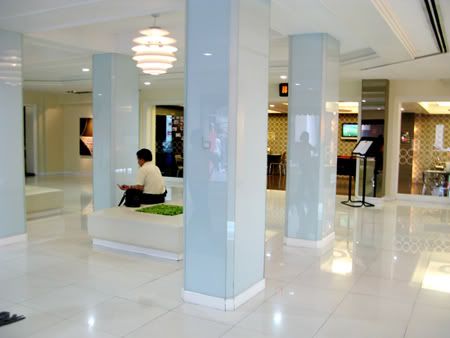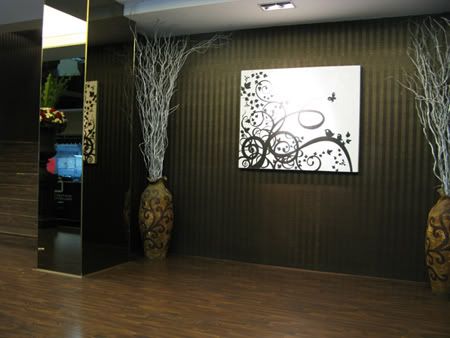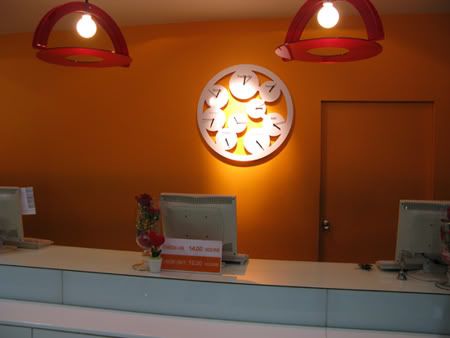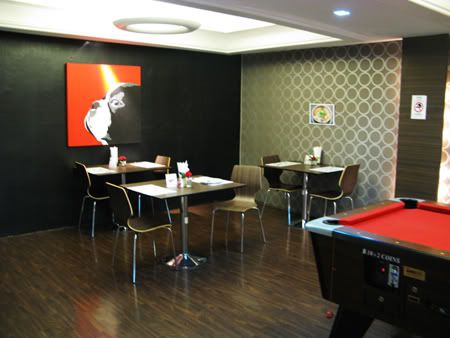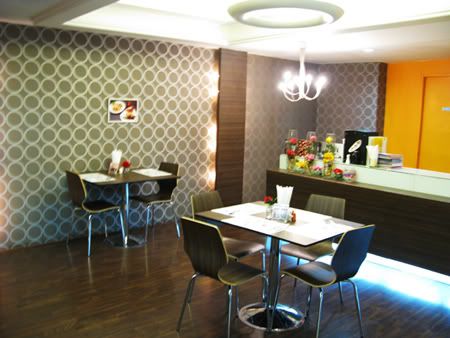 the arty wallpaper at the hotel mini business center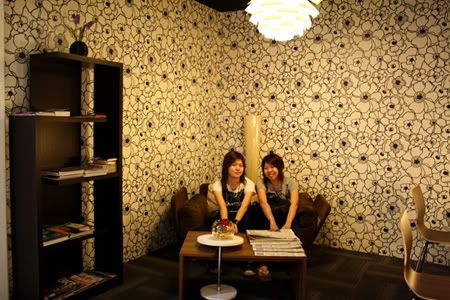 corridor to our room. kidda dark.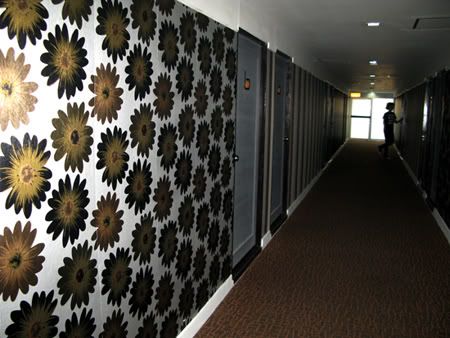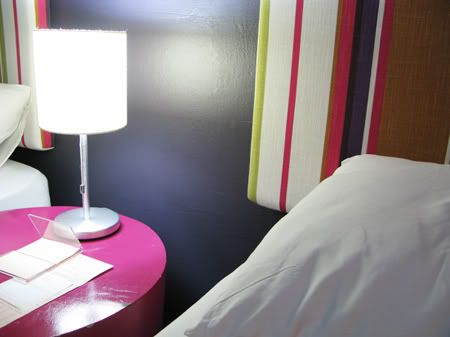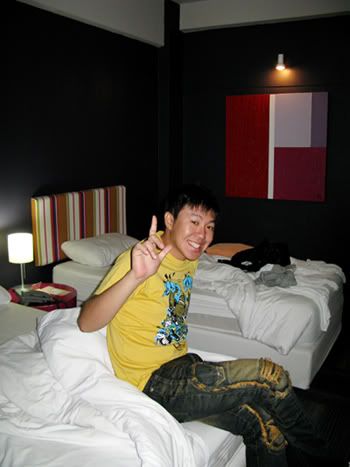 sam found a bird nest below the aircon duct



head to Condoms and Cabbages at Sukhumvit for dinner. Took us 1 hour to reach
for a supposed 20mins trip. start of the killer Bangkok Jam experience.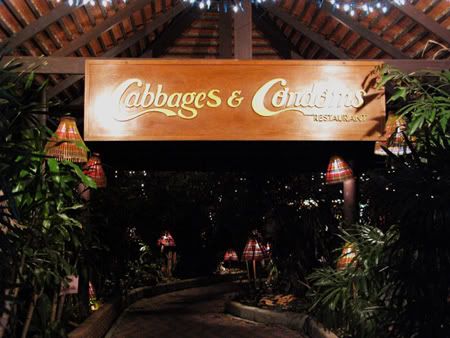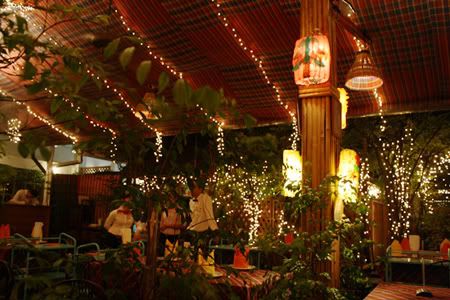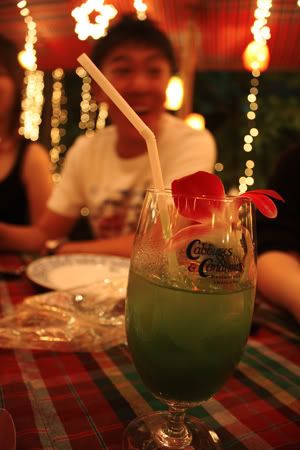 weiling and dw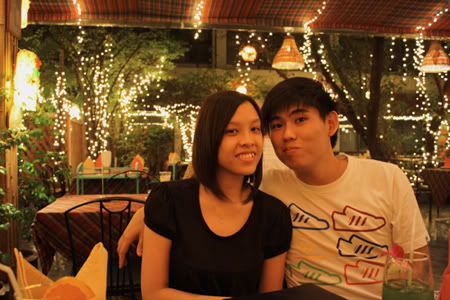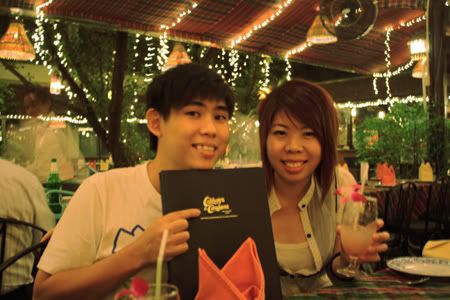 cant wait liao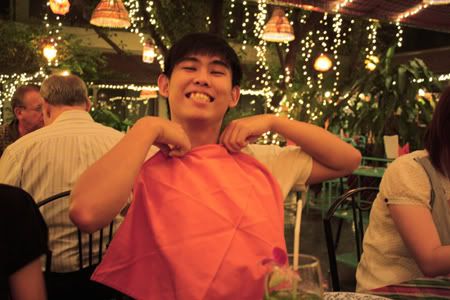 starter - minced meat with corn in rice cracker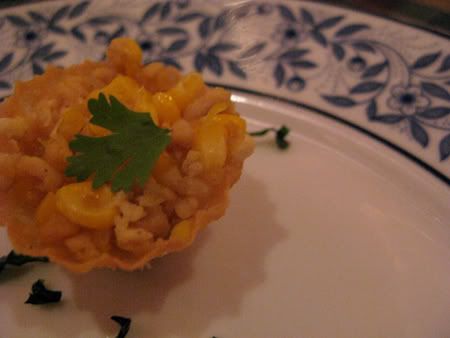 roast duck salad. something new.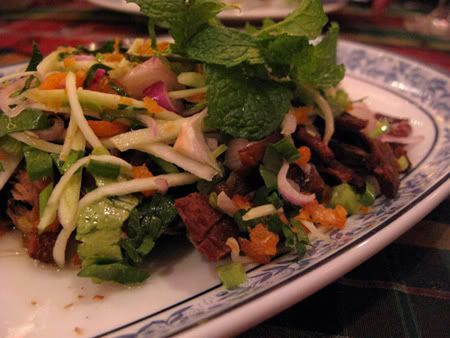 green curry chicken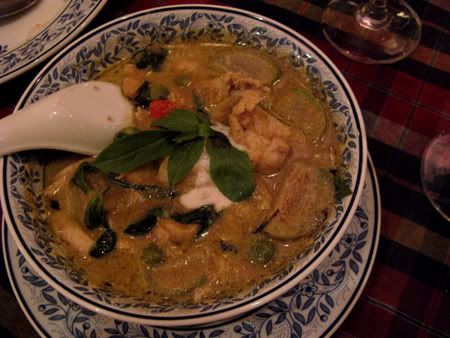 deep fried cotton fish. the sauce is seals the deal. totally tasty



my fav dish. tomato sauce cashew nuts and prawns cooked in coconut



one colorful condom for each person after meal



yeah benny will need that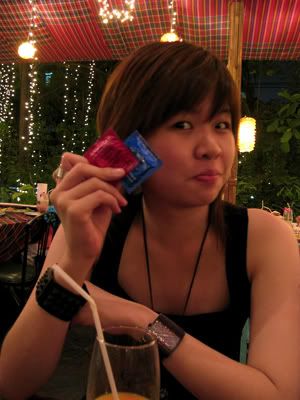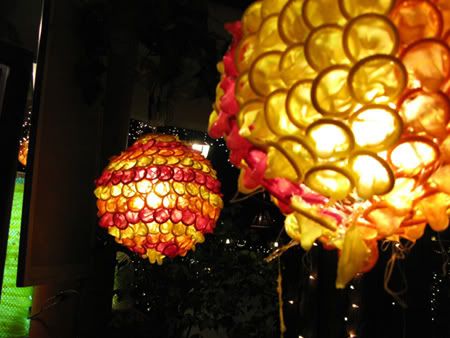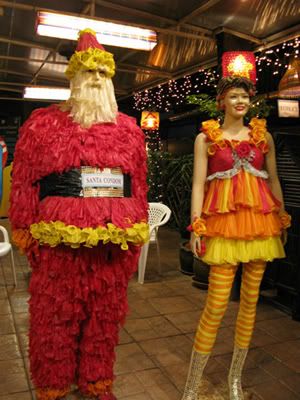 yut : is that how you look when you're inside your father!? lol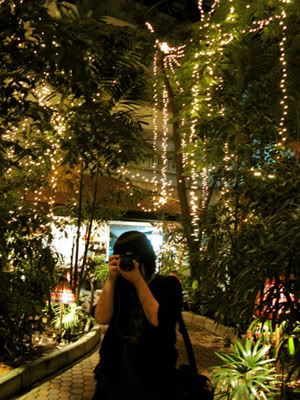 proceed down to Suan Lum night market nearby for shopping.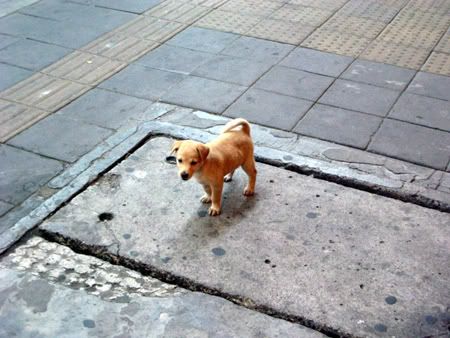 Day 2 - Soaking in the Culture and Blaring Sun
Wat Po::Wat Bowonniwetwihan::Wat Benchamabophit::Grand Palace::

Wat Po - Temple of the Reclining Buddha
i've mark it in my itinerary as a must go. i like the serene feel of a sleeping
Buddha, my fav temple so far.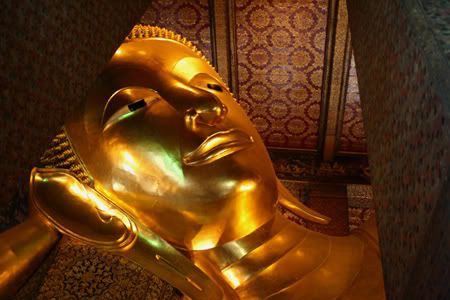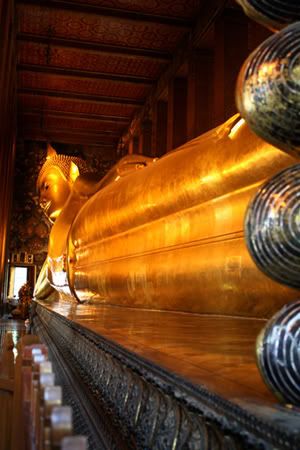 donations to help build the temple roof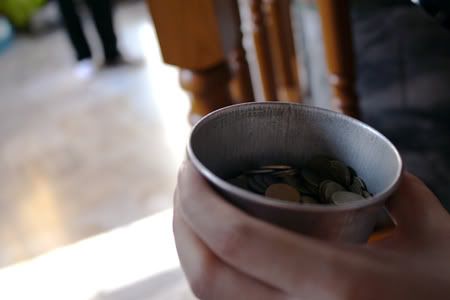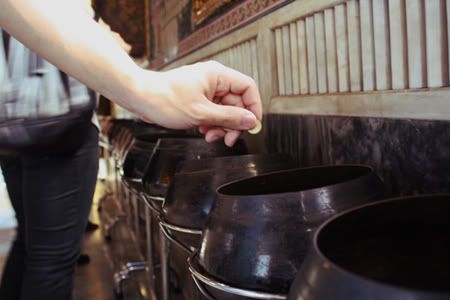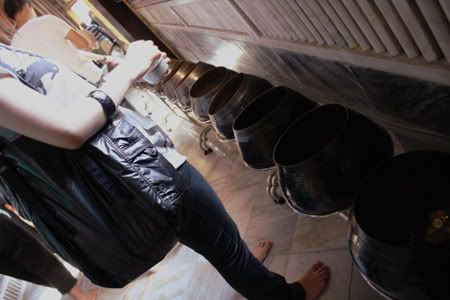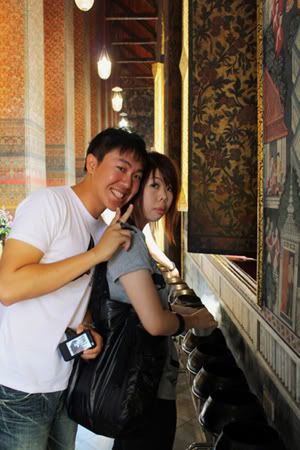 running out of coins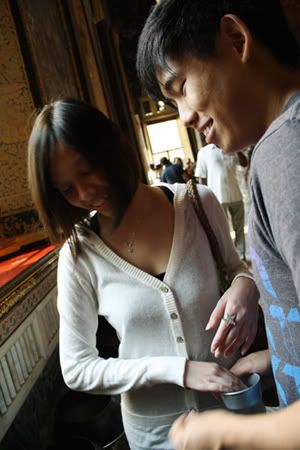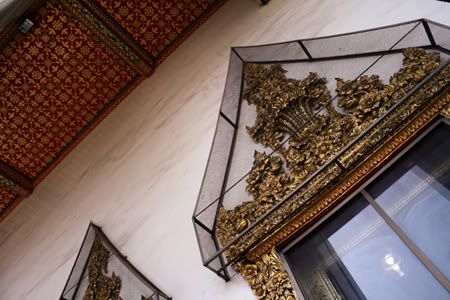 the jinxed couple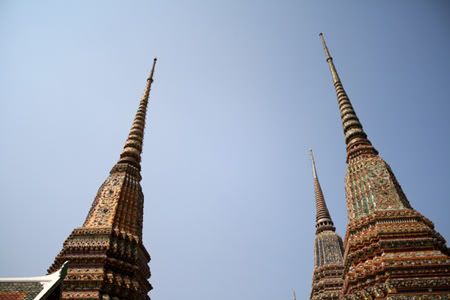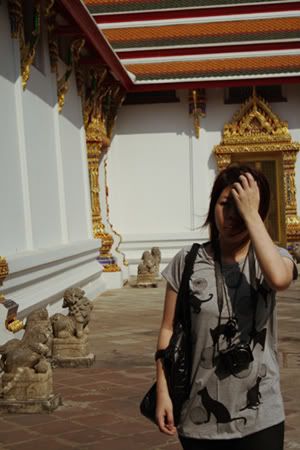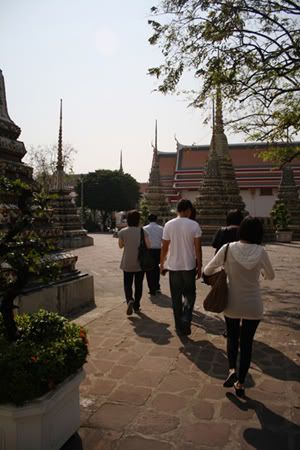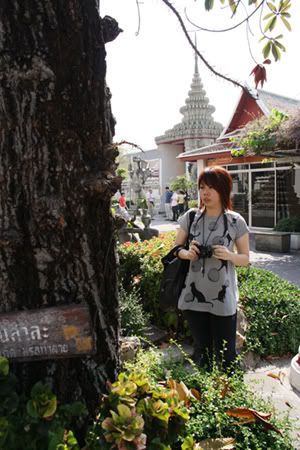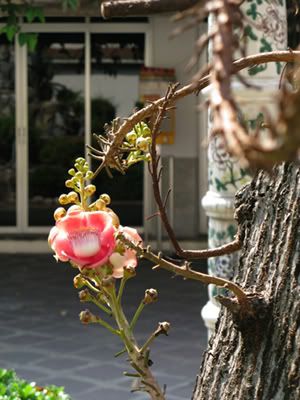 group pic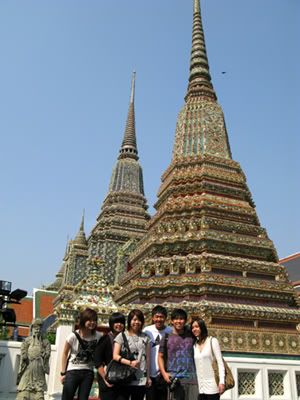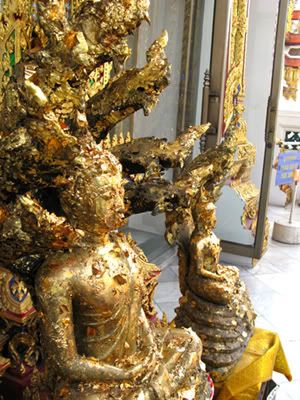 Wat Bowonniwetwihan
another breath-taking temple. btw we got a really good-natured guide who gives
off this peaceful aura, its only later that we learnt he was a monk for 16 years.
During the tour he tried his best explaining the history of the temples through his
thick accent, though i couldnt understand some of it but continue to give him my
full attention for the effort made.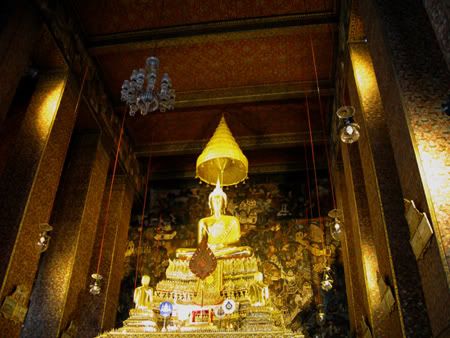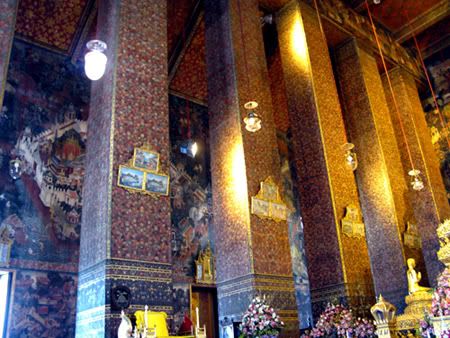 explained by our guide, its actually rude to sit with your feet facing the Buddha,
the correct way is to either kneel or sit cross leg.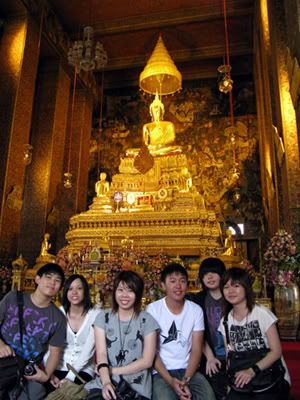 Thinking that we are able to ride down the river to our next destination, the
marble temple, we hop on to the long-tail boat (hang yao) and tour the west
banks of the Chao Phraya River only to be return back to the same pier where we
board. Typical language miscomm in foreign country but we did enjoy the tranquil
boat ride to the old river town.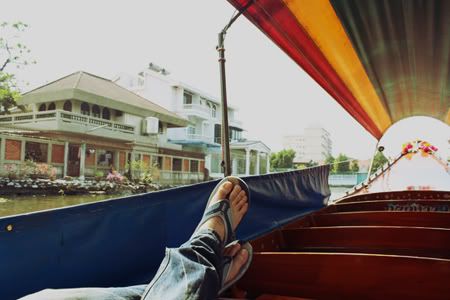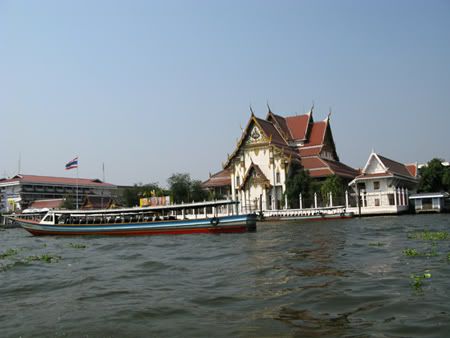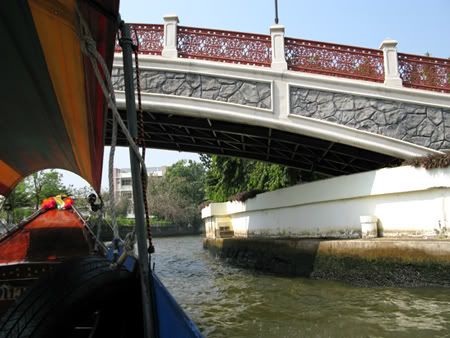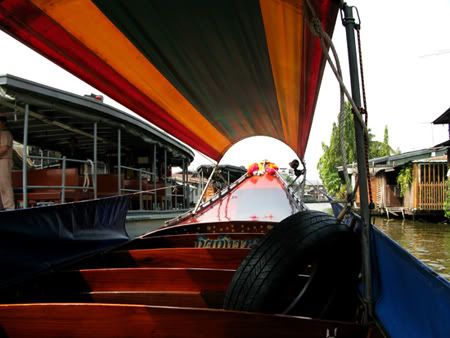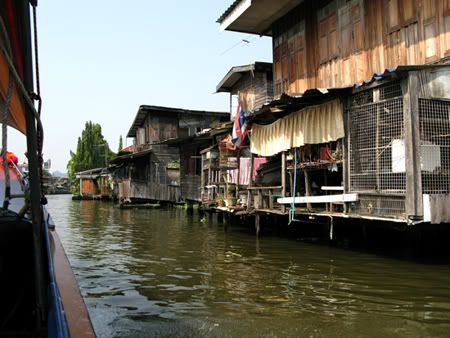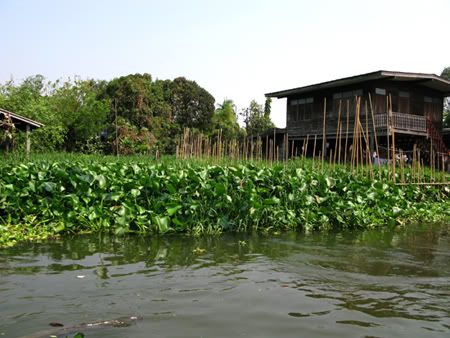 complimentary fish feeding session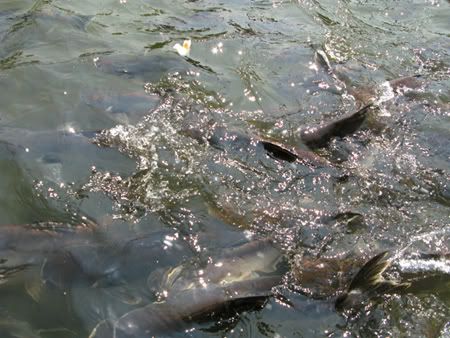 you really have a heart of stone is you don't buy from them. paddling under the
blaring sun and having to keep up with you boat while selling fans, hats, cold
drinks and souvenirs, a tad expensive but they totally deserve it.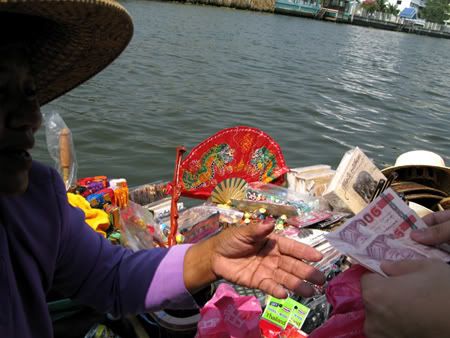 a friendly goodbye and free bananas for us all



sam's kopitiam slippers, cant bring myself to tell him it looks damn lok kok. glad he
doesnt read my blog.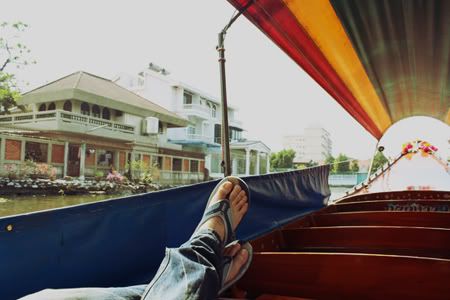 Taken at the Temple of Marble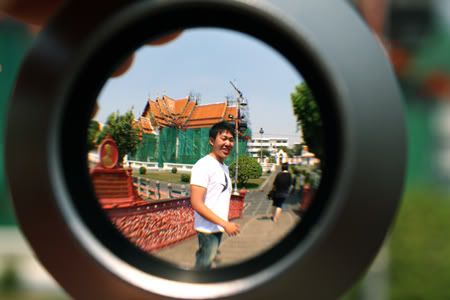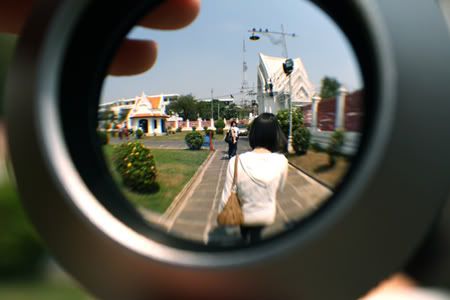 our mini bus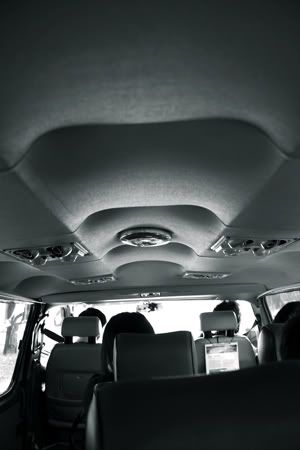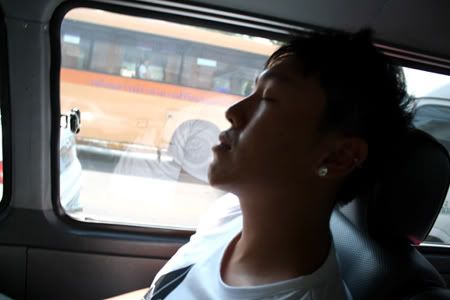 our guide says "if you never been to the Grand Palace you never been to Bangkok"
i thot its Chatukchat, now upon stepping into the place i know why. Totally
totally magnificent.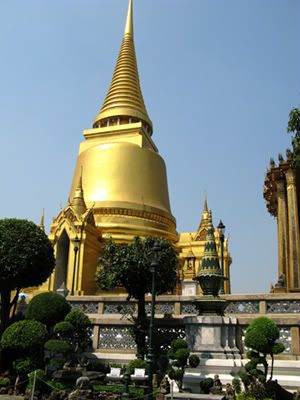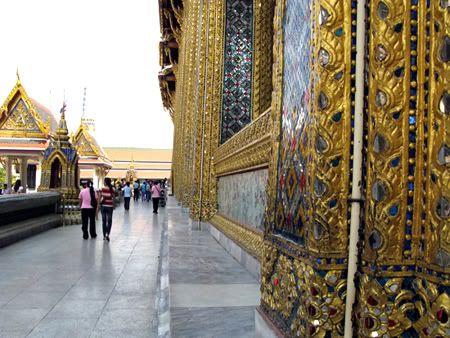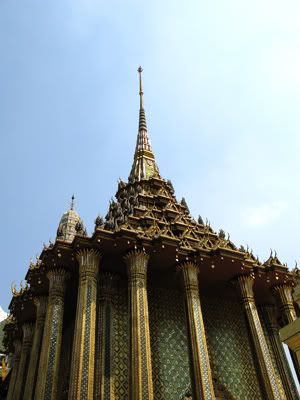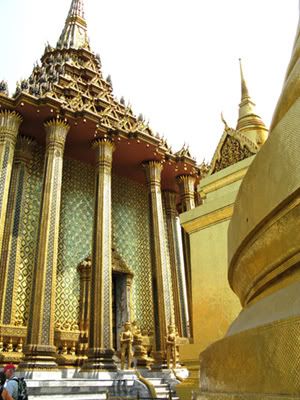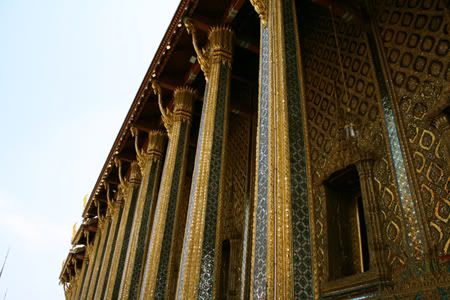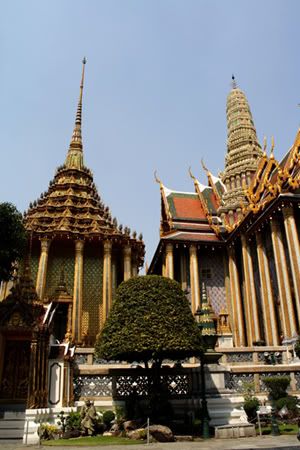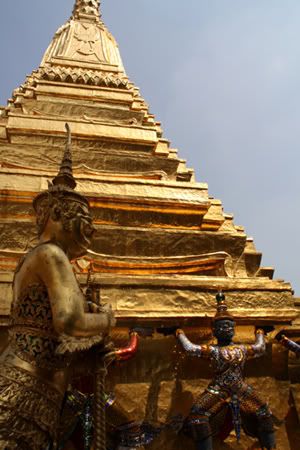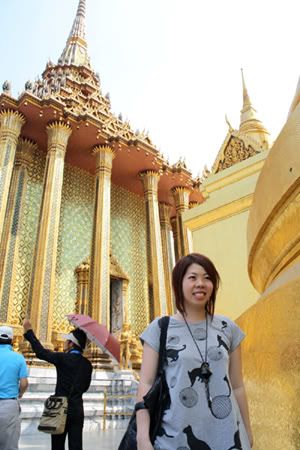 very strict clothing code. no tights, no showing of legs, or bare shoulder. Dw,
Weiling and Ying have to rent some sarongs and reggae looking tunics outside for
30baht.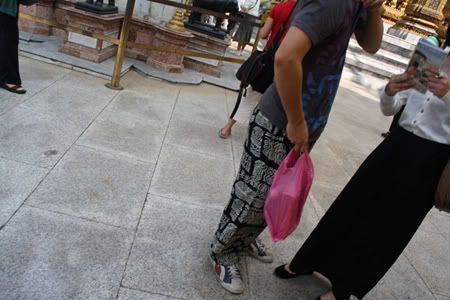 sam out of control in a holy land ,victim one - ying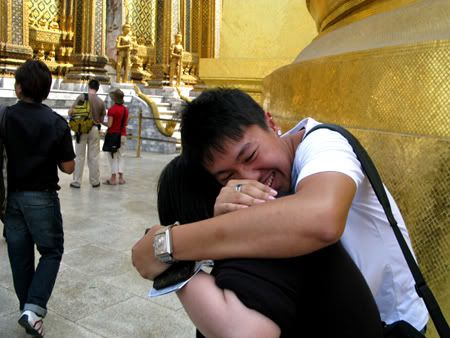 victim 2 - weiling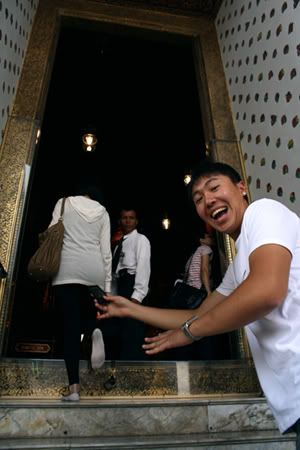 *lol just for jokes, its just camera angle tricks*

where their current king used to stay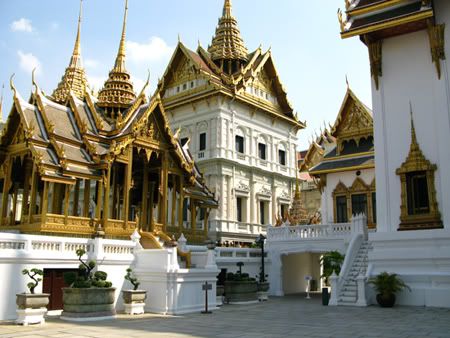 wall murals all painted by hand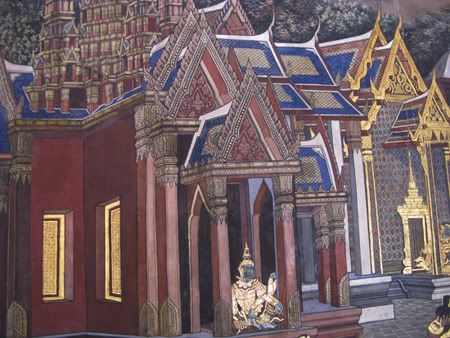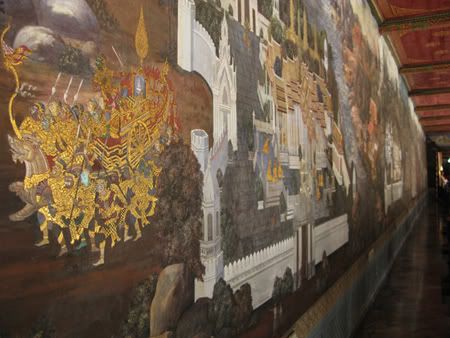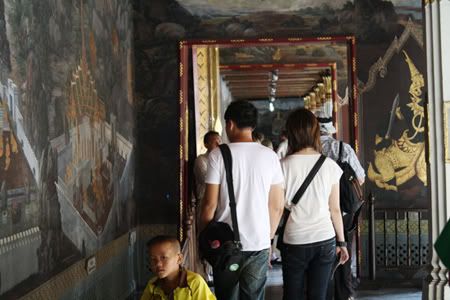 dw inspired by his tunic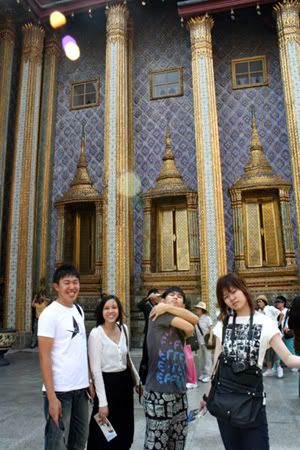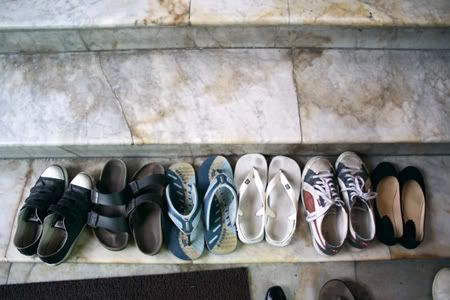 End of the day trip, was back to the hotel to freshen up then head to red light
district for live thai girl show and pingpongs (what a extreme change)

Went to Siam Square to meet up Yut and some shopping. A popular hang out place
among the young thais, reminds me of Taipei Ximenting, movie Love of Siam was
shoot there. its more hip and has alot of designer boutiques, of course much
much more pricey.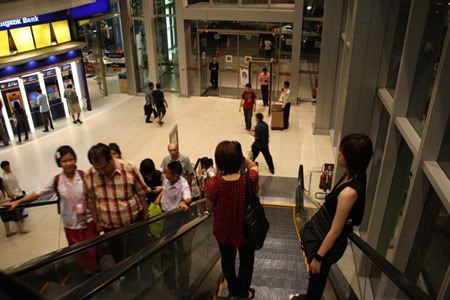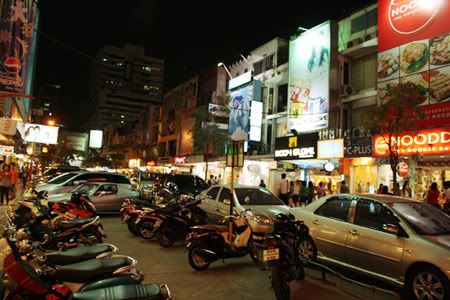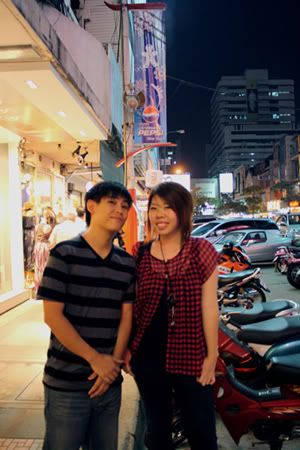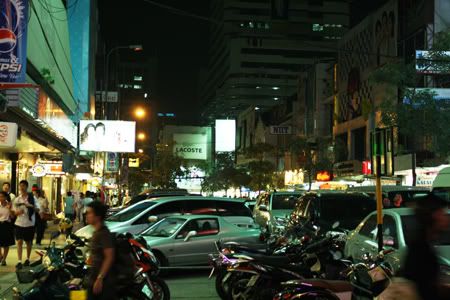 we didnt really go for thai girl show or explore the red light district. only sam went
with a relactant yut. the others end up having deserts and drinks in a decent cafe
at patong.

Day 3 Chatukchat and Khao San

nothing much to say. its all about shopping there. however one interesting fact.
the wong sisters consumed the following during the 4 hours there:
thai ice milk tea x 1
thai orange juice x 1
water melon juice x 1
ice mineral water x 2
yakult x 1
Chrysanthemum tea x 2
fresh coconut x 2
sugarcane juice x 1
total : 11

and no toilet visit cuz we prolly sweat all the liquid out.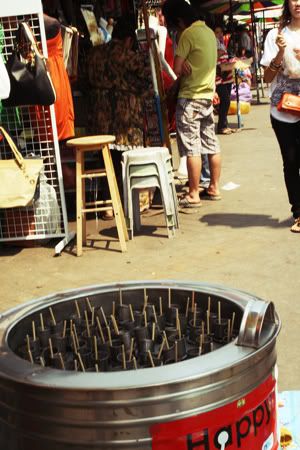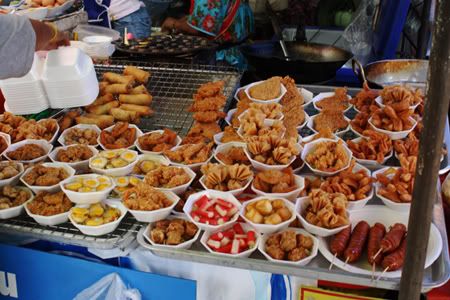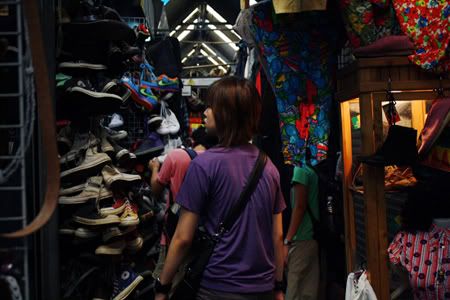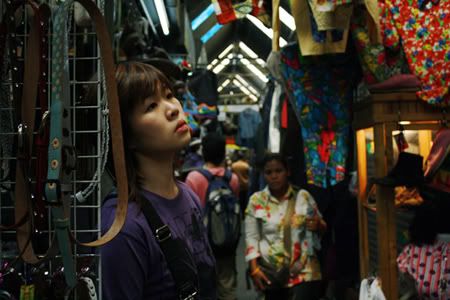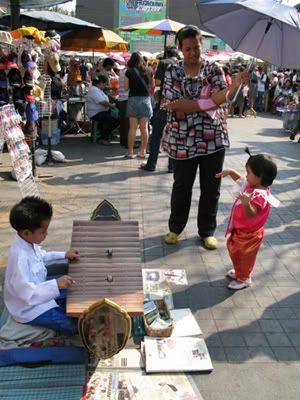 road side bookstall. so bookish cool!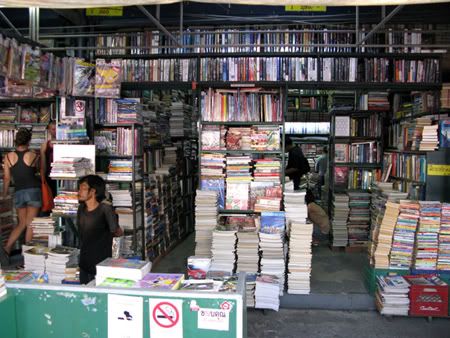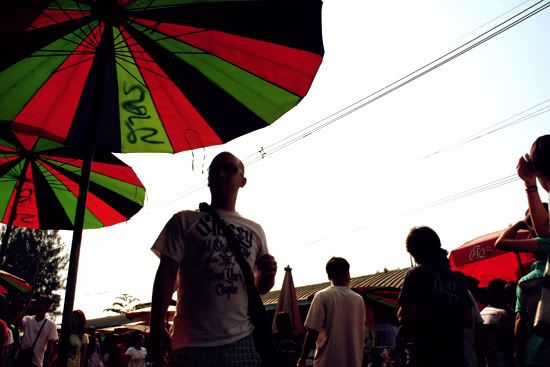 so good we had two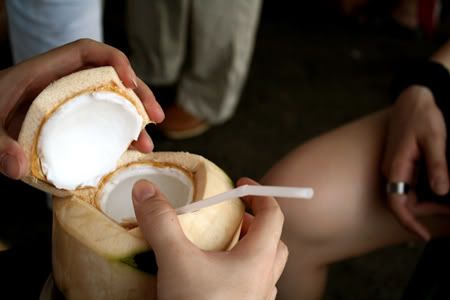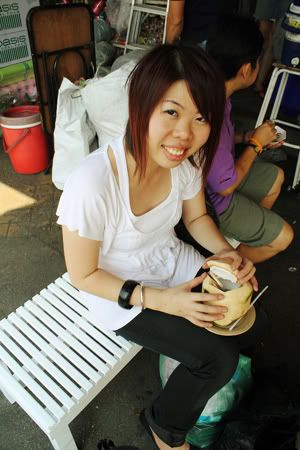 ying discovered this man by the streets selling handmade keychains and
bookmarks. you prolly find him just another street vendor, but on closer look the
stuffs he did was really amazing. just with a color plastic tube and a long wire he
worked his way to turn them into a complicated bicycle and hes selling it like
10baht! i only regret it not buying more from him. the dirty worn out hands left
the deepest impression on me.



anyone whose going bkk, if u manage to see him pls pls pls get something from
him.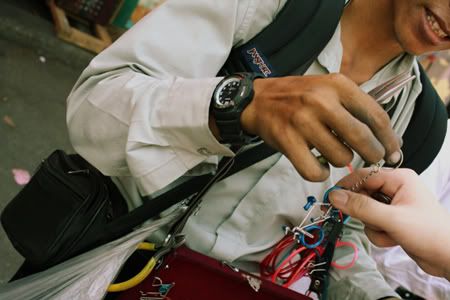 streets of bangkok, taken outside our hotel by ying.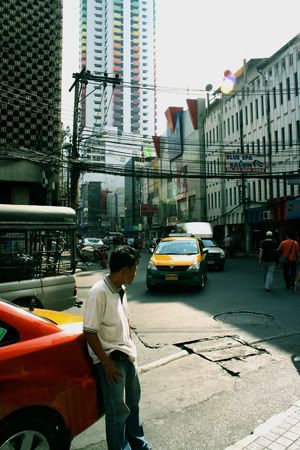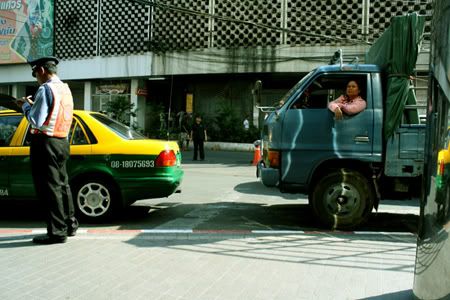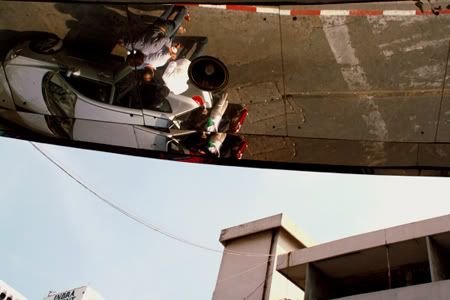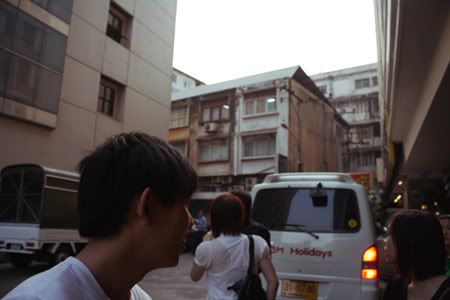 After Dinner we went over to Central World to meet up with Sam and Yut and
visited the two famous shrines outside, Trimurti Shrine and Ganesha Shrine. Its
was valentine's day and Trimurti Shrine, known as the god of love was filled with
people with offering of red roses. Unknown to us until Yut explained to us, we
went to offer offerings at Ganesha Shrine known as the god of good fortune and
success...oh well...its money over love for us. lol.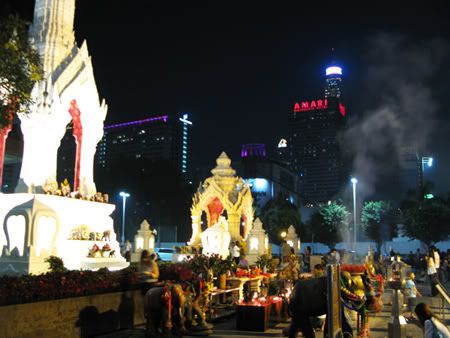 the infamous cab ride to Khao San, packing 7 adults excluding the taxi driver. Two
heavy weight in front : ying and sam, me shan dw weiling and yut at the back.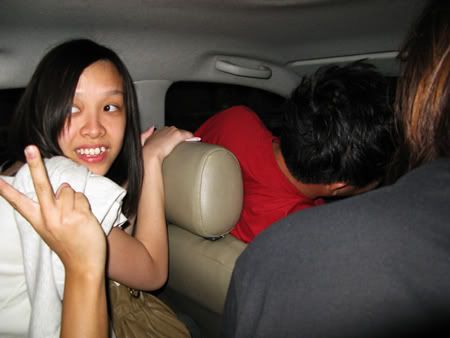 my fav part of the trip. Night life at Khao San.
known as the backpackers ghetto, its not so touristy as patong, very hippie and
laid back. live nirvana music blasting at some of the pubs, locals and non-locals laid
their mats on the floor selling handmade stuffs leather wallets to fake ids, strings
of phat thai hawkers selling the famous fried noodles along the road. the place is
so just so alive.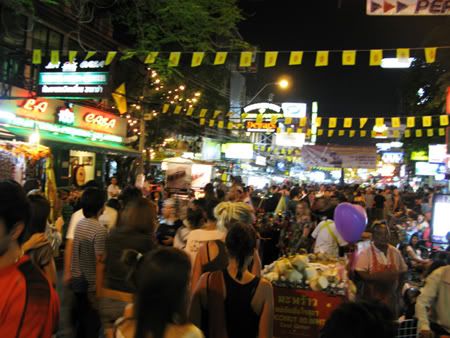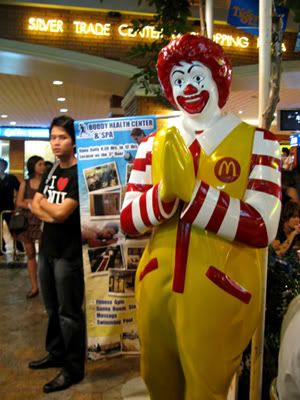 u just need a mini bar to run a business there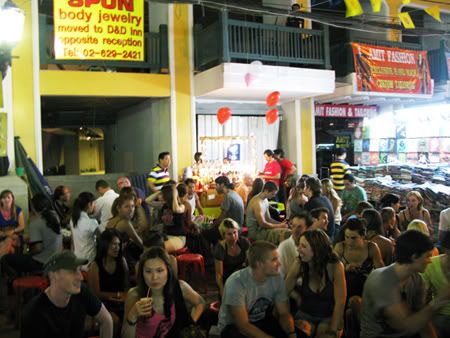 we settled at little cosy place call Hippie De Bar behind the back alley and start
making ourselves high with malibu and kamikaze shots

and lastly the trip wouldnt be this fun without you guys. i love dw and sam! and
yes wat the fuck! *big big hugs*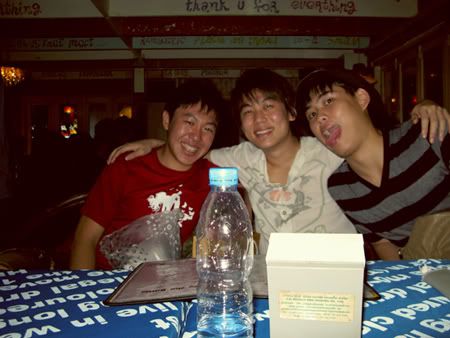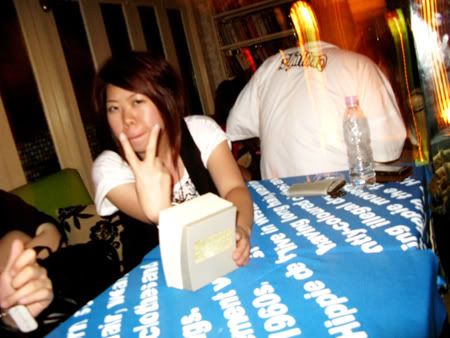 Comment! (3) | Recommend!
Sunday. 2.8.09 12:33 pm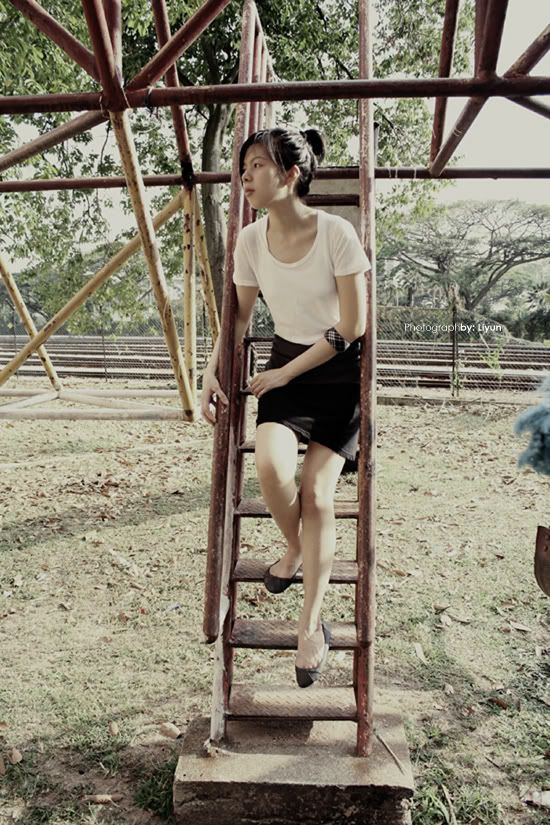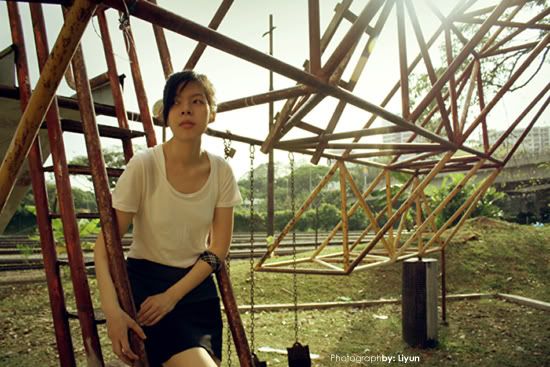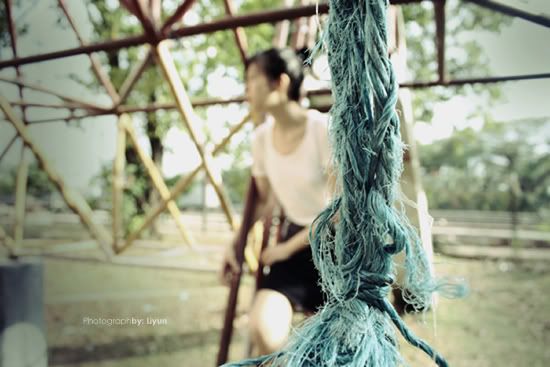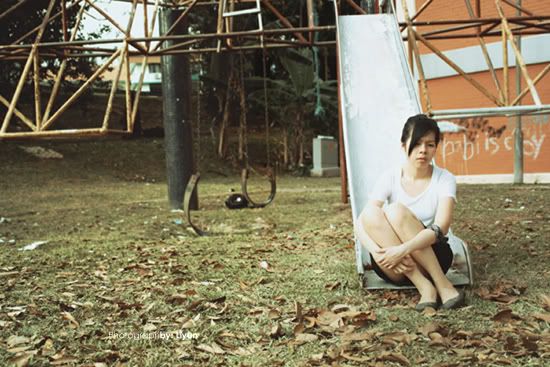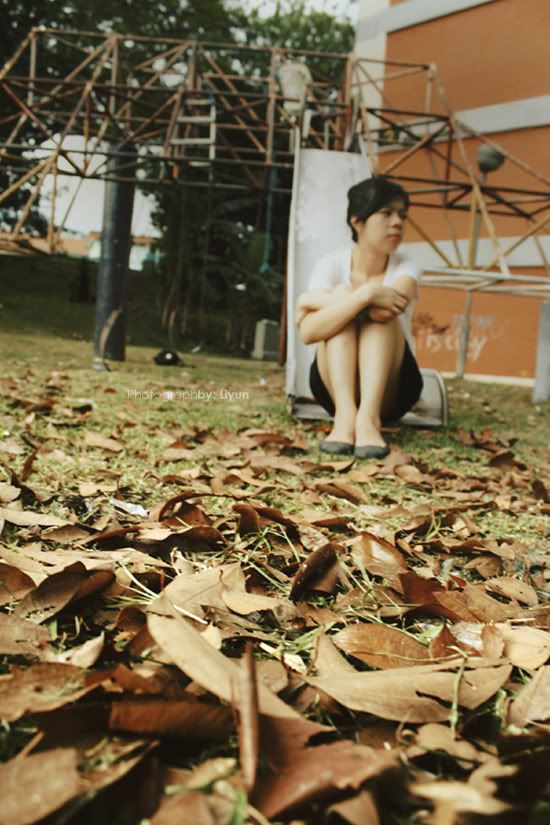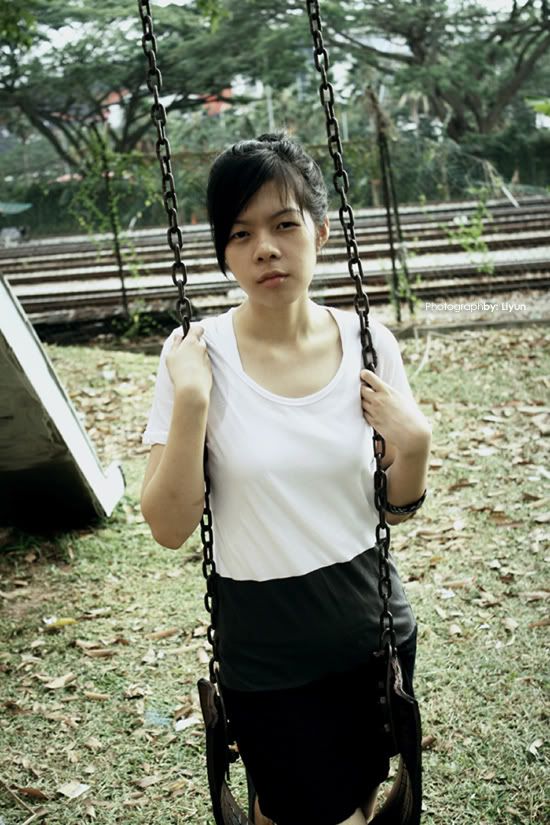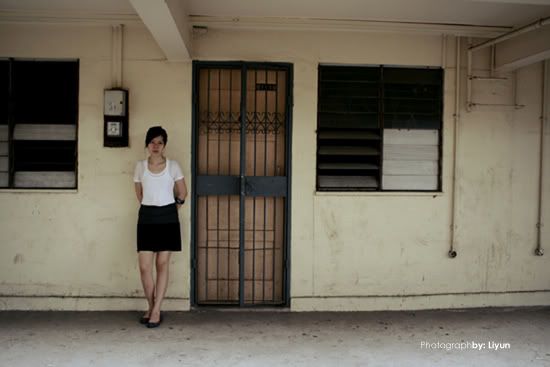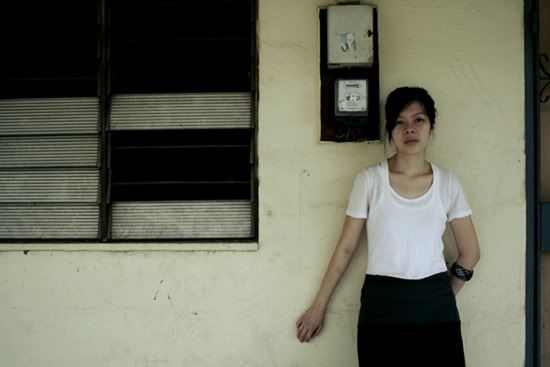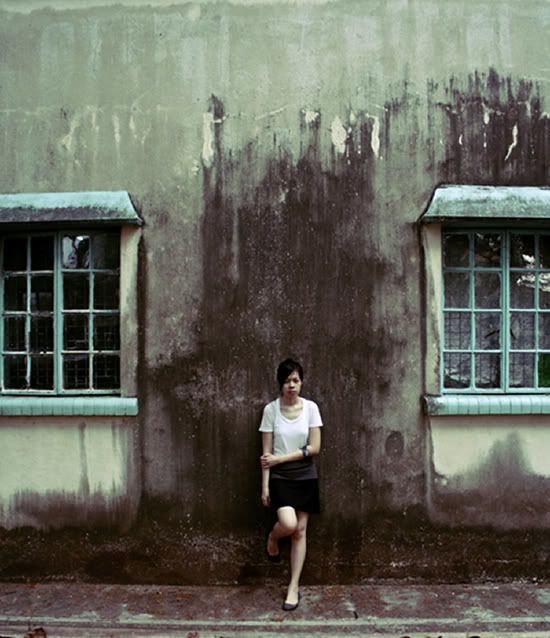 Comment! (4) | Recommend!
Saturday. 2.7.09 12:05 pm
I went for a coke outdoor shoot today, introduced both of my friends
to model as a background model, the main models is in m'sia. Guessed what,
they earned 600 bucks in 3 hours.. darnnnnn! But i got 50 dollars for doing
almost nothing, just standing and daze and learnt from the photographers.
You will be seeing the ad in public and bus stops as it was widely advertised.
Im gonna stick my nose boogers on derrick's face when i see the poster.
Their easy earned money as a background model for coke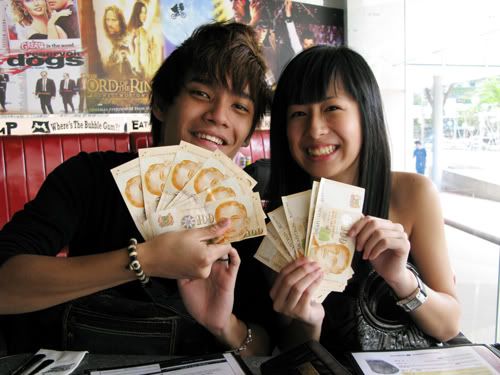 Of course its on them.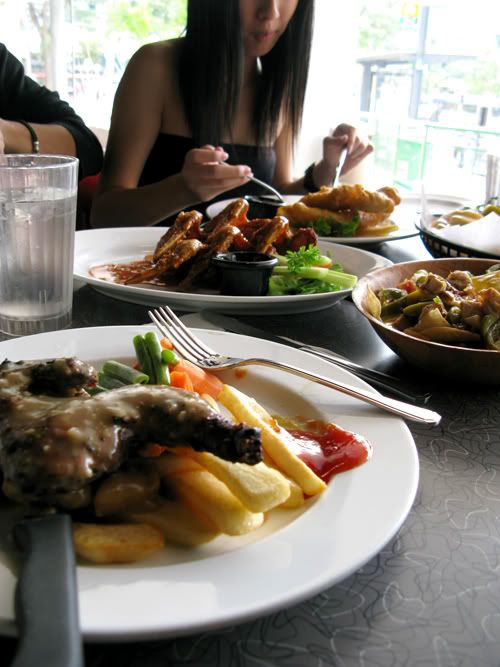 So happy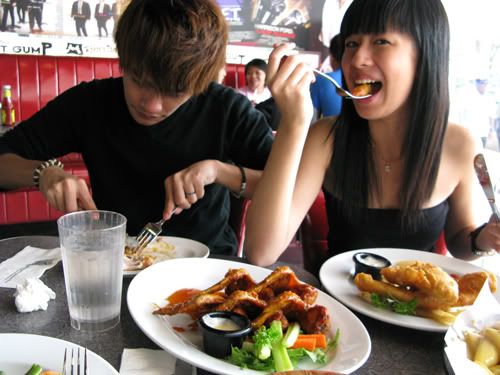 I went to esplanade for one of Huayi Feastival 2009 events
in::music by Lu Guang Zhong, a talented indie taiwanese musician.
Last year its Tizzy Bac, I hope tizzy bac will be back in sg again next year.
I missed out Design For Living stage drama because im broke, i heard its
really good damn i regretted, the staged drama in 2008 was AWESOMENESS.



I might be out for a shoot tomorrow, if im feeling good and not lazy.
Comment! (1) | Recommend!
Wednesday. 2.4.09 12:54 pm
Caught Milk finally after months of agog waiting.
Its way much better than Underworld even though its
largely focused on political issues. For people who
lives in the
cave
have no idea about the movie its a 2008 American biographical
film of Harvey Milk, directed by Gus Van Sant. one of my all time fav director
Taken from wikipedia

It is based on the life of the late American politician Harvey Milk,
a gay rights activist and the first openly gay man to be elected to public
office in California as a member of the San Francisco Board of Supervisors.
After finishing the movie, i now officially declared myself a
James Franco
fan. I noticed him and took a liking for
him after i found him having a little bit of resemblance of kurt cobain
in pineapple express not spider man okay. But after the movie Milk its
his acting that kept me much more keener toward his works in future.
Impressive performances from every single actor in the movie,
especially
Emile Hirsch
, im stunned by his performances because
of the huge contrast between his previous movie where he portray the
manliest man adventurer Christopher McCandless and the gayest gay
twink Cleve Jones in Milk, he is indeed an great actor. Is it me or
what, i found him looking alot like Leonardo DiCaprio. lol
My sis is currently obessed with
Diego Luna
the guy that acted as Harvey milk's mentally unbalanced
boyfriend. There's too much favourable actors in the movie.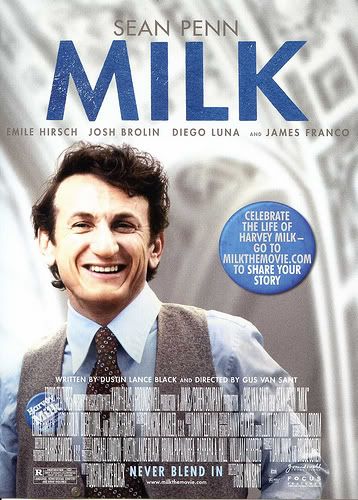 Comment! (7) | Recommend!