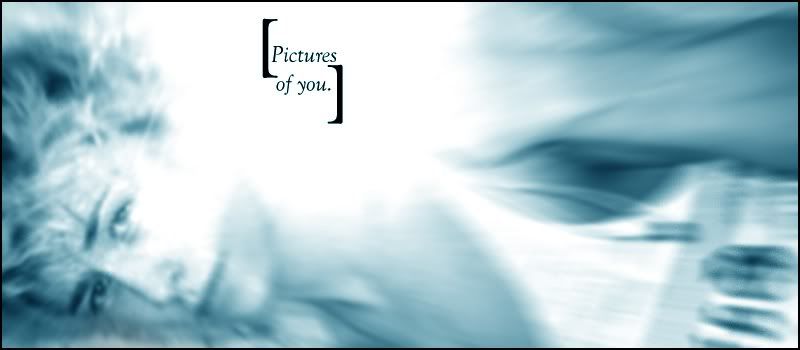 Spring Semester 2010:

* Teaching: Fundamentals of Microbiology - MW 12:00-2:40p
Medical Microbiology - TR 2:00-3:15p
Colloquium in Cell and Molecular Biology - R 3:30-4:30p
Thesis Research - Identification of T Cell Subsets and Immune Response in Colon Cancer Using Immunofluorescence - FOREVER AND EVER

Or rather, entries from the old journal, as it were...

-

An open letter to the College.

(August 27, 2006)

-

Untitled.

(July 16, 2006)

-

Haunted (Part One)

(May 29, 2006)

-

Are we growing up, or just going down?

(May 3, 2006)

-

I had a dream...

(March 19, 2006)

-

...

(March 14, 2006)

-

Enjoy it while it lasts.

(September 12, 2005)

-

Scene: 3:27 AM.

(September 3, 2005)

-

Untitled.

(July 26, 2005)

Psst... if you're looking for the academic writings I used to have here, head to my Reading Room.

Since June 2006...

- A Heartbreaking Work of Staggering Genius by Dave Eggers
- High Fidelity by Nick Hornby
- Travesties by Tom Stoppard
- The Way of the Shaman by Michael Harner
- The Tao of Pooh by Benjamin Hoff
- Nervous Conditions by Tsitsi Dangarembga
- The History Boys by Alan Bennett
- The Dark Child by Camara Laye
- Movie-Made America by Robert Sklar
- Diary by Chuck Palahniuk
- Rant: An Oral Biography of Buster Casey by Chuck Palahniuk
- Galapagos by Kurt Vonnegut
- The Dead Emcee Scrolls by Saul Williams [61.3%]
- Atonement by Ian McEwan
- Junk Science: An Overdue Indictment of Government, Industry, and Faith Groups that Twist Science for Their Own Gain by Dan Agin, Ph.D. [64.4%]
- So Yesterday by Scott Westerfield
- Lucky Wander Boy by D.B. Weiss
- The Things They Carried by Tim O'Brien
- Doctor Who: The Key to Time: A Year-by-Year Record by Peter Haining
- Why Buffy Matters: The Art of Buffy the Vampire Slayer by Rhonda Wilcox
- When You Are Engulfed in Flames by David Sedaris
- The Road by Cormac McCarthy
- 1984 by George Orwell [18.8%]
- Nick and Norah's Infinite Playlist by Rachel Cohn and David Levithan
- Intuition by Allegra Goodman
- V for Vendetta by Alan Moore and David Lloyd (Yes, I realize it's a graphic novel but it still fucking counts!)

The Case of the Missing Tupperware.

Monday, February 11, 2007 @ 10:17 pm

I had another entry from today that I believe warrants just as much attention as this one. Scroll down or click here to access it.

Several months ago, we bought a 20-piece set of tupperware from Costco. Fast forward to present and about 18 of those pieces are MISSING.

There are three possible explanations for this, listed in order of increasing probability:

1) Aliens have abducted our tupperware, mistaking the remains of their contents as the ruling species of this planet. In their estimation, the tupperware beings have evolved into amorphous creatures requiring a plastic container to keep form. Humans are a slave race designed to transport these creatures from one place to another, and to help them achieve a purely nonphysical existence by consuming their bodies whole (or, mostly whole) in a ritual typically observed during one of three times during the day.

2) My mother, in all of her germaphobic glory, has decided that those 18 pieces of tupperware were too far gone to be saved by soap and water alone. Lacking the industrial solvents to truly clean the tupperware--and afraid of what supergerm may evolve from these tainted food containers--she made the executive decision to send them to the rubbish bin rather than wait for her hazardous chemical license application to be approved.

3)

Some ungrateful, dumb, possibly bipolar but definitely annoying bitch

My cousin is using those tupperware containers to store food in the mini-fridge in her room because she wants nothing to do with my family. When we're out during the day, she emerges from her room like a groundhog, takes a look at her shadow, and if she can see it beyond her own selfish desires, decides that it's time to cook while no one's around. She steals our tupperware to store whatever she cooks so she only has to reheat that food, allowing her to survive without leaving her room, save for the 15 minutes she comes out to take a shower twice daily (thanks a lot for wasting our water, bitch!) and the 2 minutes it takes to nuke some cold leftovers. I admit that 18 tupperware containers probably do not fit in her mini-fridge, but considering the normal state of her room, it's probably the case where half (if not more) of those containers have some sort of smelly, crusty, possibly moldy buildup in them and are lying somewhere on the floor in her room, covered by miscellaneous articles of clothing, magazines, plastic grocery bags, and dust bunnies the size of New York City sewer rats. See possibility #2 for hints as to what this may mean for my mother.

As for what this all means for me: I am having trouble finding a way to transport food with me to work. In the case that I can't do that, I am forced to either starve or spend money on some overpriced cafeteria food. Neither of those options are in any way appealing.

Comment! (4) | Recommend!

Monday, February 11, 2008 @ 7:39 pm

Andrew laughed at me as I fumbled through the song he had written on the piano.

"Try to keep an even pace."

Distracted by his voice, my right index finger slipped one whole step lower. "I'm trying, but you keep talking."

"Sorry, sorry... I'll be quiet now."

He managed to remain silent for about 30 seconds before correcting me. Again. "The second time around, end that sequence on a B-flat, not on A."

I stopped playing. "You know, I've only been playing this thing for a few months. Go easy on me."

"And you're doing very well, just..."

"...not?"

He smiled. I sighed.

"Just keep working on it. I was there once."

"Was this before or after you turned five?"

"After." He paused to rewind the videotape of memories in his head. "Closer to seven, really."

"NOT HELPING."



* * *

I decided to give my fingers a rest. Andrew propped himself against the wall, taking a sip from the bottle of Vitamin Water he clutched in his left hand. A little dribbled onto his light yellow shirt. "Fuck."

"You know," I said nonchalantly, "you're the reason I started playing the piano."

He was still fiddling with the wet spot on his shirt. "Really?"

"Yeah."

Silence. I spoke first. "I feel so dumb for having actually said that."

He looked me straight in the eye. "Why? We all do things because of other people. I mean, think about the song you're trying to play."

"You wrote it for her. Because of her."

He paused for a second to think. "There's a subtle distinction between the two that I'm sure I'm missing."

"I tend to miss that distinction, too."

* * *

Andrew sat at the piano, expertly fingering all the right keys at all the right times. He stopped in the middle of one of his sixteenth-note arpeggios.

"Do you have a Konstantine?"

I looked at him, and immediately he got the wrong idea: "Me?"

I cocked one of my eyebrows, which caused him to quickly add: "I'm flattered but you do know that I... don't swing that way."

I liked watching him squirm. "Well, maybe not yet

..."

He continued. "I'm

married

now, you know..."

"Oh, I know. But that never stopped me." I winked at him.

He looked uncomfortable, having been placed in this awkward position. I decided to be merciful and let the joke go. "I'm just kidding. I mean, you

are

probably one of my favorite people to look at--"

"Well," he said smugly, with an undertone of relief, "I will not argue with you there."

"--but seriously?"

"Seriously."

"Yeah. I guess I do have a Konstantine."

"I bet everybody does."



* * *

Andrew sat next to me at the piano and sang along with my admittedly labored playing:

You spin around me like a dream
We played out on this movie screen
And I said:
Did you know I missed you?
Did you know I missed you?
Did you know I missed you?
Did you know I missed you?
Did you know I missed you?
Did you know I missed you?
Did you know I missed you?
I miss you

I tripped over the transition. He paused while I tried to get back on track. After stumbling around for a few seconds, I gave up. Frustrated, I slammed my hands down on the piano; over the discordant notes, he patted me on the back to comfort me (in a purely platonic manner) and resumed singing:

And then you bring me home
And we got to sleep, but this time not alone
And I know
And you'll kiss me in your living room
I know
I know you miss me in your living room
'Cause these nights I think maybe that I miss you in my living room

But we don't have much room
I said, does anybody need that room?
Because we all need a little more room to live...

He stopped singing and looked at me, expecting me to finish the song.

And with the final two chords (which he played), I sang:

My Konstantine...

Comment! (3) | Recommend!

Sunday, February 10, 2008 @ 9:13 am

I just had one of the most bizarre dreams I've had in a while.

It's an epic, and so I don't think I want to type out the entire thing here, but during the course of the dream:

1) ...there was not one, not two, but THREE different competitions, one of which was actually a new reality show hosted by Tyra Banks. Those competitions?--a cooking contest, a robotics contest, and a talent/modeling/trivia reality show where a regular person is teamed up with a celebrity.

2) ...there were a gaggle of old friends, people I only obliquely knew in college, and celebrities--sometimes only wearing underwear (or less).

3) ...I attempted to learn to play golf, but that never panned out.

There's a lot more NSFW-type things that happened last night in my dream, but I think I'll let those go without much comment. How I managed to cram all of these things into one 7-hour period of sleep is beyond me.

On a more serious note...

Today is

his

birthday. I miss him dearly and I will never let my high school friends know exactly how much I miss him because they'll all think I'm crazy. And maybe I am. But you can't be

that

close and then all of a sudden have things disintegrate and NOT think about it several years later on occasions that are fraught with meaning. Or can you? Maybe you can, and maybe he's proved that. But I can't.

Because I'm probably crazy.

Oddly, he was in the dream last night. He played a minor role. My celebrity partner and I were walking down the street and we passed him. I think I noticeably tensed up and my partner was like, "You want me to kick that guy's ass?" Then I laughed.

An aside: I vaguely remember laughing out loud (in my sleep) while I was dreaming. Though, that may have been when there was a clip on TV on a show with home videos of little kids (hosted by Ashley Olsen of all people). In the clip, there was this beauty-pageant like competition (a fourth competition?) and there were three finalists. One of the little girls was asked a question--I'm not sure what it was--but she tried to say "...finish sewing the dress" but she ended up saying "...penis showing the dress."

Comment! (5) | Recommend!

Friday, February 8, 2008 @ 8:23 pm

Well, folks, you are looking at the future proud new owner of a home in the Philippines. Seriously. It's my mother's family's ancestral home, and as I understand it, it will be deeded to me sometime in the future, and they are expecting me to fix it up. I think it's my prize for being the smartest kid in my family (haha!) because I'm certainly not the oldest kid in my generation.

The house itself is the original Spanish colonial governor's house in the town that my mom grew up in. It's old, and therefore somewhat in a state of decay (as many things are in the Philippines), but I feel like my eye for architecture and design will be able to modernize the house while staying true to its historical roots.

Now I just need to find money for that...

Fortunately, everything's much cheaper over there so a dollar can go a long way.

When I get pictures of the place, I'll share.

Comment! (6) | Recommend!

Eigenvalue THIS, you asshole!

Friday, February 8, 2008 @ 10:48 am

Stupid data analysis, tracking three variables...

I should really learn some linear algebra at some point...

Comment! (2) | Recommend!

Thursday, February 7, 2008 @ 8:18 pm

For all the worrying I did after the physics exam, I still did better than 75% of the class. I wouldn't call my B- a success, but it sure isn't a failure.

I've noticed a trend throughout the last few years that should give me more pause for thought. Whenever I do really well on the first midterm of a class, I tend to do relatively badly on the following one. I think it's because I don't have the sense of urgency that I get when I bomb the first test and immediately go into oh-fuck mode. Basically, there's nothing lighting a fire under my ass to do better; I rest of my laurels and do nothing more.

Having identified this as a

recurring

problem, you'd think I would have found some way to mitigate it by now. You would be wrong. It persists to this day, but at the very least it doesn't seem to be getting any

worse.

It just never got any better.

What doesn't help the matter is the fact that there's nowhere to go but down when you start off really well, and there's plenty of opportunity to move up when you fuck things up in the beginning. I think changing this attitude is going to be the most difficult, yet most crucial, step in taking care of my problem once and for all.

Comment! (5) | Recommend!

Thursday, February 7, 2008 @ 8:40 am

Unfortunately, I'm the only one who can provide it.

Yesterday, my PI and I discussed the possibility of extending my internship another quarter, and possibly through the summer until I head off (knock on wood) to graduate school. I would get a modest pay raise and the certainty of saving up extra money through the summer (as opposed to

maybe

getting another job that doesn't require the use of too many brain cells, or, alternatively, finding a summer position in a lab that may or may not pay me for working in it) makes answering in the affirmative a fairly attractive option. However, it also severely limits the classes I can take next quarter, not to mention places a limit on my tutoring time, which is far more lucrative than the internship, and arguably just as advantageous to have on my CV if I ever want to teach at the college level in the future.

What I think would be perfect is if he would allow me to show up 10 hr/week to train another intern to take my place. That way, I can tie up some loose ends on the three projects I'm working on, I can help smooth the transition between me and my replacement, and it still frees up some time to devote more time to tutoring. That arrangement isn't exactly an entirely new proposition--my predecessor trained me 10 hr/week for an entire quarter last year, so there

is

some sort of precedent.

Argh. It's a lot to think about. Hopefully, he won't need an answer right away...

Comment! (1) | Recommend!

Just thought you should know...

Tuesday, February 5, 2008 @ 7:22 pm

...I'm playing "Smelly Cat" on the guitar and having the time of my life.

(It isn't hard, by the way. But I did just begin playing.)





Comment! (4) | Recommend!