Tuesday. 5.6.08 5:31 pm
I am packing now. Packing is a strange mix between the physical and spiritual actions. It is this time every year that I think, "I should really live a Zen life, get rid of everything." Then I look through my stuff and I fear I may miss them. Pens and pencils, paper, hairbrush, comb, face lotion, hand lotion, shampoo, conditioner and books... Oh dear I have too many books. That I could work on. I am addicted to BUYING books, to HAVING books. I can imagine that it will be nice someday, though. Someday, when I have a library that walls the entire room with my desk in the center, I will not have enough books to fill it!
I guess that is the truth behind it. If the things I had was measured by how much I carried on my back, then I should have nothing. If, on the other hand, my things were measured by mass alone, then I should have far more. So which am I? Probably, I will always be somewhere in between.
Comment! (3) | Recommend!
Thursday. 5.1.08 8:49 pm
I am so close. It's like waiting at the edge of a cliff, the sharp dip down below, the massive expanse of refreshing air and while at one time, you may have been frightened, thinking that this big chasm was something that would swallow you whole, you know something more now that you never knew before: you can fly.
In that moment, you can step away from the grim expectations of a majored existence and walk out freely and with confidence into the great unknown, knowing, in some odd way, what carries you, knowing that you are going to be fine, that you are going where you've always wanted to go: across.
You realize that you will not be able to make a home here among the winds and that their caustic force will lead you place never before imagine, but the power of that third dimension, the power to think of going up, that is the strength in it. It is about moving on, transcending the miserable existence of before, stuck on that unholy ledge, neither able to move forward or back and now, freed by tansfiguration of soul and spirit, you can, finally, move on.
This is why I am so excited about summer. This is why, despite the sleet pelting down outside of my window, I feel summer in my bones. It's because I can finally do what I've always wanted to do: be a writer.
Comment! (2) | Recommend!
Wednesday. 4.30.08 3:18 pm
I went to a mystery dinner yesterday. My eldest sister got me a mystery dinner game for my birthday and the first thing I did was ask my bible study to play it with me. It came together last week and I went yesterday. Everyone had a lot of fun! The moment they were through, they were talking about how they wanted to do another one.
A lot of the people I played with are moving, so we can't play together, but we were talking about buying them and then trading them around, lol. It's like those romances that people trade.
I learned a couple of new words today. The first is weightism (bias against a person because of their weight) another is absurdism which is the belief that we live in an irrational universe. I ascribe to that philosophy some days. The last is gerontocracy... which is a legal body led by really old people, lol.
Comment! (5) | Recommend!
This is a test of the new keyboard system
Tuesday. 4.29.08 5:35 pm
So, I bought a new keyboard. I was writing an essay and the other one was pulling its shenannigans and so with great foul language and exclamations, I decided that now was the time to start and investing in actually halfway decent hardware... well, 20$...
Microsoft says that it hasn't approved my driver... but so far as I'm concerned, driver, no driver, its all the same so long as it works. Hopefully, this 20$ patch will be significant enough to avoid a 1,500$ (new computer) permanent fix in the near future. While we cannot be certain what the future holds for the proud and true "Winsom Toshiba" what we can do is pray that my computer will at least last until I finish my book....
Well I suppose this confirms the test of the new keyboard system. Delete button is functional. Patch confirmed! Time bought! Hurray! We will do later tests in period dysfunctionality of current keyboard at a later date. Currently... well at least I can write essays without "pk" "p" "ppppp" appearing in random parts and logging me out of my screen when I press delete.
Comment! (2) | Recommend!
Saturday. 4.26.08 12:06 pm
So this is what I am doing for my final project in type: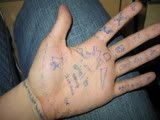 The idea is that we imprison ourselves by hundreds of very mundane sorts of things...
Whether is be someone else expectations or your own...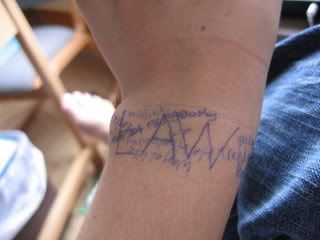 ...the law or the defense of your freedoms...
...God or the weather, they all restrict us. I guess what this piece asks is... is slavery to these things really that bad? Is there a redeeming factor to having ourselves imprisoned by them?
I think what we have control over is WHAT we choose, not the choosing it. So I like to choose something that I like.
Comment! (2) | Recommend!
Summer and the philosophy of life
Tuesday. 4.22.08 5:31 pm
So... I looked my courses up today just to see how I could graduate and when... and apparently I have to take... a lot of upper level courses before I can graduate. So I thinks to myself, "Self? Why don't you take a philosophy course. Those are fun, you write those things in your spare time, how 'bouts ye check er out?" So I waz like, "cool".
Subjects they have:
"Time travel"
"Destiny, fate and free will"
"weird things"
that I may or may not be able to ask my way into... AND if I ask my way into those, then I could get into:
"Eastern thought" -which requires 3 hours in philosophy (which I would have from the other)
Then that would give me another 3 hours of upper division AND the G credit that magically disappeared from my transcript! (I might just have to talk to someone about that).
The question is... what should I choose? What would you choose? Or... should I just focus on my book...
*edit* - G is our 'global' requirement
Comment! (3) | Recommend!