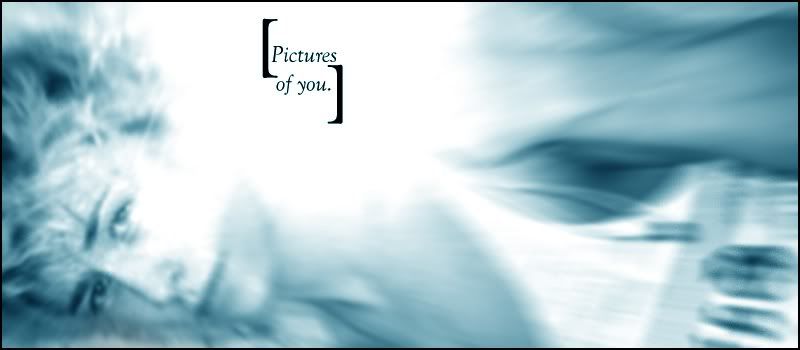 Spring Semester 2010:

* Teaching: Fundamentals of Microbiology - MW 12:00-2:40p
Medical Microbiology - TR 2:00-3:15p
Colloquium in Cell and Molecular Biology - R 3:30-4:30p
Thesis Research - Identification of T Cell Subsets and Immune Response in Colon Cancer Using Immunofluorescence - FOREVER AND EVER

Or rather, entries from the old journal, as it were...

-

An open letter to the College.

(August 27, 2006)

-

Untitled.

(July 16, 2006)

-

Haunted (Part One)

(May 29, 2006)

-

Are we growing up, or just going down?

(May 3, 2006)

-

I had a dream...

(March 19, 2006)

-

...

(March 14, 2006)

-

Enjoy it while it lasts.

(September 12, 2005)

-

Scene: 3:27 AM.

(September 3, 2005)

-

Untitled.

(July 26, 2005)

Psst... if you're looking for the academic writings I used to have here, head to my Reading Room.

Since June 2006...

- A Heartbreaking Work of Staggering Genius by Dave Eggers
- High Fidelity by Nick Hornby
- Travesties by Tom Stoppard
- The Way of the Shaman by Michael Harner
- The Tao of Pooh by Benjamin Hoff
- Nervous Conditions by Tsitsi Dangarembga
- The History Boys by Alan Bennett
- The Dark Child by Camara Laye
- Movie-Made America by Robert Sklar
- Diary by Chuck Palahniuk
- Rant: An Oral Biography of Buster Casey by Chuck Palahniuk
- Galapagos by Kurt Vonnegut
- The Dead Emcee Scrolls by Saul Williams [61.3%]
- Atonement by Ian McEwan
- Junk Science: An Overdue Indictment of Government, Industry, and Faith Groups that Twist Science for Their Own Gain by Dan Agin, Ph.D. [64.4%]
- So Yesterday by Scott Westerfield
- Lucky Wander Boy by D.B. Weiss
- The Things They Carried by Tim O'Brien
- Doctor Who: The Key to Time: A Year-by-Year Record by Peter Haining
- Why Buffy Matters: The Art of Buffy the Vampire Slayer by Rhonda Wilcox
- When You Are Engulfed in Flames by David Sedaris
- The Road by Cormac McCarthy
- 1984 by George Orwell [18.8%]
- Nick and Norah's Infinite Playlist by Rachel Cohn and David Levithan
- Intuition by Allegra Goodman
- V for Vendetta by Alan Moore and David Lloyd (Yes, I realize it's a graphic novel but it still fucking counts!)

Wednesday, February 20, 2008 @ 10:41 pm

I will share the results of the experiment some other time when I am not so sleepy.

What's the experiment, you ask? Well, it involves trying to see if it is possible to work around something mentioned in

this page

. (By the way, it is.) Why would I do this? Complete and utter boredom.

So I will go ahead and tell you what I've found next time. As for now,

noapte bună.

Comment! (5) | Recommend!

Sarbatoarea noptilor de vara.

Tuesday, February 19, 2008 @ 6:32 pm

Part of me looks forward to the summer because it's going to be the last summer I have before graduate school (assuming I get in) and therefore, it needs to be done up right!

Then I realize that I can't because I have no money and I need to actually work so I don't have to starve during the school year.

I recall a bunch of my friends heading off to Asia sometime this year for a little vacation. At this point, no one even asks me if I want to come because the answer will invariably be "Yes, but I can't."

I'm so freaking tired of that.

And then I feel so guilty because sometimes I absolutely detest being born to a family of modest means. I should be happy that I'm not living in some rundown barrio in the Philippines, that I was given the chance to go to college, that my life so far has been better than my parents', that I am marked for future success and happiness. And then I think: what if that success comes a bit too late and by that time, all of my youth has escaped me; or worse: what if it never comes at all.

I'm continually haunted by these thoughts (I'm sure if you dig through my blog a bit more, you'll find this is a recurring theme), and I try to remain happy, but sometimes it just gets to be a bit much. Luckily, there is one thing I can do to bring a touch of luxury to my family's middle-class world: I can cook. And dammit, I can cook

well

.

Now this entry has taken a positive turn, and so has my mood. Tonight, I'm going to bake a salmon with a pear glaze and it's going to be AWESOME and taste better than the crap they serve at most chain restaurants. And it will be a luxury most people will have to pay handsomely for, but I won't since I can actually cook!

(See? I'm totally boyfriend material.)

Maybe this summer I'll take some formal cooking classes. It'll cost me money, but is there a better way of visiting a far away land than by cooking (and eating, and enjoying) its food? Alright, maybe actually flying there would be better, but I think this is the next best thing. And it's something that I can keep with me for the rest of my life.

Comment! (5) | Recommend!

Tuesday, February 19, 2008 @ 12:16 pm

Stupid school holidays.

I'm trying to get some work done at a local coffee shop and there are friggin' SCHOOLCHILDREN in here, drinking caffeinated drinks and talking on their stupid cell phones about things that no one but a prepubescent preteen would talk about.

SHUT THE HELL UP AND GET OUT OF MY EARSHOT YOU BASTARDS!

Ugh.

Trying to work...

Comment! (7) | Recommend!

Iubirea mea--sunt eu, fericirea.

Sunday, February 17, 2008 @ 8:18 am

Friday, February 15, 2008 @ 5:01 pm

(Yes, Zanzibar, I am going to send the link to Xtina. I know she will appreciate it as much as I do.)

Comment! (8) | Recommend!

The joys of recurring headaches.

Venereal Disease 2008 @ 2:55 pm

I don't know what it is, but I've got another headache. And I'm at work.

The good news is that I don't have much work to do, and the work I have isn't too taxing so the headache should be a nonissue.

The better news is that my boss is out again (presumably due to his sciatica), so if I need to cut out early due to intensifying pain, I can do it.

The best news is that today I haven't been bombarded with peppy proclamations of "HAPPY VALENTINES DAY!" I'm not nearly as anti this year as I was in years previous; I just never know what to say when someone who is obviously geeked about this greeting-card holiday says that to me, who obviously doesn't really give a dookie. Almost any answer I give would either be a lie or a slap in the face, and what kind of person would I be if I destroyed someone's happiness (whether intentional or not)? A killjoy, that's what.

Whatever. It's time to repost the Ze Frank video in (dis?)honor of today:

Comment! (4) | Recommend!

Acetaminophen to the rescue!

Thursday, February 14, 2008 @ 12:42 am

I got a headache after eating dinner tonight, so I decided to go to bed a little early, thinking that time would be merciful and take the pain away. Well, not even two hours after I went to sleep, I woke up, and the pain was still there.

So I've been up for the last hour or so trying to find any sort of pill--ibuprofen, acetaminophen, aspirin, ANYTHING! I finally found some Tylenol that doesn't appear to be expired yet so I'm going to pop them in and hope that continuous sleep is not out of the question for tonight.

Perhaps I'll even get an interesting dream as a bonus! That would be exciting...

Comment! (2) | Recommend!

Some days, I don't want to get out of bed.

Wednesday, February 13, 2008

Some days, I do anyway and a few minutes later realize that I made the biggest mistake of my life.

Today was one of those days.

(Clarification: Not because anything bad happened today in particular. I'm just tired of following my schedule. I should have just slept.)

Comment! (1) | Recommend!