Saturday. 4.12.08 12:21 pm
i blogged about strange people on the train..
Queen Bizzare
this girl who looks to be in her early twenties boarded the train tightly hugging the boyfren's arm like a life buoy. the boyfren only had eyes for her and everything she said was adorable.
"do you want to know what i had for lunch? ~~~~~~~" she said in the teih-est voice i have ever heard.i was immediately frozen and goose pimples started rising all over me at her narration of what seems to be, extremely vital information the bf must know.
"I had........ rice~~~~~~~~...... beef~~~~~~................ bean sprouts~~~~~~~~~~.....and... and ..... and...... "
for those whu were unfortunate enuff to hear me try to teih before, imagine me sayin that... and times 10 the goose pimple factor. acording to Lindy, she sounds like ping guo jie jie from taiwan.
i was in agony.
Lindy was laughing like a mad woman, but she had her back facing the girl.
I was facing the girl directly and am trying so hard to control myself from laughing out loud.
the train was packed, there is no escape. no relief from her "oh~ I am so cute" onslaught.
desperate, i started blabbering to myself. anything to distract me from laughing into the girl's face.
lindy started laughing even harder at my desperation.
the bf couldn't resist her "cuteness" and kissed her on the lips. and the boyfriend asked, "so where did you went for lunch~" in a similarly disgusting tone of voice...
my gawd, they are made for each other.
=================================================================
King Strange
this hip hop wannable boarded the train with his friend somewhere along the east west line, around tiong bahru.
his tall, fleshy but not fat frame was all dressed up in a pink tank top(complementing his fair skin i suppose), camouflage print berms, worn sneakers, over sized sunglasses (it was night!), ivy cap and a thick gold chain around the neck.
frankly, its not like he is a walking diaster, he looked ok (except for the gold chain part, i abbhor thick yellow gold chains. anyone whu is not a loan shark needs to steer clear of them) and his feautures aren't bad.
he stared fiddling with his phone and some reeeeaaallly old chinese songs started playing on speaker. i got a shock. i do mean OLD, as in these songs were probably popular when i was in primary sch, ie like i was 10 years old. they weren't even hip hop songs. gosh.
eg: Zhang Xin Zhe's - Guo Huo
ya. that kind.
and apparently he was so tired that he when he got a seat, he propped the phone agains his ear, using his shoulder as base, and promptly fell asleep. with the phone still issuing old music and polluting the entire train cabin.
strangeness at its peak.
Comment! (4) | Recommend!
2 Items on the agenda today
Wednesday. 4.9.08 10:54 pm
Item 1
Apologies but I have one last thing to rant about
*Deep breath*
the fact that i am sitting near the door to my dept and my dept service the hotshots next door does Not make me the SECRETARY!
where do pple get this weird perception that i am even remotely multi tasking as the secretary??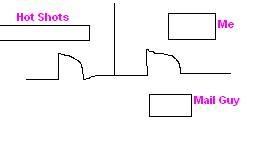 why on earth he cannot just knock on the dealer's door?? its like less than 5 paces away lah!
U mean by now he doesn't realise that loads of pple been going in and out of the room meh?? He is sitting in front of it leh!
*deep breath.. chill*
Item 2
Long weekendS! YAY!
I know its a bit early but someone sent me this in email, so just wanna share something to look forward to.
Singapore Gazzetted Dates for Public Holidays
2009
!
For those holidays that fall on Sundays, the following Monday will be P.Holiday
New Year's Day - Thursday 1 Jan
CNY - Monday and Tuesday 26,27 Jan
Good Friday - Friday 10 April
Labour Day - Friday 1 May
Vesak Day - Saturday 9 May (For pple whu work Sats)
National Day - Sunday 9 Aug
Hari Raya Puasa - Sunday 20 Sept
Deepavali - Sunday 15 Nov (tentative)
Haji - Friday 27 Nov
Christmas - Friday 25 Dec
Looking fwd to 2009!
Comment! (0) | Recommend!