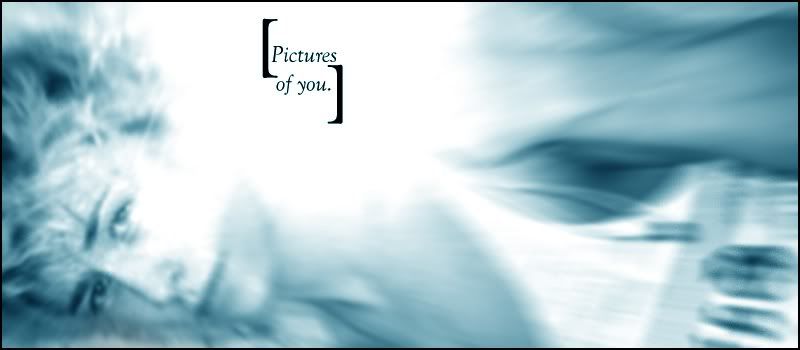 Spring Semester 2010:

* Teaching: Fundamentals of Microbiology - MW 12:00-2:40p
Medical Microbiology - TR 2:00-3:15p
Colloquium in Cell and Molecular Biology - R 3:30-4:30p
Thesis Research - Identification of T Cell Subsets and Immune Response in Colon Cancer Using Immunofluorescence - FOREVER AND EVER

Or rather, entries from the old journal, as it were...

-

An open letter to the College.

(August 27, 2006)

-

Untitled.

(July 16, 2006)

-

Haunted (Part One)

(May 29, 2006)

-

Are we growing up, or just going down?

(May 3, 2006)

-

I had a dream...

(March 19, 2006)

-

...

(March 14, 2006)

-

Enjoy it while it lasts.

(September 12, 2005)

-

Scene: 3:27 AM.

(September 3, 2005)

-

Untitled.

(July 26, 2005)

Psst... if you're looking for the academic writings I used to have here, head to my Reading Room.

Since June 2006...

- A Heartbreaking Work of Staggering Genius by Dave Eggers
- High Fidelity by Nick Hornby
- Travesties by Tom Stoppard
- The Way of the Shaman by Michael Harner
- The Tao of Pooh by Benjamin Hoff
- Nervous Conditions by Tsitsi Dangarembga
- The History Boys by Alan Bennett
- The Dark Child by Camara Laye
- Movie-Made America by Robert Sklar
- Diary by Chuck Palahniuk
- Rant: An Oral Biography of Buster Casey by Chuck Palahniuk
- Galapagos by Kurt Vonnegut
- The Dead Emcee Scrolls by Saul Williams [61.3%]
- Atonement by Ian McEwan
- Junk Science: An Overdue Indictment of Government, Industry, and Faith Groups that Twist Science for Their Own Gain by Dan Agin, Ph.D. [64.4%]
- So Yesterday by Scott Westerfield
- Lucky Wander Boy by D.B. Weiss
- The Things They Carried by Tim O'Brien
- Doctor Who: The Key to Time: A Year-by-Year Record by Peter Haining
- Why Buffy Matters: The Art of Buffy the Vampire Slayer by Rhonda Wilcox
- When You Are Engulfed in Flames by David Sedaris
- The Road by Cormac McCarthy
- 1984 by George Orwell [18.8%]
- Nick and Norah's Infinite Playlist by Rachel Cohn and David Levithan
- Intuition by Allegra Goodman
- V for Vendetta by Alan Moore and David Lloyd (Yes, I realize it's a graphic novel but it still fucking counts!)

The problem with physics exams...

Tuesday, March 4, 2008 @ 3:27 pm

...is that the harder I study for them, the lower I score.

I got a frickin' B-! Ugh, I am disgusted with myself, but only because I know what it feels like to get an A on an E&M midterm.

I swear--I had it once!

But now, that feeling is nothing but a distant memory.

One more test. I think I can still get an A in the course overall, but it will require some work.

But maybe not as much work as it would seem. Because that, my friends, would only get me a B-.

And on a sketchy, wholly unrelated sidenote:

I went back to my old high school today to pick up my sister from honor band.

While I do not want to ever be a high school student again, I have to say... upperclassmen

boys

young men at my high school were (and still kinda are) hot.

Except teenage boys have their own special problems that make them less than ideal mates (the illegality of such an arrangement set aside).

Oh, to be young, beautiful, and well-adjusted! I'm just hoping I'm the last one (and I'm working on it... slowly).

And, in tangentially-related news:

Pictures of the new tutors at work were posted on the bulletin board today, along with the pictures of those who already worked there. Right next to my picture is the picture of the cute new tutor who helps with writing.

He's French and has got such pretty eyes! Seeing our pictures next to each other, I thought...

Wow, we'd totally make one good-lookin' couple.

But alas, it is yet another case of "Not gay, just European."

Comment! (7) | Recommend!

Monday, March 3, 2008 @ 6:11 pm

This is me, trying to be done with everything once and for all. [EDIT]

Sunday, March 2, 2008 @ 7:08 pm

Just... need... to... push... through...

APPLICATIONS! How I hate you all!

In more awesome news, I am going to buy a new car sometime in the next few weeks. And I'm 90% sure it's going to be this one:

Although, that one certified pre-owned 2006 Audi A4 was ALSO really quite nice...

We'll see.

EDIT:

The more I think about it, the more I want the Mini. Audis are my hands-down no-competition-at-all favorite cars of all time, but since I've built this huge myth around Audis, do I really want my first one to be USED? (Yes, randomjunk, I went ahead and used that word... but in this case, only to convey an emotion and not to imply anything about the connotatively-deplorable condition of the car.) I think I'll hold out for another 10 or so years and drop $45k (or whatever $45k would be in 2020-dollars) to get a brand-spankin'-new fully-loaded German ORGASM on wheels... mmm. Orgasm...

In other news, I still hate grad school applications. But I'm like *this* close to no longer hating them. So. Damn. Close...

Comment! (7) | Recommend!

Friday, February 29, 2008 @ 11:47 am

Two nights ago, I stayed up fairly late studying for a physics exam that was scheduled for the next day. Of course I'm studying like crazy because most of the test is going to be on Ampere's law and stuff like that, which really is not intuitive physics at all. (At least for me.)

The next morning, at my tutoring job, I received an email saying that the class (and consequently, the test) was canceled. The old me would have been all "WOOHOO! FUCK YEAH!", but the me-now was just annoyed. Especially since I actually felt somewhat prepared for the exam and I just wanted to get it over with.

Well, today's the NEW test day. I slept for a full 8 hours, I had a good breakfast, and I am off to lunch before I head to class. And no, it will not be one of those cram-as-much-food-down-your-throat-while-driving situations that usually precede me going to class. I am actually going to sit down and eat NORMALLY. Because I fucking deserve it.

And then, I will deal with the test. (Oh-ho, will I ever deal with it!)

Comment! (3) | Recommend!

Tuesday, February 26, 2008 @ 6:09 pm

This is just a quick note to tell you that I will be gone for a few days while I deal with life in general. (I will be stopping by every once in a while and might leave a comment or two, but I probably won't post.)

Comment! (5) | Recommend!

Monday, February 25, 2008 @ 2:27 am

For some reason, all I've wanted to do today is sleep. I took maybe two naps, yawned constantly all day, and managed to pass out at 8:00 with the lights and the TV on.

I don't know why I was so tired today. Maybe just thinking about the fact that this week is one of those weeks that is going to suck the big one sent my body into sleep mode out of panic, like it's trying to preemptively compensate for the rest of the week. The only problem I have with this is that sleeping for longer than, say, 7 hours usually makes me feel even more tired when I wake up. As much as I am a fan of sleeping, I am not a fan of doing it in excess precisely for that reason. It doesn't feel right.

Consequently, when I woke up about 10 minutes ago to slather parts of my body in hydrocortisone cream (damn you, eczema!), I told myself maybe it's a bad idea to just go back to sleep without a little break in the action (or inaction, as it were).

So here we are.

Even if I go back to sleep at 3:00 or so (which is likely), and wake up earlier than usual (which would be sometime around 6:00), I still will have slept too long. That means work is going to be absolutely insufferable. Boo.

Stupid sleep.

Comment! (6) | Recommend!

Saturday, February 23, 2008 @ 10:10 am

I haven't been practicing piano as much as I should have been. And I feel bad about it.

But! There's so much going on because for some reason everything ALWAYS piles up at certain points during the year, like everyone woke up one morning and said, "You know what would be really awesome? If we all got together and decided to make everything due at one time." And then they did.

Except "awesome" isn't really what I'd call it. I think the more apt adjective is "sadistic."

I'd better book it to school. Gotta get there early so I can march up the hillside to the music room to practice some more on those soulless, electronic pieces of crap they have that don't feel nearly as nice under my fingers as my piano here at home.

Comment! (5) | Recommend!

Friday, February 22, 2008 @ 10:04 am

I was going to use this entry to tell you about the results of the experiment, but I decided that the knowledge--in the wrong hands--may be abused by the more unscrupulous members of this community.

Instead, I will say that I am tired and hungry, and that the former is likely causally related to the latter, and that the banana in my lunch box will not fully sate me.

Ugggggggh. I want to leave early from work today because I cannot stay awake...

Comment! (5) | Recommend!